How far along: 35 weeks
How big is baby: According to "them" (aka Baby Center), he is 5 and 1/4 pounds, 18 inches long (the size of a honeydew melon).
My symptoms:  Hmm…nothing new really.  The swelling is still quite present, although my feet haven't been as bad the past few days since I've been off work.  I can definitely see where the term "barefoot and pregnant" came from because my shoes don't fit and so I spend most of my time barefoot!  I really only have two pairs that fit anymore – my Toms and my Crocs, so I suppose I'll be alternating those from now until the end of January!
I'm still hot most of the time, too.  I've worn a few sweaters because they are cute and I want to wear them, but I usually end up being much too hot in them and need to stick to short sleeves.  I remember my mom saying the exact same thing – she was pregnant with me basically the time of year (I was born in February) and she bought some cute maternity sweaters since she was pregnant during the winter, but then ended up regretting them because she was too hot.  I'm the same way – I want to wear Christmasy/wintery things but it's just miserable.
My bathroom trips have increased significantly.  I feel like I have to go almost all the time.  Sometimes I go and then five minutes later have to go again.  My bladder just doesn't have hardly any room anymore and sometimes I can feel him move right on top of my bladder and that is definitely not a pleasant feeling.
I had a doctor's appointment last Thursday (34 weeks) and everything looked good.  My blood pressure was 110/70 and Hudson's heart rate was 138.  The sugar in my urine was high yet again; my doctor is a little concerned that means there is something wrong with my kidneys (although I think it's just a weird hereditary thing that I have) but he isn't concerned as far as my pregnancy goes since my blood sugar has been so excellent.  He just recommended that after I deliver I go see a specialist and have my kidneys checked out.
He's not going to see me this week because of Christmas, but starting next Thursday (36 weeks), he'll see me every week instead of every other week up until I deliver.  He also said he'll do my first cervical check next week just to see if I'm dilating  or effacing any, but he said that was up to me and if I didn't want to then we wouldn't check.  I haven't made up my mind about that yet.  Part of me is curious, but the other part would rather not know because even though I know it can go either way (lots of dilation/effacement and yet labor is still a long way off, no dilation/effacement and labor starts the next day) and not to put any stock into it, I'm afraid I might get my hopes up or a false sense of security anyway.  I'll decide before next Thursday I suppose.
Weight/belly:  Well, the stretch marks that I hoped to escape getting have arrived, and basically popped up overnight!  I went from having nothing, to having a hint of what I thought were stretch marks last week, to full blown purple marks all over my belly.  I fully expected to get them because my skin scars easily and I've gotten them in the past…although I was keeping my fingers crossed that I might get lucky and not get them.  Oh well, if they are like my other ones they will fade eventually to where you can barely see them.  If anyone has any good remedies for fading them, feel free to share.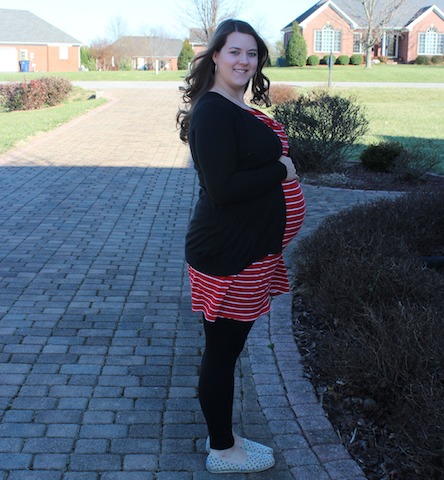 Christmas day 2013 – 34w6d
We went out to eat earlier this week and I tried to sit in a booth…and couldn't.  My belly wouldn't fit and it wasn't one of those tables where you can slide the both toward one side or the other so we had to get up and move to a regular table.  Bummer.
Movement:  Oh yes.  Mostly on my right side up under my ribs or directly behind my belly button.  I don't know how he's positioned, but he must have some appendages in both of those places (or a rear or a head) because that's where I feel the most movement.  When I put my hand on the outside to feel, it almost feels like the rolling balls inside a massager thing (like a massage chair or a massage pillow where the hard knobs roll around and massage your back).
Sleep:  Still good except one night.  Christmas eve I was up for probably an hour in the middle of the night with my hips just hurting so bad that I couldn't get comfortable.  I tried all kinds of different positions and used a tennis ball to roll around under my back/rear/hips to try to get some relief.  I was finally able to go back to sleep but it took a long time.  I'm hoping that was just a fluke, though, because the other nights I've slept fine and only woken up my customary 2 or so times to adjust my pillows and position.
Best moment(s) this week:  Christmas!  Just getting to relax at home and be lazy, spend time with friends and family, read a book, and play with my new Christmas presents has been wonderful.
Funny comments:  None really.  A lady did insist that I go before her at the bathroom at a rest stop this week.  I promised her that I was fine to wait but she was adamant that the pregnant lady get to go first.
What I'm looking forward to:  Having the next week and a half off to get a lot of things prepared.  I have quite the to-do list and I'm hoping to knock a lot of those items out before I go back to school.
Baby items purchased or prepared:  We bought the changing pad thing that goes on top of the dresser to make the changing station.  I also had a family shower and have gotten some other random baby gifts sprinkled in with Christmas gifts, so I've gotten a few more baby things this week.
Labor signs:  None that I'm aware of.
Thoughts:  Christmas next year will be so very different.  I love Christmas and I know that next year will be even better than my Christmases past because Hudson will be here to make it so fun.  We took advantage of the fact that this is our last kid-free Christmas and had a very lazy Christmas morning.  We slept late (or as late as I can sleep these days…which was about 8:00), made a big 'ole breakfast, opened our presents, and then lazed around looking at/playing with our new stuff.  From here on out Christmas will be about the kids so we're relishing the time we have just the two of us.
In fact, we may have only a month or so left of it just being the two of us.  I know that Hudson joining our family will be so amazing and wonderful, but I have to admit that I am a little sad that this phase of our life will be over.  It's been just the two of us for so long that it seems strange that our family dynamic is going to change so much.  Like I said, I know it will be wonderful and we'll have no regrets, it's just hard to wrap my mind around.  And I'm trying to make it a point for us to soak up as much "just us" time over the next few weeks as possible.