How far along:  36 weeks – it seems unreal doesn't it?  I mean, my due date is January 30 so unless I go past my due date then we'll be meeting our little guy this month.  I can hardly believe it!
Now that I'm going to the doctor every week on Thursday afternoons, I'll be posting my updates either Thursday night or Friday morning so that I can include the latest from my appointments.
How big is baby:  Baby Center says that Hudson weighs almost 6 pounds, is more than 18.5 inches long and is about the size of a head of romaine lettuce.
My symptoms:  My poor feet.  They are so very fat.  The other night the swelling was so bad that my feet jiggled when I walked and I could actually feel the liquid sloshing around in there.  It was very unpleasant, plus they kind of hurt since the skin is stretched so tight.  If feet got stretch marks, I think mine would.
Have you heard about women losing lots of hair after they give birth?  Some friends were telling me about that a few weeks ago and they said that it's because you don't lose as much hair when you are pregnant and then afterward your body starts to lose a lot at once to make up for the lack of hair loss.  That's apparently why some pregnant women notice their hair being really thick and nice.  When we were discussing that I said that I hadn't noticed my hair being any thicker, but now that we've had that conversation I've been paying a little more attention – I still don't think my hair is that much thicker than before, but I definitely less than I used to.  There hasn't been as much hair in my hairbrush or on the floor after I dry my hair.  Interesting.
I'm moving much slower these days, too.  I still have lots of energy and want to get a bunch of things done, but it takes me so much longer to get stuff done!  Like, nearly the whole afternoon Sunday was spent cleaning out the fridge (a job that would normally take me an hour, tops), simply because it's so difficult for me to move and bend and clean and such.  Plus my back and feet are killers after standing for awhile so I have to take frequent breaks.  So I'm moving through my list but at a much slower speed than I'd prefer.
Now let's talk about skin.  Some people have amazing skin during pregnancy.  Some have terrible skin.  Mine wasn't either at the beginning, but the last few months it has definitely moved more toward the "terrible" category.  I've had the driest skin I can ever remember and I've been battling these dry red patches on my face for months.  Then for awhile I had a rash on my legs that itched and itched and I was constantly having to put lotion on it.  Now that's finally gone but the rash has moved to my belly.  My belly itches so bad, not all the time – mostly at night, and I find myself just clawing at the skin (ouch).  I've been using a cocktail of lotions but haven't found the magic one to make the rash go away once and for all!
On a happy note, I am still able to shave my legs (it's a bit of an athletic event these days, but still doable) and right before Christmas I even painted my toes…all by myself!  Michael was on standby to help paint but fortunately I was able to reach them all myself.  Those small obstacles make me feel pretty good.
Weight/belly: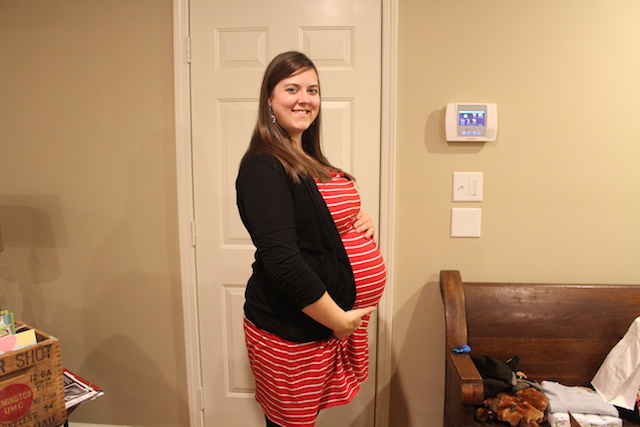 36 weeks
I still forget all the time how big I am.  I totally whacked a guy in the back of the head with my belly at church when I got up to leave my pew.  It's also harder to reach some things – like cleaning the bathroom mirror is hard because I can't get as close to the sink.  Same with washing dishes or reaching up to get something out of a cabinet.
Movement:  Not as many swift hard kicks these days, but lots of stretching.  I think he's running out of room to do big kicks or punches, but I definitely feel my belly tighten and stretch when he moves.  He's also gotten the hiccups several more times this week.
Sleep:  This has been my worst week.  I shouldn't complain too much since it really hasn't been that bad, and because I made it all the way until my last month before having difficulty sleeping (something that many women don't get to do).  In fact, the biggest thing that has kept me up is this stinkin' rash on my stomach.  I wake up itching and then I can't go back to sleep because I can't stop thinking about wanting to scratch.
I fall asleep quickly and other than a bathroom trip or two I sleep pretty well.  If it weren't for the itching I think I'd be sleeping like I have this whole time.
Best moment(s) this week:  Just having a few days at home to get things done around the house has been wonderful.  Michael took off Thursday and Friday after Christmas and we were able to use that time to get lots done.  Spending time with family has been great, too.
Funny comments:  What is the deal with people's obsession with due dates?!  Lot's of people ask my due date, which is a pretty common and normal question, but recently I've had several people ask me "How many more days?".  Well…babies come when they want to come so I have no idea how to answer that question.  I just keep telling them "About a month" or "Well, I'm due January 30th so plus or minus two weeks from that date is probably a safe guess".
Several people have asked if I think I'll go early or go over.  Maybe that's an intuition thing that some women have, but I really don't have a feeling one way or another.  If I had to guess, I'd say I'll go over…simply because I still feel so good that I'm not to that "I just don't want to be pregnant anymore!" state yet.
What I'm looking forward to:  Getting the nursery put together.  It is an absolute wreck right now so that's my goal this week…to get it cleaned up and organized.  I still have a teensy bit of decorating I'd like to do, but as long as I can get it not to be a disaster zone then I'll be happy.
Baby items purchased or prepared:  Since I'm less than a month from my due date, I'm now eligible to use my registry completion discount for my Amazon.com registry.  We got on there a few nights ago and bought the things that we considered the essentials – the stuff we needed for the hospital bags or thought we'd really want pretty soon after he is born.
We've done a lot by way of preparing.  The hospital bags are packed with the exception of the last minute stuff that we can't pack yet because we need it between now and then.  The car seat base is installed in my van.  We bought a second base for Michael's car but haven't installed it yet (we'll do that before the week is out).  Once we install his then we'll go get them both inspected.  The Christmas decorations have all been taking down and put away.  The baby swing has been put together.  I've done my yearly eye exam and ordered a new pair of glasses (my first since 8th grade!  I only wear them at night so I've never really needed to spend the money to get new ones, but I figured that I may be foregoing contacts for glasses a little more once Hudson is here so it'd be a good idea to update them).  I got my teeth cleaned and my hair cut today as well – between new glasses, fresh haircut, and clean teeth I feel like a new woman!  Lots of home improvement projects are completed or are very close to done.
I went to school two days earlier this week and got a bunch of stuff done.  I have my lesson plans written out through mid-February and I have typed instructions for my sub, so whenever I go into labor I should be good to go as far as being able to leave school and feel like everything is in order.  Getting those plans done was a big relief.  I also packed up my office and I'll get Michael to come load my stuff up pretty soon.  I've got some other loose ends to tie up at school but most of the big stuff is marked of my list now so I'll be able to go back to school on Monday not feeling stressed or worried that if I go into labor everything is still unorganized.
All in all, it has been a very productive week!  Despite moving sssllloooooowww  I've been able to get quite a bit of stuff done over my Christmas break.
Labor signs:  Well I certainly don't feel any different yet, other than just slower and more awkward as the weeks move on.  I've had a few more of what I think might be Braxton Hicks contractions, but they are so mild and happen so rarely that I'm really not sure.  I certainly haven't had any that made me think I was actually in labor.
I had my first check at my doctor's appointment today and I was 50% effaced but not at all dilated.  Just like with due dates, I don't put much stock in dilation necessarily being a good prediction of when labor will start.  I've had friends who dilated way early and ended up going weeks and weeks before going into labor, other people will be hardly dilated at all and then go into labor that night.  Based on today's exam my doctor said he wouldn't be surprised if I went past my due date (which he is totally ok with – no pressure for induction from him, thankfully!), but again, I'm not counting on anything.  I'm hoping for full term but preparing for any day now just in case :).
Everything else still looks good – my blood pressure was 138/60 and Hudson's heart rate was 141.  My doctor confirmed he is head down, so that's definitely good news.
Thoughts:  As I sit here and type I'm staring at the baby swing we have set up in our living room.  It's so hard to wrap my mind around the fact that in just a very few weeks we will have a real live baby living at our house and using that swing!  I've spent so much of the past 8 months preparing for him to get here – birth classes, buying baby stuff, putting the nursery together, getting a ton of other home improvement/decoration projects knocked out, etc.  After all that it just doesn't seem real to me that he's actually going to be here.  And soon!  Saying that I'm in denial is a little extreme, but I'd say that I definitely haven't fully grasped the reality of him being here and the quickly shrinking time frame until that actually happens.
Not exactly baby related, but I realized that I did not take one single picture at any of our many Christmas gatherings!  I usually take tons and tons, but this year I didn't take any.  I don't know if I was just too bulky and tired to try to get up and down and take lots of pictures or what, but now I'm a little sad that I don't have this Christmas documented.  Maybe some family members took pictures and I can get copies of theirs.