How far along:  37 weeks – unbelievable!
How big is baby:  He's supposedly about the size of a bunch of Swiss chard – 6 and 1/3 pounds, 19 inches long.  According to my doctor my belly is measuring a bit small.  It's supposed to be one centimeter per week, and it's been pretty consistent this whole time, but this week it was 35 cm and I'm 37 weeks so that's a teensy bit small.  There's a lot of factors other than just that to determine birth weight so who knows how big he will be anyway.
I wonder if he had a little growth spurt this week because I've had several days where I have wanted to eat and eat and eat and I never can get full.  I keep hearing how toward the end your stomach gets so squished that you can't eat much…well I'm 3 weeks away from my due date and that doesn't seem to be happening to me yet!
My symptoms:  My back has been in a lot of pain this week.  I went to the chiropractor yesterday and it's feeling much better, although it's still uncomfortable.  Basically I'm just uncomfortable in general – sitting, standing, and laying down are all uncomfortable after a while.  Doing the dishes kills my back (I actually had to do them sitting down the other day) and sitting on the floor is a huge mistake.  I usually just plop down on the floor to organize baby clothes, craft, sort through paperwork, whatever; but if I do that now I feel like my back is going to break when I stand back up again.
I'm doing the pregnant lean for sure – the leaned back waddle walk.  It's worse when my back is hurting, but even when I'm not in much pain I'm still very awkwardly walking around.
The rash on my stomach is still there but not as bad.  It mostly just comes up at night right before bed or in the middle of the night so I've been trying to keep lots of lotion on it and right next to my bed in case I wake up scratching.  My doctor also said it might be exacerbated by heat and so the hot shower that I take right before bed probably isn't helping any.
Something really weird is how easily my nails have been breaking recently.  Just within the last week or so there have been about three times that I've barely bumped my nail on something and it has broken/torn.  One time it took a huge jagged chunk out of my nail.  I've always had very strong nails so this is quite strange.  I'm still consistently taking all my vitamins so I have no idea what the deal is.
Also, apparently I snore.  I deny everything of course, but someone says that at night I sound like a motorcycle.  I'm not stopped up or anything so I wonder if it's just the extra pregnancy weight.  I know lots of overweight people have issues with snoring so maybe it's that.    But I've been wearing Breathe Right strips, per the request of that certain someone whom I was bothering at night :), and he says that the snoring has been much better.
Weight/belly: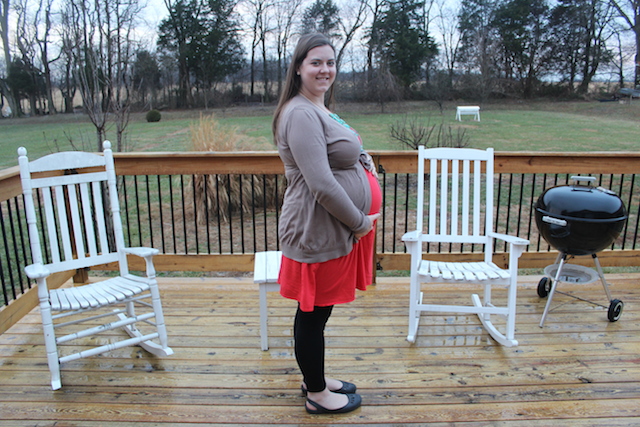 Yep, it's big.  My hopes of escaping without stretch marks are long gone.  The rash on top of the stretch marks makes for a scary belly for sure.
Movement:  Lots of movement, lots of hiccups.  Michael was able to see him having hiccups the other night, and also one evening we were watching my belly and you could see my belly button flare out when he pushed up against it.  So crazy.
Sleep:  If it weren't for waking up in the middle of the night scratching my belly then I'd still be sleeping great.  And that only has happened a few nights, so I've still had several nights of pretty good sleep – one or two bathroom trips and that's it.  I'm so very thankful to have made it this far and still be sleeping well.
Best moment(s) this week:  We had a snow day on Monday (really a cold day since there was very little snow but the temps were in the single digits)!  Monday was supposed to be our first day back after Christmas break so this was a nice little extension to our break.  I was very productive and got some things done around the house.  I am so, so much slower than I used to be.  I'd clean a little bit, then have to sit down to take a break, then clean a little more, and then break.  But at least I'm still up and going, even if it is slow.
Funny comments:  As always people have very mixed opinions on my belly.  Some say I haven't dropped at all, others say they can totally tell that I've dropped (for the record, I have no idea).  Some people must think I look huge because they eye my belly and say that they don't think I'll make it all the way to my due date; others look at me and say they can't believe I'm only 3 weeks away from my due date because I don't look that big.  To each his own, I suppose.
What I'm looking forward to:  This weekend is going to be our hit-it-hard-get-everything-done weekend.  We've made a list of the things that we absolutely want to get done before he gets here and our plan is to spend Friday evening, Saturday, and Sunday finishing up.  It's not really that long of a list, although I know as long as everything takes these day it may take me the whole weekend to finish up.  Our goal is by the end of this weekend to have all of those must-do's done and then we can relax a little, or work on other small projects if we want.
Baby items purchased or prepared:  Let's see, we met with our pediatrician to just do a brief get-to-know-you and find out about first doctor visits and such.  I bought some random small baby things like some burp cloths.  I actually can't remember anything else.  We have all the essentials that we think we need right away and I guess I'll just buy other stuff later as it comes up.
I spent a good chunk of the weekend plus most of the day Monday deep cleaning our upstairs (vacuuming baseboards, dusting blinds…those things that I don't do during my normal, weekly cleanings).  Our guest room, upstairs bathroom, and my craft area are spotless.  Hudson's nursery is completely clean and done other than vacuuming and hanging two or three more things on the walls (I'm going to work so hard to get that finished this weekend so I can finally show you his room!).  Basically our whole upstairs is completely clean except for a pile of junk in our office area that we're going to tackle this weekend.  The downstairs is a different story and that's my #1 goal this weekend…get the rest of the house clean!
I'm also 99% ready to leave my position at school.  I mentioned last week that I spent some time over break at school working, and then I've spent quite a bit of time this week as well.  I've got lesson plans, sub notes, notes for the new person who will be hired for next year, copies made, my office clean, and everything in order.  Really all I have left to do is to take my stuff home (my office is packed but sitting in a pile) and to finish tweaking the sub plans/new librarian notes.  I expect that I'll be done with that by the end of the day tomorrow, so that it'll just be a waiting game from here on out and whenever I go into labor everything will be prepared (watch me go a full 42 weeks or something after busting it to get all my stuff done so early…but hey, I'd rather be prepared too early than totally not prepared when the time comes!).
Labor signs:  None that I know of.  They ask me every appointment if I'm having any contractions and unless I am and just don't know it, the answer is "no".  I'm definitely not having any noticeable contractions.  I don't really know if that's a good thing or a bad thing.  I had an appointment today, as I do every Thursday, but there really wasn't any news.  He didn't check me for dilation or anything.  They just took my blood pressure (122/50-something), listened to Hudson's heart rate (150), measured my stomach like I mentioned above, and checked my urine (no protein, which is good, but still tons of sugar as always).  I had my Group B strep test last week but he didn't tell me my results today and I completely forgot to ask.  I made a note to ask next week.
I started drinking red raspberry leaf tea (I hate tea but I'm choking it down anyway…) because I've heard it's good to strengthen your uterus and can shorten labor.  I've also started taking Evening Primrose Oil capsules, which are supposed to help the cervix soften for dilation and reduce tearing.  It may be all totally bogus, but I'm going to at least give it a try.  Many people swear by it.
Thoughts:  I think this week reality set in…it hit me hard that he is actually coming and it may be soon!  I hope very much that he stays in at least two more weeks so that he'll be full term, and even longer if that's what's best for him, but the fact that people deliver at 37, 38 weeks all the time is something that's always in the back of my mind.  That has lit a fire under me to get those loose ends all tied up.  We're close to having all my mental must-do's done, and like I said hopefully after this weekend those will mostly be finished.  Then hopefully next weekend (fingers crossed he hasn't come yet!), which is a long weekend for us both because of MLK day, we can relax and just hang out together rather than working from sun up to way past sun down like we have been for weeks and weeks.
Oh random side note, I have to apologize for being such a rotten blogger the past few months.  I look back and other than the weekly updates I have written almost nothing.  Mainly it's just because it comes down to blogging or working on baby stuff, and right now baby stuff wins every time.  I have lots of things floating around in my head that I want to write, I just never make the time to get them written.  I hope to get back to a somewhat normal routine again.  I'm sorry if you're tired of only seeing these weekly updates!