How far along: 38 weeks
How big is baby: Supposedly 6.8 pounds, over 19.5 inches long, and the size of a leek.
My symptoms:  Back pain, back pain, and more back pain.  Or really, pain in my back, hips, and bum.  Going to the chiropractor has helped some, but I haven't really been taking it easy.  Vacuuming, mopping, and crawling on my hands and knees to dust the baseboards is probably not the best choice, and I've paid dearly for it this week (and yet I keep doing it because I'm so determined to get our house cleaned!).
Other than that, I really feel great!  I'm slower than usual (mainly because of the back pain), but mainly I feel like me on a normal day.
Weight/belly:  Well I finally got on the scale.  I mean, they weigh me every time I go to the doctor, but that's fully clothed with shoes in the middle of the afternoon, so I barely even glance at the number.  At the beginning I was weighing myself at home once a week and keeping up, but it's been weeks and weeks since I've remembered (or desired) to get on the scale.  So this morning I bit the bullet and weighed…47 pounds gained since the beginning of my pregnancy.  Yikers.  I was definitely hoping for less than that, but honestly I don't feel like I'm insanely huge or that I've gotten fat all over, so even though the number isn't my favorite, I still feel pretty healthy.  My doctor hasn't mentioned it at all so he must not be concerned either.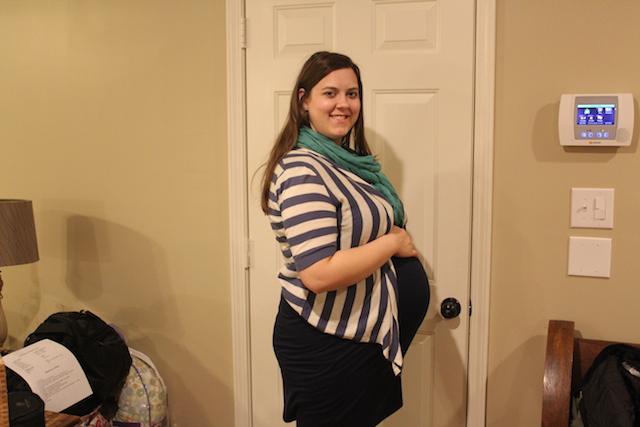 38w0d
Movement:  My stomach ripples like waves sometimes.  And he's been pushing up against my belly button a lot this week…so hard that it makes my innie become an outie for a few minutes!
Sleep:  Fair.  Not great but not terrible.  The belly itching has been much less this week, which has allowed me to get more sleep.  I wake up a few times a night to go to the bathroom or switch from one side to another – that is quite the production because turning over is easier said than done!  Also, if I sleep too long (like on the weekends) my hips just ache when I wake up.  I'd like to sleep in more, but my hips won't let me.
I'm afraid Michael is actually getting less rest than me due to my pregnancy snoring.  Sorry babe.
Best moment(s) this week:  Finally getting all the "big" stuff on our baby to-do list done!  That was a huge, huge relief!  Also, I had my last baby shower, given by my coworkers.  They did a book shower (highly appropriate for the school librarian, of course!) so I got tons and tons of books for Hudson's library (along with many other wonderful presents).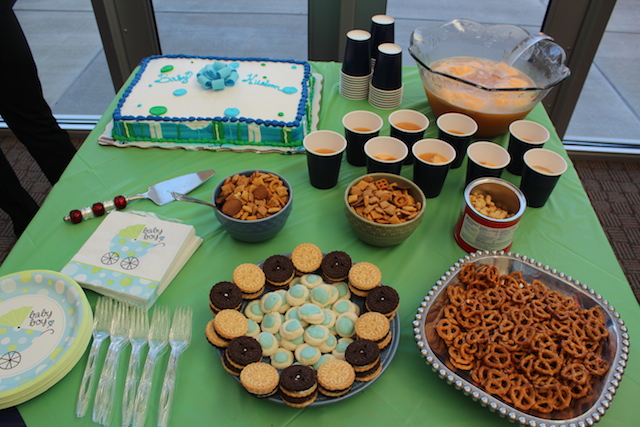 Funny comments:  Soooo many recently!  Last week and this week I talked to each of my classes to let them know that the baby would be coming soon, that I wouldn't know when so not to be surprised when I wasn't there, told them a little about my sub, and let them know my plans about not coming back.  This has sparked many interesting comments.  Such as "Why can't the baby's daddy stay home and take care of him instead so you can come back here?".
One students saw me in the hall a few days after I told his class that we don't know when the baby will come and he said "Have you figured out yet when your baby is coming?".
One kindergartener stuck her head in the library the other day and said "I know you're having a baby still".
A preschooler told her teacher, "She needs to get that baby out of her belly!"
What I'm looking forward to:  This weekend!  We are having a babymoon staycation.  What's that, you ask?  Well, a babymoon is one last trip that you take as a couple before the baby is born.  A staycation is when you have a vacation at your own house rather than traveling.  So basically we will be spending this long weekend (we're both off work Monday) doing nothing.  No house projects, no cleaning, no baby prep.  We'll sleep late (well, as late as I'm able), read, watch tv (what's tv?  I can't even remember the last time we turned it on), go out to eat, and do pretty much whatever fun, relaxing stuff we want to do.  It will be fantastic!  At this point, staying home and doing nothing and getting to sleep in my own bed sounds so much better than going anywhere exotic.
I'm kicking off babymoon weekend by getting a prenatal massage Friday afternoon.  I know it will be wonderful, because massages always are, but I'm especially hoping the massage will help my back feel better, too!
Baby items purchased or prepared:
– birth plan – check
– car seat/base(s) installed and inspected – check
– hospital bags packed – check (all but the very last minute things that we need between now and then)
– house cleaned – check
– nursery done – check (minus a lamp…I just can't find what I want!)
We have been killing it this week to get everything prepared!  Our house is cleaner and more organized than it has ever been.  I mean, this place is impeccably clean and I lurrrvve it!  Of course, this is probably the last time for many, many years that it will ever be this perfect, but at least I get to enjoy it for a little while :).
I am declaring us officially done and ready.  I know we'll never be 100% ready to become parents, but as far as getting things prepared, we are finally ready!  If he came tonight (which I hope he holds off at least a little longer!), I wouldn't be stressed at all about things not being finished.
Labor signs:  I've been feeling random pains in my stomach and quite a bit of pressure off and on, like maybe he is dropping a little.  I don't know if the pains are contractions or just muscle pains, but whatever they are, it's new this week.
I had my weekly appointment today.  Everything looks good, but little progress labor wise.  My blood pressure was 120/60, Hudson's heart rate was 156, I'm 1 cm dilated and still 50% effaced.  My doctor predicts that I'll go past my due date.  We shall see!  Also, my Group B Strep test results came back negative so I won't have to be put on antibiotics during labor, so that's good.
They ask me every time if I'm having any contractions and I honestly can't say that I've had anything where I thought "Oh!  That was a contraction!".  I mean sometimes my stomach feels tight, but it could just be Hudson stretching around in there.  I just don't know!  I'm not sure if that's normal or what.
Thoughts:  It could be anytime now!  I'd really like Hudson to stay in another full week or two so that he continues to grow and be healthy.  However, if he decides to make his appearance this week I won't freak out too much (and likewise if he decides to stay in until past his due date, I'm fine with that, too…God's timing, not mine).  I'd like him to at least wait until after we have our nice relaxing weekend, though :).