Ok, not really an ode, because Ode : A poem in which a person expresses a strong feeling of love or respect for something or someone (why yes, I did have to go to Merriam-Webster.com to look that up) and this is certainly not poetry.
But anyway…
Before I completely transition to being a minivan mom (got the minivan…waiting on the mom part – any day now!), I wanted to reminisce upon my one and only car that has served me so well these past 8.5 years.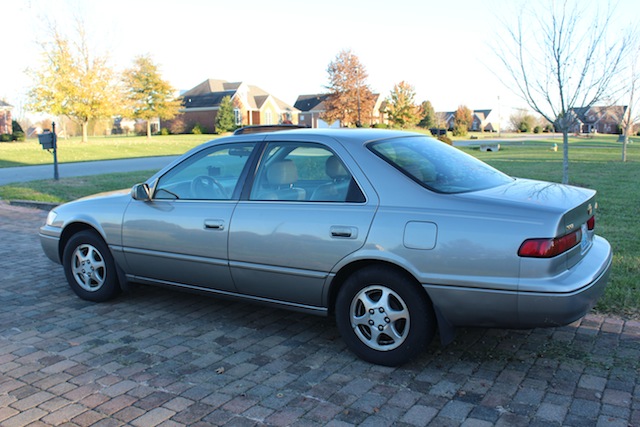 The deal in my house growing up was that whatever car money you came up with my parents would match that, plus you have to pay your own insurance and gas.  When I turned 16 I didn't have near enough money saved up for a car, so I just borrowed my mom's van when I needed it and kept on saving.  The summer before I left for college (2005) I finally had enough saved up: $2,500, which, once they met that amount, would give me $5,000 for a car.
We started looking around for something suitable.  One afternoon my dad called saying that he had stopped by a dealership on his way home from work and found one he thought I would like.  Another woman was looking at the car, but didn't think she was going to have enough credit to buy it, so he told me to hurry up and get there in case she had to pass.  Mom and I jumped in the car and drove over to Madison.
We got there, I test-drove the 1997 Toyota Camry you see in the pictures above, and when the woman was unable to purchase it we marched inside and wrote a check for $5,000 (give or take).  I was so proud.
Let me tell you, have I gotten my money's worth!  It's not the most glamorous of cars.  It's probably one of the most generic cars out there (I can't tell you how many times I've walked up to an identical Camry in a parking lot, stuck my keys in the door, and tried to get in…before realizing that wasn't my car).  The clicker hasn't worked in years (and back in college I was way too cheap to pay the $80 to get it fixed), the leather seats are cracked, the trunk lock doesn't work so you can't open it from the outside, and the tint is peeling horribly off the back window…just to name a few.
But for a 16 year old car it's in pretty good shape, and for the past 8.5 years is has been a workhorse.
Having to work for my car and pay for a lot of it myself taught me to be very appreciative and take good care of it.  And having paid for the whole thing upfront really made me appreciate not ever having a car payment.  The summer after my freshman year of college I got my first job working at a daycare.  Almost every penny I made that summer went to purchasing a new set of tires.
Since I bought my car in 2005, we've put over 100,000 miles on it.  It had 122,439 miles on it when I bought it.  Back in August we hit the "100,000 miles driven" mark: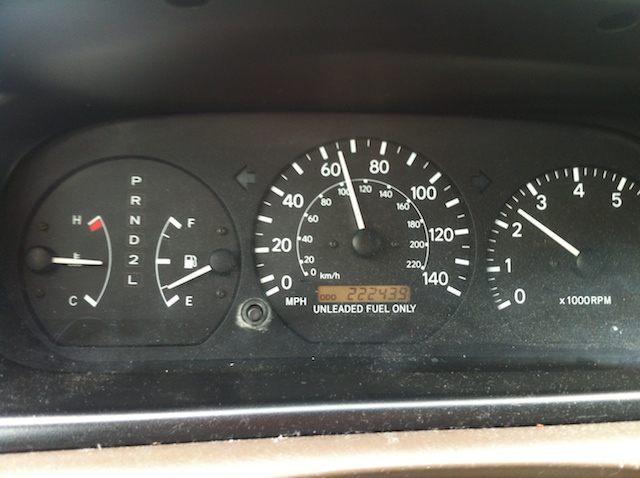 Fun fact: I knew that I was approaching the 100,000 mark as we headed to Springfield for the day.  Unfortunately my pregnancy brain caused me to leave my slip of paper with the exact number written on it at home and of course I didn't have the number memorized.  Michael knew it was important to me so for 30 miles he held his camera there and took a picture at every.single.mile.marker until we were confident we had passed the mark.  Then when we got home I was able to have the "right" picture.  He is so great.
Speaking of Michael, he is the main reason my car has run as well and as long as it has.  He does almost all the maintenance on it himself and takes great care of it.  Working on cars was not really something he did much before we were married, but he taught himself a lot over the past few years.  In fact, he even has a YouTube channel where he posts videos about car repairs…apparently lots of people are trying to figure out how to work on their Camry's as well, because those car videos get a lot of hits!
I bought the car right after Michael had his wisdom teeth taken out.  I drove it to his house to show him and he got in it, sat there, inspected some stuff, rev'd the engine…and was so doped up on meds after his surgery that he doesn't remember any of that!  He wasn't super happy with my car choice – he comes from an American-made car only family and so buying a Toyota was a no-no.  However, after a few years (once we got married and he started driving it some), he came around and really liked it.  Especially the good gas mileage part.
But never fear, the Camry is still with us.  We decided to keep it rather than trade it in when we bought my van.  Michael also has an older vehicle, a 1999 GMC Sierra pickup that's probably in worse shape than the Camry.  So now I drive the van and he alternates between the car and the truck.  Keeping the car gave us another option for a vehicle with a carseat (no carseat in the truck because it doesn't have a backseat) and that gives us a backup in case one is having problems.  With our "older fleet" (as Michael calls it), this is a pretty likely occurrence (in fact, the day after we bought the van both headlights in the Camry went out…).  Plus when you're used to having a pick up truck around, it's hard to imagine not having one at all – even if you don't drive it all the time they are just so handy to have for hauling and stuff!
I thought I'd be all sentimental and sad about not driving my car anymore, but to be honest it hasn't been hard at all!  I guess it helps that we didn't sell it – I think I would have been a little sad to see it go completely.  But after that first day I drove the van to work, I haven't looked back once (amazing, given my misgivings about vans!).  In fact, it was probably almost two months before I even got back in the Camry, and then I realized how low and uncomfortable the seats were compared to my van!
If you made it this far, you deserve a high five!  This is one of those posts that I write just for my own memories some day, not to try to entertain my readers (sorry, I just don't know how many of you care about the story of my car!).