I love our house, but like every house (unless you custom build, I suppose) it isn't perfect.  One of my biggest problems is that there is only one closet (and one pantry, which I guess sort of counts) for the whole downstairs – master bedroom, master bath, entryway, living room, kitchen, dining room, and half bath.  ONE closet.  The one in our bedroom.  It's a big closet, but still…
The lack of storage space downstairs has been a challenge, so I made it a big priority to fit as much stuff into our master bathroom as possible.  Thanks to Pinterest and my handy husband, we were able to come up with some easy, fairly cheap solutions.  Now everything bathroom related (even some rarely used things that I had been storing in the upstairs bathroom or elsewhere in our bedroom) is all nice and organized in our bathroom.
---
This post may contain affiliate links.  If you purchase a product through an affiliate link I make a small commission at no cost to you.  This helps keep my blog running so thanks for your support!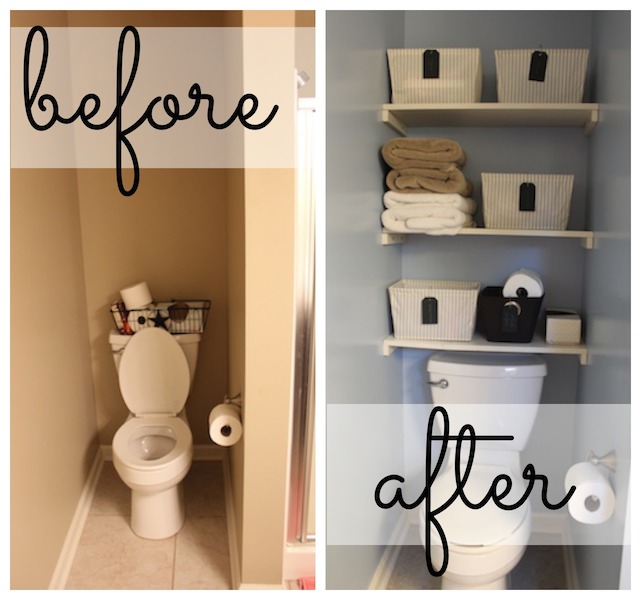 Here's the bathroom before – the generic "builder beige" color that our whole entire house was painted when we first moved in.  Not the worst color in the world, but a little boring – especially when that's the color of your whole house.  Other than putting the towel bars on the door so we had a place to hang our towels, we hadn't done anything else to the bathroom.  We stuck that little red bookcase in behind the door to use as storage until we decided on something permanent.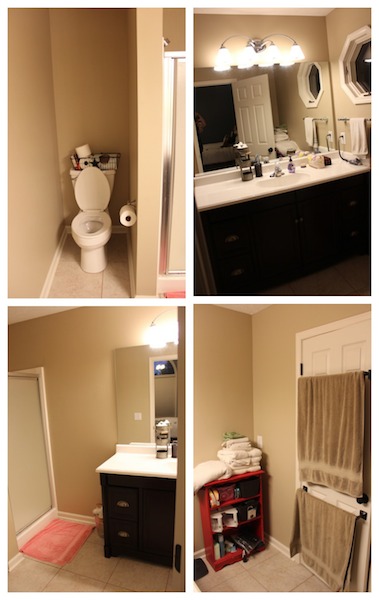 My huge nesting to-do list included painting the bathroom, so Michael, his dad, and my mom all had a hand in getting our bathroom painted (apparently despite their small size, bathrooms are hard to paint – who knew?).  We went with a light blue/gray color that was about two shades lighter than the color of the walls in our bedroom.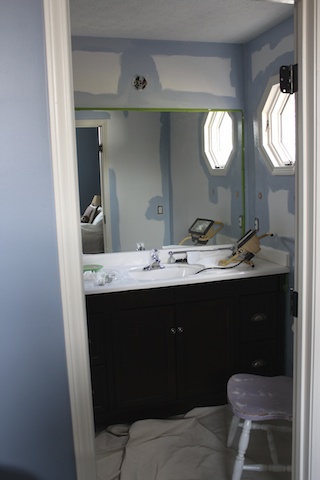 Once the bathroom was painting my job (the fun part) began…getting everything organized and decorated!  Our bedroom is a blue-gray, with neutral (mostly white) bedding, rug, curtains, etc.  I'm using gray and yellow as accents, but I kept the "big" stuff mainly blue and white so it would be easy to redecorate later on down the road.  I did the same with the bathroom – a lighter blue-gray and neutral (tan/white) with a few hints of gray and yellow.  I'm pleased with how it turned out!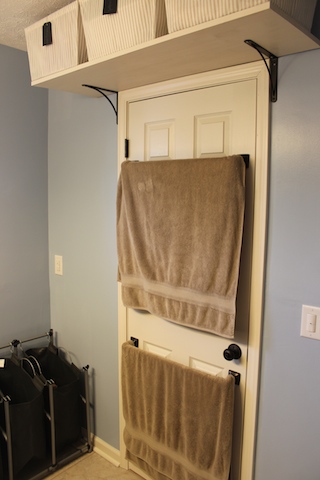 One of the first things we did, before we even started the organizing and decorating process, was hang towel bars on the back of the bathroom door so we would have a place to put our towels.  I love that the towels are hidden (the bathroom door is usually open so the towels are kind of behind it) and that it keeps us from having to hang them on the wall (I don't like the idea of wet towels against the painted wall).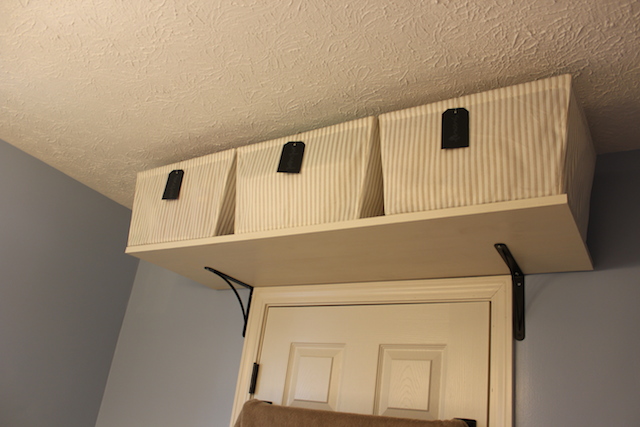 Michael built this shelf above the door for us to store our lesser-used items.  He bought a piece of wood at Lowe's, painted it, and attached it with the brackets.  The three baskets contain our extra bed linens, spa/pampering type things that I don't use much, and extra items (extra toothbrushes, floss, body wash, etc.) for when we run out.
I love utilizing this out of the way, wasted space.  A word of caution though – it is somewhat hard to get to the baskets.  I'm 5'7" and I can barely get them down, especially the heavier ones.  If you are short you may want to skip this (or keep a step-stool handy).  That's why I put the things we rarely use up there, other than the extra bed sheets but they are so light that it's pretty easy to get that basket down.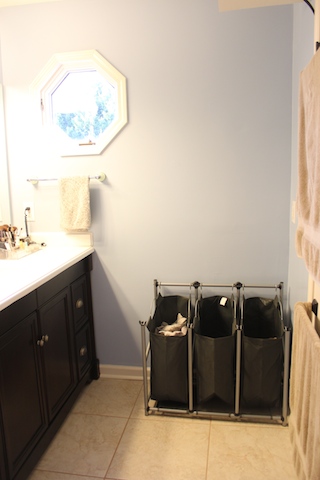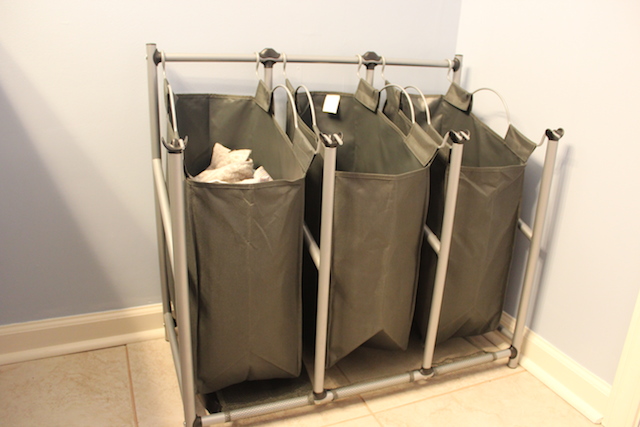 This laundry sorter is another new (and very well worth it) addition.  We previously just used one large laundry basket in our bedroom and then I had to sort through it each time I needed to do a load of laundry.  Thanks to all the new storage and organizational things I was able to get rid of that little red bookshelf, and this fit perfectly in its place.  Now the dirty laundry doesn't have to be out in our bedroom anymore and it's mostly hidden by the door when it is open.
I also am so happy that we now sort as we go.  We have a section for colors, whites/Michael's work clothes (we don't usually have much of either of those so we combined them), and delicates.  Now I can see at a glance which group of clothes needs to be washed and I don't have to dump everything out to sort and collect them.  Also, those bags lift up off the frame so that I can just carry a pre-sorted bag upstairs and dump it right into the washing machine.  Genius.
I hesitated spending money on a new laundry hamper when we had a perfectly good plastic one already, but this has definitely been worth the money.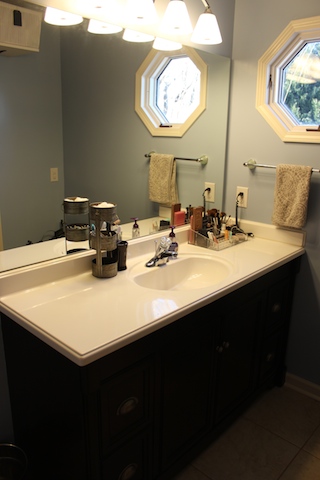 The vanity really wasn't that bad to begin with, and I don't like having lots of stuff out that I have to clean/clean around all the time, so I tried to streamline the best I could.  It's hard to get a good picture due to the dark wood, but there are four drawers (two on each side) and one large cabinet-thing with doors under the sink.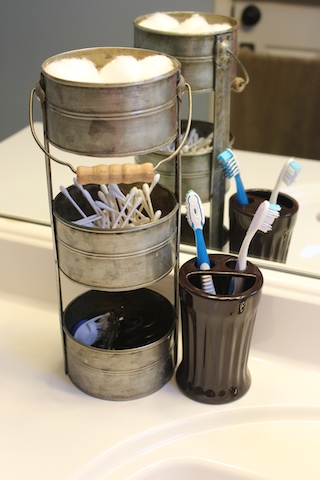 This little three-tiered metal thing from Hobby Lobby is perfect for q-tips, cotton balls, and hair accessories…all things that we use frequently.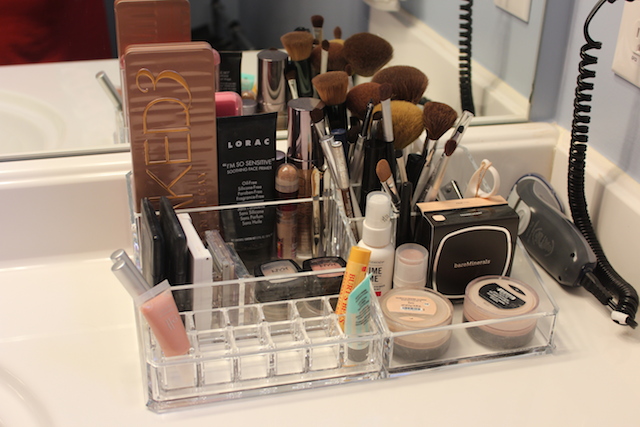 A makeup organizer was another little splurge that I'm so happy I got!  My makeup used to be in three different bags that I had to open and dig through every morning.  Now it's all out and easy to access.  It shaves a bit of time off my getting ready process and my hit-the-snooze-button-over-and-over-until-I'm-running-late self appreciates the extra time.  I still haven't put my lipsticks in there yet, but everything else is nicely organized and easy to find.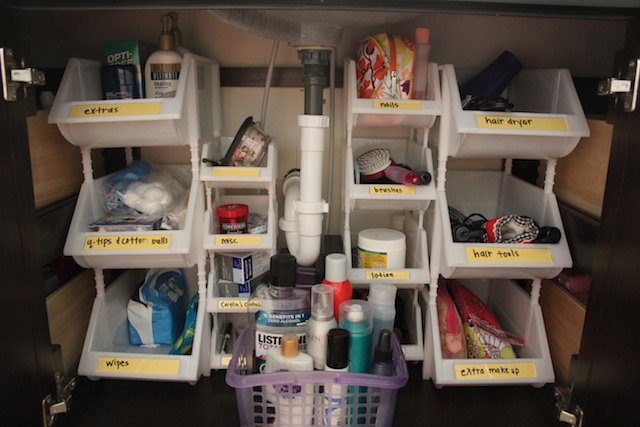 This is one of my favorite parts of our bathroom.  I was inspired by this post and knew that using all that vertical space under the sink was imperative to us being able to store everything in our bathroom.  These little stacking bins from the Container Store are amazing and have added so much extra storage space to this area!  I wish I had a before picture, because I couldn't get nearly this amount of stuff under the sink (and definitely not this organized!) before.  It makes me happy for everything to have a home.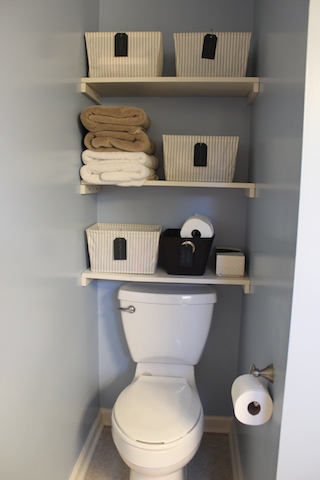 Probably my favorite part of our bathroom re-do are these shelves above the toilet.  My handy-man steps in again – he cut, sanded, painted, and installed these shelves for me.  A word of advice in case you want to DIY, make sure that the shelves, or at least the bottom one, lifts off so you can get to the toilet tank.
Adding these three simple shelves gave us so much more storage space!  I now have spots for extra bath towels, hand towels, wash cloths, toilet paper, etc.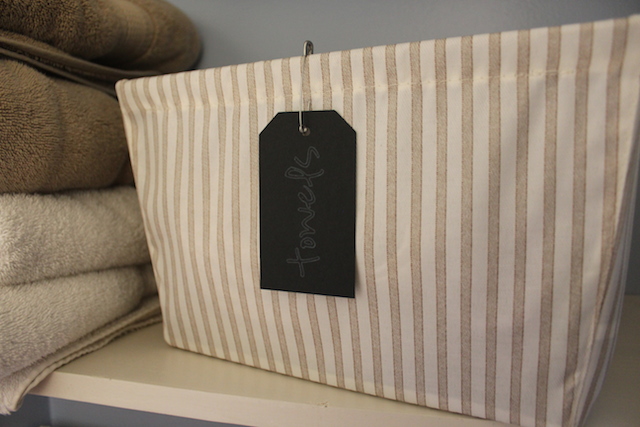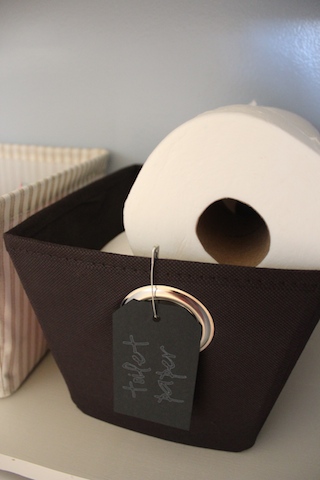 I used my new Silhouette Cameo to make labels for all the baskets.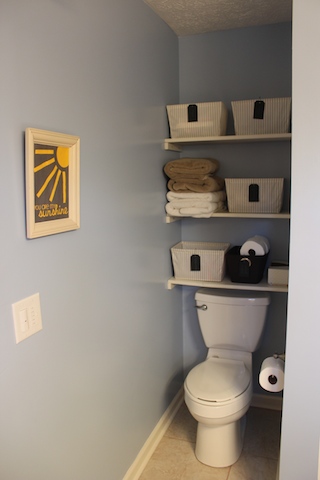 I'm not really big on decorating bathrooms, but I did make this cute little yellow and gray "You are My Sunshine" sign.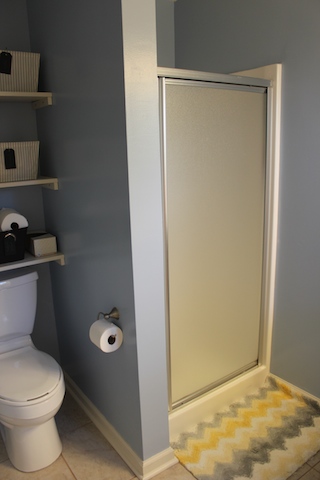 And finally we finished it off with a cute new rug to replace the old bath towel we were using as a bath math.
I am amazed at how different and much more functional the bathroom is now!  Not only is it prettier, but we are able to neatly store tons more than we were able before.
This is the first room in our house that I can finally say is completely done!  It's about time, dontcha think, since we've lived here for over a year?  Stay tuned for my next finished room reveal coming later this week…Hudson's nursery!  I'm so excited to show it off!
Source list:
– laundry sorter
– striped baskets above the door and toilet are from Bed, Bath, and Beyond (I looked all over their website but couldn't find them; they were in the stores very recently so I don't know why they aren't online): similar (same basket, different print)
– makeup organizer (similar)
– gray and yellow chevron rug (Target): here
– vertical stacking bins for under the sink (Container Store): here