Ahh Hudson's green and navy nursery is finally all done!  I'm so excited to show it to you!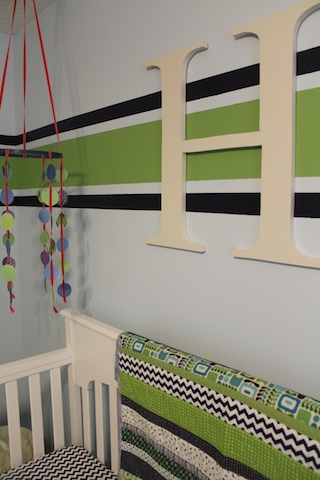 First: my goal.  I did not want the nursery to be baby-ish (think pastels, teddy bears, etc.).  I wanted something that could grow with him as a toddler and a little boy.  I also didn/t want to use a theme or any characters, just a color palette.  Later when we discover what he is crazy about (trains, sports, whatever) then we can add those elements into the nursery, but I didn't want a whole themed nursery to begin with.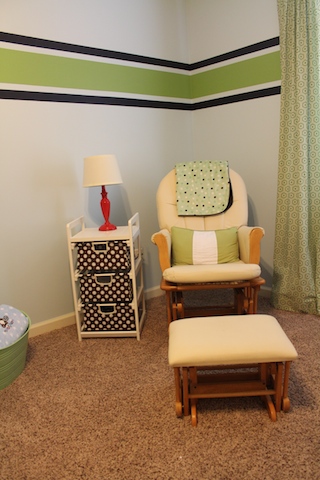 My inspiration was (don't laugh) the cover of a Sports Illustrated for Kids magazine.  Back before we even knew we were having a boy I had my girl nursery colors all picked out (I've had those for years) but didn't know what I wanted to do for a boy.  I went to my school mailbox one day and the library's monthly copy of Sports Illustrated for Kids was there.  I care not one bit about sports and usually never give it a second glance, but this particular month I was struck by the beautiful color scheme.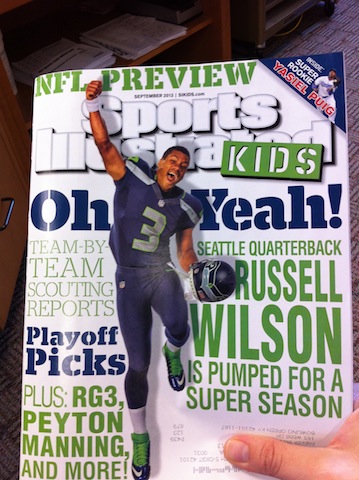 I snapped a quick picture of it and then after we found out we were having a boy I just couldn't stop thinking about the beautiful apple green and navy…thus our nursery colors were born.
The next thing to do was to pick fabric and paint.  We decided to paint the walls a very light blue, and then use green and navy accents around the room.  I was afraid a green or navy wall would be too much, and I think the light blue is a great background for the rest of the colors.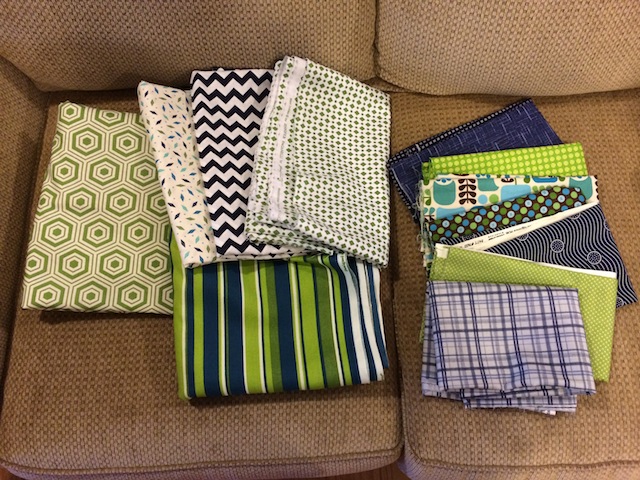 I found most of my fabric at this great little fabric store near Bowling Green called Whittle's.  They have tons of beautiful fabrics at great prices (they also have an online store if you want to check them out).  I was able to get fabric for the curtains, sheets, and quilt (and I knew I'd have leftover from the quilt to use for smaller things, like pillows).  The fabric for the crib skirt I found at JoAnn's.  It is a heavier, decorator fabric (I think that's what it's called) and I think that helps it hang straight and crisp.
The first thing I made was the quilt.  I know babies don't even need quilts, but I feel like it's the anchor point of the nursery, plus it's a special keepsake that I wanted to make for Hudson.  I looked at tons of baby quilts online but I kept coming back to the same design – just straight pieces of fabric in varying patterns.  It's such a simple design and almost too easy, but I just love it.  My main inspirations were this quilt and this quilt (plus tutorial).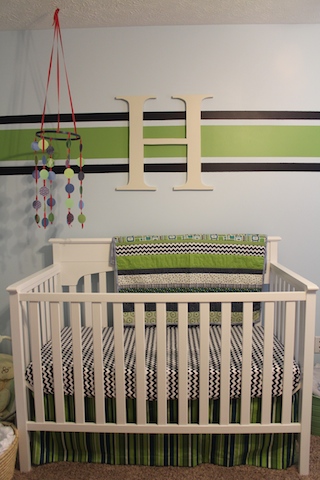 After searching quite a bit online for crib sheets and not coming up with anything that I just loved (most ready made ones were pastels and boring, the custom ones were way too expensive), I decided to make them myself (well actually I complained to Mom that I couldn't find any I liked, she said surely we could make them ourselves, and then proceeded to find a tutorial online for me to use).  I made three sheets using some of the fabric that I got at Whittle's.  The tutorial that I followed was so very easy and I whipped those suckers up super fast.  I was a little intimidated by the elastic part, but Mom walked me through the first sheet and once I realized how easy it was, I was good to go.  A little tip if you decide to ever make your own sheets…buy your fold over elastic at Hobby Lobby if you can.  I started off ordering from Walmart.com, but then found some later at Hobby Lobby where I didn't have to pay shipping and could use a 40% off coupon, so I bought the elastic there and returned what I got from Walmart.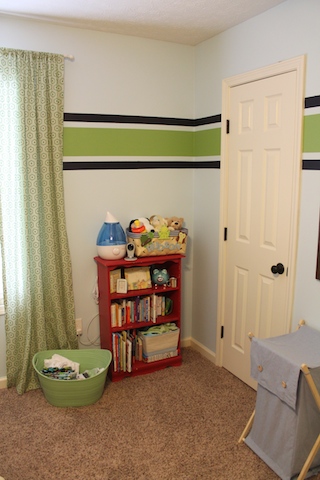 Let me tell you, making all this stuff for the nursery was a fantastic learning experience.  Not only did I get to learn how to make crib sheets, I also made my first set of curtains.  They were ridiculously easy and I can't believe it's taken me so long to make any!  The ironing is a bit tedious, but as long as you can sew in a straight line you are good to go.  I just made a basic floor length panel curtain with a pocket at the top.  I used this tutorial to help me with the main part of the curtain, and then these instructions to see how to make the pocket.
The crib skirt was the easiest of them all.  I made four panels, basically the same way I made the curtains, and then attached them to the crib by tying them to the springs on the bottom.  This is the tutorial I followed.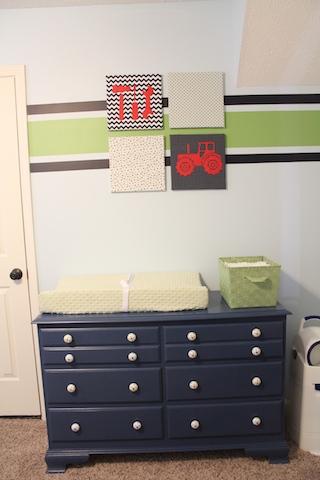 I forwent the traditional changing table and decided to use a dresser so I could have storage plus a changing station on top.  My grandparents had one in their basement that belonged to my mom when she still lived at home that I was able to use.  We took off the original hardware, Mom painted it this beautiful blue color, and then Michael put on new knobs that I found at Hobby Lobby.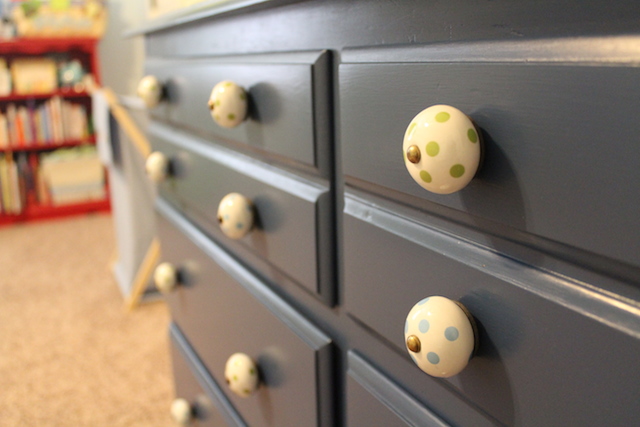 After all the big stuff was done, it was time to decorate!
Michael has been such a trooper – first I requested the stripes that were way more difficult than I ever dreamed, then I decided to make some string art for the nursery.  I saw this awesome name sign for sale on Etsy (via Pinterest of course – Michael is going to ban Pinterest if I keep coming up with more projects!) and decided that I could make it myself.  As always, my "simple" project took way longer than expected.  The wood took multiple days to dry after being stained.  Then, because it was such a hard wood, Michael couldn't hammer the nails in without them bending, so he had to pre-drill a hole for every single nail, then go back and hammer in the nail.  Then, the nails were longer than the board and stuck out the back, so he had to saw off the ends of each nail that had come through the back.  He worked so hard on it and I love how it turned out.  Then I got the easy part…putting the string on!  I know there has to be some sort of mathematical method to making the letters with the string, but I didn't care to spend time figuring it out so I just randomly wove the string around.  I'm very happy with it and think it turned out great!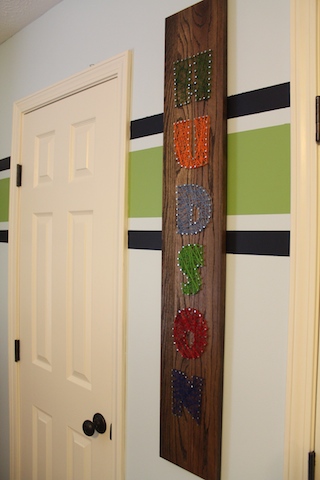 Inspired by some mobiles I'd seen on Pinterest, my brother helped me whip up this super easy mobile – an embroidery hoop painted to match, and circles of scrapbook paper sewn to ribbon.  My father-in-law cut out the big "H" for above the crib.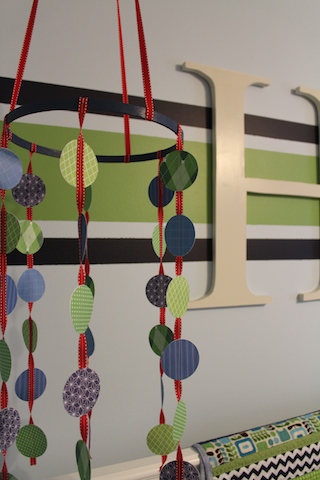 I also wanted something to go above the changing table so I wrapped four 12×12 canvases with leftover fabric and used my Silhouette Cameo to cut out some cute "art".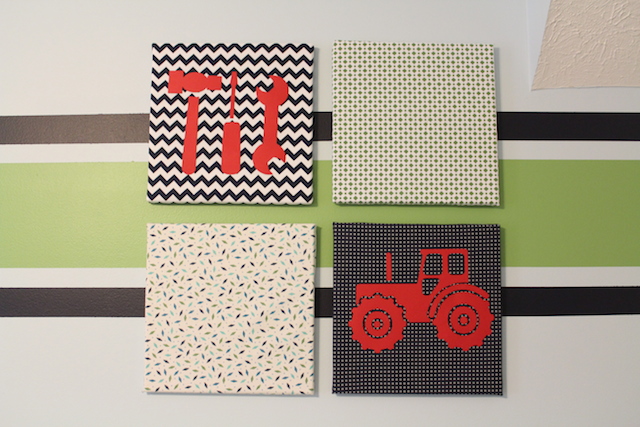 My original plan was navy and apple green with some light blue.  You may have noticed a little red thrown in.  Here's why.  We have this little bookcase, which was in my brothers' room when they were little and I've used all through college and since as extra storage (you might remember it from our bathroom in the before pics).  I knew I wanted to use it in the nursery so we put it in there until we could get around to painting it.  Well, for one I ended up really liking the red, and also I felt so bad asking Michael to do so much stuff to get ready for Hudson that I just couldn't bring myself to ask him (or my mom, or my father-in-law) to paint anything else.  But I actually love it, and I just then incorporated a little red into other areas of the room to tie it all together.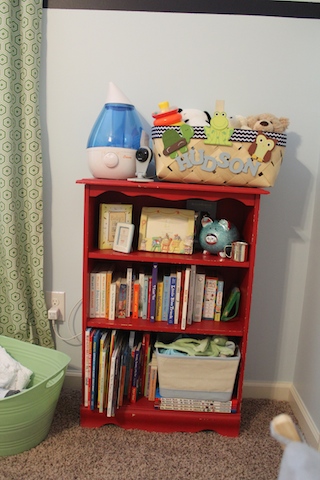 I looked for a nightstand for what seemed like forever.  I couldn't find anything that wasn't super expensive, until I stumbled upon a great deal on Amazon – this nightstand was on sale for $8.  Eight dollars!  I snapped it up immediately and it works perfectly.  Plus it has extra storage – added bonus!
I also really wanted a red lamp but we looked high and low without finding one (plenty of red lamp shades, no red bases), so finally I just bought a cheap-o from Lowes and painted it red with craft paint.  Don't look too closely because it's not the best paint job in the world, but from afar it looks pretty good.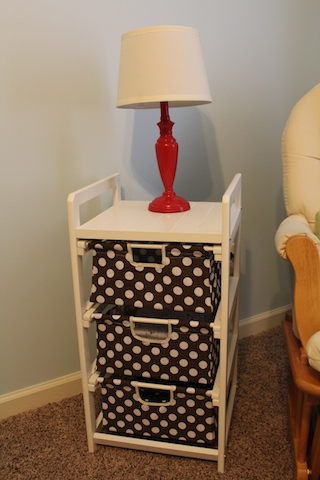 I love, love, love how everything turned out!  Now we just need a Hudson to complete the space :)
A few more pictures for your viewing pleasure: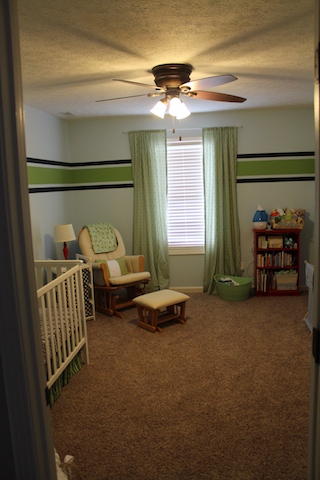 looking in to the nursery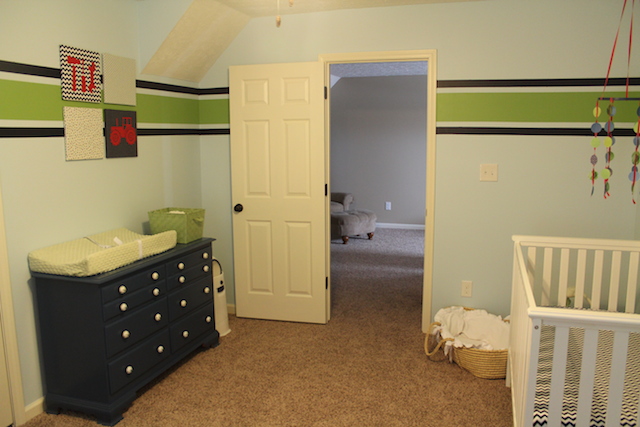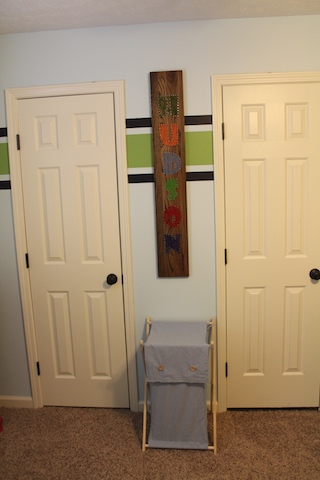 his closet on the left, attic access on the right