Obviously this post is a little behind…Hudson was born at exactly 39 weeks!  I had already typed most of this post earlier in the week before I usually post, and then while I was in early labor I finished up the post, however, I was in hard labor when my actual 39 weeks day rolled around and I just never thought to post it (imagine that, being a little distracted by labor…).  But I wanted to make sure I kept the notes for my own memories, even though they are a bit belated.
My post-birth notes are in italics if I had any comments looking back after writing this.
How far along: 39 weeks – full term!  Many say 37 or 38 weeks is full term, and that's the old thinking, but recently the American College of Obstetricians and Gynecologists have changed that to say that a baby is full term at 39 weeks. So here we are!
How big is baby:  I haven't had any of the third trimester ultrasounds to try to estimate size, and my doctor hasn't really guessed, so all of this is still according to BabyCenter.com – supposedly he is about 20 inches long, a little over 7 pounds, and about the size of a mini-watermelon.  It will be interesting to see just how close to the "average" size our Hudson will be when he is born and if this BabyCenter stuff has been accurate at all.
Baby Center was pretty close…Hudson was 6 pounds, 14 ounces and 19.25 inches long
My symptoms:  We almost headed to the hospital Saturday night – not because I thought I was in labor, but because of the shooting pains I was having in my belly.  I think I've mentioned before that I've had this weird pain that comes up sometime that starts at the top of my belly bump and runs in a line down near my belly button.  My doctor wasn't concerned and thinks it's probably a weak muscle or a pinched nerve-type thing.  That same pain, times 100, started happening Saturday on the left side of my stomach and kept happening.  It didn't really feel like a contraction (not that I know what they feel like, but the pain happened when I moved and when I pushed on certain areas so it would seem like if it was a contraction I wouldn't be able to invoke that pain).
I wasn't too, too concerned at first because I figured it was just aches from my stomach growing, or another weak muscle, or maybe even Hudson changing positions.  However, it just kept happening and it was so painful that I got a little afraid something was wrong.  Michael called the on-call doctor at the hospital and we told him what was happening, he asked some questions, and then said it was probably just ligaments or muscles stretching to prepare for birth.
The pain continued on through Sunday, so Sunday afternoon after church I tried to stay still and rest a lot.  By Sunday evening it seemed to be gone.
Saturday afternoon the pain had started when I moved to get out of the bed after my nap and I'm wondering if I moved too quickly and pulled something on the left side of my stomach.
Weight/belly:  No idea on the weight but I'd guess about 50 pounds gained total based on last week's weigh in.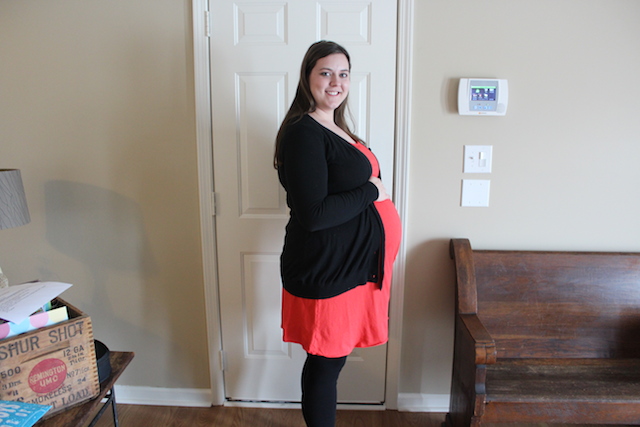 38w6d
Movement:  Lots and lots.
Sleep:  Still good!  Other that getting up to go to the bathroom and change positions a few times, I've had good sleep.
This weekend when we had our babymoon staycation I slept a lot.  Good nights of sleep each night, plus naps each day.  On Saturday while I was napping I had the craziest dream.  I dreamt that right at the end of pregnancy my doctor discovered I was going to have twins.  Because of that, he had to do surgery to remove them.  They put me under and he cut the babies out.  When I woke up I kept asking to see the babies because we didn't know the gender of the second baby and I wanted to know if I was having two boys or a boy or a girl.  They kept putting me off and trying to get me to eat brownies instead, but I kept insisting.  Finally they rolled two baskets covered with blankets over to me and I uncovered the first blanket.  Inside the basket were rows and rows of babies that were kind of square like bags of sugar, four babies to a row.  The second basket that the same.  34 babies in all.  34!!!  They all had on mis-matched clothes – one would be in a full length fleece sleeper and the next would be in just a t-shirt and diaper.  Apparently when the doctor cut me open he found 34 babies inside me.  My first "thoughts" in the dream were "We don't have a big enough car for all these babies!", "How are we going to hold them all?", "How am I going to nurse them all?" and "How on earth did this happen?".  It was slightly horrifying and when I woke up from my nap and felt only one baby kicking inside me, I was pretty relieved.
Best moment(s) this week:  Our babymoon staycation was wonderful!  We basically did nothing, which was exactly what we wanted.  Lots of eating out, sleeping, reading, and watching Criminal Minds.  Monday afternoon we did do a little bit of work (I cleaned the house, Michael did some car stuff), but other than that we were just lazy, lazy, lazy.
Funny comments:  My students are so curious about when I'm going to have the baby, and even though we've talked about how babies come when they are ready and it will be a surprise they still ask me constantly things along the lines of "When are you getting your baby out?".
When my preschoolers came into the library this week, one little girl said "still haven't gotten your baby out yet?  You need to get your baby out!"  Then she proceeded to tell me that I needed to go to the hospital and they would help me get the baby out.
Obviously her words did the trick since my water broke less than three hours later.
Several people recently have mentioned that it is so sweet that I'm already rocking Hudson because they've noticed me sitting and rocking back and forth…I hate to disappoint them but that's not the case at all.  I've rocked slightly for as long as I can remember.  In fact, at my high school graduation I was on the front row on the stage and was told that I rocked all through the ceremony with my graduation tassel swinging back and forth.  So unfortunately I'm not consciously being all motherly and rocking my little guy, but I'm sure he likes it and will want lots of rocking once he gets here!
I feel like a ticking time bomb.  Like everyone is just watching and waiting for me to explode.  Some of the comments I've gotten about my impending delivery:
– "How many more days?", "What's the exact date again?", and "How much longer?" are crowd favorites.  I'm tired of saying, "Another week or so" or "January 30", but then having to qualify with "but babies come whenever they want, so…."
– "Well, you haven't had that baby yet".  Nice me just smiles and says "Nope".  Sarcastic me wants to say "Yes I did!  I just happen to still have the huge belly, and, oh yeah, I left the baby at home"
– "You're still here!" (I got that one a bunch at church on Sunday).  Well, yes, and I plan to continue coming to church until he arrives, which could be a another week or so.
Don't get me wrong, I know that people love me and are excited.  It just gets tiring hearing the same things over and over.
What I'm looking forward to:  Remember how last week I was so excited about getting a massage Friday afternoon to kick of babymoon weekend?  Well, that got cancelled.  I was so disappointed that I almost started crying when I got the message – not only because I wanted a relaxing massage, but also because my back had been hurting to the point of almost not being able to function and I was really expecting the massage to help.
That was the third time that girl had cancelled on me and needed to reschedule, so I finally got fed up and decided to schedule somewhere else.  There are very few people in Bowling Green who give prenatal massages and getting an appointment at the last minute was difficult.  One wonderful salon worked with me and was able to fit me in on Saturday.  Fingers crossed that I haven't delivered yet because I really want that massage!
Well obviously the rescheduled massage never happened, and neither did the pedicure I was planning to get.  I actually had to call the massage people from my hospital room the day after I delivered and let them know I no longer needed a prenatal massage…since I was no longer prenatal!
Baby items purchased or prepared:  We had a Babies R Us coupon and used it to purchase a few more little things we hadn't gotten from our registry, but basically we have all the important baby stuff so we're just going to wait until he gets here and see what we need before we buy much else.
Labor signs:  Every week at the doctor they ask if I've been having contractions and every week I say "I don't know", because I'd never felt anything that seemed like a contraction.  Thanks to the belly pains I talked about earlier, I can fairly confidently confirm that I have been having contractions, I just haven't noticed them.  There were several times during that 24ish hours I was having the muscle pains that my belly would get really tight and that pain would shoot and intensity.  I'm assuming that I was having a contraction, which was pulling on that stretched muscle and making it really hurt.  It happened once in church and I couldn't even stand up to sing the closing song.  Now that the pain from my stomach seems to have gone away, I haven't been noticing anymore contractions, but I figure they're probably there.
Of course, by the time I actually hit 39 weeks, I was laboring away with contractions where there was no mistaking them!
Thoughts:  I actually utilized the Babies R Us expectant mom's parking this week…about time!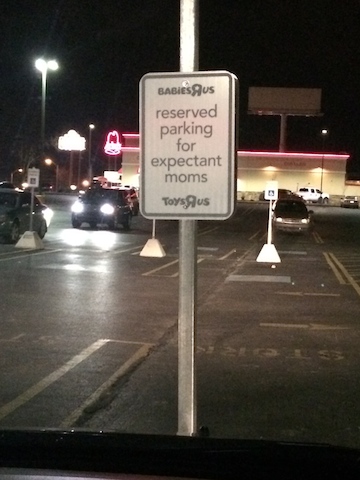 I can't believe pregnancy is over!  I know it just drags for lots of people, but for me it flew by.  I am beyond thrilled to have Hudson here, but I think I will miss being pregnant (most of it at least, not everything!).  This has been such a special experience.