I cannot believe Hudson is a month old already!  In some ways it seems like he was just born, and in others it feels like our terrible first week was ages ago.  So this is what we've been up to this month (warning: tons of adorable baby pictures ahead!)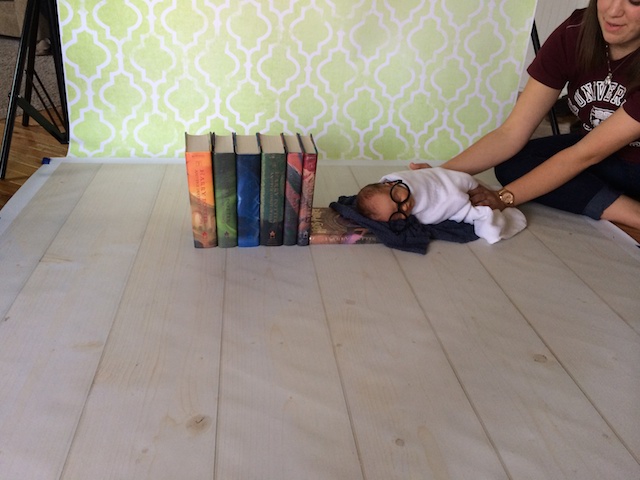 At nine days old, Hudson got his newborn pictures taken.  I showed you those here, but couldn't resist reposting two of my favorites (plus showing a behind-the-scenes-peek).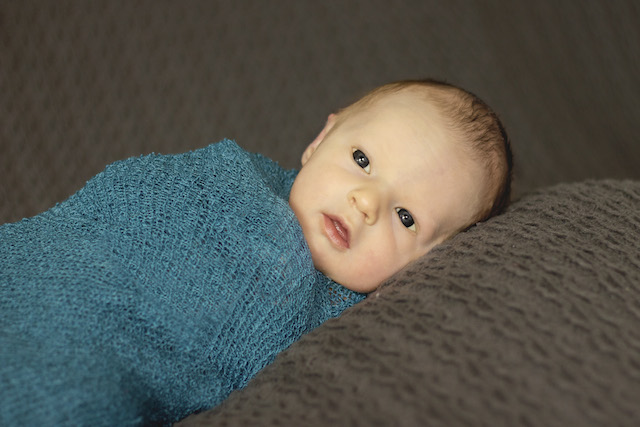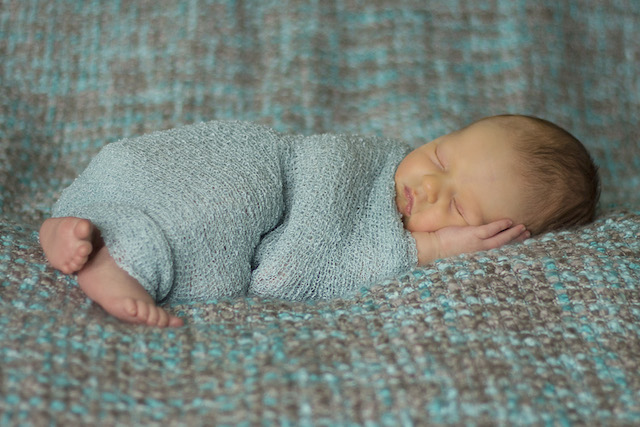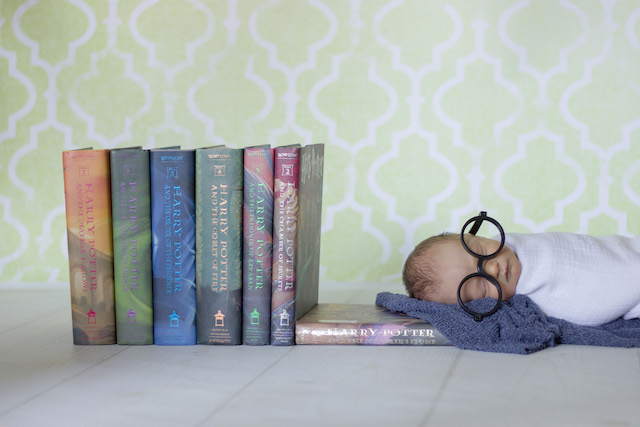 We watched just about every event in the winter Olympics since we spend pretty much all day every day in the recliner nursing or napping (him, not me…I think I've taken two naps total since he was born.  I'm just not much of a nap taker).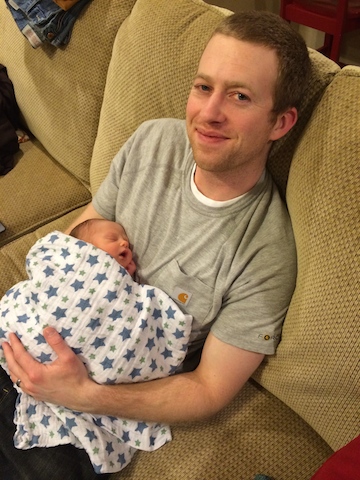 my favorite boys!
love those sweet, sweet lips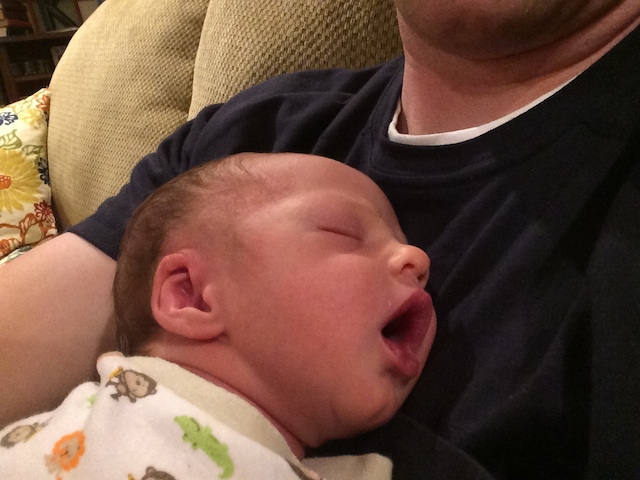 he sleeps with his mouth hanging wide open much of the time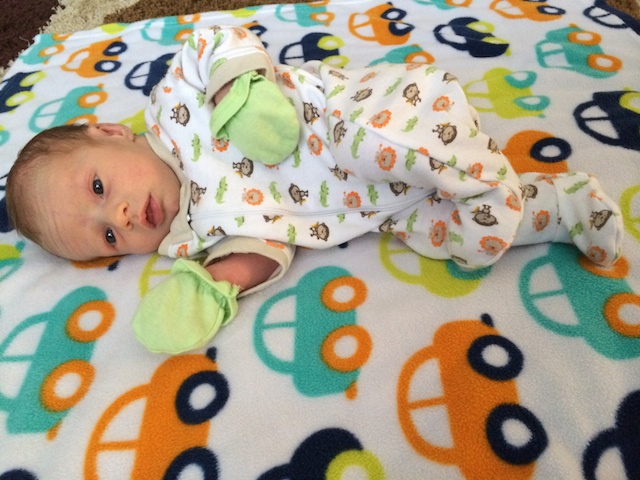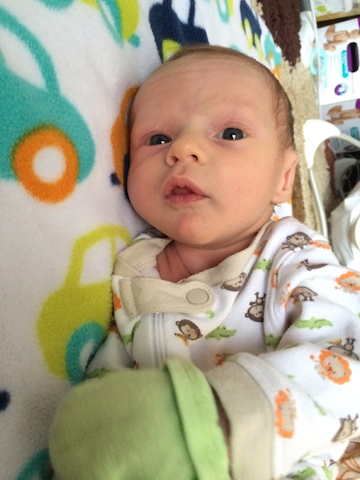 This was one of the first days he was really alert and awake for a long period of time.  We definitely don't have a routine down yet, but he is usually pretty awake for a while after he eats "breakfast" (what's breakfast, really, when you eat all day and night…?) and likes to play on a blanket in the floor for a while.
He tries so hard to roll over but just can't figure out how to get his shoulder out of the way.  He does not like to be on his back and he usually rolls to his side if you lay him down on his back.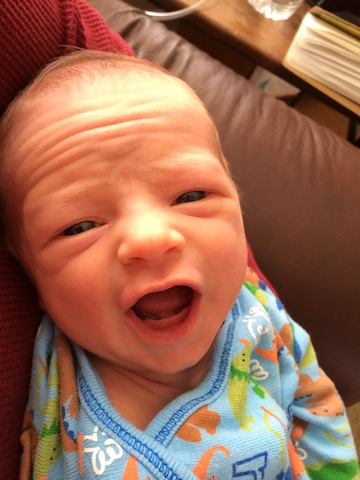 I see this "I'm hungry" face pretty often.  Check out those adorable forehead wrinkles!
I always heard "watch for hunger cues and feed him before he gets to the point of crying".  Umm, nope.  This one goes from zero to screaming.  He doesn't show those hunger cues usually (sometimes, but not always), and will just start shrieking with hunger.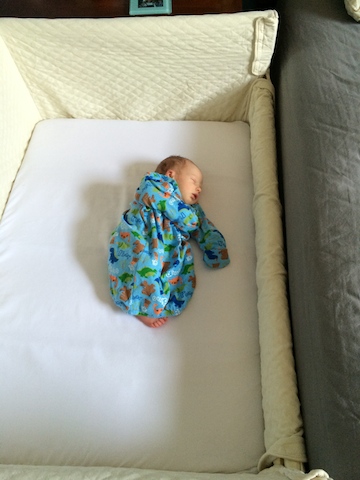 After I sort of freaked about the Rock 'N Play, thinking that he would lean his head forward and stop breathing, I decided we needed a flat place for him to sleep.  He has a crib in the nursery, but I'm not ready to put him in there yet so we needed something for our room.  This Arms Reach Co-Sleeper is the ideal situation – it bumps right up next to the bed so he's sleeping next to me but not in the bed (something I'm really trying to avoid).  We found a gently used one for sale and got it all set up.
Let's just say that I'm glad I bought a used one and didn't spend a lot of money because so far he hates it.  Well, to be honest mostly he just hates being set down anywhere at all…swing, Rock 'N Play, bouncer, co-sleeper, anything.  He just wants to be held 24/7.  We put him in the cosleeper several nights but he'd only sleep for a little while and then we had to find an alternate place (usually in someone's arms in the recliner).  I think the longest he slept in the cosleeper was two hours one night.
He won't go to sleep in there at all if I'm not touching him, so for two nights (as long as he would sleep in the cosleeper) I slept with my legs in the cosleeper right alongside his back so if felt like I was laying next to him.  Not the most comfortable of sleeping positions.
He's gotten better about needing to be held at night, but we've had to go back to the Rock 'N Play because he sleeps much better in there than the cosleeper.  I think the cosleeper was just too big and he kind of rolls and flops around a lot.  The Rock 'N Play is more snug.  So right now the cosleeper is just something that gets in the way when I try to make the bed, although he will tolerate me laying him down in it for a few minutes during the day while I get ready.  Maybe someday he'll be able to sleep there, too.
My mom has been a lifesaver because she gets up in the middle of the night with Hudson and holds him once he's to the point where he won't lay down on his own anymore.  That allows us to catch a few hours of much needed sleep without having to keep one ear open for him.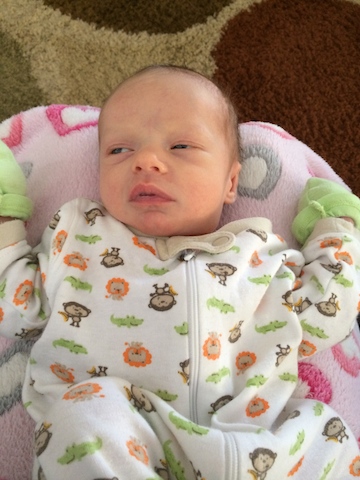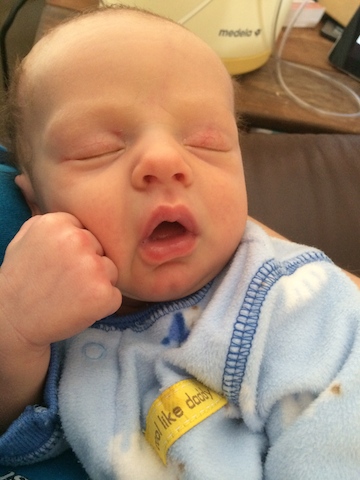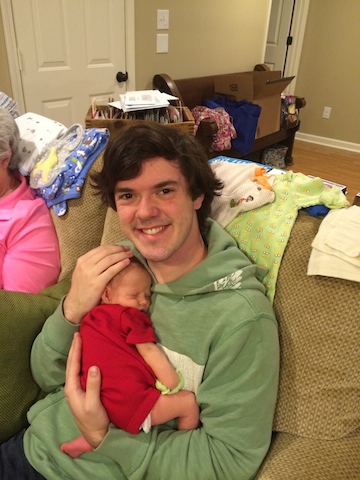 Hudson's first Valentine's day was pretty uneventful (this is the only red item he had that was remotely small enough for my little munchkin to wear, so that's what he wore for Valentine's).  His Uncle Riley came to visit on Valentine's and stayed the weekend with us.
He is definitely a mama's boy right now but he loves to snuggle and play with his daddy, too.
I thought we might have thrush because I was having quite a bit of pain and was seeing white chunks in his mouth.  Turns out, the white chunks were just little milk curdle spit up thingys (gross, sorry) and not thrush, but we went ahead and used the gentian violet just in case.  That was a big mess and I'm glad we're done with that!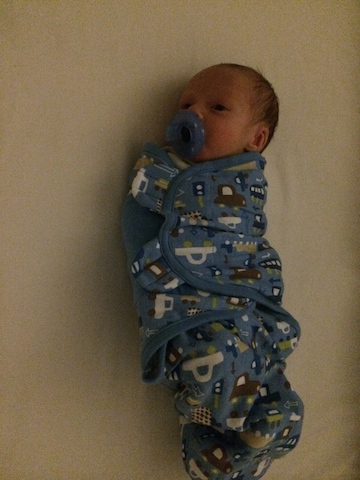 We introduced the paci when he was about three and a half weeks old.  Our hope was that it would soothe him and help him sleep better at night.  Unfortunately he doesn't seem to care for it that much.  He has a really hard time keeping it in his mouth so unless someone sits there and holds it in it just falls out and makes him mad.  We try it some every day and he's getting a little better, but he certainly didn't take to it like I thought he would.
We started swaddling him again as well.  When we first got home from the hospital he acted like he hated being swaddled and would bust out each time.  We tried this swaddle wraps but he kept getting out so we quit for a while.  I think he was actually too small for them and that's how he was able to get out since we couldn't get the swaddle tight enough.  Now that he has grown some we've gone back to using the at night and it's going much better.  He doesn't break free or fuss about them anymore.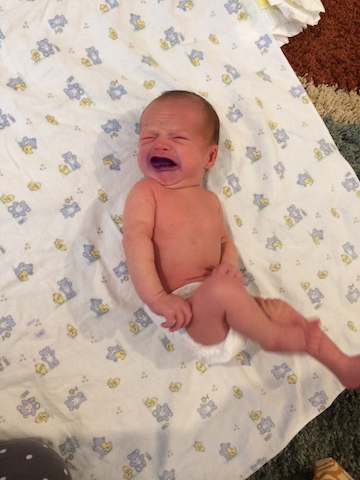 One of my favorite crying baby pictures :)
keeping me company while I ate breakfast one morning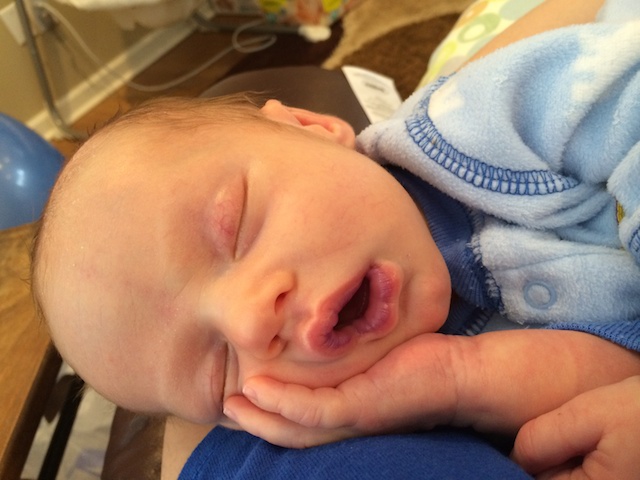 sleeping so sweetly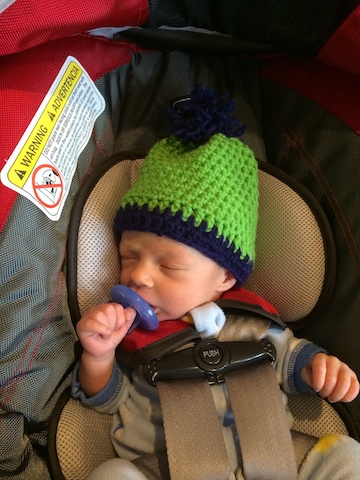 a friend and co-worker of mine made this hat for Hudson and it is a hit – it's one of two hats that he doesn't cry when we put it on (he pitches a fit if we try to put on any of the rest of his hats) and everyone that sees it thinks it's just the cutest thing ever!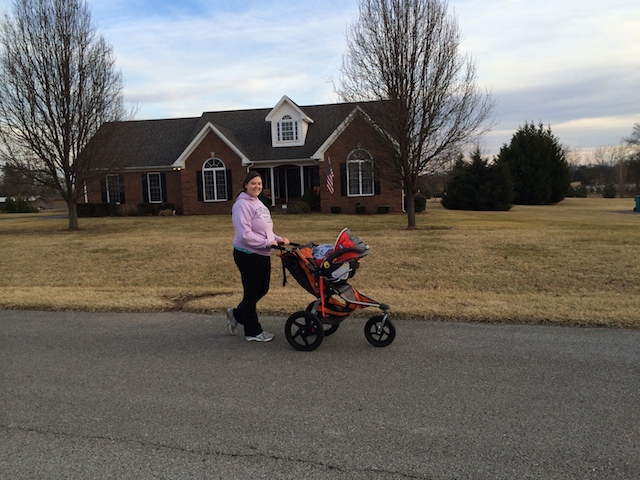 We had a week of warm-ish weather (50's and 60's) so we took advantage of it and went strolling a few days.  It felt amazing to get out of the house!  At that point I hadn't left in two straight weeks.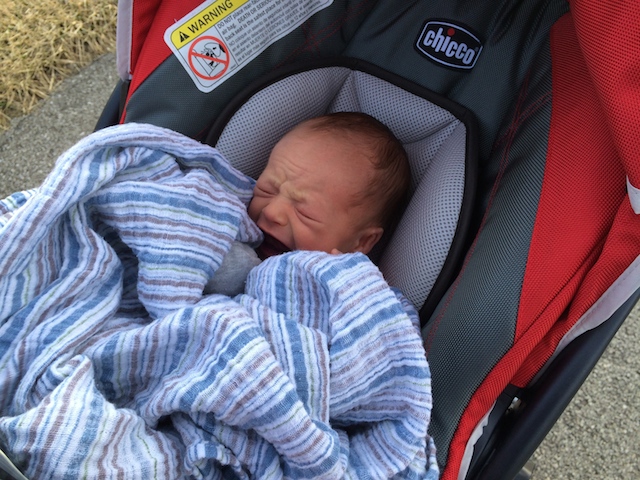 He hated our first stroller outing, but only because he was hungry.  The other times we went out that week he mostly just slept the whole time we walked.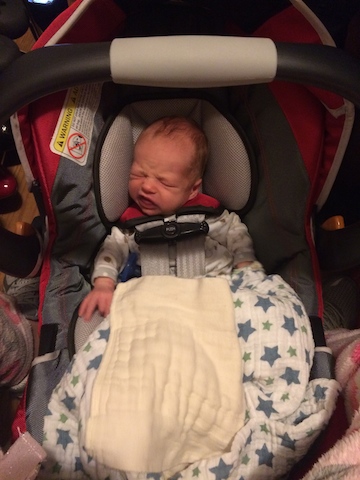 Of course, with warm weather comes tornadoes (at least, in Kentucky).  Hudson had his first (of many, I'm sure) tornado warning closet experiences.  We put him in his carseat (which he hated) and got in our closet (one of only two ground floor, interior, no window rooms…the other being the tiny half bath).  I'm not usually afraid of storms at all, but having a baby in the picture totally changes things.  I was much more nervous now that I have a little one to think of.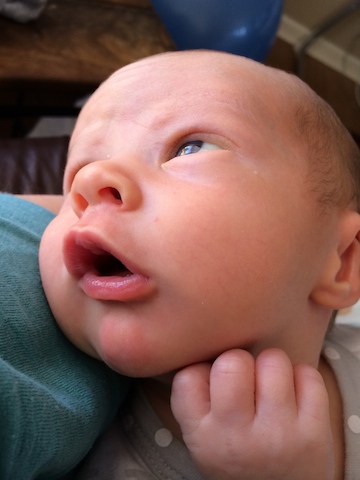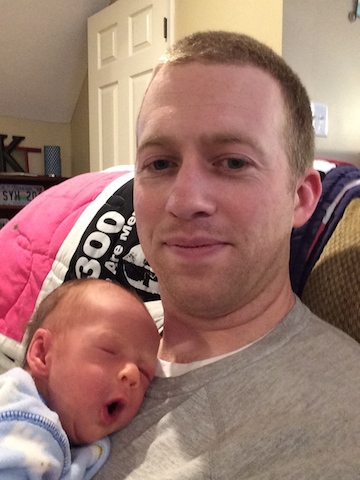 Seriously.  I just sit and stare at this sweet little face all day.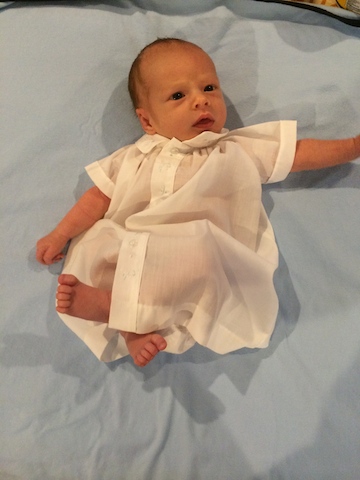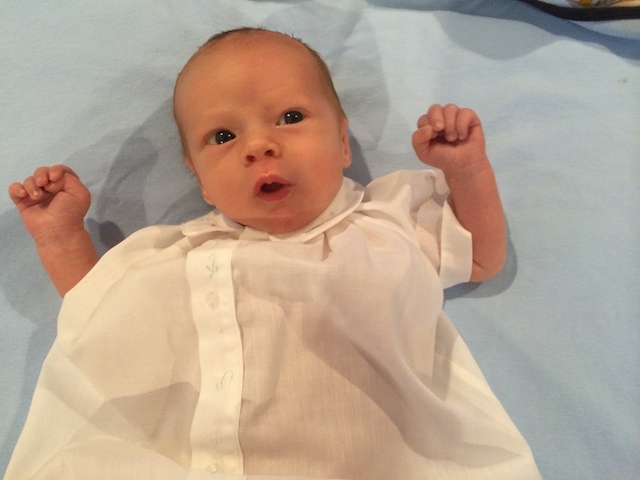 On his one month birthday, wearing the gown that his daddy came home from the hospital in.
I didn't get a picture, but we also took him to church for the first time the day he turned a month old.  We didn't even attempt to make it to Sunday morning service, but we did go Sunday night.  We literally started getting ourselves ready around 2:00 Sunday in order to make it to church on time (6:00).  Everything just takes so much more time with a baby!  Then of course he peed all over the cute outfit I picked out for him, then spit up all over his monogramed bib.  And then in the car on the way to church he spit up again and had to be changed yet another time.  But we made it on time (early even!) and it was wonderful to be back at church.
He is still in newborn diapers but he finally, right at a month old, outgrew some of his newborn outfits.  In fact, I think we put him in his first 0-3 month outfit for church on his one month birthday.  It was bittersweet to pack away those first few too-small sleepers.  Of course I'm thrilled that my little guy is growing, but I want him to slow down, too!  I am glad, though, that we'll have more outfit options now (he only had about six newborn outfits that we rotated through for that first month…I just wasn't expecting him to be so very small!).
To recap, here are things Hudson dislikes:
– wet or dirty diapers
– getting said wet or dirty diapers changed
– baths
– his carseat
– the swing, bouncy seat, cosleeper, or Rock 'N Play (usually…but we're getting much better!)
– being set down anywhere, basically
– being hungry
 What Hudson likes:
– eating
– being held
– being wrapped in the Moby Wrap (pretty much the only way I can eat a meal sometimes)
The first two weeks were really, really hard.  Breastfeeding was an absolute nightmare and there were many tears and much frustration (from both Hudson and me).  We finally, finally seem to be getting it figured out.  It was a really hard process but I think we're getting there.  Now we're battling some gassy/fussy/colicky issues as well as trying to get little man to sleep on his own for at least part of the night.  We're making progress on both fronts, but we're not quite there yet.  This parenting gig is hard!
Even with all the frustration and lack of sleep and inability to do pretty much anything but hold him (so sorry to my poor blog that I've sorely neglected), I wouldn't trade it for the world.  I am blessed beyond measure with my little family.