It's been a looooonnngg time since I did a High Five for Friday post!  I'm just now emerging from the post-baby fog where I hardly knew my own name, much less what day of the week it was.  Tell me I'm not alone in that…
Here's what I'm high five-ing this week.
1.  I cleaned my house.  I know, so earth-shattering.  But some parts of our house haven't been cleaned since before Hudson was born and he's almost two months old *ducks head in shame*.  I've been basically worthless in the cleaning department since I'm more in the baby-holding-milk-making department right now, but we're finally starting to get into a routine.  Most of the time as soon I as get ready to clean Hudson wakes up from his nap so I only get part of a room done.  Yesterday though he took several great naps and I was able to get the house mostly cleaned.  We (well, Michael and mom actually) have been keeping up with the day-to-day things (dishes, kitchen, bathrooms, etc.) but I've let a lot slide.  It felt great to get some of the less important things done (like dusting our bedroom…some big 'ole dust bunnies had accumulated in two months!).
2.  I got in some new essential oils that I ordered.  It's like Christmas when they come!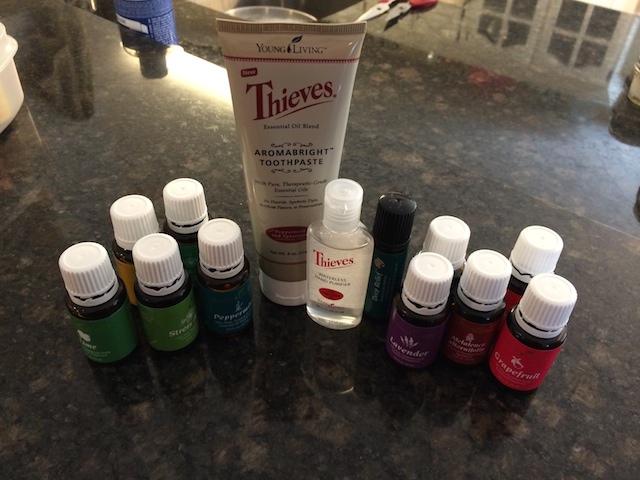 3.  During one of Hudson's naps I got to mix up some of my essential oil "potions" (diaper cream, lotion, etc.).  I had a good time doing something not so baby related for a change.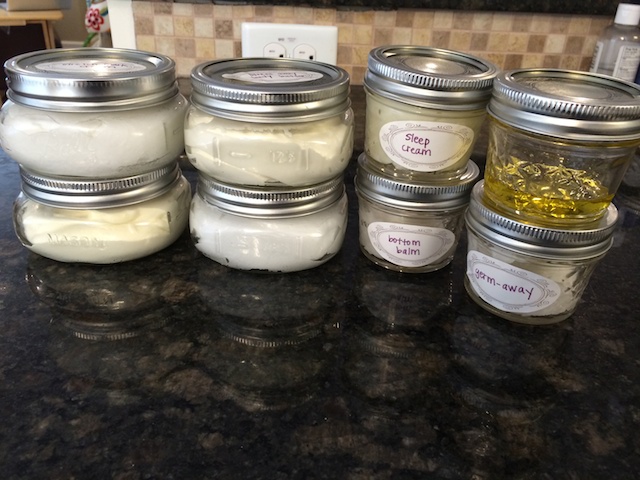 4.  I had a big Mommy-win this week: I took Hudson out shopping by myself for the first time.  We went to Hobby Lobby (PSA: Hobby Lobby's carts are too small to fit a carseat inside.  I learned that the hard way and had to haul that huge carseat all over the store.  Next time I'll wear him in my baby carrier!), Target, the mall (just in and out of Dillard's), and then we ran by Michael's work so his coworkers could meet Hudson.  That was a HUGE trip out for us and I was so proud.  He did great, too; slept nearly the whole time.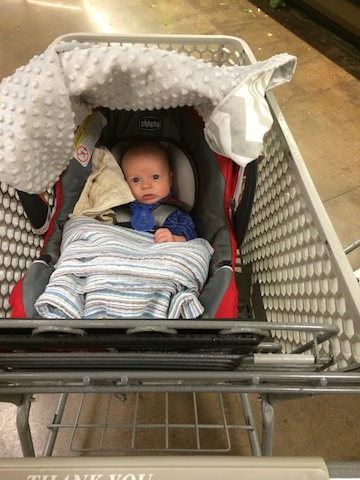 This was actually a different day when we went to Kroger – Michael had one cart for the groceries and I just followed him around pushing Hudson in a different cart.  I don't know what I'll do when I need to get groceries on my own…there is not room for a baby and groceries in the cart!  I think I'll wear him so the buggy is free.
5.  I finally got around to setting up a Facebook page for my blog.  I've been meaning to for a while and just never made time (it took, like, 5 whole minutes…what a procrastinator).  Have you liked it yet?  You totally should…all the cool kids are doing it ;).  (go here)
Bonus: I get to love on this sweet boy all day every day and nothing could make me happier.  (Did you really think I'd write a whole post without random Hudson pictures….?)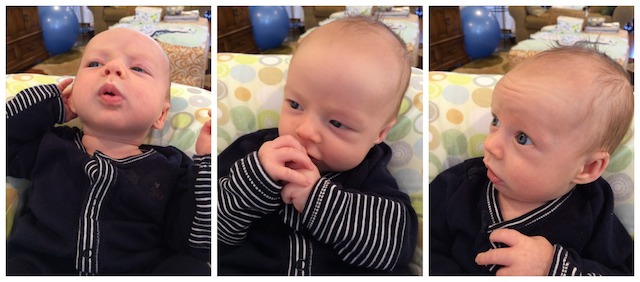 Linking up with Lauren