I've posted a few things on Facebook and Pinterest recently about essential oils and as a result I've had a lot of questions about what they are and how I'm using them.  I thought I'd go ahead and address that here to (hopefully) answer everyone's questions.
---
This post contains affiliate links.  I am a Young Living independent distributor so if you purchase a product through my link I make a commission at no cost to you.  You become part of my Oily Moments community and we will be here to help you with your new oils.  Thanks for joining with me!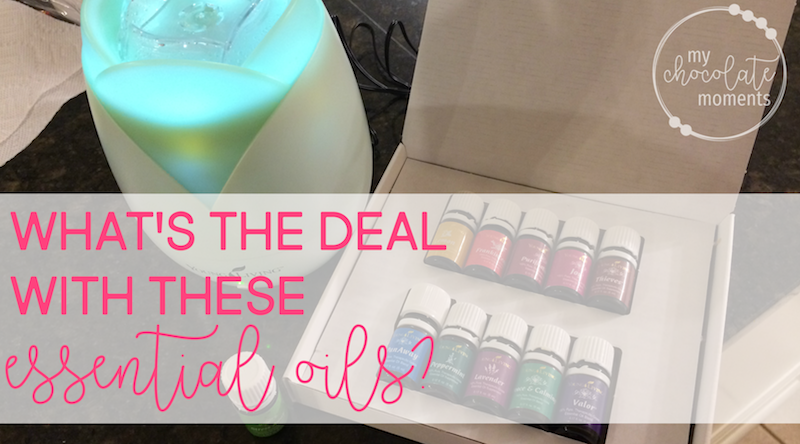 I really didn't know much, if anything, about essential oils (EOs) until just a few months ago.  I mean, I'd heard of them and knew there were some like lemon and lavender and peppermint.  I knew that lavender and lemon were popular to use while cleaning.  I had even thought I'd added an essential oil to my homemade cleaner when I first made it a few years ago (fyi, the scented oils at Walmart in the candle section are not EOs and don't really offer anything to your cleaning products other than a scent…don't make that mistake like me).  A friend of mine who is kind of crunchy, hippie-ish like me and who gives me lots of little tips and such had also mentioned EOs on several occasions, many time when we were talking about baby-related items.
So a few months ago I decided to track down some essential oils.  I'd heard great things; I really wanted to have them to add to my homemade cleaners (in place of the fake-ola scented oils I used the first time) and I was planning to use them to make some homemade hand soap and baby wipe solution.  I didn't really know where to buy them so I posted on a local Facebook group to see where in town I could get some.  I had a ton of people comment and the one thing I kept seeing over and over was that I should order them from Young Living.
I started talking with one of the ladies who'd suggested Young Living and then started doing some research of my own.  The more I talked to her and the more I researched the more amazed I became about these oils!
One of the options when you sign up as a wholesale customer with Young Living (you can either buy straight from their website and pay retail or you can sign up to be a wholesale customer and get them at a significant discount) is to get what they call the Premium Starter Kit.  It comes with eleven essential oils, a diffuser, and some other small samples.  The oils are what they call Everyday Oils – the oils that are most popular, most versatile, and that you'd want to use on a regular basis.  I was a little conflicted about the cost but finally just decided to use some of my Christmas money and give it a try…it they turned out to be as great as everyone says then they'd be totally worth it!
I was so excited to receive my oils in the mail and it couldn't have come at a better time.  I was 38 weeks pregnant at the time and PanAway was SO soothing to my back!
Now you know I'm pretty natural and what I lovingly refer to as "crunchy".  I'm into organic food and making my own soap and natural childbirth and all that jazz.  I avoid taking medicine and I tend to lean toward more alternative health options.  However, I'm still a total skeptic.  I thought chiropractic care was total witch doctor stuff until I started going and saw such improvements.  I thought reflexology was a hoax until I had that done and absolutely could see a correlation between the feet and the rest of the body.  So even though alternative methods keeps proving to me that it's the real deal, I was still skeptical about these essential oils.
Well color me converted….
Very shortly afterward Mr. Hudson made his appearance and learning about my oils took a bit of a back burner.  In hindsight, I so wish I had discovered them just a few months earlier so that I would have had them to support my body during pregnancy, labor, and recovery.   I did use them some during those times, but not to their fullest potential because I hadn't really had enough time to learn much about them.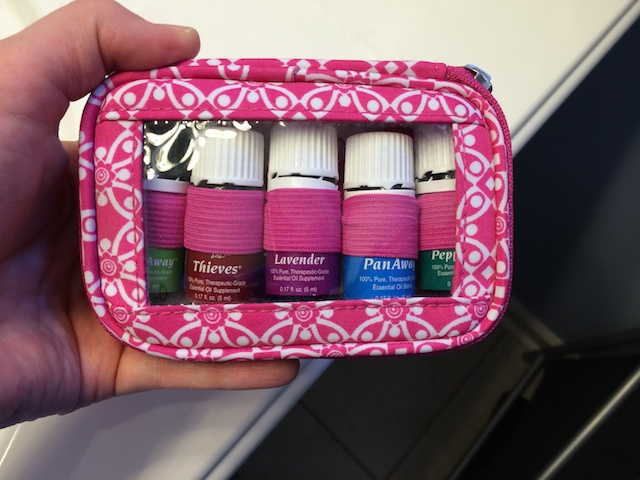 I even got a cute little carrying case so I can carry some of my favorites in my purse/diaper bag.  And since I got my initial starter kit I've placed two more orders or oils because I just love them so.
Now that I've seen what they can do I want to share them with everyone!  Michael laughs at me because I'm always like "I have an oil for that!".  You know how when you find a product you love that you just want to tell everyone about it….that's how I feel about oils!
One random note that I didn't know and wish I had before I got my oils…they don't smell like candles.  Some smell better than others to me, but they are not the delicious, artificial candle-y scents.  They smell very much like a spa/massage place, which isn't necessarily bad, just not what I expected.
Disclaimer: I only endorse Young Living oils.  My research has brought me to the conclusion that these are the best – they are a reputable company, they don't put additives or fillers in their oils, and they have a commitment to producing quality products.
So…
What do you know about essential oils?  Do you already use them?  Had you even heard of them before?
Are you interested in getting some oils?  Let me help you out!  Go here to find out how to sign up.  When you sign up with Young Living you get your oils at a wholesale price.  You can be a distributor if you want, meaning you can make a little money by sharing about the oils, but that is not required.  Honestly, when I signed up I only did it so I could get the wholesale price for my own oils.  I am not a salesperson and I've always said I'll never sell anything.  But people have started asking about oils and I've seen how wonderful they are and I want to share that with others.  If I happen to make a little extra income that's an added bonus, but if not that's ok too.
(update: I wrote this post over three years ago…I had no idea what a journey this was going to take me on!  I'm now not only an oil user and oil lover but my Young Living business has become a huge part of my life and an additional income for our family)
But anyway, if you think you might want to become a distributor as well or just try out some oils, let me know.  I'd love, LOVE to get you started on your journey to better health.
(oh and in case you're confused…you DO NOT have to sell Young Living in order to use their oils.  That is totally optional.  Nor do you have to pay an annual fee like at Sam's Club or Costco.  You don't have to order a certain amount or number of times.)