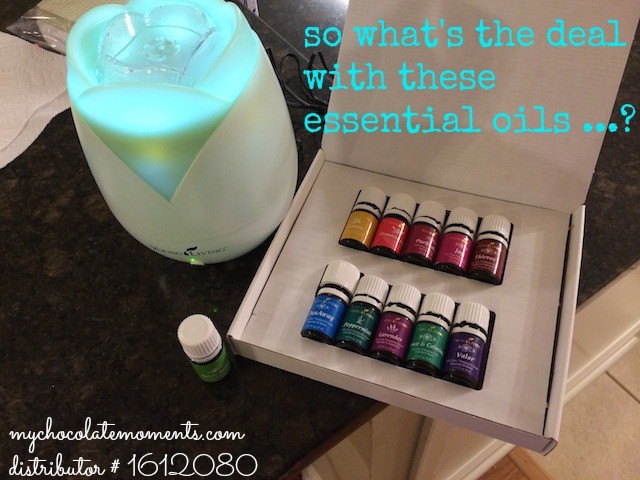 I've posted a few things on Facebook and Pinterest recently about essential oils and as a result I've had a lot of questions about what they are and how I'm using them.  I thought I'd go ahead and address that here to (hopefully) answer everyone's questions.
I really didn't know much, if anything, about essential oils (EOs) until just a few months ago.  I mean, I'd heard of them and knew there were some like lemon and lavender and peppermint.  I knew that lavender and lemon were popular to use while cleaning.  I had even thought I'd added an essential oil to my homemade cleaner when I first made it a few years ago (fyi, the scented oils at Walmart in the candle section are not EOs and don't really offer anything to your cleaning products other than a scent…don't make that mistake like me).  A friend of mine who is kind of crunchy, hippie-ish like me and who gives me lots of little tips and such had also mentioned EOs on several occasions, many time when we were talking about baby-related items.
So a few months ago I decided to track down some essential oils.  I'd heard great things; I really wanted to have them to add to my homemade cleaners (in place of the fake-ola scented oils I used the first time) and I was planning to use them to make some homemade hand soap and baby wipe solution.  I didn't really know where to buy them so I posted on a local Facebook group to see where in town I could get some.  I had a ton of people comment and the one thing I kept seeing over and over was that I should order them from Young Living.
I started talking with one of the ladies who'd suggested Young Living and then started doing some research of my own.  The more I talked to her and the more I researched the more amazed I became about these oils.  Supposedly, according to everything I was reading, they could be used for way more than making household products.  They could also be used for tons and tons of health issues.
One of the options when you sign up as a wholesale customer with Young Living (you can either buy straight from their website and pay retail or you can sign up to be a wholesale customer and get them at a significant discount) is to get what they call the Premium Starter Kit.  It comes with eleven essential oils, a diffuser, and some other small samples.  The oils are what they call Everyday Oils – the oils that are most popular, most versatile, and that you'd want to use on a regular basis.  I was a little conflicted about the cost but finally just decided to use some of my Christmas money and give it a try…it they turned out to be as great as everyone says then they'd be totally worth it!
I was so excited to receive my oils in the mail and it couldn't have come at a better time.  As you know if you've been reading for a while, I had a lot of back pain during pregnancy.  My oils came on a Thursday and that day my back had really flared up and was hurting badly.  Unfortunately my chiropractor was only open Monday thru Thursday and I couldn't go Thursday afternoon so I was going to have to wait until the following Monday and just deal with the pain over the weekend.  Ouch.
But I had heard that Valor and Panaway (two of the oils in the Starter Kit) were great for back pain so when I got home Thursday afternoon I ripped open the package and applied those two right away.  I applied them again Thursday night and then Friday morning before work.
Y'all.  My back pain was gone.
Now you know I'm pretty natural and what I lovingly refer to as "crunchy".  I'm into organic food and making my own soap and natural childbirth and all that jazz.  I avoid taking medicine and I tend to lean toward more alternative medicine options.  However, I'm still a total skeptic.  I thought chiropractic care was total witch doctor stuff until I started going and saw such improvements.  I thought reflexology was a hoax until I had that done and absolutely could see a correlation between the feet and the rest of the body.  So even though alternative medicine keeps proving to me that it's the real deal, I was still skeptical about these "voodoo-witch-doctor-y-medicine-man essential oils".
Well color me converted….
I could not believe that in less than 24 hours, three applications of oils could do what chiropractic care had only been able to help with.  That discovery alone is worth the price of the oils, in my opinion.
Something else that I'd dealt with during pregnancy that you might remember was snoring.  As in, one night Michael actually got up and checked out our window because he was certain that there was a motorcycle in our front yard….then he realized that was just me snoring!  Prior to pregnancy I only snored when my nose was stopped up, but the added weight gain plus the way pregnancy hormones loosen up your ligaments and stuff to prepare for birth was making me saw logs.
I'd read that Valor applied to the bottom of the big toe helped with snoring.  So I tried it.
Not one time after I started using Valor every night did Michael wake up to me snoring.  I can't say I stopped completely because no one was awake to hear me, but I was no longer disturbing his sleep like I had been every.single.night.
Very shortly afterward Mr. Hudson made his appearance and learning about my oils took a bit of a back burner.  In hindsight, I so wish I had discovered them just a few months earlier.  I think they would have been fantastic during pregnancy (since I was avoiding taking any medicine during that time) as well as during labor and recovering afterward.   I did use them some during those times, but not to their fullest potential because I hadn't really had enough time to experiment and figure out what oils to use for what issues.
Some other things I've also used them for:
– I had a horrible rash on my inner thighs after my labor due to my legs staying constantly wet for so long with all the amniotic fluid and such.  I used lavender on it two or three times in the hospital while we were recovering and it cleared up within two days.
– I used some Gentle Baby Hudson's diaper rash and it improved significantly overnight.
– I've had three infected hangnails over the past few months and each time applying Thieves, lavender, and/or Purification (I kind of alternate them) dried up the infection within a few days.
– I rarely get headaches (usually only when a sinus infection is coming on), but the lack of sleep with a new baby has caused some fatigue headaches.  Peppermint and M-Grain (a blend specifically for migranes) have knocked them out in about 30 minutes.
– Thieves is an EO blend that is amazing for killing germs.  We've used that one a lot since Hudson was born to try to keep him from getting sick.
– I woke up one day last week with a zit, one of those painful ones that is just a bump under the skin that hasn't come out quite yet.  I applied Purification twice during the day and by the end of the day the zit was gone!
I actually had most of this post typed up Wednesday to post on Thursday but I could tell I was starting to get a cold/sinus infection and I really wanted to try out my oils and see if they made a difference so I could add those results to this post.  Spoiler alert: they did!
Just about every year around this time I get some sort of sinus junk that usually results in me losing my voice.  I can always tell when I'm about to get sick – I get a headache and feel very tired.  Well…with having a new baby and being up in the middle of the night two or three times a night, headaches and feeling tired are kind of commonplace these days.  So I didn't catch it quite as early this time.  Wednesday it progressed on to a sore throat, sinus pressure in my face, my ears were hurting a little, and a little bit of a rasp in my voice.  My protocol previously has been to start taking Benadryl at the first sign and sleep extra.  Sleeping extra is out of the picture right now and I really wanted to avoid Benadryl.  I started using a variety of my oils Wednesday night before bed.  I still felt pretty crummy in the middle of the night when I got up to feed Hudson but Thursday morning I was feeling markedly better.  I continued oiling throughout the day Thursday and by Friday morning I felt completely better with the exception of a little runny/stopped up nose.  I had less than 48 hours of a runny and mildly congested nose and then that was gone too.  Oils for the win!
And those are just a few of the things that have worked for me in the few short months I've been using them.  I've heard incredible stories from others about how they have successfully used EOs to fade stretch marks (I'm excited to try that!), clear up acne, to get pregnant, for weight loss, to manage their kid's ADD/ADHD without medicine, to heal eczema, to reverse autistic tendencies, to regulate blood sugar and get rid of diabetes, and so much more.  I am constantly amazed at how the oils are working for people.
So yeah, this skeptic is now a believer.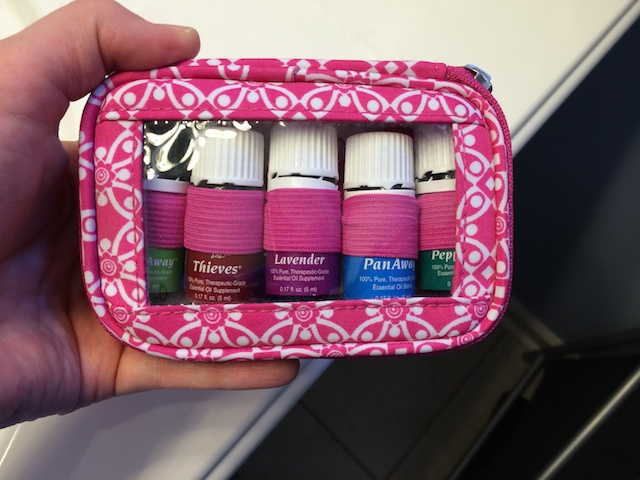 I even got a cute little carrying case so I can carry some of my favorites in my purse/diaper bag.  And since I got my initial starter kit I've placed two more orders or oils because I just love them so.
Now that I've seen what they can do I want to share them with everyone!  Michael laughs at me because any time he (or anyone else) mention various and sundry ailments I'm like "I have an oil for that!".  You know how when you find a product you love that you just want to tell everyone about it….that's how I feel about oils!
I don't claim to know everything.  You're welcome to ask me things and I'll try to find the answers, but I'll also go ahead and direct you to some of my favorite resources.  This is a great website that really helped me as I was trying to learn about oils.  Here's a look at nine of the Everyday Oils and this video is very beneficial if you have the time and want to learn more about for what the oils can be used (there's also a good explanation about what EOs actually are).  This and this Facebook group have some interesting testimonies and info as well (apologies for the horrible grammar I just used there).  This blogger blogged for 31 days about Young Living essential oils – there is a ton of information there!  And of course we can't leave out Pinterest.
One random note that I didn't know and wish I had before I got my oils…they don't smell like candles.  Some smell better than others to me, but they are not the delicious, artificial candle-y scents.  They smell very much like a spa/massage place, which isn't necessarily bad, just not what I expected.
Disclaimer: I only endorse Young Living oils.  My research has brought me to the conclusion that these are the best – they are a reputable company, they don't put additives or fillers in their oils, and they have a commitment to producing quality products.
So…
What do you know about essential oils?  Do you already use them?  Had you even heard of them before?
Did this answer some of your questions?  If not, let me know in the comments or shoot me a message and I'll try to help you out!
Are you interested in getting some oils?  Let me help you out!  Go here to find out how to sign up.  When you sign up with YL you get your oils at a wholesale price.  You can be a distributor if you want, meaning you can make a little money by sharing about the oils, but that is not required.  Honestly, when I signed up I only did it so I could get the wholesale price for my own oils.  I am not a salesperson and I've always said I'll never sell anything.  But people have started asking about oils and I've seen how wonderful they are and I want to share that with others.  If I happen to make a little extra income that's an added bonus, but if not that's ok too.
But anyway, if you think you might want to become a distributor as well or just try out some oils, let me know.  I'd love, LOVE to get you started on your journey to better health.
(oh and in case you're confused…you DO NOT have to sell Young Living in order to use their oils.  That is totally optional.  Nor do you have to pay an annual fee like at Sam's Club or Costco.  You don't have to order a certain amount or number of times.)
*These statements have not been evaluated by the Food and Drug Administration. This product is not intended to diagnose, treat, or cure any disease.
Oh, and don't forget to come join My Chocolate Moments on Facebook so that you can keep up with my essential oils journey…as well as all the rest of my shenanigans.