I am a little in disbelief that it has been two months already!  I feel like I just welcomed my little guy into the world yesterday…and yet at the same time it's like he has been with us forever and I can't imagine life without him.
Hudson had his two month check up yesterday.  He weighed 10 pounds 8 ounces (11th percentile), was 22 and 1/4 inches long (18%) (although I think he's actually longer…he wasn't stretched out all the way when they measured him), and his head is in the 47th percentile (I forgot what they said the circumference was).  Everything else checked out great.  So he's a little squirt but he's growing and healthy and that's what matters.
We recreated this picture from his first pediatrician visit – three days old on the left, two months old on the right.  My poor jaundiced baby has a much better color now.  His arms have filled out a good bit and he doesn't just look like wrinkly skin on bones anymore.  Four pounds and two months make a big difference!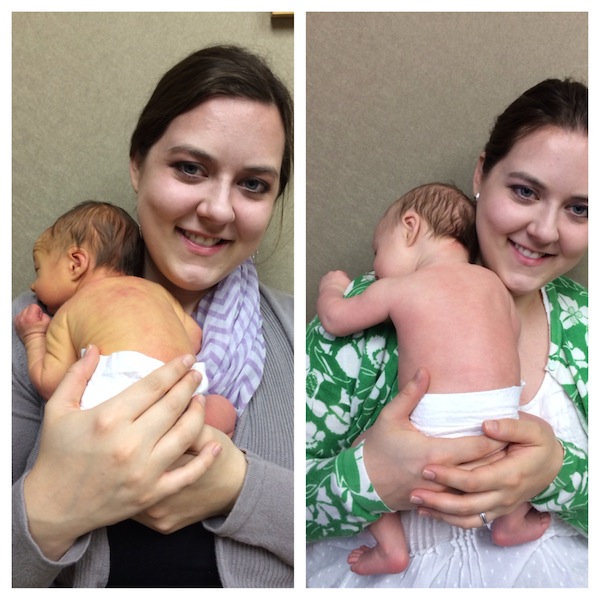 We've had a big month.  His first month we mostly stayed holed up in the house.  This month we've been out and about a good bit and he has changed a lot.
Last month Hudson had a big list of things he disliked.  Now he likes (or tolerates) all of those things (well, he doesn't like being hungry or having a dirty diaper, but he doesn't freak out about it as much).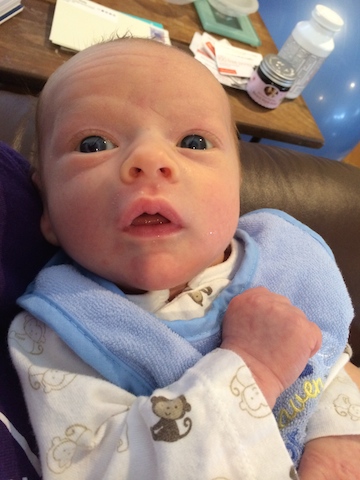 He started spitting up quite a bit.  When I say quite a bit, I mean a little bit after just about every feeding and sometimes a big one thrown in there for good measure.
He went to the chiropractor a few times to try to get some gas and latch issues worked out.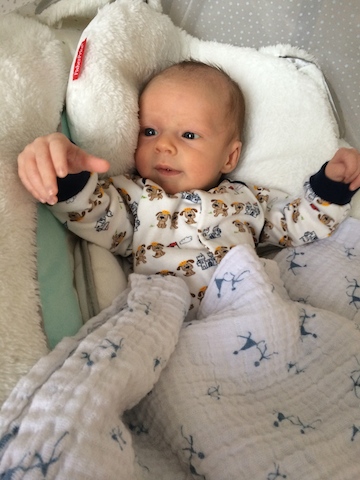 He started smiling at us, not just in his sleep.
My mom went home after 6 and 1/2 wonderful weeks of having her stay with us and help out.  I cannot even imagine how much harder the first month of his life would have been without her here to lend a hand.  I was so afraid for her to go home and for me to be on my own during the day.  It was an adjustment but we're figuring things out.  Some days I get next to nothing done before Michael gets home from work but I know that will improve eventually.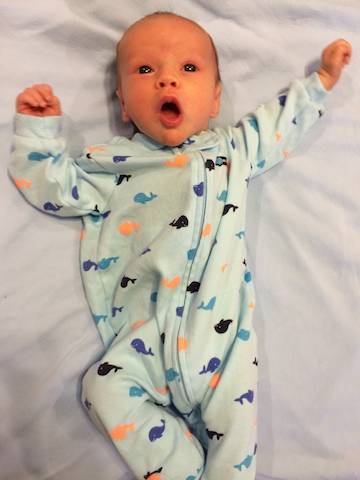 He started pooching out his bottom lip when he would get upset.  It is the sweetest but saddest thing ever!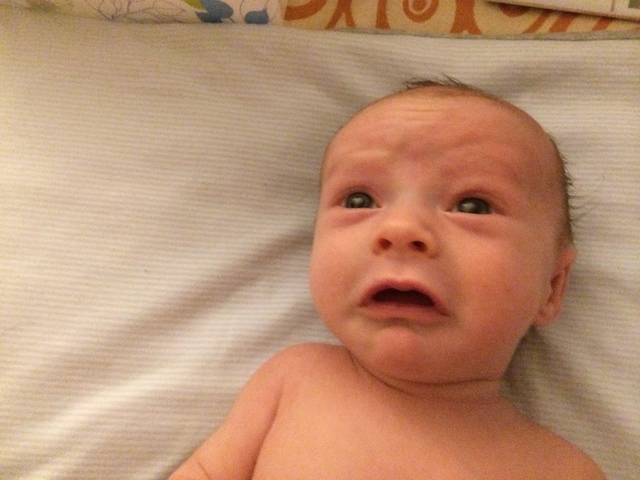 Hudson experienced his first snow (from inside the warm house, of course).  Yes, we had a big snow in March!  So weird.
He went from getting super upset anytime anyone set him down to really liking to lay on his back and look around.  He'd lay on his changing station (right now that's the ottoman in our living room since I never feel like walking up to his nursery) and stare up at the fan.  We set up his little activity gym so he could lay there and look at the colorful animals.  He likes it sometimes.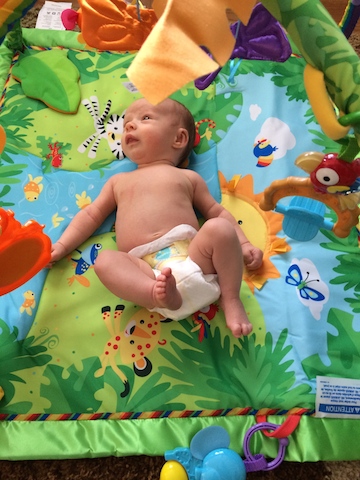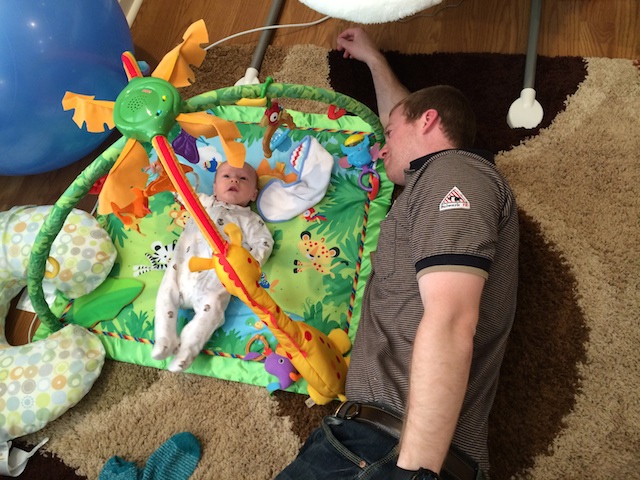 He does this funny raised brow, one-eyed peek thing when he is just waking up.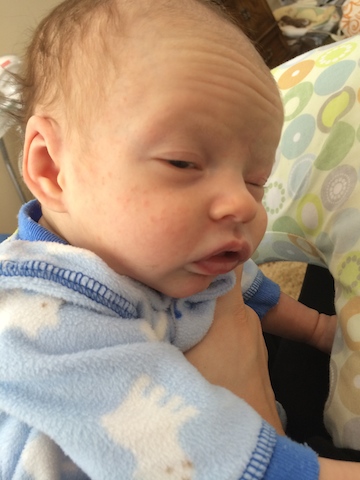 He still likes to be crunched up in a little ball when you hold him.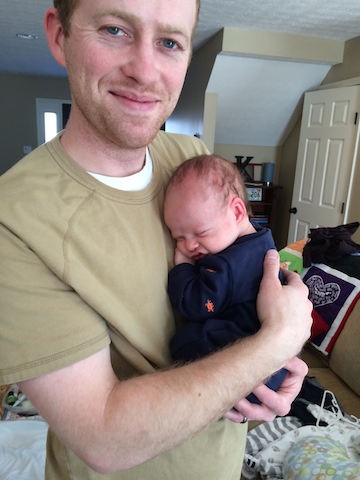 Any day that we have good weather we try to take advantage of it and go for a walk.  Hudson usually falls asleep within 10 minutes.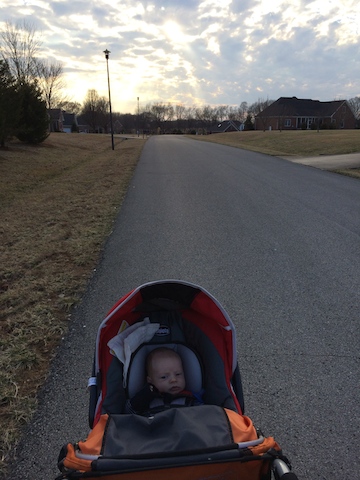 Now that he will let us set him down for a few minutes, we've been able to eat meals without having to hold him or eat in shifts (sometimes).  We put him in his bouncy chair by the table while we eat and he'll hang out there for a while before getting upset.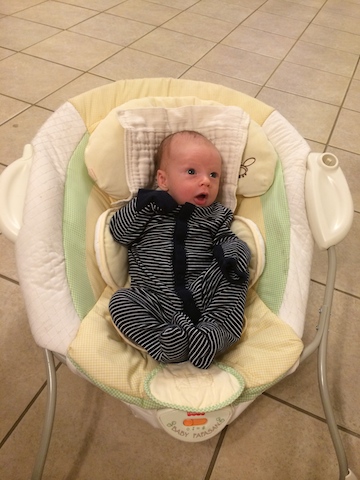 Bathtime no longer sounds like something from a horror movie.  He has gradually gotten to like it more and more.  First the screaming went to whimpering, then to tolerating it quietly, and now he seems to enjoy it.  In fact, the other night he was crying and then stopped as soon as I put him in the water…the total opposite of how it used to be.  We give him a bath just about every evening.  We don't do a full washing each time (except around his neck because of all the spit up – eww), but we're trying to get him in a routine.
The carseat isn't a huge scream-fest all the time either.  I'd say it's about 50/50 now.  Sometimes he is totally chill in the car, other times he screams at the top of his lungs for 10 or so minutes before falling asleep (usually about 30 seconds before we pull in to wherever we're going and have to get him out…which wakes him back up)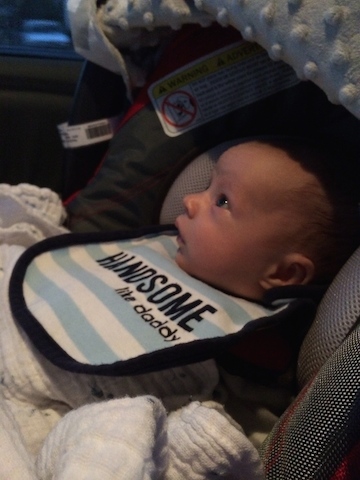 He has outgrown all of his newborn clothes and even some of his 0-3 month clothes are too small.  He is so long but so skinny that he outgrows them in length well before he's even started to fill them out in the width.  His clothes are so baggy!
We put him in his first little outfit that wasn't a one piece sleeper.  And then he proceeded to have his first blow out poop on said outfit (I'm sparing you the picture I took!).  It happened in the car on the way home from church and got all over his carseat too.  Yuck.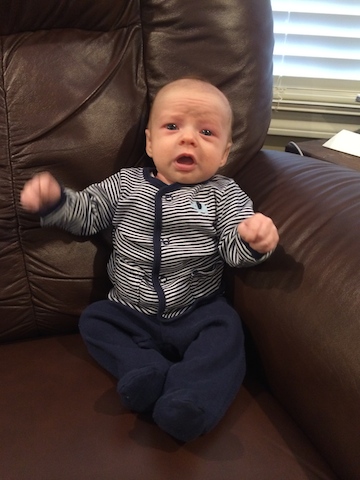 He still fits fine into newborn diapers, but we were running out so I went ahead and put him in size ones.  He's so skinny, though, that you have to cross the tape pieces over on top of each other to get it tight enough!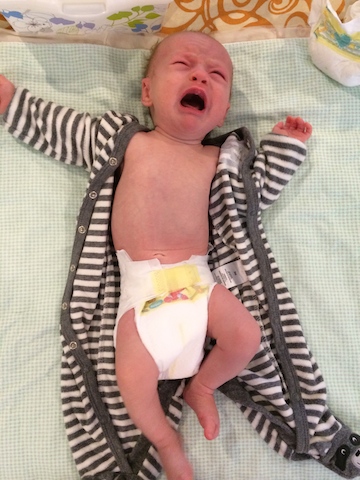 Sleeping is going much, MUCH better!  He doesn't have to be held all night anymore.  I usually have to get up with him once or twice a night to feed him but then he goes right back to sleep in his Rock N Play.  The co-sleeper is kind of a bust right now, although he did take a two hour nap in it one Sunday afternoon.  But for now we're sticking with what we know works and eventually we'll try to transition to the co-sleeper and then the crib.
We've even had a few nights where he slept for a five or six hour stretch, got up to eat once, and then slept for another two to three hours.  He's not consistent yet, but we've made so much progress this month that I know it will just keep improving.
During the day he naps in his swing, his Rock N Play, the Moby Wrap,…or while I'm sitting and holding him.  I try to vary where I put him for naps so that he will get used to sleeping a variety of places.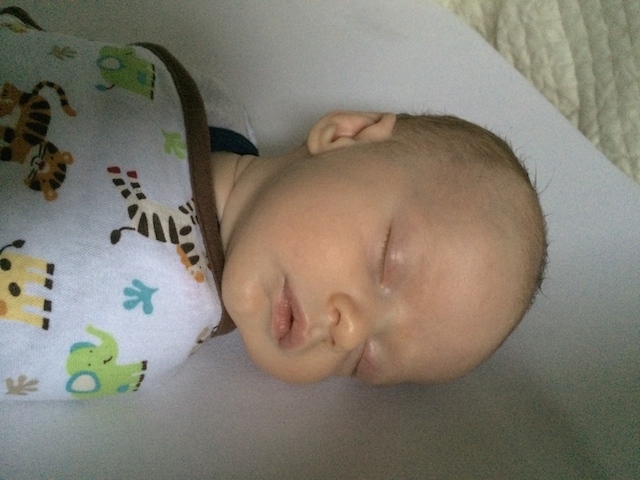 The day Hudson was one month out was our first venture out in the world other than doctor's appointments.  Since then we've gone all kinds of places.  The first time I went out with him on my own was so nerve wracking, but now it's pretty common.  We've been out to eat several times, to church and multiple church functions including a ladies' retreat (I didn't spend the night, but I drove down and back both Friday and Saturday…35 minutes one way so that was our longest trip for sure!).
I won't say that going places with a baby is easy, but it's getting to be the norm.  My biggest accomplishment was taking him out shopping.  Up until about a week ago, Michael and my mom had done all the shopping and we either stayed home or stayed in the car while they ran in.  We finally went in to Kroger one evening – Michael got the groceries and I just followed with Hudson in a separate cart.  Then later that week I ventured out to Hobby Lobby, Target, and the mall.  My first shopping trip with a baby!  It went well and he slept pretty much the whole time.
We also went and visited Michael at work after our big shopping trip.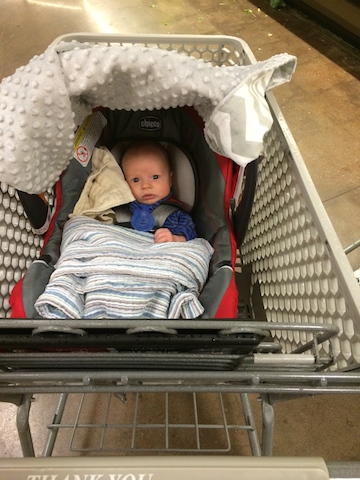 We definitely don't have a routine or a schedule yet, but we do have a general pattern of eat, "play" (awake time), and then nap.  Some days that goes much better than others.  Some days he'll have several great naps and I'm able to get some housework done.  Other days he is very erratic and only naps for a very short time.
Most of the time he fights sleep really hard and it can be really hard to get him to nap.  He has gotten better about falling asleep on his own though.  Often once he's sleepy and I've rocked him some I can lay him down and he'll drift off on his own after a while.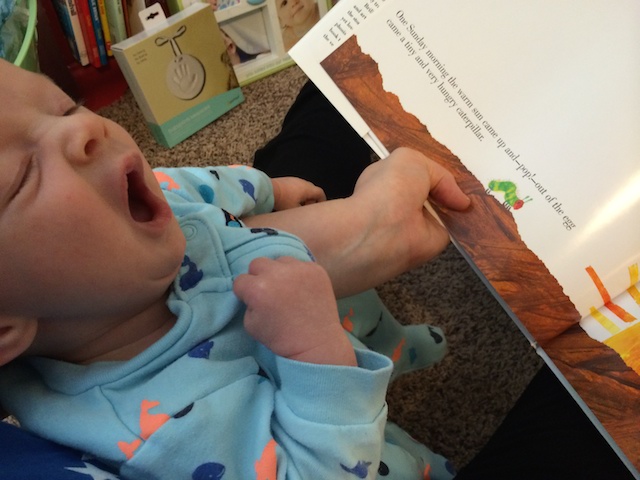 His physical changes don't reach out and strike me until I look back at pictures (like the comparison picture at the beginning of this post).  His eyes have lightened from a very dark navy blue to a more gray-blue.  His hair has started to curl more, just in the last few days.
Everyone says he looks just like Michael, but we still haven't gotten either of our baby pictures from our parents to compare.  The little cleft in his chin and his big feet definitely came from me though.
He is trying so very hard to suck his thumb.  Usually he either gets it in there sideways or will just suck on the side of his hand.  He uses his paci some but he never really has cared too much about it so I think at this point if he doesn't already take it regularly then he probably never will.  Which is fine, although I'd rather break him of a paci later than his thumb.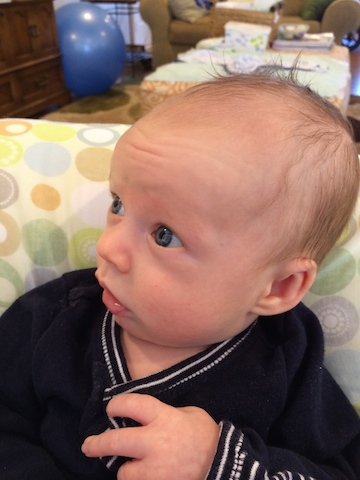 He has started cooing.  It's so adorable, like he's trying to talk to us.
He is very, very active.  He's a restless sleeper and makes tons of grunts, snores, and other strange noises.  When you lay him down to change his diaper his legs go all over the place just kicking and swinging around.  He squirms and wiggles a lot while he is nursing, too (ouch).
He's battling his first cold right now.   His little coughs and runny nose are so pitiful.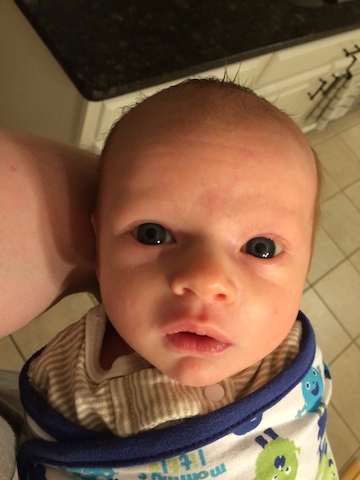 On Sunday, the elders at our church presented Hudson with a little Bible.
We just fall more in love with our Mr Hudson each and every day!  He brings us such joy.