At the beginning of my pregnancy I bought a BeBand from Target.  A BeBand is basically just a stretchy, spandex-y, tube-top-ish piece of fabric that you can use to extend the life of your pre-pregnancy pants.  The idea is that you leave your too-tight pants unbuttoned/unzipped and then wear this band over it and it holds your pants up (sounds like something I could use more than just during pregnancy!). I used it a few times but didn't really like it.  It would never stay in place and either rolled up or down and drove me crazy.  I think most of that was due to the fact that my pants were already too tight and pushing their limits even before I gained that first pregnancy pound.  I ended up just moving into maternity pants pretty early and wearing long shirts to cover us the saggy belly/crotch area until my belly filled out enough to actually warrant needing maternity pants. The BeBand went into my drawer for months.  I actually offered it to someone else who was pregnant but she wasn't interested so I just hung on to it.  I'm glad I did, because as the months went by I found some more uses for it. The second way I used it (the first being for its original purpose) was as a tube top of sorts.  I struggled with so many of my maternity tops being much too low cut.  At the beginning of pregnancy I just layered a tank top underneath to bring the neckline up a little higher.  As my belly grew the tank tops got too tight around the belly.  I wasn't about to buy a bunch of new tanks though!  One day a thought popped in my head and I grabbed the BeBand and put it on like a tube top.  That worked perfectly!  It covered everything that needed to be covered and raised the neckline, but it didn't restrict my belly or have annoying straps that kept falling off my shoulders.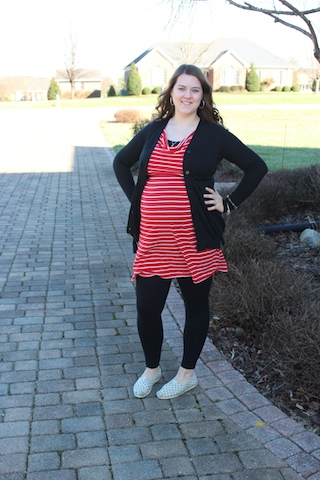 I used it as a tube top for several weeks leading up to delivery.  Then after delivery I found yet a third use…as a girdle. You see, after you have a baby your stomach is all loosey-goosey.  It used to have this big baby in there, plus a placenta and fluid and all kinds of other stuff… and now all of the sudden it's empty.  It just feels weird and it's hard to stand up straight because all that weight that you were used to carrying around is gone.  I found that in those first few days I much preferred wearing my maternity yoga pants that had a full panel that went over my stomach because that stretch panel gave me a little support and it felt like it was holding my stomach together.  I really wanted to wear all my pajama pants but they were just normal-waisted and didn't give me any support like the maternity pants. Enter the BeBand. I wore the BeBand around my stomach…not to hold up my pants in this instance, but to hug my tummy just a little bit and give it that extra support.  That way I was able to wear my loose pajama pants.  I only needed it for about a week before that strange empty stomach feeling went away, but it was wonderful to have while I needed it. I had actually considered buying one of those very expensive support girdles for after pregnancy that are supposed to help your stomach shrink back.  I decided it was probably not that effective and didn't want to waste my money.  I also bought a cheaper post-natal support belt from Motherhood Maternity, but it was too stiff so I took it back.  The BeBand ended up being perfect – it gave me support but wasn't too tight.  Do I think it helped my stomach shrink?  Probably not (not that the expensive girdles necessarily do either), but it gave me that little extra hug my waist needed. So don't write off your pants extender after the first few months!  If you're like me you'll be able to extended its life (pun totally intended) through your pregnancy and beyond!  Who knows, I might even find more uses for it in the future. Oh and a bonus…this YouTube video shows you how to use two t-shirts and a belly band to make a DIY baby carrier.   Pretty cool.  A fourth use for your belly band! The BeBand (and it's many uses) works for me! And a Hudson picture…just 'cause he's cute :).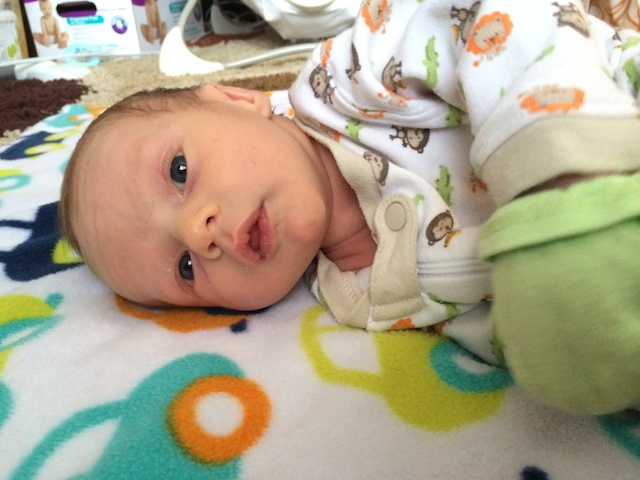 It's hard to believe this little guy lived inside my tummy for nine months…no wonder if felt all strange and empty after he was born!
P.S. Come follow My Chocolate Moments over on my new Facebook page!