Helllooooooo Friday  Wanna know why I'm happy today?
1.  SLEEP!  Yes, it has finally returned.  Tuesday night Hudson slept 7 hours (10:30-5:30) and Wednesday night he slept 8.5 (!!!) hours (11-7:30).  I woke up at 6:45 and didn't know what on earth to do with myself.  And then last night he fell asleep at 9pm.  We kept expecting him to wake up to eat one more time before bed but he keep sleeping so we finally laid him down…and he slept until 5;30 this morning!  Another 8.5 hours!  I suspect he's in a growth spurt because in addition to the sudden increase in sleep he's also wanting to constantly eat during the day the last few days.  I sure hope the great sleep continues after the growth spurt is over!
2.  My neck is better.  Wednesday morning I leaned over to set my glasses on my bedside table and I felt my neck catch.  It was unbelievably painful; so much so that I was afraid Michael would have to come home from work to help me with Hudson.  The spot that was injured (I'm guessing) swelled up and I looked like I had a humpback (lovely).  A little heat, a little ice, a lot of my essential oils, and Michael rubbing it helped.  The pain was much better in 24 hours and almost completely gone in 48.  I still have a little soreness if I turn my head too far but it's way, way better than it was!
Being hurt is one thing.  Being hurt with a baby that needs to be held and changed and fed is so much more difficult.  I now understand what people mean when they say "moms don't have time to get sick!".  I'm just so thankful that it didn't last long.
3.  I'm going clothes shopping today.  On the one hand I'm not excited about that at all because I'd much rather be able to fit into my pre-pregnancy clothes and I know the sizes I'll have to get today will be disheartening.  But on the other hand it will be so nice to have some clothes that actually fit right now.  I won't buy much since I hope to lose my pregnancy weight soon but for now I'm tired of wearing my ill-fitting maternity clothes and I need some other options.
4.  Speaking of losing weight, this week I finally got back to healthy eating.  Since Hudson was born I've eaten tons of fast food and junk and such.  I'm finally feeling like I have it together enough to focus on some of the other things in life besides feeding, changing, and rocking a baby.  I'm not dieting or anything, just trying to make better choices.  Splurging was fun for a while but it's really nice to be back to eating good healthy food that makes me feel better.
5.  It's time to mix up more DIY laundry detergent.  Sounds like a strange thing to make me happy, but I'm mostly excited by how long the first batch of laundry I mixed lasted us.  Wanna guess?
20 months.  Yes, TWENTY months…almost 2 years!  Amazing.
Oh and not only that, guess how much that cost…
$20.00!  That's $1 per month for our laundry soap.  Double amazing.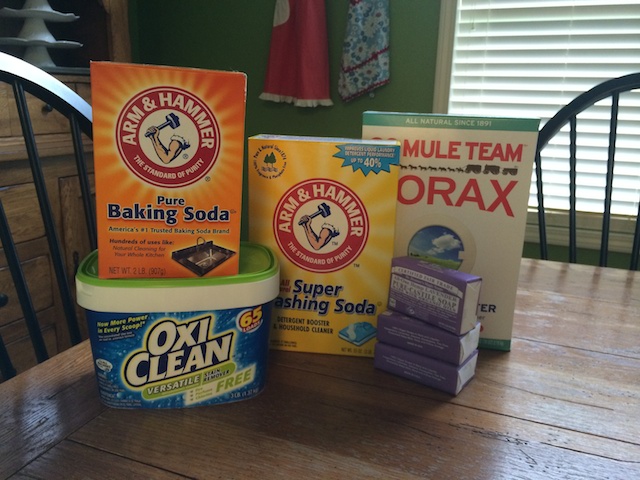 When I first decided to make our own laundry detergent we were living in our apartment and did not have the space for the liquid that seem to be popular (and have to be stored in 5 gallon buckets).  I finally found a recipe for powered detergent on Pinterest and gave it a try.  Like I said, the supplies cost $20.  The hardest part was grating the bars of soap (talk about an arm workout) and then all you have to do is mix it together.  We stored it in one of those big clear plastic containers that cheese puffs or pretzels come in (you can see ours here).
We do about five loads of laundry a week and this container lasted us twenty months (I told a few people 2.5 years the other day but when I went back and checked it was really only 20 months…so sorry about that!).  Of course now that we have Hudson (who creates significantly more laundry for being such a small person) it won't last quite as long.  This time I bought different soap and I bought my ingredients at Kroger (a little more expensive), so my total cost was about $33.00.  But still…that's a pretty good price for the amount you get!
What are you happy about today?
Linking up with Lauren