I am a very organized person who tries to always be prepared.  Unfortunately for Michael this also means that I'm a chronic overpacker.  I tried really, really hard (I promise!) to not overpack for the hospital…however we still ended up with seven (eight if you count my large-and-in-charge purse) bags for the hospital, plus a birth ball, Hudson's carseat, and some other bags that were in the car just in case (yeah this picture here is not an accurate representation of how much stuff we took).  I did use most of the items that I brought, but there were some things that in hindsight were not at all needed. Knowing what I know now I'm going to help you create a hospital packing list that will (hopefully) help you bring just the necessities.
Since I knew we were going to have a lot of bags and also that our plan was to stay home as long as possible during labor (and therefore knew we wouldn't want to haul a ton of stuff across the parking lot and through the hospital), I tried to prioritize and pack things based on how quickly we would need them so that we could leave some bags in the car and get them later.
Also remember that I did a natural birth and so quite a bit of this stuff is natural birth specific.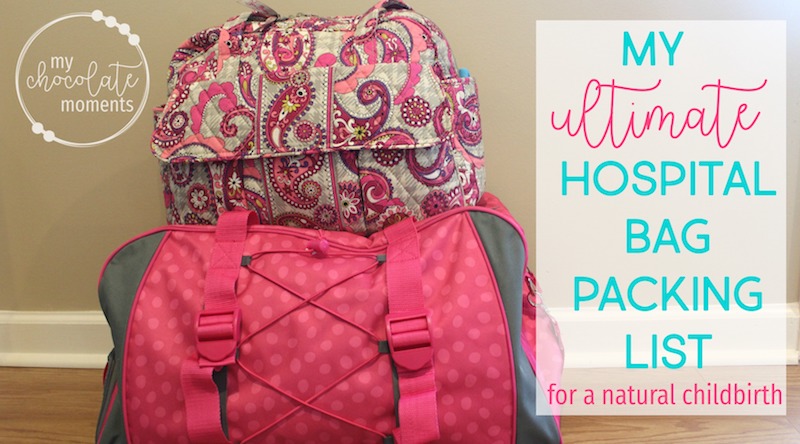 1. The In Case I Go into Labor While I'm Out and About Bag
– puppy pee pads (if you read Hudson's birth story you know these came in very handy for me to protect the seats in my van as I drove home after my water broke)
– a pair of Depends (I know, weird, but we've talked about this already…)
– an extra change of clothes and shoes – I didn't have this packed and honestly I don't know that I would have changed even if I had had extra clothes, but it would have been nice just in case.
– a trash bag – could be used to protect your seats or to hold your soaking wet clothes
*This bag needs to be packed several weeks in advance and kept in your car.  If you want to be ultra-prepared, keep another one with similar items at your place of work.  Ideally you'll recognize you're in labor and be able to go home before it gets ugly, but just in case you're like me and your water decides to break all over the floor at work before you realize you're in labor it'd be a good idea to have this.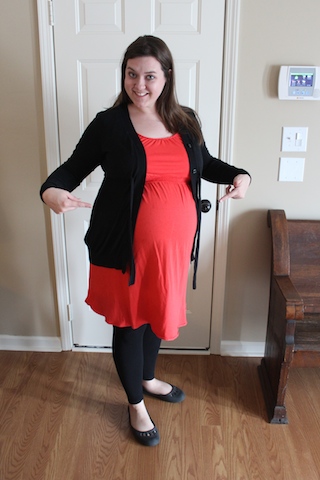 last belly shot in the early stages of labor
2.

Labor Bag
– tennis balls or back massager – for massaging your back during labor/providing counter-pressure
– lotion – for back or foot rubs
– a large scarf – this was something we learned about in our Bradley class that can be used during labor…I didn't end up using mine though
– puppy pee pads
– a trash bag
– plastic grocery sacks -barf bags in case you throw up
– Dum-Dums  – there is a pressure point on the top of your mouth that can help speed up labor; you can push on it by sucking your thumb or sucking on a Dum-Dum…I chose the candy
– a couple of old towels – for the same thing as the pee pads or trash bags…plus towels are just good to have on hand
– a washcloth or two – in case you want a cold, wet washcloth on your forehead
– bottled water
– a heating pad – to help with back pain
– foam gardening pads – to kneel on in case you find that your labor position of choice involves kneeling
– a pair of socks – in case your feet get cold
*I put all this stuff together in one bag.  I figured that most of this would actually be used at home to help manage labor since I didn't plan to go to the hospital until the very end (hah!), but I went ahead and put it all in a bag just so it'd all be together in one spot and we wouldn't be scrambling once labor began.  Things didn't quite go as planned so we ended up taking this whole bag with us to the hospital. Honestly, the only thing I ended up using from this bag were the Dum-Dums.  I sucked on a few of them to try to speed up my labor.  That being said, for future births I will still pack a very similar bag because you just never know what type of labor you're going to have and I may want these things next time.
*update after birth #2* I had a super short labor at home so I didn't use a single one of these things and I barely even made it to the hospital in time so yeah…didn't need any of this the second time around either
3.

Birth Ball
*No, it's not a "bag" per-say, but it's a separate (very large!) item that you'll need to transport.  I think I used this maybe once, if any, in the hospital.  I used it a little bit at home but that was pretty much it.  My recommendation: see if your hospital has birth balls because it is a huge pain to get that to the hospital (walking through the parking lot at 2am in the freezing icy weather having to stop for contractions every so often was made even more difficult because poor Michael was trying to carry multiple bags and that ridiculous ball)
*update after birth #2* Didn't use the ball at home and didn't take it with us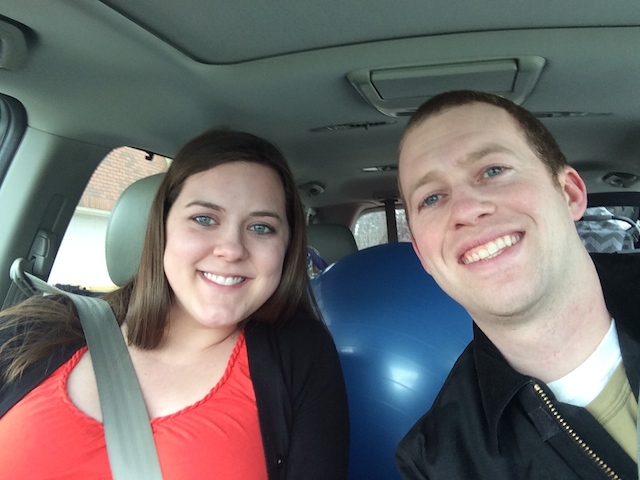 on our way to the hospital – the huge birth ball photobombing us
4.  

The Essentials Bag

(aka the things you think you will need pretty quickly during or right after labor)
– a folder for all your paperwork
– a copy of the hospital paperwork that you probably filled out in advance
– birth plan
– insurance card and/or copies of insurance card – I had my insurance card in my purse but I had also made copies to keep in the paperwork folder and I was really glad I did because they just let me hand them that rather than them having to go make copies of my card
– pen and paper
– camera and charger
– phones and chargers
– laptop and charger – I didn't know how quickly after birth I would want to upload pictures to share with family, send emails, etc. so I went ahead and made sure I had the laptop there with us
– snacks – for hubby, not for you unfortunately depending on your hospital's policies (although I did sneak one granola bar because I was about to starve!)
*This was a really good bag to have.  I felt like I had all the necessities together and that gave me peace of mind.
5.

Cooler 
* We brought some snacks/drinks, including orange juice to drink after the birth (a Bradley method thing).  We left this in the car when we went into the hospital, though, and then after delivery when I really needed the OJ (I had the shakes really bad) it wasn't there.  Next time it might be better to put the orange juice in a small lunch box and carry it in with us rather than a big cooler that was too cumbersome to worry about in the throes of labor.  Definitely pack some snacks (granola bars, lactation cookies, peanut butter crackers, etc.) because hospital food is not the greatest and you'll probably be very hungry!
6.

Mom's Bag
– 2 or 3 pairs of comfy pants – pj pants are fine, but I preferred my maternity yoga pants because of the maternity panel that hugged my loosey-goosey tummy (you can read more about my solution to that here)
– 2 or 3 large, loose shirts – I actually wore mens dress shirts with nursing tank tops from Target underneath.  That way I could leave the shirt mostly open and nurse while still being relatively covered
– something to wear home – For me I just wore the black yoga pants and button up shirt I'd been wearing that day but some like to wear "real" clothes.  I didn't care – we were rolled right to the car and then we went straight home so there was no point in changing
– socks – hospital room floors are cold (lots of people also bring houseshoes; I bought some, brought them, and wore them exactly once for about two minutes before I shoved them under the bed…I just walked around in my socks the whole time)
– flip flops – for the shower
– a pair of shoes to wear home – Whatever you wore to the hospital when you arrived will be fine.  Seriously, the only time you'll need shoes is when you arrive and when you leave.  The rest of the time you'll be hanging out in a hospital room.
– nursing bras (if you don't go with the nursing tanks that I mentioned above) – Do not go out and get fitted for nursing bras because until your milk comes in you'll have no idea what size you are.  Instead, buy some of the stretchy sleep bras (I got mine at Target) that will accommodate many sizes.
– toiletries – Whatever you usually take with you when you travel: shampoo, conditioner, soap, toothpaste, toothbrush, hairdryer, hairbrush, contact stuff, glasses, makeup, deodorant, etc. (I know some people don't care while they are in the hospital, but I showered, dried my hair, and put a little make up on each day…it made me feel better)
– nipple cream – The hospital will probably provide you with samples of Lansinoh but if you want your own kind you'll need to bring it.
*Basically pack as if you were going somewhere for a weekend of nothing but lounging.
Things you don't need (that I packed and thought I needed…)
– underwear (they will provide you with some lovely mesh panties to wear)
– nursing pads (it's doubtful that your milk will come in while you are at the hospital)
– towels (I thought I would want my own towels so I didn't have to use the icky hospital towels, but let me tell you after you give birth there is quite a bit of blood, and it got on the towels each time I showered, so I chose to use the hospital towels and not get blood all over mine)
7.

Dad's Bag
– two changes of clothes
– toiletries
*Ok honestly I don't know what Michael packed since he packed his own bag, but I'm pretty sure that was the gist of it.
8.

Baby's Bag
*Don't pack one.  Seriously.  I brought a diaper bag crammed full of stuff that we didn't even touch.  Just put the few things that baby needs in your own bag.
Here's what baby actually needs:
– a going home outfit – Don't pack a gown because the straps in the carseat have to come between their legs.  Get something that has the flaps that cover the hands in case baby's fingernails are long and scratchy.  You might bring two options – a newborn size and a 0-3 months size.  Hudson was tiny and even the newborn size swallowed him up, but you just never know.
– a picture outfit – If your hospital does pictures and you plan to have them taken
– a hat – If it's cold.  The nurses at our hospital make personalized hats for each baby and that's what Hudson ended up wearing home because it fit better than any of the ones I brought.
– a blanket – To tuck around baby in the carseat if it's cold.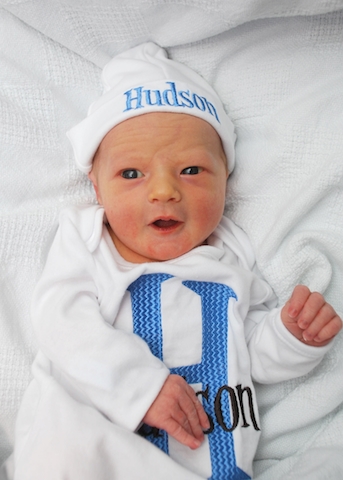 hospital pictures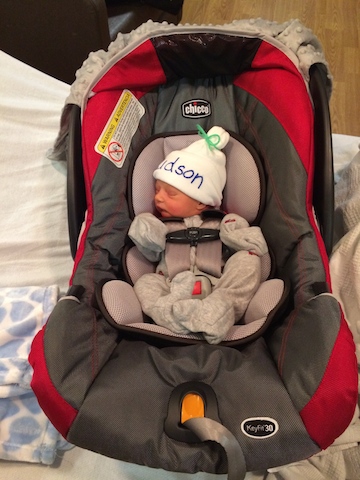 going home outfit and hat the nurses made
That's it.  Honest.  The hospital is going to dress baby in little onesies with a hat and keep them all swaddled up the whole time.  I can't imagine that you'll be wanting to play dress up with your baby just yet, so just bring what they need to leave the hospital.  The hospital will provide you with diapers and wipes (and you'll get to take them home with you).
9.

Miscellaneous Stuff
– pillow – I prefer to sleep on my own pillow so I brought that from home
– blanket – I used the hospital blankets most of the time and ended up using mine only once when I got really cold.  I could have left this at home and just asked for another blanket and that would have reduced stuff to carry. *update after birth #2* I didn't take my own blanket, I just used theirs
– extension cord and/or power strip – In case the outlet isn't close to your bed or you have lots of electronics to charge.
– essential oils – I had just gotten my oils a few days before I went into labor so I wasn't really sure what all I could do with them but I did use them a little bit afterward.  Next time I'll know how to use them better and they will be a staple in my hospital bags.
– baby book – You might write in it while you're there.  I didn't until we get home.
– Boppy pillow – It makes breastfeeding much easier (not that it's easy) since you aren't having to hold the baby up the whole time.
– carseat – Duh.  You can't leave the hospital without one.
– an empty bag – You will probably accumulate stuff while you're at the hospital, so bring an empty bag (you can leave it in the car until you need it) to put all that random stuff in before you leave.
– snacks for the nurses – Definitely not necessary, but we wanted to say "thank you" to the people who took care of us.  We brought them a bag of snacks (granola bars, raisins, candy, etc.) *update from birth #2* sorry nurses and staff, I didn't do this the second time around
So…. I suggest packing everything that you can well in advance and stashing it all together out of the way.  Then, make a list of the things that you can't pack until the last minute (glasses, laptop, makeup, etc.) and lay that on top of everything.  That way when labor starts you don't have to waste mental energy remembering what you needed to still get.  Or, in the case that something crazy happens and you have to go to the hospital without your stuff, someone else could run by your house and grab those items.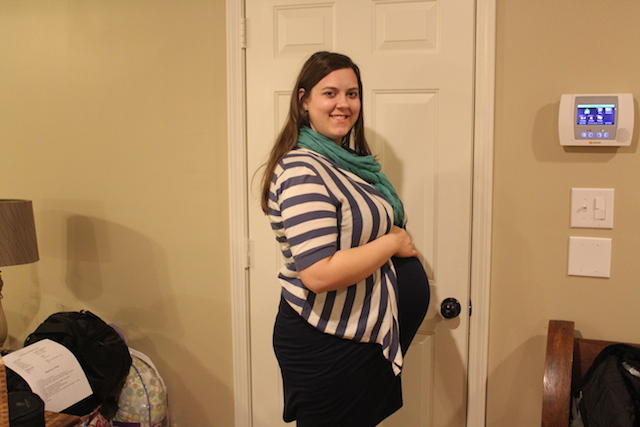 you can see the list laying there on our stack of bags (bottom left corner)
On the same sheet that I wrote out what we needed to wait and pack right before we left, I also made a checklist of all the bags and items so that we made sure we got everything to the car.  I even described what the bag looked like (i.e. pink polka dot duffle bag) so that Michael knew which bag was which.
It looked like this (minus the descriptions because I know you don't care):
1. Car Labor Kit (already in the van)
2. Labor Bag
3. Birth Ball
4. Essentials Bag
5. Caitlin's Stuff
6. Michael's Stuff
7. Hudson's Stuff
8. Miscellaneous Stuff
9. Carseat
10. Snacks for Nurses
11. Empty Bag for Random Items
12. Cooler
Those are my hospital bag necessities.  What about you?  Was there something you definitely had to have at the hospital that I didn't put on my list?  Please share in the comments below!