Friday again?  When you aren't blogging every day Friday rolls around pretty quickly.  (Someday I will get back to a consistent blogging schedule.  Someday.  Like when I'm brushing my hair consistently and there aren't cobwebs hanging from the bench in my foyer.  You just wish I were kidding…)
On that lovely note, here are my five things today:
1.  Monday I had a really rough day.  Hudson had had two nights in a row where he did not sleep well at all and then he wouldn't take long enough nap during the day for me to nap, too.  I was exhausted.  I asked Michael if he would pull Hudson duty for a little while that evening so I could have a break.  Being the wonderful husband and father that he is of course he said yes, so after one of Hudson's feedings I escaped upstairs to take a bath.  We've lived in this house for a year and a half and I've never used the bathtub…I've always preferred showers over baths.  But Monday it just sounded like the perfect thing.  I was able to soak and read a magazine and have some prayer time and it was wonderful.  I think I may try to work a bath in every week because it was wonderfully relaxing and rejuvenating.
Not meaning to get so off track here, but I just have to take a moment and say that I think single mothers must be super women.  I'm serious.  So many times since Hudson has been born I've thought of the single moms that I know.  This is a hard job for sure, but I always know that if it gets too overwhelming I have Michael there to step in and give me a break.  I can't imagine needing a break or feeling that exhaustion and knowing there is no one there but me.  So any single mom readers that I have, you are awesome and don't you forget it.
2.  I am so excited about Hudson's first Easter.  I know he is way too little to understand what is going on, but I'm still really looking forward to it.  We're just getting him some little baby toys and books for his Easter basket that we would have bought anyway, but I guess since it's our first holiday (Valentine's Day doesn't count…we were still definitely in post-baby fog) it's more special.  We'll also get to see some family that hasn't met Hudson yet so that will be fun.
3.  A productive day these days for me is getting two whole things done around the house.  It's such a change from the engergizer bunny I used to be who could get tons of cleaning, crafting, and other projects done.  Now my days are spent feeding, rocking, and snuggling Hudson.  I am not complaining at all.  I love my job.  It's just very different.  All that to say that I got two "projects" done this week that I've been wanting to do: I made homemade body wash and homemade baby wipe solution.  Both were so incredibly easy and quick; gathering the supplies was the most time consuming part.
The body wash is wonderful.  I was a little skeptical but it lathers nicely and cleans great.  I haven't used the wipe solution yet.  Once we start cloth diapering (that was on my goal list for this week and it hasn't happened yet but we still have two days so maybe I'll get that started still) we are also going to use cloth wipes.  Since I haven't started that yet I haven't used the wipe solution, but I can say that it smells great!
4.  On the note of productive days…my old cleaning routine was to clean the whole house once a week.  It usually took two to three hours and at the end I'd have a sparkling clean house.  When I was working I would do the cleaning on Saturday or Sunday, when I wasn't working then I'd try to do it on a weekday so that the weekends were free.  I also did all the laundry back to back to back on cleaning day.
Well, I no longer have blocks of two to three hours.  I'm lucky to get one full hour these days since Hudson takes pretty short naps.  Soooooo I'm having to change my mindset from getting the whole house clean at one time to one where I do a little bit each day to maintain the cleanliness.  This is totally new to me but fortunately Pinterest has a bajillion cleaning schedules like that so I've been looking at those and trying to get my game plan together.
Do you have a cleaning schedule?  If so, do you prefer to do one room per day (i.e. the bedroom, the kitchen, the living room) or do you prefer to do one thing per day (vacuum, dust, sweep, etc. no matter which room it's in)?
Right now I'm leaning toward one thing per day so that I don't have to get the vacuum out multiple times each day that I clean a room with carpet or the duster each day to dust each room.
Hudson is being particularly unpleasant fussy today and I've been trying to get this post written for hours.  I'm tired of writing a few sentences here and there so yeah, I'm only writing four things today.  Sorry if this greatly offends you.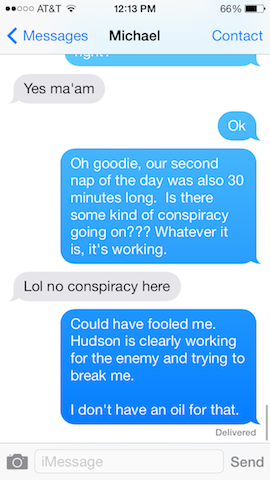 Enjoy your weekend everyone!
Linking up with Lauren