It's that time again…time to tell you five things that are making me happy.  What a great way to kick of the weekend hm?
1.  I got on the sewing machine this week for the first time in ages.  Since Hudson was born making time for crafting hasn't been much of a priority.  I really needed to make some nursing tanks, though, so I escaped to my machine for a few minutes.  It wasn't a super long project but it was nice to exercise my crafty muscles.  The nursings tanks were super easy, I followed this tutorial and hammered out 7 of them in about 20 minutes.  Plus I used the $1.80 tanks from Forever 21 so I made 7 nursing tanks for less than $14.00 in less than 20 minutes.  Not bad.
2.  We tried a new recipe this week that was really easy and really delicious.  They are called Yumm Bowls and Lindsey over at The Pleated Poppy (where I used to link up my What I Wore Wednesday post back when I wore something more than spit up covered pajamas every day) blogged about this recipe and it looked amazing so we tried it.  And it was super yum.
3.  I painted my toenails for the first time since December?  Early January?  I'm not quite sure.  I was planning to get a pedicure before Hudson was born but I went into labor before that got done.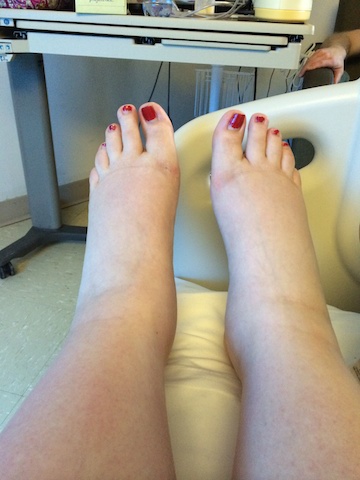 my very chipped toenails (and incredibly swollen feet) a few days after Hudson was born
Since then painting my nails hasn't been that big of a priority, you know?  But now that it's warm (some days) and sandal weather I figured it was time.  It's amazing how one little thing like pretty toes can make me feel good.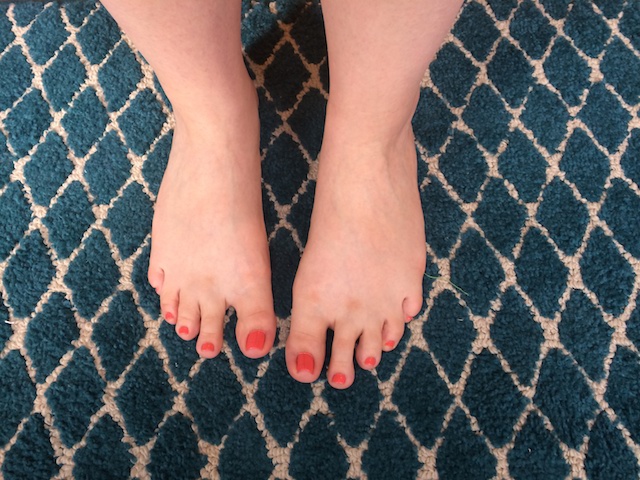 4.  We started using cloth diapers this week.  We're not using them all the time yet, mostly just at home until I get the hang of everything, but so far I really like them.  It's not any grosser than regular diapers and it's not that difficult to run a little bit more laundry.  So far, so good.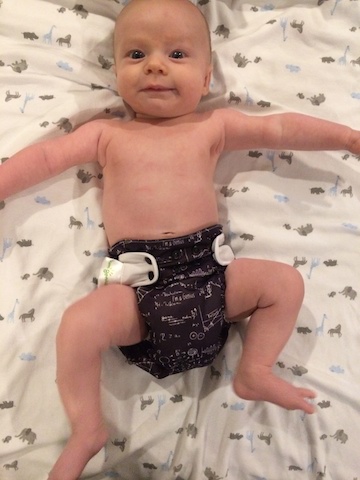 Why yes that is a diaper with math equations…what else would you expect the child of an engineer and former math teacher to wear?  Now if only I could find one with books on it….
5.  Yesterday I got my monthly essential oils order.  It's like Christmas when my package comes!  My organizing loving heart was so thrilled to get bottle labels and I happily sat in the floor and labelled all my bottles.
Now to get one of every oil so I can use all my labels….
I wish.
Oh but if I did, how would I organize them?  By color?  Alphabetically?  Hmm….
Anyway.
This post is brought to you by this cute guy who I can hear "talking" in the bedroom so I better go get him up from his nap.
I can hardly stand the cuteness.
Have a wonderful Easter everyone.
Linking up with Lauren