Three months old already!  Time flies when you're having fun.  Month three has been quite a bit easier than the first two months of Hudson's life.  We've kind of fallen into a routine and things aren't quite so new and scary and overwhelming.  It's so much fun to watch Hudson grow and change!   He has such a big personality for such a little guy!
Here are some things we've been up to this month:
Hudson started really trying hard to suck his thumb.  He's not quite coordinated enough to get it in his mouth though so he settles for whatever skin he can get in his mouth (usually his wrist or fist).  We often hear him slurping away on his hands while he is in his carseat (which he still hates, by the way).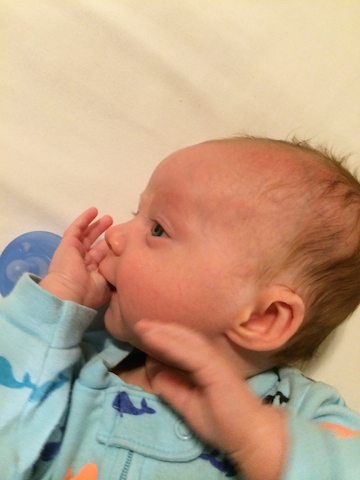 I know, this is the saddest thing ever.  He finally started crying real tears.  He has only cried tears maybe three times and it is just heartbreaking when it happens!
The wide-eyed, forehead wrinkled look is Hudson's standard expression.  He always looks very concerned or surprised.
A lot of his hair has fallen out (and is still falling out every day), but what is there has curled up quite a bit.  Michael calls his hair "mad scientist hair" because it sticks up all over the place.  In addition to losing most of what is on top he also has a bald spot on the back where most babies get bald spots.  However he has thick, soft, dark hair on the back of his head under the bald spot so he's rocking the mullet look.
His eyes have changed and become a much lighter blue.  I know I'm totally biased but I think he has beautiful eyes.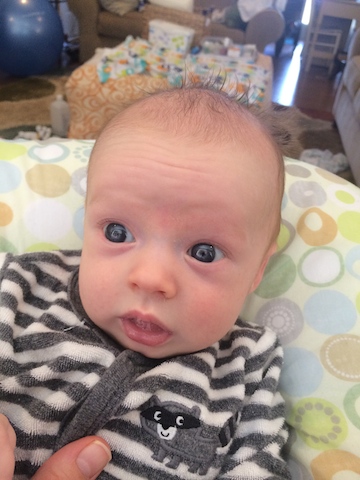 Nursing is going much better now.  He eats much faster and the pain is greatly reduced – still there, but much less than what we dealt with at the beginning and for that I am thankful.  After he eats he likes me to turn him around and prop him on the Boppy pillow in my lap so that he can look at me.  We talk and play…and I take lots of pictures of him!
On this particular day he became fascinated with some random spot on the ceiling and stared at it for a good long time.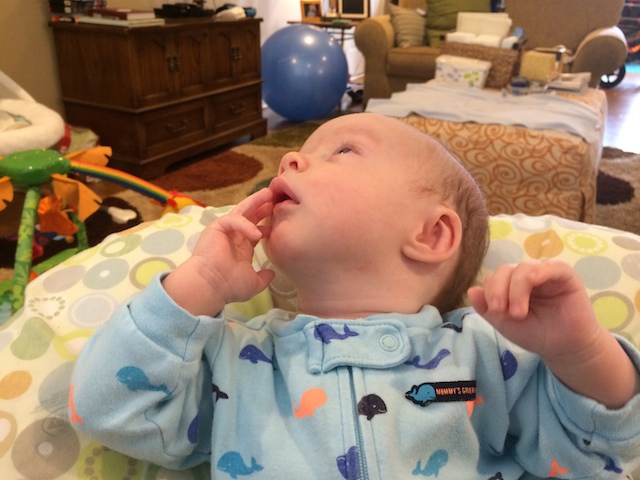 Our poor little guy had his first illnesses this month.  He got a cold several weeks ago and was all congested.  I would take a really hot shower and we'd close the bathroom door to make it all steamy and then bring him in there to help loosen up the congestion.  We also made friends with the Nose Frieda, a disgusting little contraption that helps to get snot out of babies' noses.  We used saline spray, which he hated, and I used lots of essential oils to support his respiratory system.  Fortunately neither sickness lasted long and he didn't really seemed bothered by them.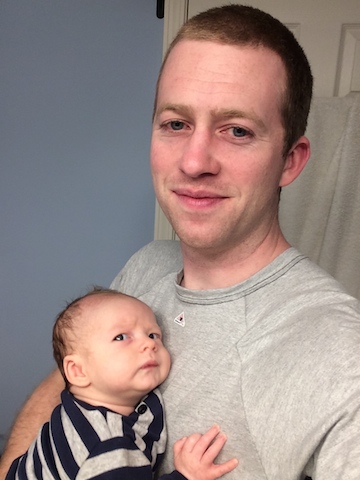 As long as he has been fed and isn't too tired, Hudson is generally a very happy baby.  This adorable smile is what we see most of the time.  It's so funny though, he is very solemn when we are out in public.  I guess it's all the activity around him, but when were are at church or visiting family he just stares at everyone and doesn't smile much.  I think he's taking everything in.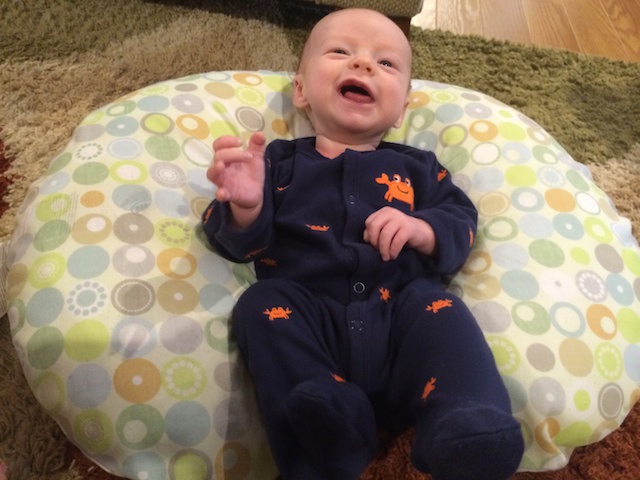 We started putting him in his Bumbo seat.  The first time he kind of struggled but now he's a champ at holding his head up so he can sit up in the Bumbo for several minutes on his own.
He likes to sit up now and it getting pretty good at it.  I'll sit him on my leg and hold on to his torso; he holds that head up and looks around at everything.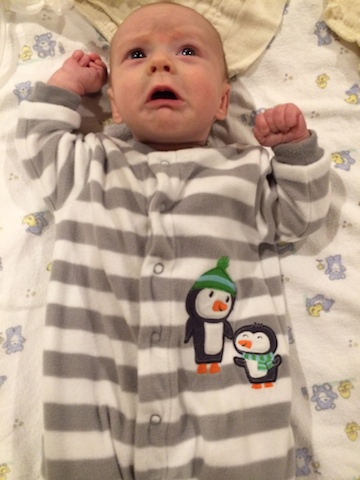 His sad pouty lip gets me every time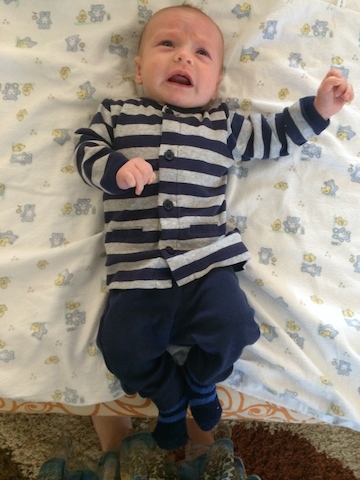 We finally ventured out of sleepers and started putting him in little "outfits" when we go out.  He expressed his disapproval for these outfits by having massive blow out poops the first three times we put him in something other than a sleeper.  It's like HE KNOWS…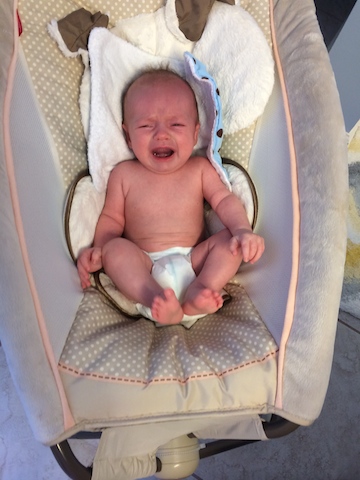 He's precious when he's mad and he's precious when he's happy.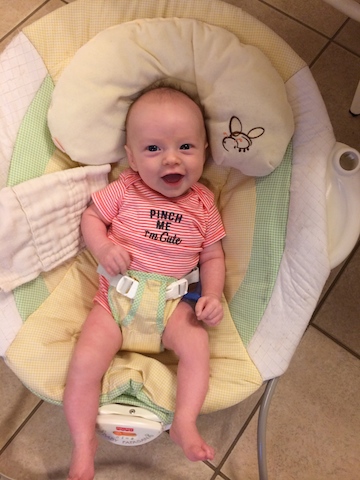 Like, seriously, who can resist that sweet smile and those big blue eyes?
He is a spit up machine.  Multiple times a day, every day.  We go through a lot of outfits.  It doesn't seem to bother him in the least so I'm not too worried about it.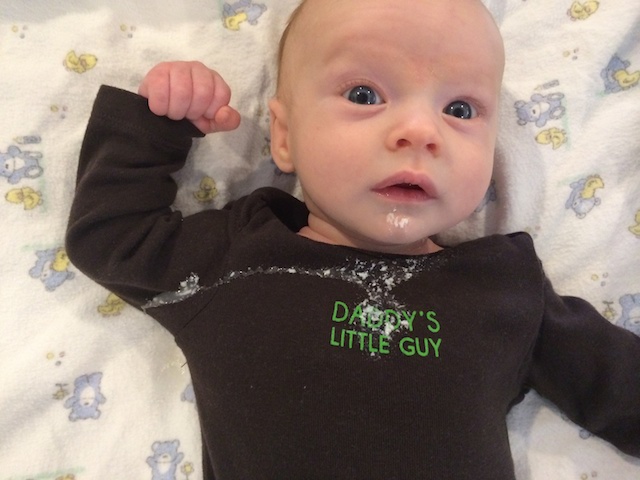 And the excessive spit up doesn't seem to be hindering his growth any!  We didn't have a doctor's visit this month so we measured him at home with a tape measure and weighed him on our scale (Michael weighed himself with and without Hudson and we calculated the difference).  Our teeny little squirt is now 12 pounds, 6 oz and 23.5 inches long.
He's still long and skinny, especially compared to many babies, but he is definitely more plump than when he was first born and he's beginning to get some adorable rolls.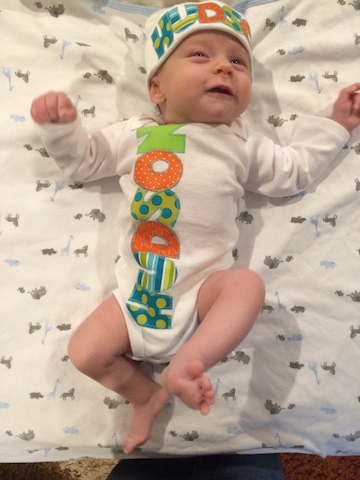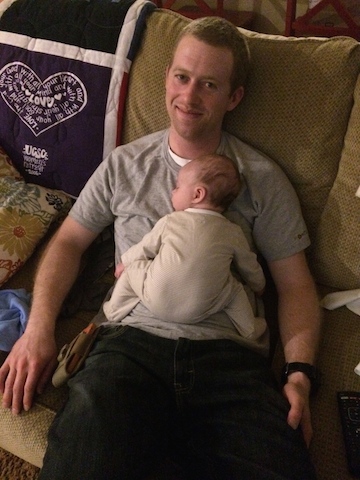 Hudson is definitely a mama's boy right now (primary food source for the win), but loves his daddy, too, and I love seeing them play together after work each evening.  Michael is so wonderful to take him in between feedings at night so I can get some things done or just go take a relaxing bath.  I love both my boys so very much.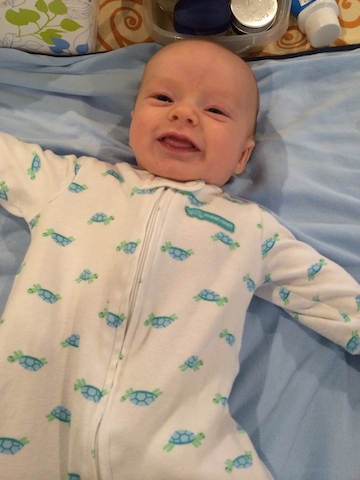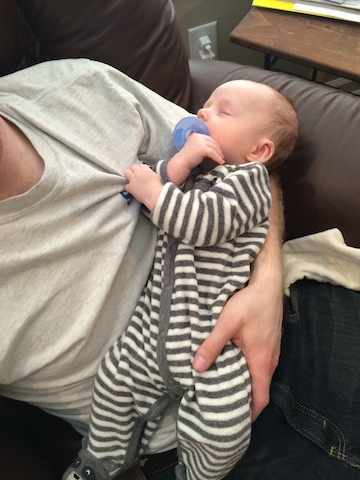 The paci is still very hit-or-miss.  We mostly use it to help him get to sleep.  He lets it fall out as soon as he falls asleep though and he has little use for it when he is awake.  He can hold it in on his own if he wants to, but usually he won't and it falls out and goes bouncing all over the place.
He has quite the grip and loves to hold on to things – you can see him holding Michael's shirt in the picture above.  He also frequently grabs his own clothes or bib and holds on to them.  Or my hair…somehow he always gets a handful of my hair.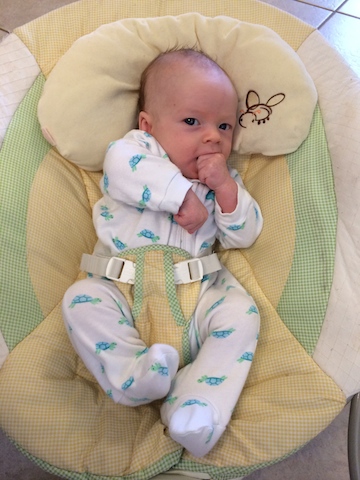 We keep this little seat in the kitchen and he's usually content to hang out there while I work in the kitchen or eat a (quick) meal.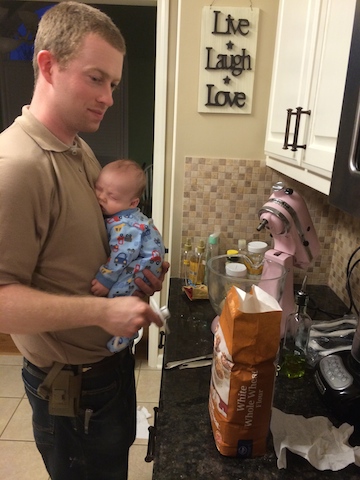 Look at those mad daddy skills…cooking dinner while holding a sleeping baby.  *swoon*.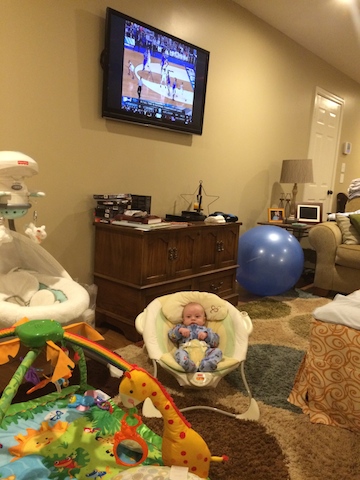 We are not a super sporty family but we did watch the NCAA championship.  Obviously Hudson was incredibly interested in the game…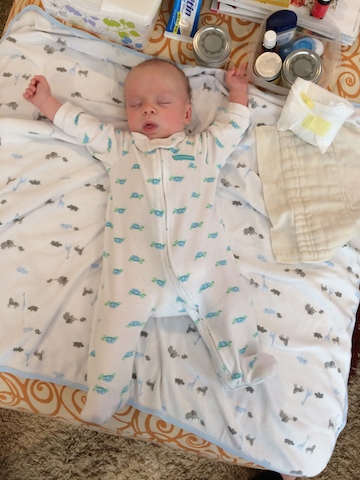 I really need to figure out how to put videos on my blog.  This dude is so funny.  When we unswaddle him he stretches so big and his faces are hysterical.  And when you pick him up after he has eaten and he's all full and happy he arches his back and sticks his bottom out in a funny little stretch.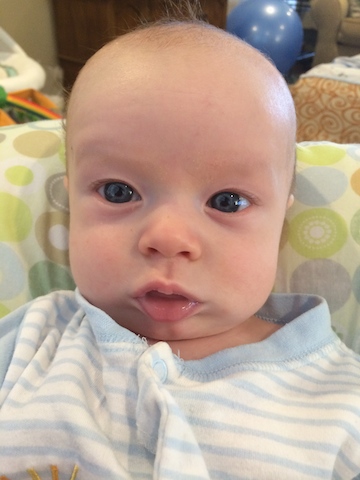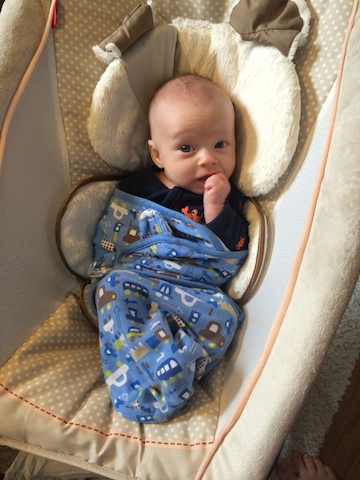 Sleeping is soooooooo much better now.  He sleeps through the night now – usually from 10-11pm to 6-7am.  It's amazing.  He takes pretty good naps during the day; usually several short ones and one long one.  He no longer has to be held in order to sleep.  I usually swaddle him and rock him to sleep, then put him in his Rock 'N Play with the fan on for white noise and he sleeps great.  Of course, sometimes I hold him during his nap just because I want to.  I'm hoping that the good sleep will continue from here on out.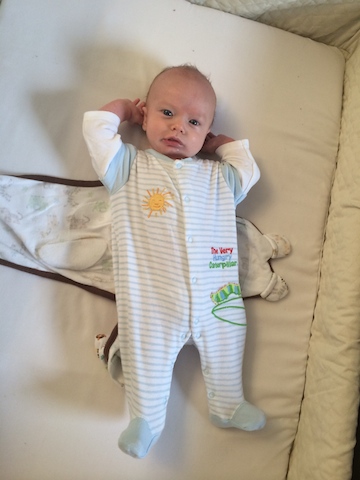 We get told just about every day how much Hudson looks like his daddy, but this picture of him stretching reminds me a little of some of my baby pictures.
We still have the cosleeper attached to our bed but he has yet to sleep in it.  He has been sleeping so well in his Rock'n Play that I kind of hate to mess with a good thing, you know?  However, I lay him in the cosleeper sometimes when I'm making the bed or folding clothes or getting ready in the morning.  He seems to enjoy the different view and just watches me or the ceiling fan.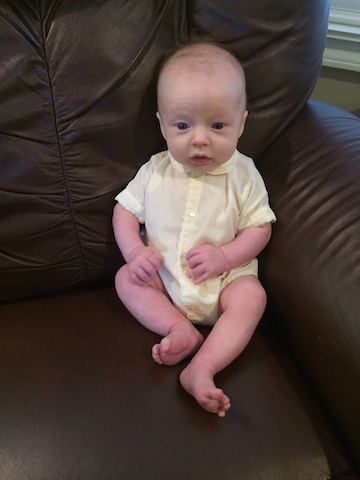 Michael's mom gave us a bunch of Michael's baby clothes so Hudson has been wearing some of them to church.  This yellow one was a wee bit too small but we wore it anyway.
I don't know how our parents had the patience with our clothes.  They have tee-tiny little buttons,  no stretch, all kinds of crazy things like belts.  They are not easy to get on and off.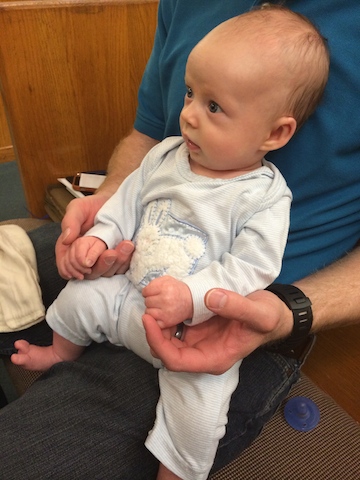 We have a good little routine going now and I finally feel like I have a little bit of a handle on things.  Since he doesn't have to be held while he sleeps I'm able to lay him down for his naps and then get some thing done around the house.  Usually he eats, is awake for a while and we hang out and "play", then goes down for a nap; we repeat that little cycle during the day.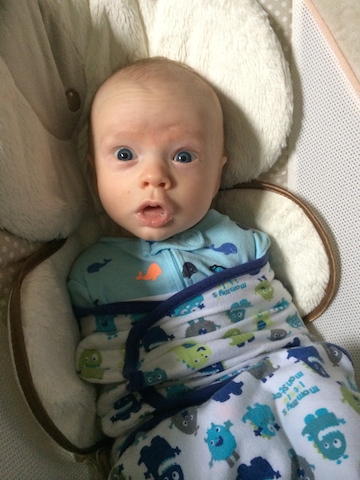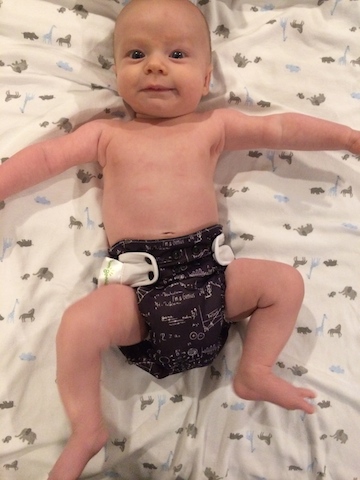 We started using cloth diapers a few weeks ago.  So far I really like them.  They are easy to use and the washing hasn't been nearly as big of an ordeal as I expected.  The only thing that I don't care for is how big and bulky they are under his clothes but that's probably not as obvious to everyone else as it is to me.  We're still using disposables at night and sometimes when we are out and about, but the majority of the time we use cloth.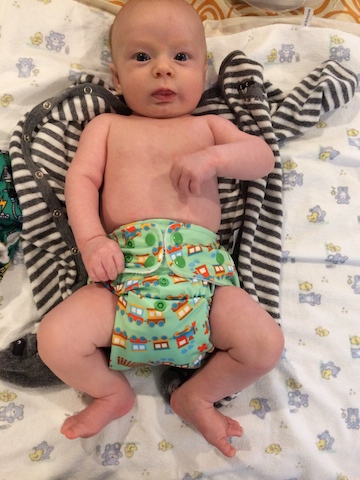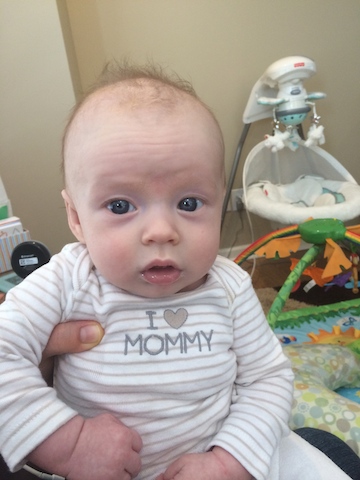 Everyone says he looks like his daddy, but he definitely has some of my traits, too – he has a cleft chin like me and big feet like me (and my mom's whole side of the family).  He also stretches just like me and it's hilarious to watch.  We looked at some old baby pictures and occasionally I see a glimpse of me; he looks more like my brother Riley than he does my brother Brendan or me…but really he's pretty much just all Michael.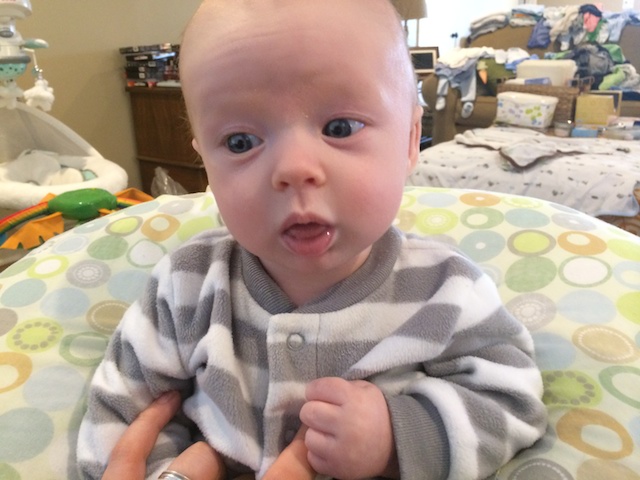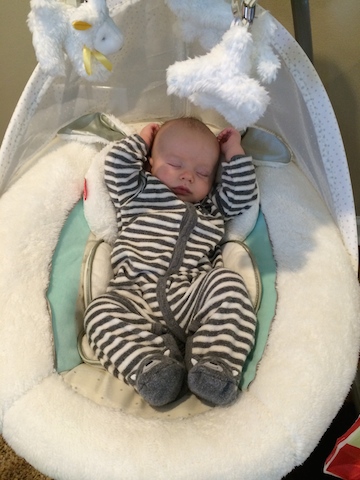 He lays like this with his hands behind his head a lot…so chill!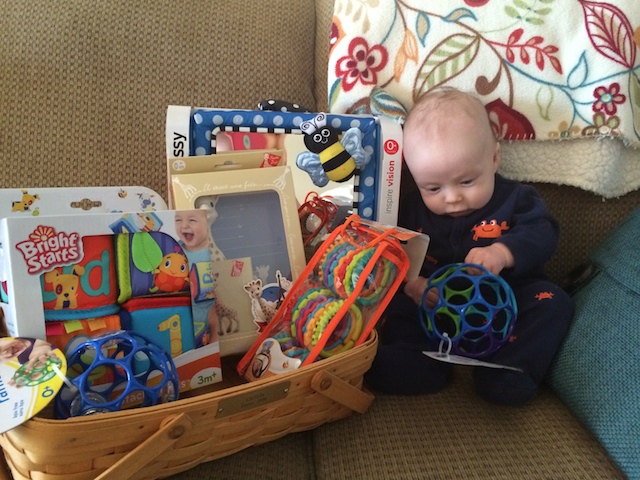 Easter was Hudson's first big holiday.  We bought him a few toys and books for his Easter basket…except I totally feel down on the job of getting him his own Easter basket so we used mine instead.  I mean, it's not like he noticed….
We went home for Easter and that was Hudson's first big trip somewhere (one hour each way).  We were gone less than 12 hours but of course I packed nearly our whole house!  Babies require a lot of stuff…and when you have a big spitter like us you have to have extra clothes for baby, Mommy, and Daddy.  We got to introduce Hudson to lots of family and friends and we had a wonderful time.  He did pretty well traveling and being out of his routine all day.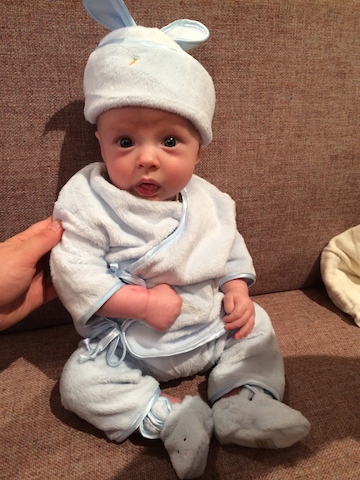 His sweet Easter outfit that he wore to church Sunday morning.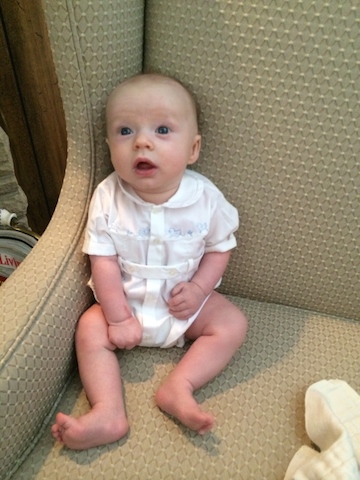 Then we changed him into one of Michael's old outfits for Easter lunch.
…and then he spit up on Grandmama's nice chair right as I was taking this picture.  Shh…don't tell.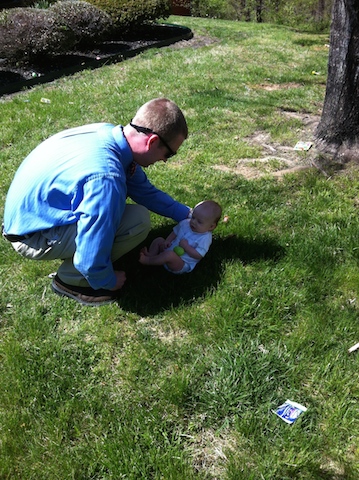 Michael helped him hunt his first egg.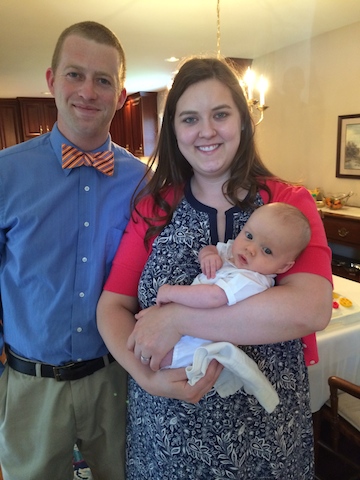 Happy Easter from our little family!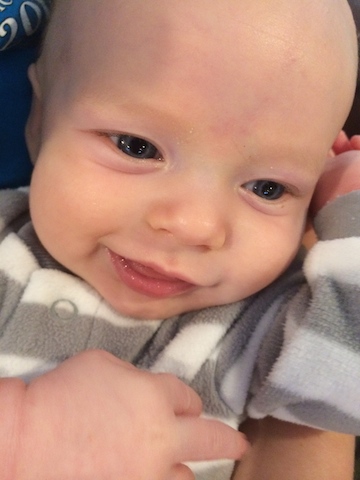 Some other things from this month:
I really needed to go shopping for clothes for myself so my mom came and went with us so that she could watch Hudson while I shopped and tried on clothes.  He did great, although he hates being strapped in to his carseat/stroller so Mom had to hold him most of the time.  I struggled with anxiety at the beginning of our outing just having him out with all those people around and because he was out of my line of sight.  Don't get me wrong, I totally trust my mom to take care of him, but I just had some irrational mommy fears that someone was going to attack them both and steal Hudson.  That went away after we'd been shopping for a while but it bothered me at first.
I took Hudson to school for several hours one day.  My wonderful sub and some of the other teachers at school went ahead with a spring bookfair even though I wasn't there to organize it.  I went one day to help out and also to attend a baby shower for one of my friends.  It was fun to go back and let everyone meet Hudson.  The kids were so excited to see me and him!  But I have to say that I don't miss it at all; staying home with Hudson is definitely my favorite job :).
He has changed so much.  I look back at the pictures and am shocked at how different he looks in just three months.  I used to think it was weird when people would say "he/she is growing too fast!" but now I totally understand what they mean!  It feels like he was just born and now he's growing and changing (and it doesn't help that people remind me of that and of how fast time goes nearly every day….)
He is very alert and has such a big personality.  I could just sit and watch him all day because he is so adorable!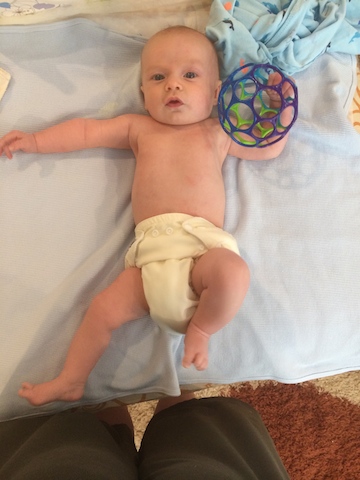 There are no words to describe the love I have for Hudson.  Sometimes I just look at him and tear up because I love him so much.  I tell Michael that "my heart is overflowing and coming out my eyes".  Being his mommy is absolutely the best.