Hey everyone!  Did you have a good week?  We're headed home from a week long trip to Gatlinburg.  Michael had a class/conference thing he had to go to for work (the same one we went to two years ago – crazy how time flies) so Hudson and I tagged along with him.  I was excited about a little family getaway but also apprehensive about traveling with a baby.  Overall Hudson did much better than I expected.  The trip down here, while long because we had to stop a lot to feed him, wasn't too bad and he didn't cry nearly as much as I expected.  During the day Hudson and I stayed in the hotel and relaxed, then after Michael got out of class we'd go eat and sightsee.  We had two good, easy days in the hotel and two days where he fussed a lot and didn't want to nap much so that was a little challenging.  But he did pretty well considering and he slept great at night so I was very thankful for that!  Now if we can just have a smooth trip home today *fingers crossed*.
Any-who…here's what I'm High Fiving today:
1.  This rocking camping chair.  One thing I was nervous about in regards from our trip was the fact that I'd be away from my rocking recliner where Hudson and I spend, oh, 23 hours out of the day.  Ok not that much, but that's where I feed him and rock him to sleep so it gets a lot of use.  I was afraid that not having a rocker would be an issue and only half-jokingly asked Michael if we could pack the recliner.  I was very happy to find a camping chair that rocks and that folded up nice and small for traveling.  It's not the smoothest rocking motion in the world but it's good enough and has served us well this week.
2.  My Moby Wrap and Ergo.  We packed the stroller and have not used it once (we actually packed a lot of things that haven't gotten used…I told you I was an over-packer!).  I've just been wearing Hudson everywhere and a lot of times I wear him while we eat because he will sleep much better being worn than he will in his carseat.  It's been great and is much easier, I think, than lugging the stroller around.  We've gotten a lot of curious looks which I think is strange because I see people babywearing all the time but it must be odd to some.
It really tripped out the hostess at Bubba Gump's one night.  She tried to seat us in this teeny-tiny little booth.  I was wearing Hudson and there was no way I could fit the both of us in the booth.  We asked her for a table (there was one literally three feet from the booth) and she said that there wasn't anyone to serve the table (the restaurant was nearly empty).  She tried to get us to put Hudson (who she referred to as "her") in a high chair but that doesn't fly for obvious reasons (like, ummm, the fact that he's way too little to sit up on his own).  It got to the point where I thought we were going to have to leave and find a different restaurant when another waitress overheard and offered to serve us at the table rather than the booth.  We sat there and then the hostess girl announced very loudly to the rest of the restaurant that "there are two people sitting at a table for six and I don't know what to do about that!".
I really had no idea wearing a baby was going to cause such fuss!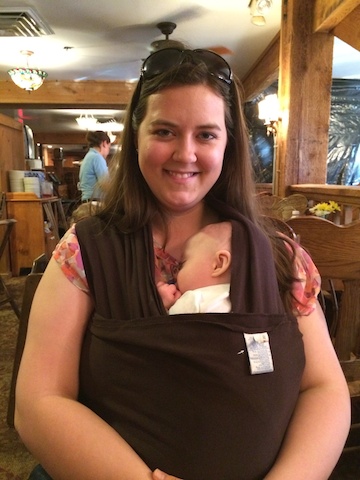 Just snoozing away while we ate at The Old Mill
3.  I was a guest blogger over here this week sharing how to make homemade stretch mark cream.  You should go check it out!
4. I did not eat this slug for lunch last week.  I came close, but narrowly escaped.  I made my sandwich for lunch and realized I had forgotten mustard.  I lifted the bread off the top to add my mustard and saw something dark; I thought it was a piece of shrivelly lettuce…you know how it gets black and mushy?  Umm, no.  It was a slug, crawling on my sandwich.  I freaked out a little and needless to say lost my appetite for lunch.  Do you know how close I came to eating that?!?  Eww.  What if I hadn't realized I needed mustard?!?  Horrors.
I'll be washing my lettuce a little more carefully from here on out.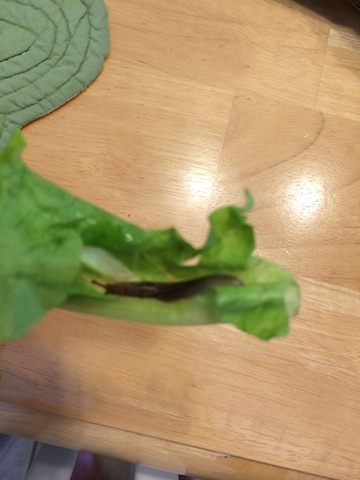 sorry for the poor picture quality…little booger was wiggling all over the place and I couldn't get a good focus (it definitely wasn't because I was shaking with relief…)
5.  Michael's class this morning was super short, just long enough to pick up his certificate of completion, so we went to Cade's Cove before we headed home. Hudson cried pretty much the whole ride from Gatlinburg to Cade's Cove but once we got there he settled down and we were able to drive the loop in relative peace.
The detour was so worth it! We saw a group of three bears (a mama and two cubs we think), several deer, and another group of two bears. The second set of bears were really close to us and that was so neat.
Oh and this.  Michael found this on Craigslist the other day.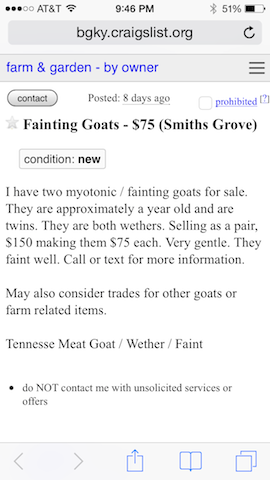 They.Faint.Well.
You're welcome.
(can I admit that for half a second I wanted to buy these just to make them faint?)
Linking up with Lauren.