A few weeks ago when I first posted about my journey into essential oils I showed a picture of my oily "go-bag" – a little bag that perfectly fits my Young Living essential oils (the small ones that come in the starter kit).  I have gotten tons of questions about where I got my back and it appears to be quite popular.  Soooo….
I found another and I'm giving it away to one of you lucky readers!  Hooray! (just the bag, not the oils in it fyi…) (update: this giveaway is now closed)
Let's talk about the oils that I keep with me all the time.  I no longer carry a purse and just use my diaper bag for Hudson's stuff and my stuff.  As much as I'd love to carry all of my oils with me, that's just not possible (I already carry enough stuff for a small army as it is…) so I narrowed it down to six items that I think cover the majority of our needs while out and about.
---
This post contains affiliate links.  I am a Young Living independent distributor so if you purchase a product through my link I make a commission at no cost to you.  You become part of my Oily Moments community and we will be here to help you with your new oils.  Thanks for joining with me!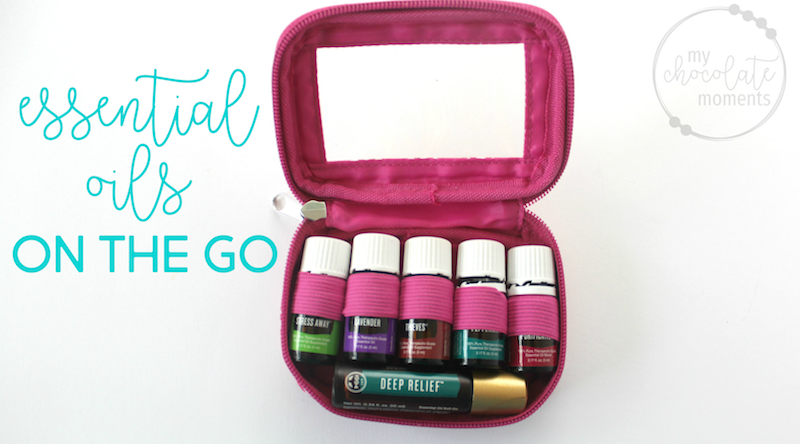 In my actual cute little pouch that everyone loved so much (which is actually a bead organizer from the jewelry section at Hobby Lobby, but unfortunately is no longer sold there…good thing I snagged one for you, huh?) I keep lavender, Thieves, Stress Away, Purification, peppermint, and Deep Relief.
1. Lavender.  Lavender is the "Swiss Army Knife" or "Grandmother" of essential oils because of how versatile it is!  I always keep this one on hand for minor bumps or scrapes.
2.  Thieves.  This is probably my number one favorite oil (well it's actually an oil blend, but you know what I mean) because of its amazing immune boosting properties.
3.  Stress Away.  Stress Away smells wonderful and is very calming.  Rubbing Stress Away on my wrists and the back of my neck and it really helps me feel grounded and calm when taking my fussy newborn (who doesn't breastfeed well) out and about..  I basically use it as perfume.
4.  Purification.  Another great blend that is very versatile for things from eliminating odors to enjoying the outdoors annoyance-free
5.  Peppermint.  A great as a pick-me-up when you're feeling tired (like driving on long trips) and need an energy boost.
6.  Deep Relief.  This oil blend is available in a roll on and is fantastic to apply to temples, forehead, and back of neck
Soooooo….
I know you're wanting to get to the giveaway part, huh?
Well it's super easy – fill out the Rafflecopter form at the bottom of this post.  I've given you several ways to earn entries, you can do as many or as few as you like.  The giveaway ends Friday night at midnight.