I have a super simple tip to share today on how I keep up with baby milestones that Hudson reaches and other important information – I just write it down in my planner/calendar!
We have a baby book that I update each month, but for the day to day things I've found that jotting them down in my planner works best for me.  I usually have it sitting out all the time so it's easy to grab a pen and make a quick note.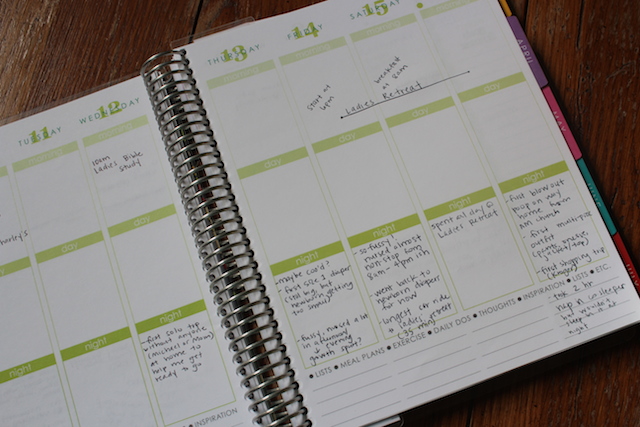 I've shared about my Erin Condren planner before.  Obviously the way I use it now is a little different than how I used to use it (now that meals are fly-by-the-seat-of-your-pants and blog posts happen whenever I get a spare moment) but having all that space to write memories is wonderful.  I use the bottom section of the day (each day is broken into three sections) to record Hudson-related things.  I don't write something every single day, but I try to stay on top of the big stuff (and little stuff) so that I don't forget.
Some things that I try to record:
– firsts (first smile, first coo, first cloth diaper, first time we went to church, first solo outing, etc.)
– abnormalities or medical issues (lots of sleeping or lots of nursing, possible growth spurts, unusual behavior, rashes, fever, height and weight at doctor appointments, etc.)
– other (hours slept, people who came to visit, anything else notable)
Having a place to jot that stuff down quickly is a wonderful way for me to remember all the little milestones.  Later I can go back and use that information write his monthly blog posts or fill out his baby book.  It's also fun to look back and remember those moments or just marvel at how much he has changed already.
How do you keep up with things for your kiddos?