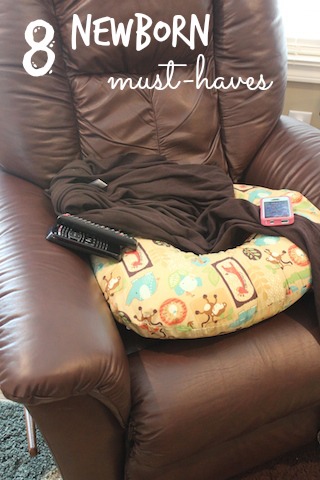 Now that we are past that wonderful but crazy newborn stage I want to share with you eight of my must-have items when Hudson was first born.  This is not a complete baby registry list (maybe another day…), but the eight most important, useful things that I found myself needing during those first few weeks.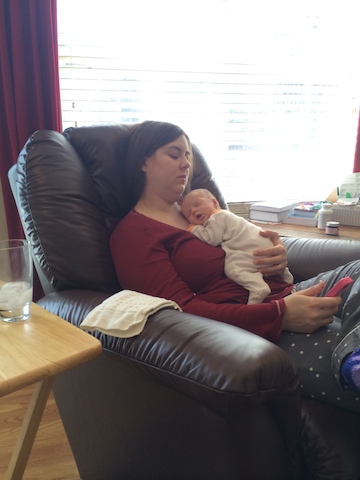 my "nest"
1. A rocking recliner.  Not a regular recliner.  Not a rocking chair.  A rocking recliner.  My mom highly this when I was pregnant and she was so incredibly right.  You want to be able to rock the baby (because believe me, you will spend a ton of time rocking) but you also want to be able to recline and take a nap once baby finally falls asleep.  Or if your baby is like mine, you'll need a comfy place to sleep for the first few weeks since your baby won't let you put him down so you can go to bed.  I'm just saying…
Anyway.  A glider is nice; we have one in our nursery (that I have yet to use) but what you really want is something that you can have in the living room so that you can still be in the middle of the action and also be comfortable as you're sitting for millions of hours on end.
We looked at several recliners and balked at the price of the one we ended up purchasing, but we figured it was a piece that we would last a long time.  Let me tell you, that is the best baby-related money we have spent.  I have seriously spent hours upon hours in that chair and it has been well worth the price!  Michael calls it my nest because I have my computer and books and water and all my stuff set up on the little table next to the recliner.  I can't recommend enough for you to get one.  When your parents or in-laws or granny or whomever offers to buy the baby furniture ask if you can have a new chair instead (forgo the expensive baby furniture, you won't use it anyway).
Oh and get leather.  Yes, it's more expensive, but I cannot tell you how much spit up I've wiped off our recliner and I am so thankful that I got leather instead of cloth.  Much easier to clean up.
(I'm not positive but I think this one might be the one we got)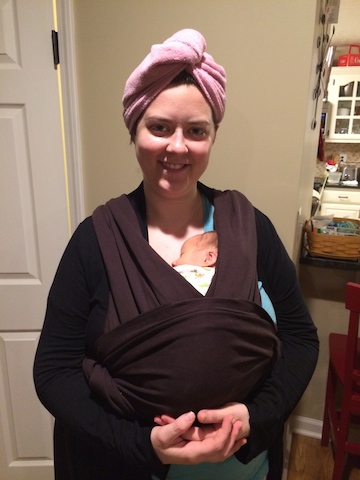 first time wearing Hudson
2. A Moby Wrap.  You  many not be a cloth diapering, baby wearing, organic food eating, all natural hippie, but trust me you need a baby carrier so you can wear your baby.  When he was first born Hudson did not like to be set down.  Ever.  Wearing him was the only way I got to eat somedays.  It also freed up both of my hands.  I wasn't able to do anything big like major house cleaning, but he could sleep all snuggled up next to me and I was able to have both of my hands to type on the computer or read a book or something.
Everyone has a different preference but I definitely prefer a Moby for when they are itty-bitty brand new.  Because it is just a long piece of cloth it is very comfortable to wear (no buckles or structured pieces).  It's very cozy for mom and baby.  Check out your local consignment sales – I got mine brand new for $20 at one.  The wrapping can be a little intimidating but there are tons of tutorials on YouTube (that's how I figured out how to use mine…and I practiced with a teddy bear until I was comfortable enough to use it with Hudson).
3. A good nursing cover.  I'm not a nursing-in-public-uncovered person (if you are, fine, but that's not my thing) but I didn't think I really needed to spend the money for a nursing cover.  I figured throwing a receiving blanket over my shoulder would be good enough.
Umm…no.  When you first start breastfeeding it can take a lot of work to get baby latched.  You need both hands free – you don't want one occupied trying to keep the blanket from sliding off your shoulder.  You also need to be able to see to help baby get latched.  I highly recommend getting a nursing cover that is a nice big piece of fabric with a strap that goes around your neck like an apron.  Then you can put it on and not have to worry about keeping it in place.  I also like the ones that have a stiff neck that sticks out a little bit so that you can look down through the top of the cover and check on your baby or see to help baby get latched on.
I have a Bebe Au Lait and I love it!  (it has the neck strap and the stiff neck piece, but it also folds up like a blanket and fits easily in my diaper bag).  Babies R Us carries them as does Amazon (and probably other places as well).
4.  A smart phone.  I know, seems like a weird thing to list but it really was one of my newborn necessities.  I couldn't even guess how much time I spent Googling things when Hudson was first born.  I had questions about everything – was he latching right? why did have so much gas?  how do you get a baby to sleep better? why does nursing hurt so much?  etc. etc. etc.  Since I was holding Hudson most of the time I usually only had one hand available to do all my searching, so having my iPhone was so helpful.  I spent tons of time browsing mommy forums and texting my mommy friends and reading everything I could find.
And on that note, make sure you have a phone charger plugged up next to wherever you think you will spend the most time (aka your nest in your recliner)
5.  Something good to watch.  You will spend a lot of time gazing at your sweet baby.  You will spend a lot of time on your phone trying to read more about this confusing little creature who happened not to come with an instruction manual.  But you will still have times that you need a distraction.  The middle of the night feedings were the worst for me – I was so exhausted and it was dark and he took so incredibly long to eat and I could hardly stay awake.  Plus nursing was way painful at first and I needed something to take my mind off the pain.
First I started watching I Love Lucy.  I'd watch two episodes every nursing session to keep me occupied.  Then the winter Olympics came on and I spent the next two weeks watching all those events.  And I don't even like sports.  After that I moved on to the 19 Kids and Counting episodes and then Gilligan's Island.
Now Hudson is much faster, he doesn't eat as often, we don't have middle of the night feedings (most of the time), and it's not nearly as painful.  I usually check Facebook, send a quick email, or just sit and enjoy him.  No need for major distractions.  But at first those tv shows were lifesavers!
So pick out some good, clean shows (you have little ears overhearing now!) that you are interested in watching so that maybe you'll look forward to those middle of the night sessions at least a little.
6.  A Boppy pillow with an extra cover.  I know some people are on the fence about the Boppy, or prefer a My Breast Friend, but I really like my Boppy and it has been a lifesaver while nursing.  I bought a waterproof cover to go under the pretty, printed cover and I'm so glad I did because it has gotten soaked with spit up (or just extra milk…Hudson likes to fall asleep, forget to swallow that last mouthful, and just let it come running back out) multiple times.  I'm glad the actual pillow isn't getting all nasty thanks to the waterproof cover, but I really needed an extra outer cover so I could alternate them while one was in the wash.
I like mine so much that I've actually considered buying a second one to keep in the car.  I certainly can nurse without the Boppy and I'm not going to haul it all over the place to use every time he feeds, but it is nice and I end up nursing him a lot of the time in the car (yet again I am so glad we went ahead and bought our van!) so it would be convenient to have another on there.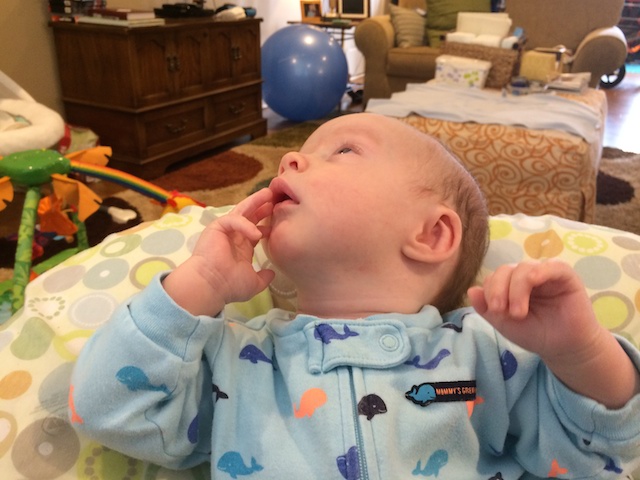 Hudson hanging out on the Boppy; changing station on the ottoman in the background
7.  Puppy Pee Pads.  I've told you how I used these in labor and they were so helpful then; come to find out they are super helpful afterward, too (which is good because the package I bought for labor prep had 30 in it and I had no idea what I was going to do with all the leftovers).
I don't know if it's all babies or just my baby, but Hudson open-air-peed almost every.single.time we opened his diaper to change him those first few weeks.  Since we changed him on the ottoman in the living room (still do, actually) this could have been bad news bears for my furniture.  We started putting the pee pads down, then laying a receiving blanket over the top.  We still had to change out the receiving blankets constantly, but the pads have protected the ottoman nicely.
8. Help and support.  I know that not everyone is as fortunate to have their husband home for the first two weeks after birth or their mom stay with them for the first six like I was, but if anyone offers you help, take it!  Don't try to do it all yourself.  You take care of the baby and let others take care of the rest.  Let people bring you meals, let someone hold the baby so you can sleep, ask for help if you're having problems breastfeeding.  If you have a mom or a cousin or a friend or whomever who can come help you a little at the beginning you will not regret it.
So there you go…the eight things that I think are crucial to have with for your newborn.
Your turn – what did I not mention that you thought were absolute must-haves?
————————————
Thanks to everyone who entered the oil carrying case giveaway.  I wish I could give one to everyone but unfortunately I can't, so the lucky winner is: Stephanie H. (h*****home@gmail.com) – be looking for an email from me!
If reading about the essential oils piqued your interest and you'd like to look into buying some for your family, let me know and I'll help you get started.  Don't forget, anyone who signs up with me or one of my team members during the month of May gets a free Essential Oils Pocket Reference – a fantastic resource to help you learn how to use your oils to combat allergies, migraines, pain, etc.