Four months, y'all.  Unreal.  Our little man is just growing and changing every day.
We haven't had his four month well baby visit yet, but we weighed him and measured him here and based on that we think he is 14.4 pounds, 25.5 inches long.  He has doubled his birth weight and grown six inches!
He's long and skinny(ish) as always – he is still in 0-3 month onesies (although getting very close to having to move up) but we've had to switch him this week to 3-6 month sleepers because his legs had gotten too long for his 0-3 month sleepers.  He's definitely plumping up and getting some rolls though!
Now please enjoy this boatload of pictures.
One of my favorites from his three month pictures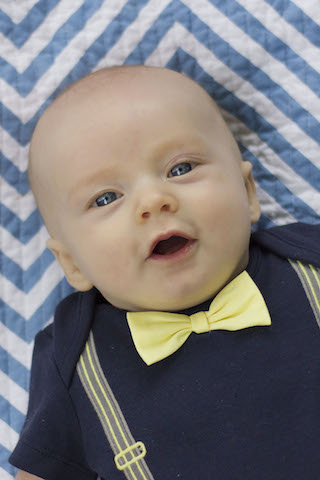 He is holding his head up so well!  He loves to sit up and look around.  And as you can see he still has the very concerned forehead look down pat.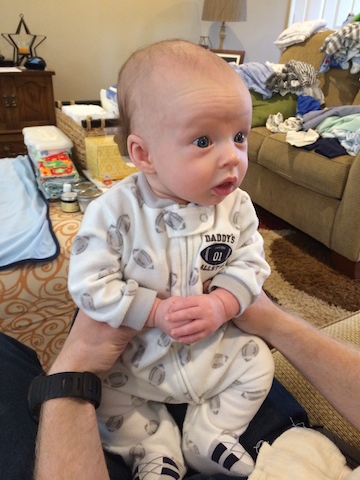 Sleeping is still going great.  He usually sleeps from 10 or 11 to somewhere between 6 or 7.  Occasionally he wakes up around 4 or 5 and when that happens I'm usually able to feed him and he goes right back to sleep for a bit longer.  I think the light has a lot to do with how late he sleeps because when we were traveling this month and had blackout curtains in the hotel he slept later than usual; at home he has started waking up earlier than usual and I'm wondering if it's because of the sun coming up earlier and shining in our bedroom.
We still swaddle him for naps and nighttime.  His little legs and arms are constantly moving and he'll wake himself up if he isn't swaddled.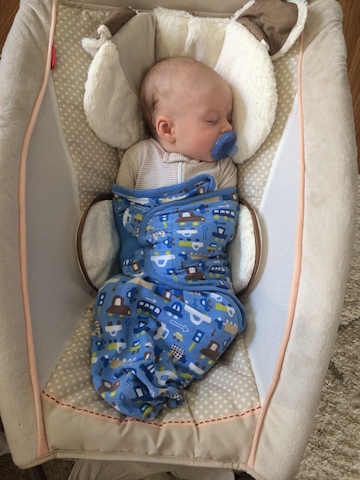 Wearing one of his daddy's outfits.  You can see that he has lost a ton of his baby hair.  He has some left in the back but the top is basically all gone and is growing back blonde.  I also have unfortunately started the post baby hair loss so I'm losing handfuls of hair all the time (fyi for those of you who haven't had babies, that is totally normal).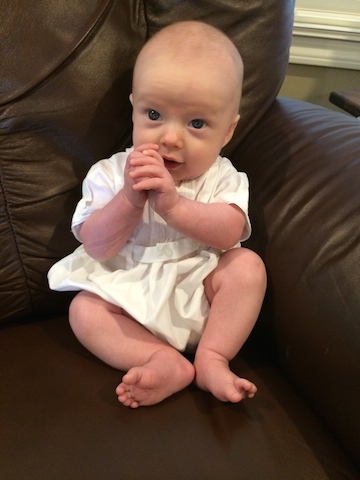 Check out this adorable windbreaker!  It served as a perfect raincoat to wear to church one night when we were having big storms.  Not that he actually was out in the rain to really need it, but still….

Hudson constantly has his hands in his mouth.  He doesn't seem to have a preference – sometimes it's his thumb, sometimes his arm, sometimes a fist, sometimes both fists!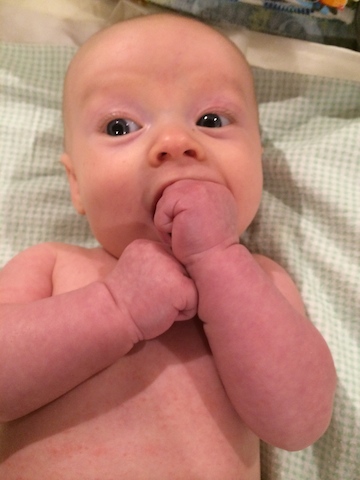 We took our first big road trip with Hudson this month.  We travelled to Freed Hardeman University (about four hours away from our house) to see my brother perform in his senior recital.  Hudson did surprisingly well!
Here he is snoozing calmly in his carseat (a rare occurrence!)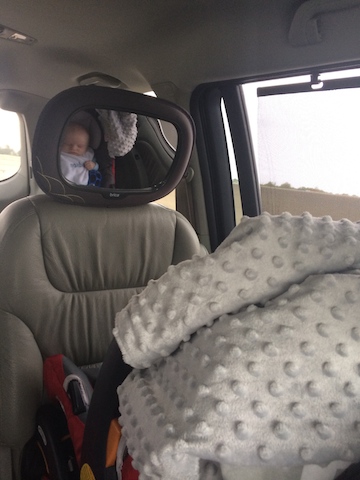 He slept through the whole performance and didn't seemed to mind the singing one bit but hated the clapping!  He would jerk really big each time we clapped.  He spent most of the time with his hand over his face, which I thought was hilarious.  It looked like he was trying to block it all out.  Silly boy.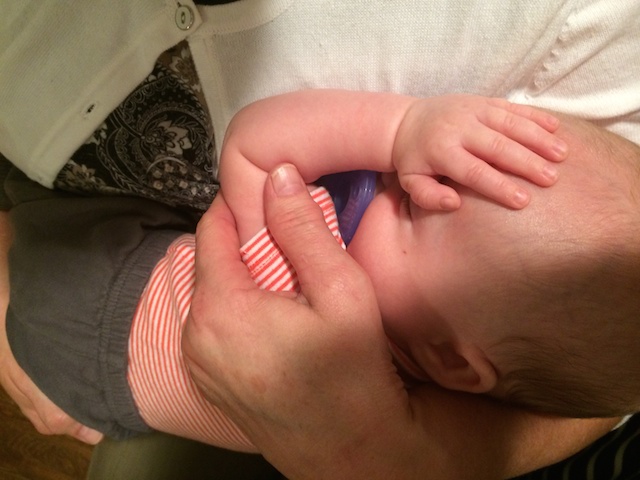 So proud of his Uncle Riley!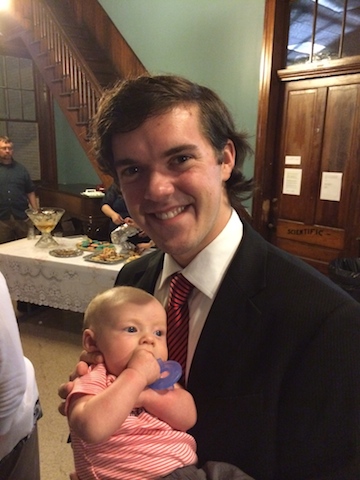 I just love overalls for baby boys!  They are kind of a hassle to put on but they are so precious!


This month he started being semi-interested in toys.  His favorites are the blankets and toys that crinkle and crunch.  We call them "crinkles" or "crinkly blankets".  He also likes to chew on Sophie the Giraffe.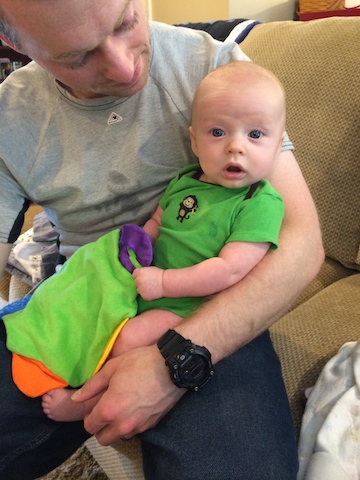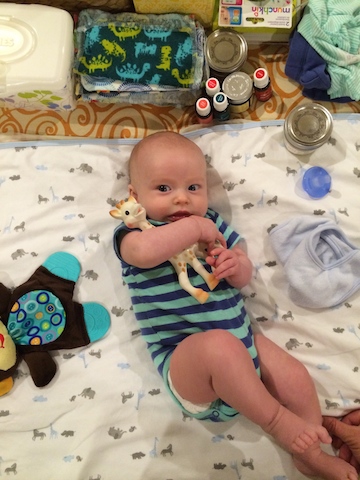 Hudson loves to hang out with his daddy.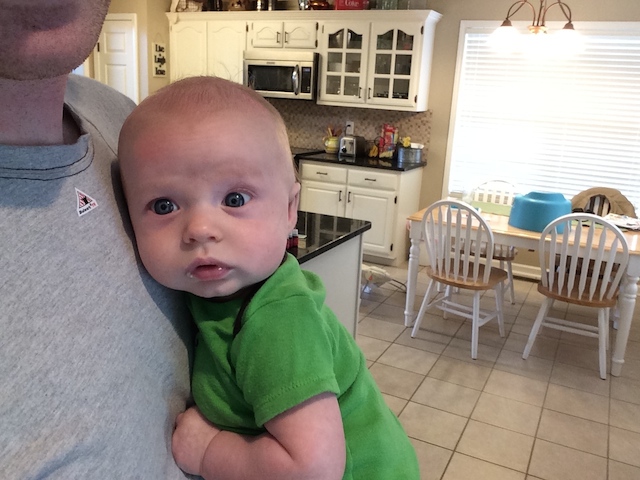 Unfortunately this is the typical reaction to his carseat (actually, I take that back…this is a very mild reaction to his carseat, usually he is screaming his head off!).  What a pitiful little face!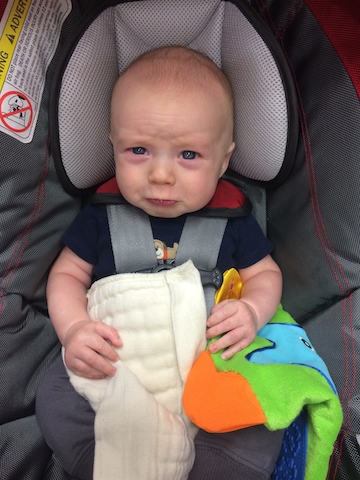 Hudson has gone out to eat a ton this month.  We spent two weeks out of town traveling for Michael's job and so we ate at a restaurant every night.  We also have gone out several times at home recently.  We try to time it for a nap time and then I wear him in the Moby or the Ergo.  Usually he falls right to sleep and we are able to eat a pretty peaceful meal.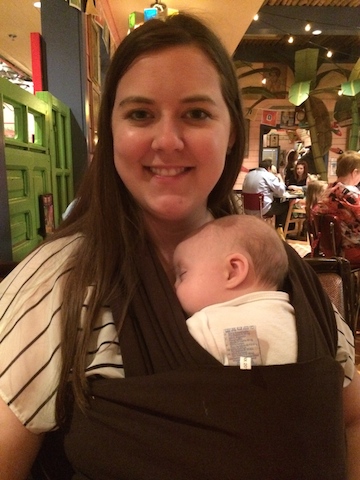 We bought his highchair and started putting him in that at the table rather than the bouncy seat on the floor.  The highchair we bought is actually more of a booster seat – you strap it to a kitchen chair rather than having a freestanding highchair.  It also can be reclined so you can start using it even before they can sit up well on their own.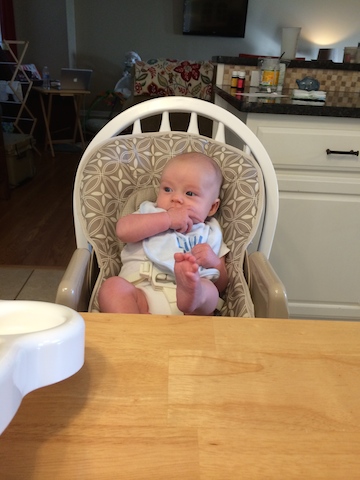 Hudson is such a happy baby.  Other than hating the carseat and screaming bloody murder when he is in there, he doesn't fuss much.  He'll get a little upset when he's hungry or tired (who doesn't?) but mostly he's pretty laid back and chill.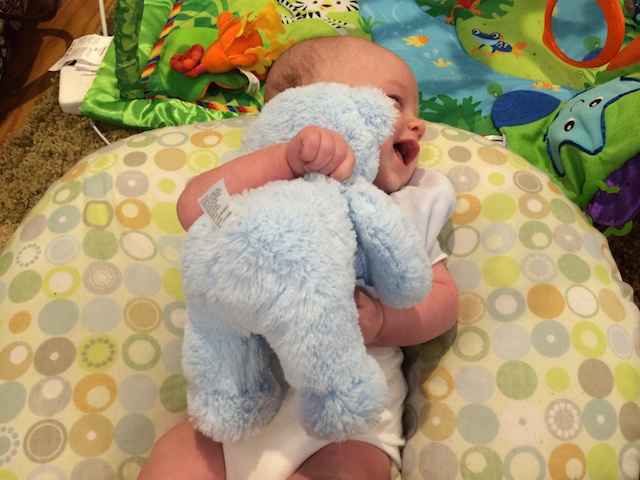 He has mastered thumb sucking (although he sucks his thumb sideways, which looks funny to me) but isn't hard core about it – he'll still take his paci or suck on his fist instead.  He also doesn't seem to use thumb sucking to help soothe him when he is upset…which is kind of a shame since it would be convenient if he would do that when he gets upset in the car!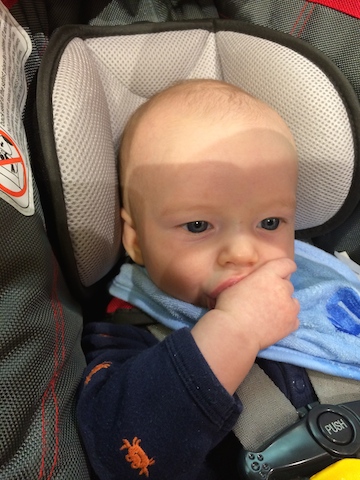 Looking so precious before church!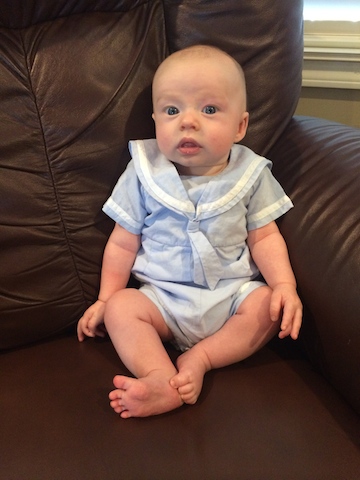 Like I mentioned, we traveled quite a bit this month.  In addition to taking a day trip to see my brother we also went on two week-long trips with Michael.  He had to go to Gatlinburg, TN one week and then Athens, AL a different week for some work classes/trainings so we tagged along.
I knew packing for a trip with a baby would be daunting but I didn't realize just how much stuff we would need!  Good thing we have a van and can lay the back seat flat because we had the whole back half of the van full.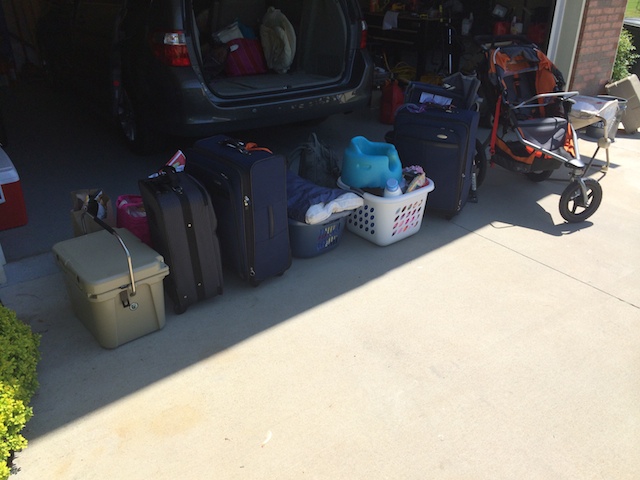 Packed to the top and ready to roll.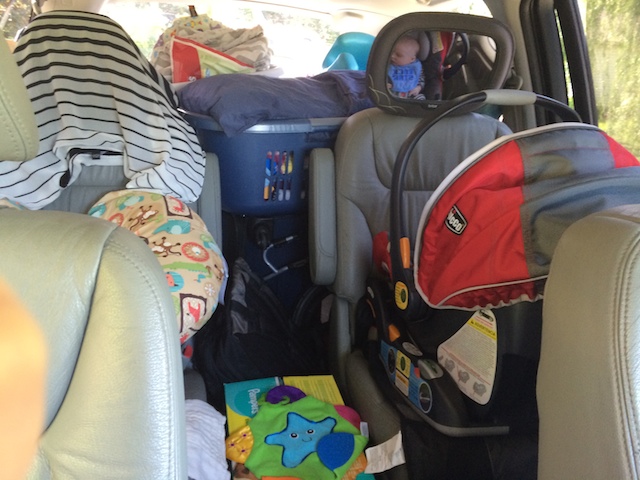 During the day while Michael was in class, Hudson and I hung out in the hotel room.  While he napped I'd read or work on my computer.  In one way it was a bit of a break since I wasn't having to clean or cook, but in other ways it was harder than being at home because I felt more stressed about keeping him quiet so we wouldn't disturb others in the hotel.  We had almost no floor space so we played on a pallet on the bed most of the time.
A few times I couldn't get Hudson to sleep by rocking him (although we took the rocking camping chair it just wasn't the same as our wonderful recliner and I struggled to get him to sleep some) so I'd lay down with him on the bed until he fell asleep.  Then once he'd fall asleep I'd get up and do whatever.  That's big because he never sleeps laying down on his back, he's usually in his rock 'n play, but he slept like his several times while we were in the hotel!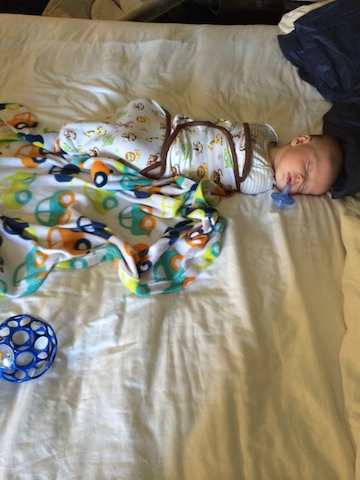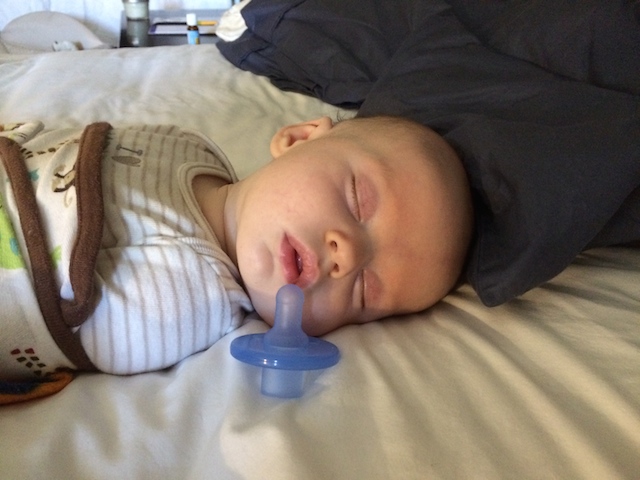 Speaking of sleep, I was afraid he would not sleep well being in a new place but he did really great.  He slept through the night every night and didn't seem to have any issues.  In fact, he actually slept later in the mornings, I think due to the blackout shades in the hotel.
It's rare but he does occasionally have a happy moment in the carseat.  However, this was not the norm for the trip.  He did okay on the way up there (although our four hour drive turned into seven thanks to all the stops we had to make) but the rest of the trip was a bust in the car.  One night we drove to Knoxville to have dinner with my brother and Hudson screamed the whole way there and the whole way back (an hour each way).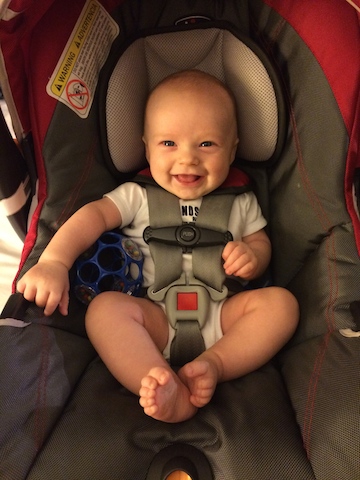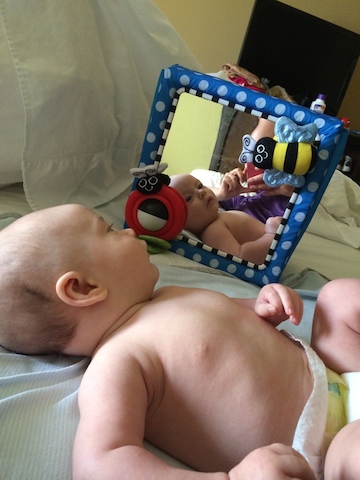 Friday Michael had a short session in the morning and then was free to leave so we decided to drive through Cades Cove before we came home.  You can read about that trip and our multiple bear sightings here.  The drive from our hotel to Cades Cove was the most miserable part of our trip – Hudson reached new levels of carseat screaming it seemed.  He fell asleep while we were driving the loop so we were able to halfway enjoy our little detour, but it was a pretty miserable few hours leading up to that point.
I ended up riding in the back seat with him the whole way home so that I could keep sticking his paci in when it fell out and just try to keep him entertained.  It worked and we had a fairly quiet rest of the trip back.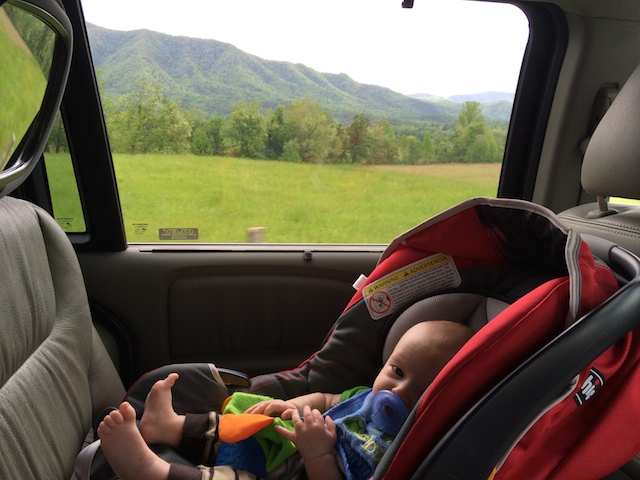 If you look closely you can see one of the bears behind us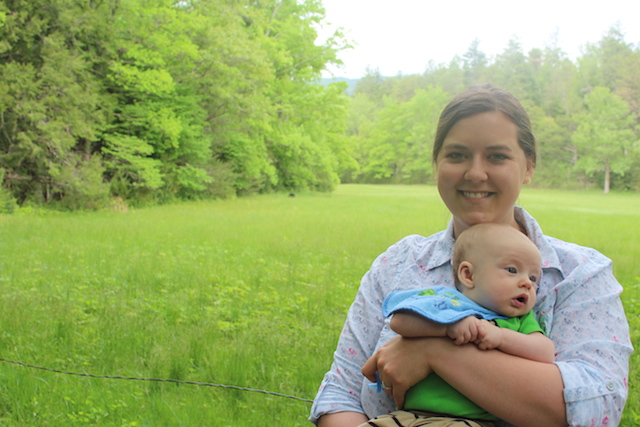 I celebrated my first Mother's Day.  Hudson got me flowers, a corsage, and a sweet card…with just a little bit of help from his daddy :).  My first Mother's Day was wonderful and I am so proud to be this little man's mom.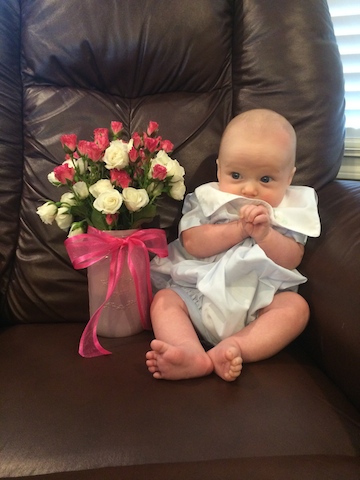 On Mother's Day Hudson also went to Sunday School for the first time.  Right now he eats so often that we are usually able to make it though worship (which we have first at our church) but then I have to feed him during class – he can't make it through both without getting hungry.  This particular morning he wasn't acting super hungry after I changed his diaper so I sat him in the seat at the table with the other babies for a minute just to see how he would do – he did great!  He's too small to sit up on his own in the seat (as you can see in the picture) so I have to hold him up or prop him with a blanket, but he just sits there and takes it all in.  He seems to enjoy listening and watching the others.  I've taken him to class several times since then and he is very happy.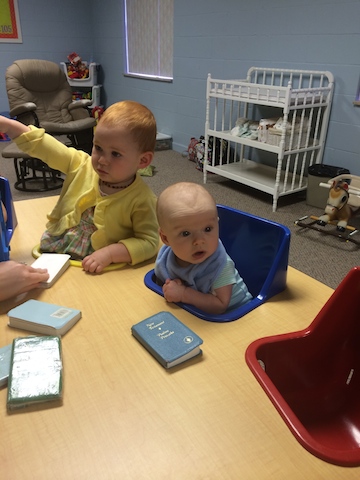 Little dude has quite the personality and is very expressive with his face!
We've said over and over again that he looks like his daddy but acts like his mommy.  Right now his only physical traits of mine are the cleft in his chin and his big feet; everything else looks just like Michael.  However, his face is so expressive and he's so dramatic just like me.  He spits up all the time, he "talks" constantly, and he's a messy eater…all things he gets from me.  Oh and he keeps tabs on everyone, especially me, always watching me and making sure I'm there.  His sneezes are just like his daddy's – big and loud!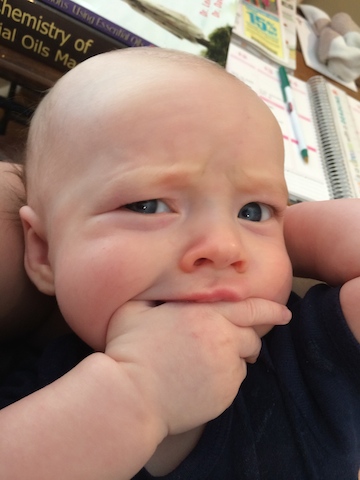 Something else he started doing this month was grabbing things.  He's always grabbed things on accident, but now he is purposefully reaching and grabbing things like the slipcover of the ottoman, his toys, the mirror on his play gym, and his burp cloth.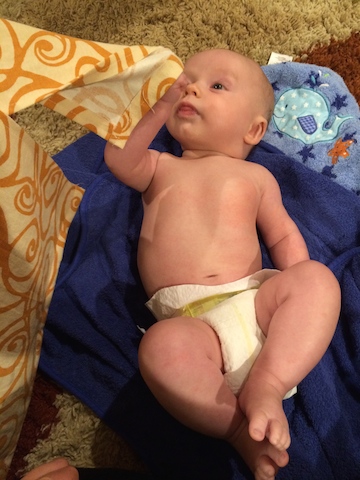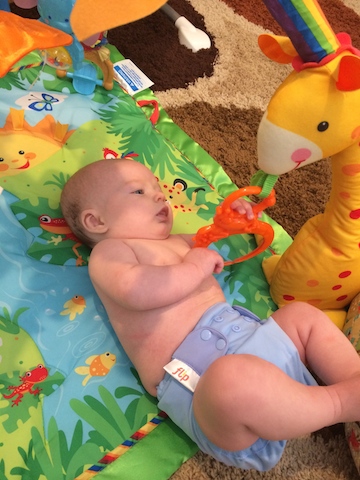 We had to buy some more swaddles.  His old ones had gotten too small and he kept busting out of them during his naps so we had to get a larger size to keep him wrapped up.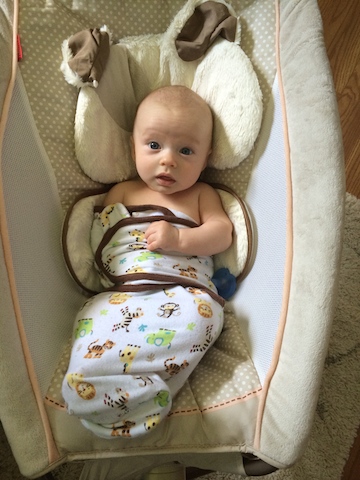 One Saturday Hudson and I went a hung out on a blanket while Michael did some work on his beehive.  Hudson really enjoyed looking around at the sky and trees.  He's looking like a cool cat in his new shades, too.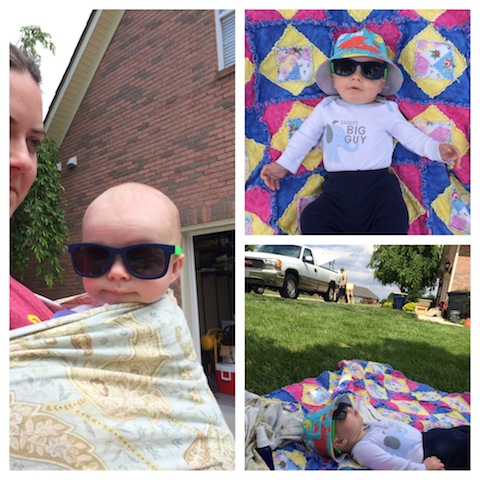 Can you stand the cuteness in these pictures?!  I bought Michael a bowtie for Easter for him to wear to church on the 5th Sunday of the month (unofficial "bowtie Sunday" at our church).  Then I found an adorable bowtie outfit for Hudson for his 3 month pictures.  They "matched" one morning for church and it was just too adorable to handle!  I love my boys!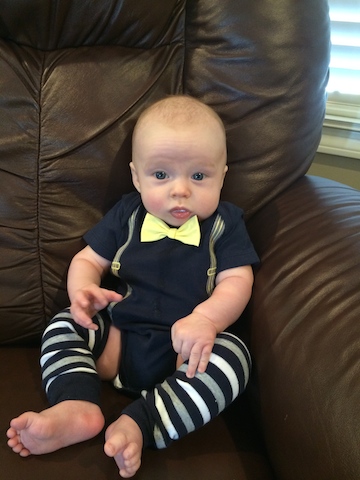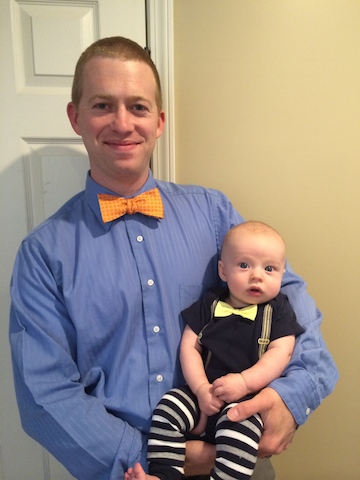 Our trip to Alabama was much like our trip to Gatlinburg – Hudson and I hung out in the hotel room during the day.  He started "talking" non-stop while we on the trip.  Pretty much if he isn't eating or sleeping he is making noise…definitely my child!
He is always moving and so flexible!  He was cracking me up this day bending in half and practically putting his feet over his head.
We moved him up to size 2 disposable diapers.  I used disposables instead of cloth the two weeks we were traveling and unfortunately he had just about grown out of his size 1s.  We finished up the pack (which resulted in quite a few blowouts since they weren't quite large enough to hold his poop!) and then bought size 2s for the rest of the trip.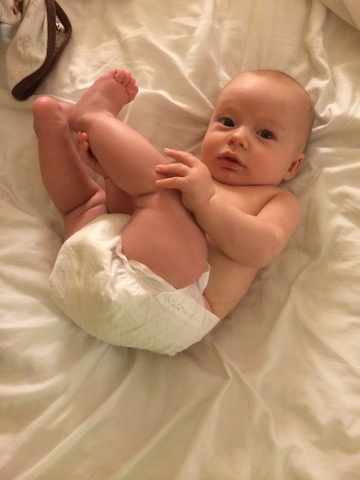 After our rather loud car rides in Gatlinburg we went ahead and bought Hudson a convertible carseat (he still sits rear facing but when it comes time to turn him around he will be able to use this carseat as well; it doesn't lift out to be carried like an infant seat).  As you can see from this picture, the seat change didn't make the difference that we were hoping for.  Bummer.  I rode in the back with him the whole Alabama trip and that helped some, so it wasn't as miserable as Gatlinburg.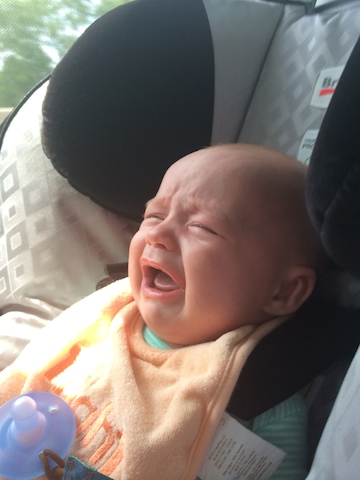 Hudson's four month birthday was also our five year wedding anniversary.  The three of us went on a little date to Longhorn to celebrate.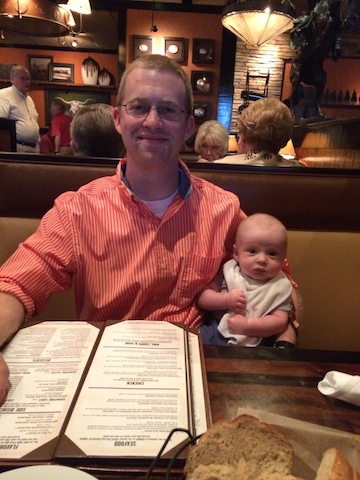 This little man steals my heart every day!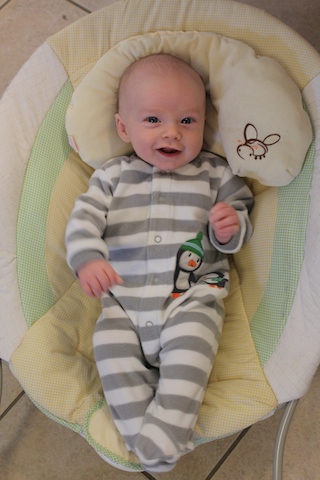 It's amazing to compare his monthly pictures!