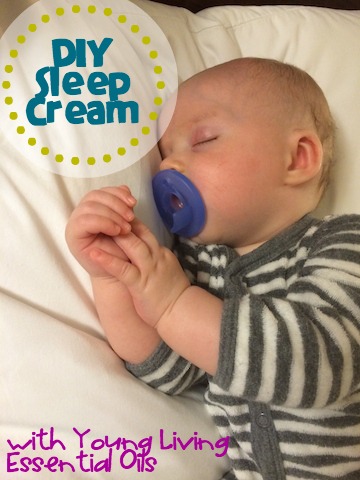 I love this sleep cream!  It's easy to make and easy to use.
It's basically just a base of coconut oil with essential oils that are good to promote relaxation.  I like to make a cream for several reasons – mixing the oils in the cream stretches them so that instead of using a drop of each one every night you are just using a fraction of a drop at a time and saves you money; plus having the cream pre-mixed saves you from having to open multiple bottles of oil each night.
Here's what you need:
1/2 cup coconut oil (see below for my recommendations)
10 drops lavender
10 drops Valor
10 drops Stress Away
10 drops cedarwood
10 drops lemon
10 drops Peace & Calming (note: Peace & Calming can have the opposite effect for some people and make them feel energized rather than relaxed.  If that is the case for you then leave it out.  I put it in mine because it doesn't seem to bother Hudson or me, but I usually leave it out when I mix a sample for someone else)
A glass jar to store the mixture in (a 4 oz Mason jelly jar works perfectly)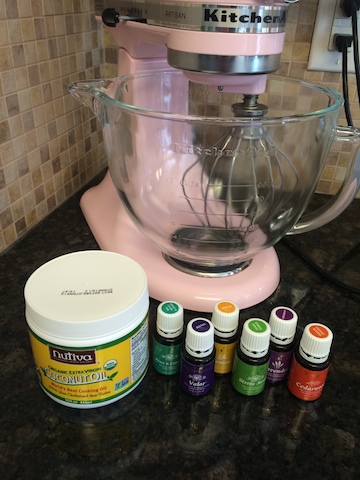 Here's what you do:
Whip the coconut oil in a mixer (or with fork if you want to get your arm workout in for the day).  Add oils and mix together.
That's it.
Easy peasy.
Rub a little of the cream on your feet before bed to help you relax and rest easy.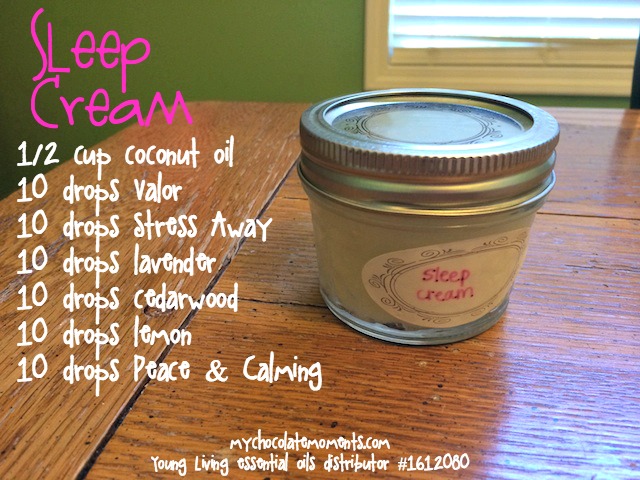 I use Nutiva coconut oil.  Quality oil for a good price.  You can buy it from Amazon or Vitacost (If you are new to Vitacost you should be able to sign up and get a $10 off coupon here…making your first jar of coconut oil free!).
The oils I use are all Young Living oils.  You can go here to find out how to order them.  If you do not have all the oils I listed you can definitely use just the ones you have (maybe increase the amount of drops of each EO) or find some other oils that are good for relaxation and put those in instead.  Lots of good options!
OBLIGATORY DISCLAIMER: The oils listed in the testimony above were ONLY Young Living essential oils. Do not expect the same results with any other essential oils. These statements were not evaluated by the FDA and were not intended to diagnose, prescribe or treat. Please seek the advice of your chosen health practitioner.