Restful sleep is important for everyone but especially kiddos, and as a mama of a little one I definitely want to make sure he gets good quality sleep.  Thankfully essential oils can be very calming and relaxing so they are a great addition to your child's (or your own) nighttime routine)
---
This post contains affiliate links.  I am a Young Living independent distributor so if you purchase a product through my link I make a commission at no cost to you.  You become part of my Oily Moments community and we will be here to help you with your new oils.  Thanks for joining with me!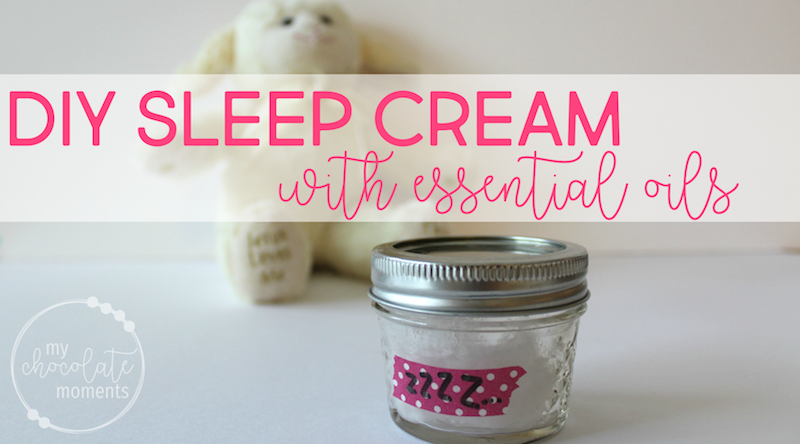 This cream is so easy to make and easy to use.  It's basically just a base of coconut oil with a mix of essential oils that may help to promote relaxation.  I like to make a cream for several reasons – mixing the oils in the cream stretches them so that instead of using a drop of each one every night you are just using a fraction of a drop at a time and saves you money; plus having the cream pre-mixed saves you from having to open multiple bottles of oil each night.
DIY sleep cream recipe
1/2 cup coconut oil
10 drops lavender
10 drops Valor
10 drops Stress Away
10 drops cedarwood
10 drops lemon
10 drops Peace & Calming
Whip the coconut oil in a mixer (or with fork if you want to get your arm workout in for the day).  Add oils and mix together.
That's it.
Easy peasy.
Store the mixture in a glass jar (a 4 oz Mason jelly jar works perfectly)
Rub a little of the cream on your feet before bed to help you relax and rest easy.
Note 1: Peace & Calming can have the opposite effect for some people and make them feel energized rather than relaxed.  If that is the case for you then leave it out.  I put it in mine because it doesn't seem to bother Hudson or me, but I usually leave it out when I mix a sample for someone else just in case
Note 2: This recipe is SUPER flexible!  Don't have Valor?  Leave it out.  Have some vetiver you want to use?  Add that in!  You can't really do it wrong.
I use Young Living oils cause they're the bomb and the best stuff out there.  You can go here to find out how to order them.