It amazes me how fast the months go and how much Hudson changes from month to month.  I feel like I blink and it's time to write another update post, but then when I go back and look through my pictures and the notes I make through the month I realize just how much stuff has happened in that month!
First up, some stats: We had (what should have been) his four month well baby visit yesterday (that somehow got pushed out to five months).  He weighed 16 pounds 4 ounces (44%) and was 25.5 inches long (30%).  Healthy boy!
We started making it a point to recreate a picture from our first doctors visit to compare.  Look how much he has grown!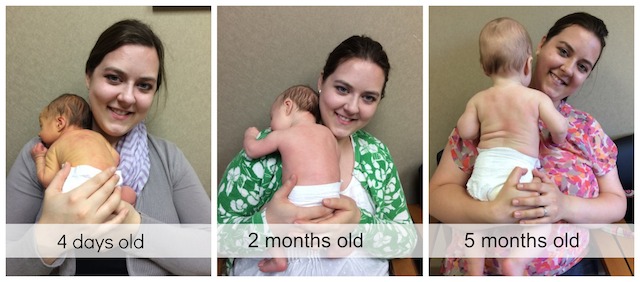 After we switched from an infant car seat to a convertible car seat last month I started putting Hudson in his stroller without using the infant seat.  He did really well – the seat reclines enough that I don't worry about his head bobbling around.  He likes the stroller much more now because he isn't strapped into the carseat.  I went shuffling jogging for the first time in close to a year.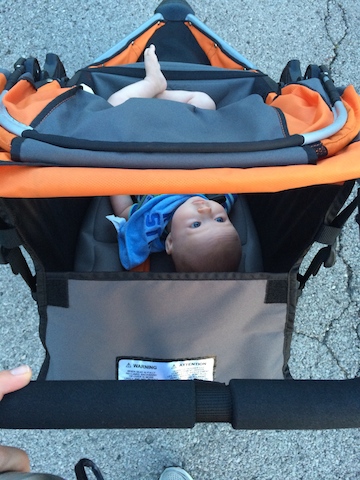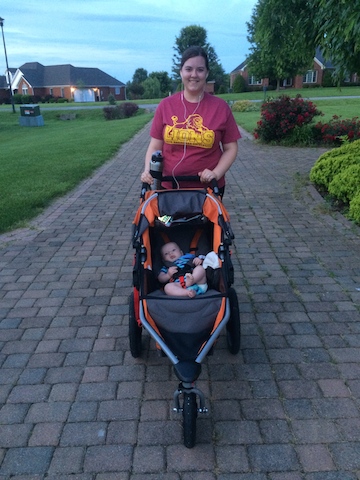 Hudson and I took a solo trip back "home" to Springfield (where Michael and I grew up).  It's just an hour drive but that was the longest I'd driven alone with Hudson.  We met up with some friends and went for a walk – look at this gorgeous view!  Hudson did great and slept in his stroller for most of the walk.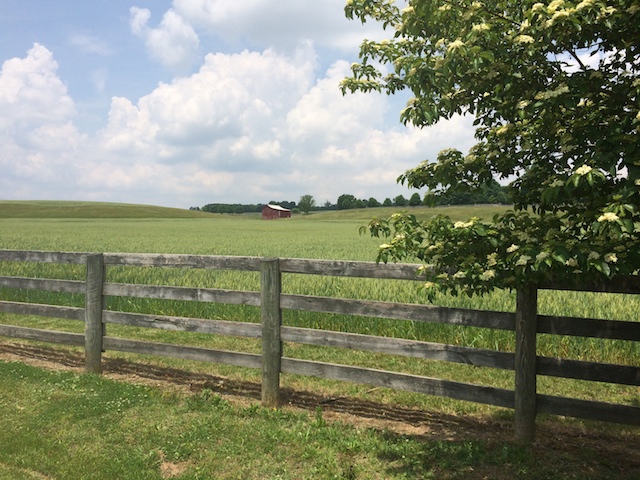 Hudson started trying to roll over at the beginning of the month so we moved his little changing station off the ottoman and into the floor so that I didn't have to worry about him rolling off.  That turned out to be really nice because now I can lay him down and walk away if I need to.
He loves it when Daddy gets home from own and gets down in the floor to play.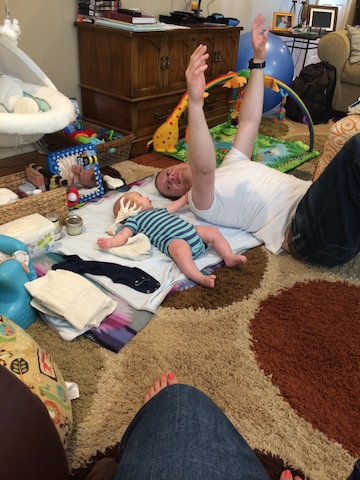 There are no visible teeth yet, but he is definitely teething – chewing on everything he can get in his mouth and drooling some.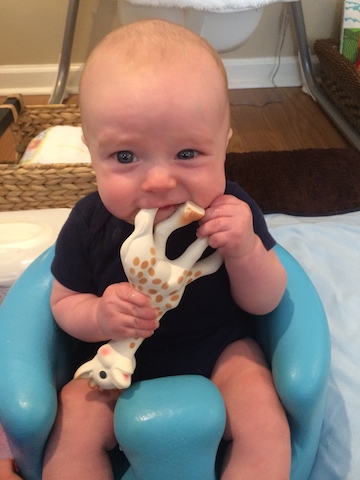 Hudson went through a phase this month (that already seems to be over) of tucking his lower lip under his top lip.  It was so cute and made him look like a little turtle.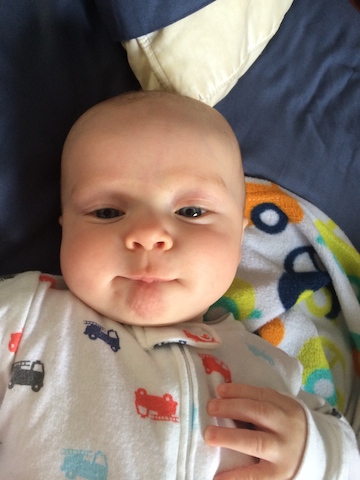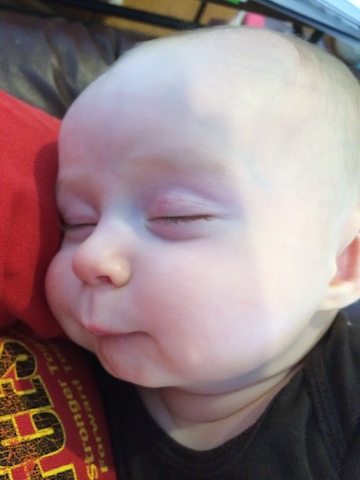 He seems to like his class at church – he sits and listens and watches so intently.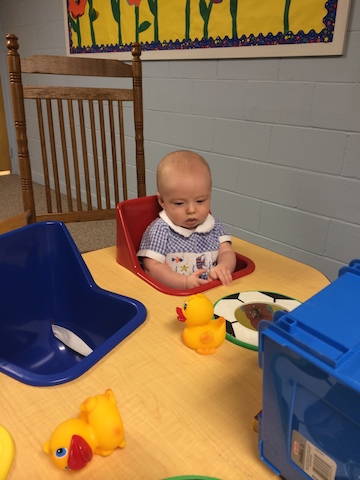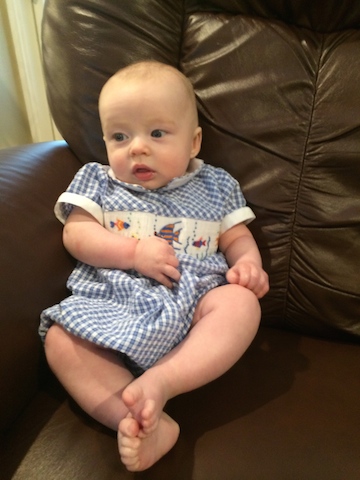 Last year the Gaines' gave out t-shirts if you made a donation to the Tanzanian Missions fund.  We made one for Hudson and got him this adorable little onesie with the t-shirt logo on it (Michael and I have matching ones too and I just realized that I should get a picture of the three of us in our shirts).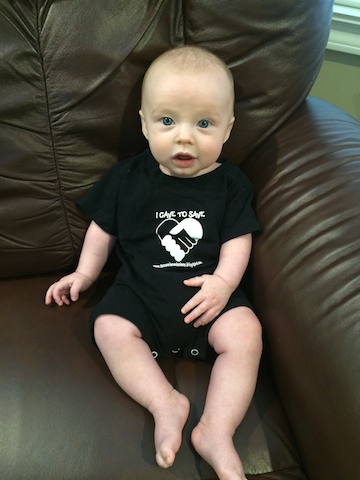 Our swaddling days are quickly coming to an end.  Hudson has gotten to where he busts at least one arm, if not both, out of his swaddle during every nap.  This tells me it is time to move away from the swaddle so we're working on that.
We also started spreading out his naps and feedings.  He was getting to where he fought me at every nap because he wasn't tired enough yet, so we I started spacing them out more and keeping him up longer in between naps and that has helped a lot.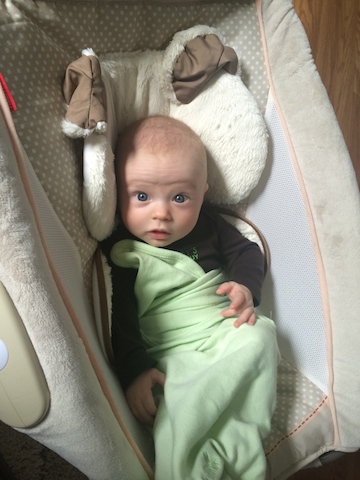 He is still just so very happy most of the time.  Other than the carseat (which, unfortunately, he still hates) he's a pretty content baby.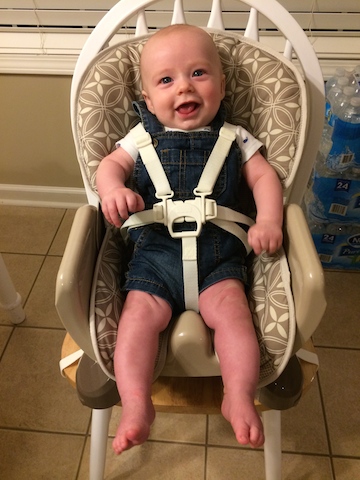 He sits around with his feet crossed all the time.  It makes him look so chill and laid back and it just cracks me up!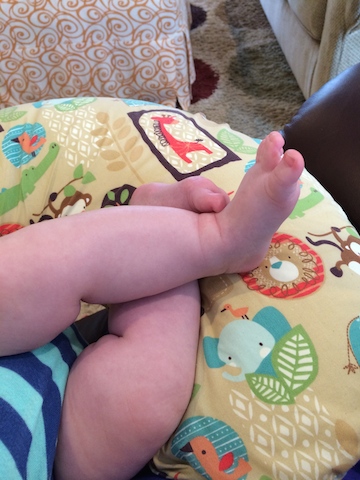 I think all of Hudson's clothes are adorable, but I'm a sucker for these short overalls in particular.  So, so precious!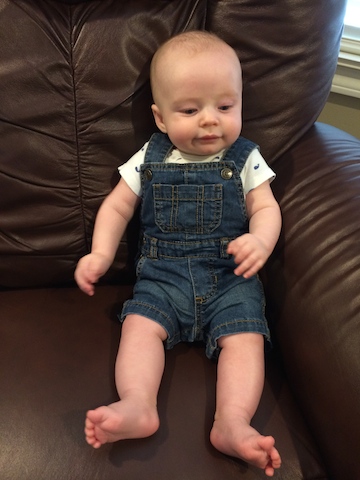 I put the tray on his high chair one day so that he could use it to play with his toys (read: I was tired of picking them up every time he dropped them so I though the tray might catch them before they hit the ground).  He looks so big in his chair!
Side note: that chair is great!  It's a Fisher Price Space Saver and it straps on a regular kitchen chair.  Not only do we not have to have a big high chair in the way, it is also very portable so we can easily take it with us to grandparents' houses or wherever there might not be a high chair.  Plus it reclines so you can start them in it way earlier than a regular high chair since he doesn't need head control to be able to sit in it.  And it's cheaper.
Ok commercial over.  Just buy one.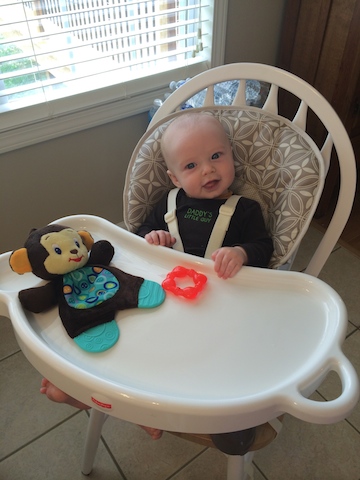 He still loves baths!  He outgrew his baby tub and was splashing water out all over the table so we started giving him his baths in the big bathtub upstairs.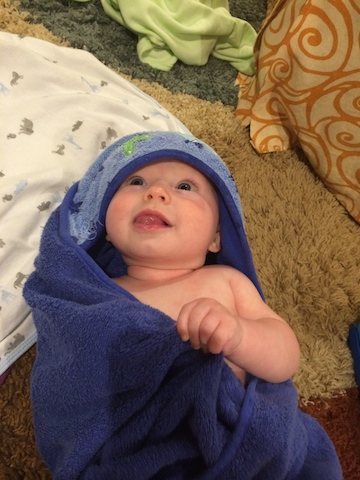 I have several different carriers that I use with Hudson, but this was my first try at sewing one myself.  It's a ring sling made out of mesh (like athletic shorts) and I made it with intentions to use it in the pool this summer, but I've found myself grabbing it and using it around the house more than I thought I would.  It was super easy (and cheap) to DIY, too.
Hudson is getting to where he likes to look around more when I'm wearing him so the ring sling is perfect.  I also did a back carry with the Ergo for the first time this month.  The first time I did it he cried, but the second time he rode there for a long time and eventually fell asleep.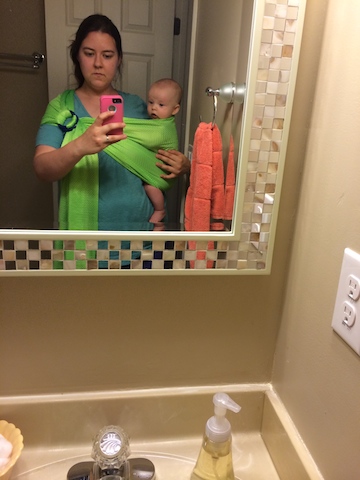 We spent two Saturdays this month working out at Big Reedy Christian Camp trying to get it finished up for camp this summer.  Well, I should say that Michael worked and Hudson and I just sat around and encouraged all the other workers.  There isn't much construction that I can do with a baby.  This is the most time Hudson has spent in the heat and it just wore him out!  Both times he slept much more than usual after we got home in the evenings.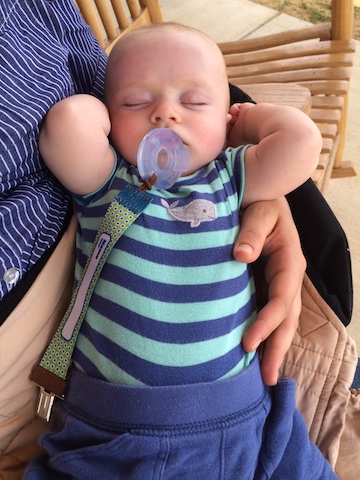 I feel silly but I want to take a picture of Hudson in every outfit that he owns!  He's just so stinkin' cute, but also he grows out of them so fast I want to remember that he actually got to wear them!  This little church outfit only got worn once before it was too small.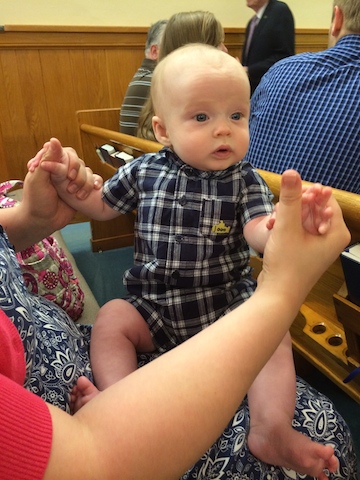 A onesie with a toolbelt like Daddy – yes please!  This is one of my favorites.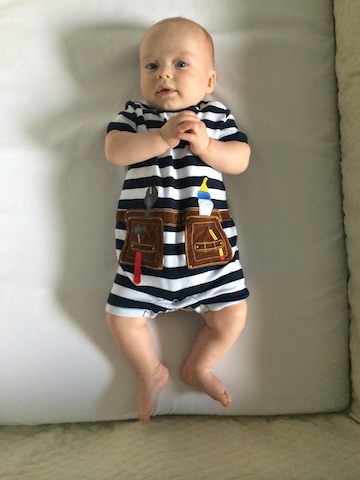 Hudson has been trying to roll over pretty much since he was born but this month he finally accomplished it.  He rolled from his back to his front first, then a few days later he rolled from his front to his back.  Now he can do a complete back to front to back again roll when he wants.  It's very exciting.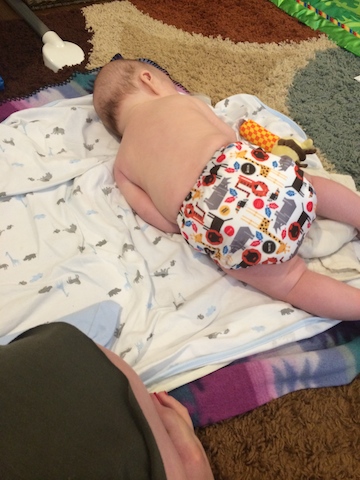 Sometimes he grabs the edge of his blanket and takes it with him when he rolls…a little baby burrito!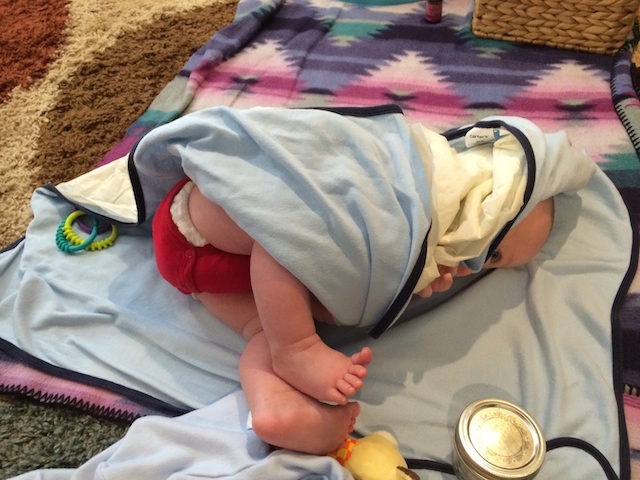 Last summer while we were on vacation, we bought a Harry Potter onesie for our unnamed, gender-unknown baby.  It's so neat to see Hudson wearing it now!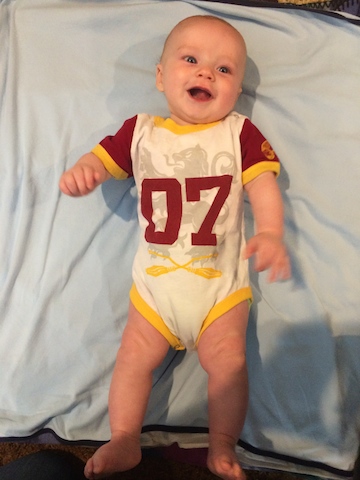 (about 12 weeks pregnant with Hudson in this picture)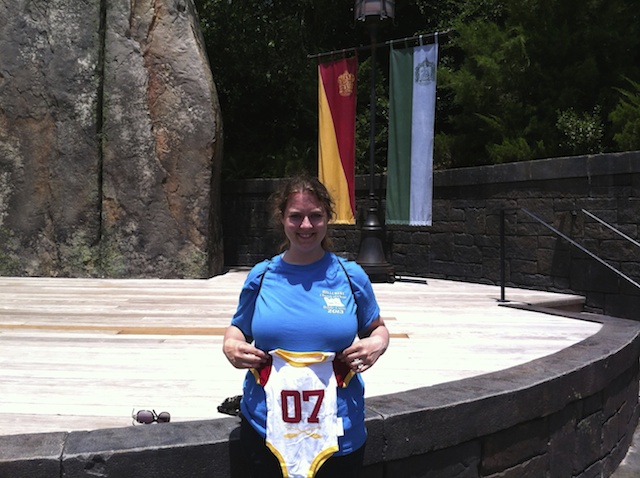 I was so excited to find a cloth diaper with bees on it.  Our bees are doing much better this summer (we've already harvested some honey!) and Michael built a second beehive so we'll have even more.  I thought it was neat to have a diaper with one of our hobbies on it.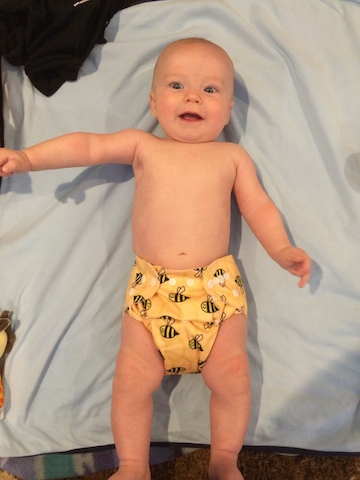 Guess what else we found this month?  Our toes!  Hudson started grabbing his toes, although he's only tried to put them in his mouth once so far.  I must say, the combination of toe-grabbing and rolling over has made diaper changes much more adventurous than they used to be.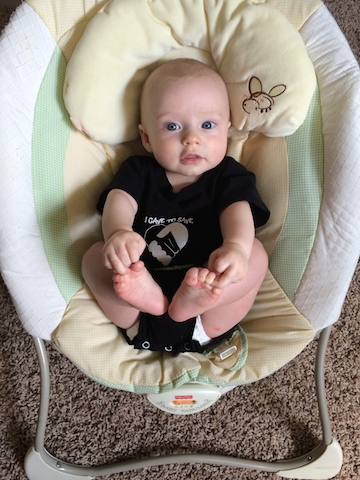 Such a big boy!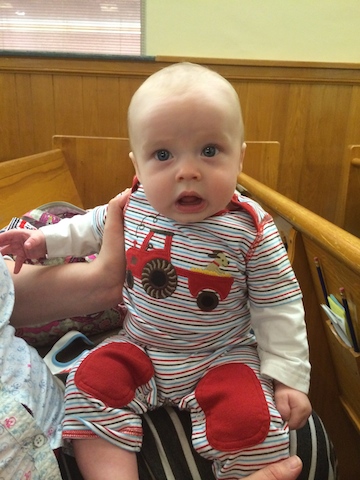 We got Hudson a Jumperoo.  He's not quite sure what to do with it yet.  You can see in the first picture that his feet don't touch the ground yet.  We put a box under there as a platform until he's tall enough for this feet to touch.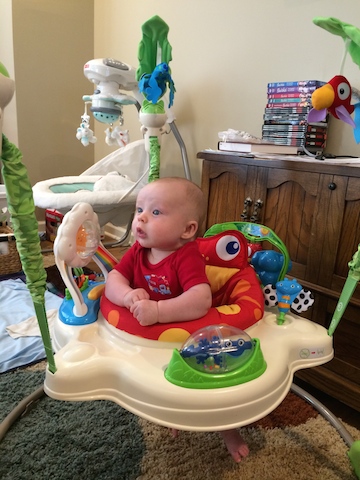 When we first put him in he totally ignored all the toys – he was more interested in watching me to my exercise video.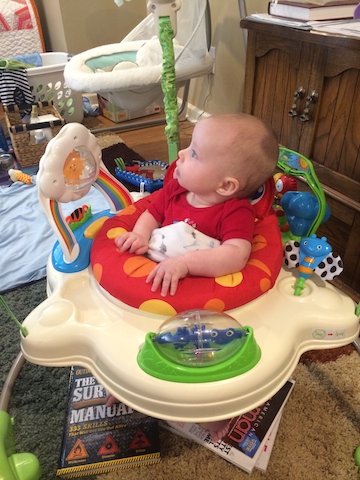 In addition to all of his babbles and coos that he normal does, he started making gurgley noises in the back of his throat, blowing spit bubbles, and buzzing his lips.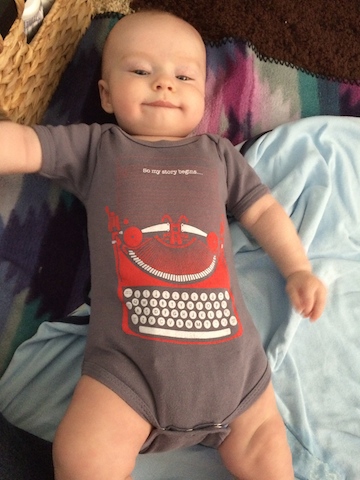 We celebrated Michael's first real Father's Day (I was pregnant last year on Father's Day, so that counts of course, but this was his first one with Hudson).  I got Michael a card from Hudson and let Hudson "sign" it – I put the pen in his hand and he waved his hand around and made scribbles….his very first scribbles!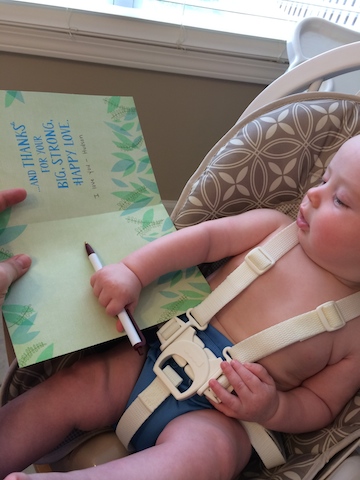 .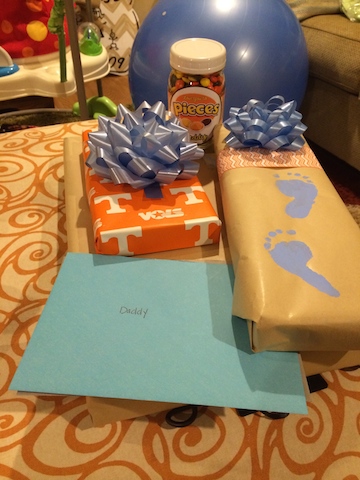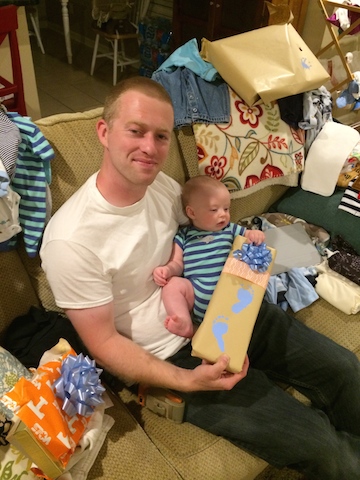 Michael doesn't wear ties much, but I just had to give him the "traditional" Father's Day gift of a tie for his first Father's Day.  He wore it to church and Hudson wore his bow tie too :).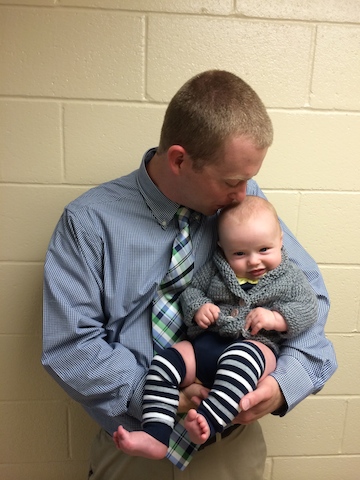 Check out this adorable cardigan! A friend of mine knitted it for Hudson and it looks so precious with his bow tie outfit.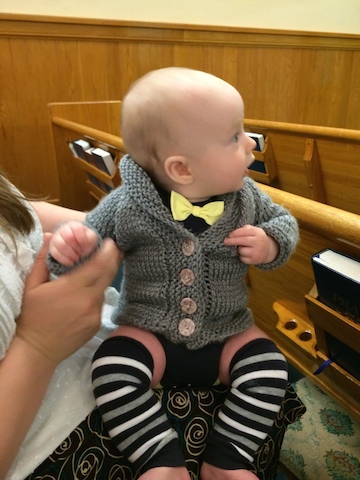 Now that he can roll over, Hudson doesn't hate tummy time as much.  He still gets mad sometimes when he rolls to his front and can't get flipped back over, but lots of times he's roll over and hang out on his tummy for a while.  A big improvement!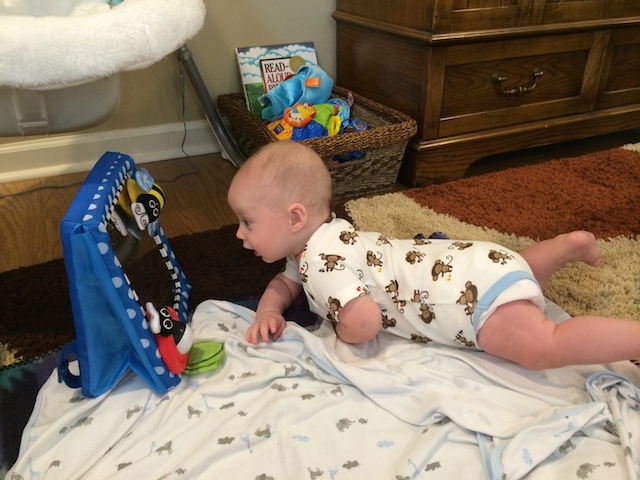 Babies in overalls are adorable.  Babies in overalls, collared shirts, and flip flops are a whole 'nother level of cute!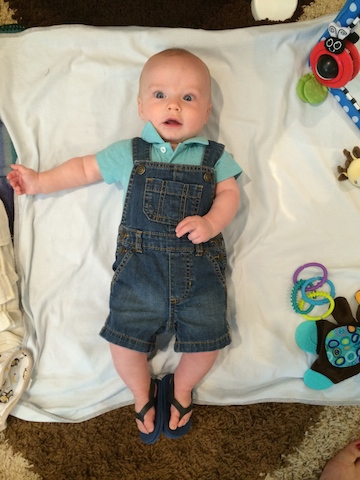 And check out this one!  I just love to squish those chubby knees!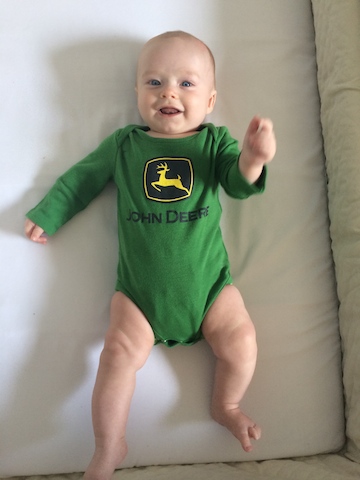 We never use that beautiful nursery that we worked so hard to finish.  He sleeps in our room and we've been changing him in the living room since he was born.  In fact, all of this clothes had migrated to to the living room and his closet was spread out over the backs of both couches.  But I decided it was time to start using the nursery at least a little bit, so I moved most of his clothes back up there.  While I was working on hanging clothes and sorting through some things we got at a yard sale I laid him down in his crib (that he's been in exactly one time) and he had a good time hanging out in there.  He used his feet to knock the quilt off from where it was hanging on the back of the crib and was fascinated by all the designs.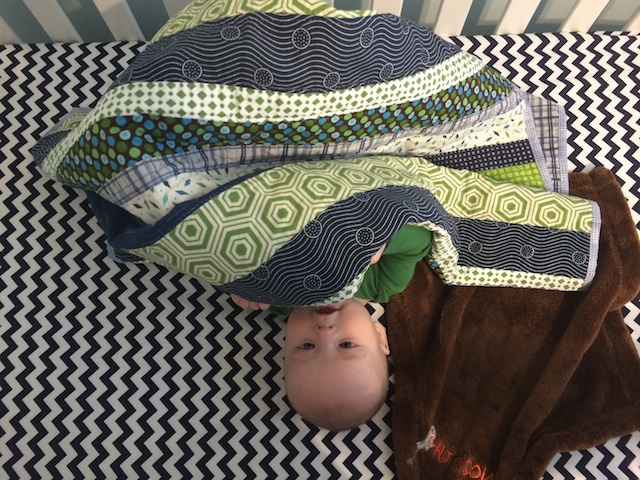 Trying out the Halo sleep sack instead of a swaddle for a nap.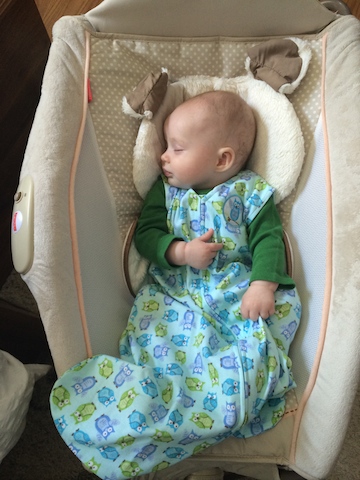 Trying a swaddle with both arms out.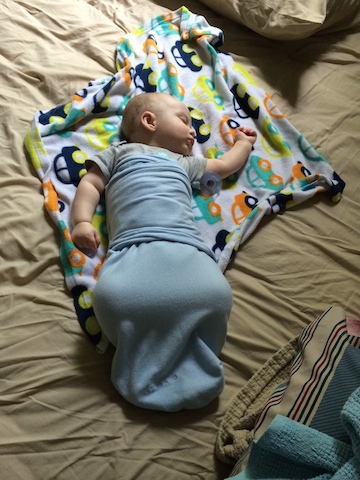 We made a donation to our local rescue squad and in return we got a free family portrait.  It's a very cheesy, weird background, throwback to the 90s style picture but hey, it was free, and I'm not going to turn down a family picture.  Of course Hudson scratched his face and spit up on his outfit three times before we actually got called back for our picture.  Sigh.
Check out my hair.  It had gotten SO long.  I think this is the longest it had ever been in my life.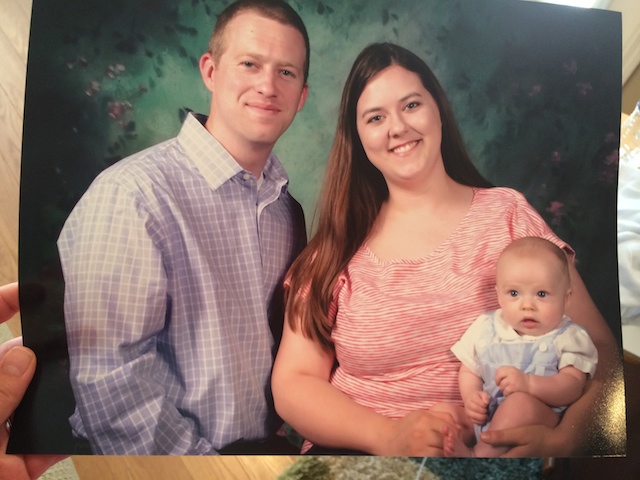 So it was time for a bit of a change – I went and got a bunch chopped off.  I didn't go full-on mom haircut, but I did get something that takes less time to dry, doesn't get caught in stuff all the time, and Hudson can't pull on (quite as easily).
These pictures aren't very good – I had the camera on my phone turned around to do a selfie of my new haircut and the quality of the camera is lacking.  But, I had to share them anyway to show how similar our eyes look in these pictures.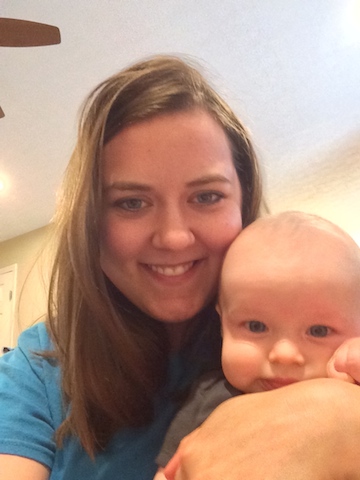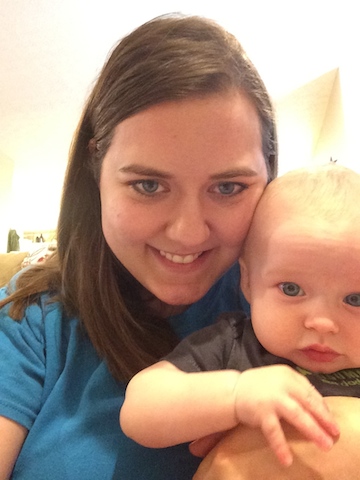 This just cracks me up.  Michael took these one day and it looks like Hudson is doing a little Irish jig.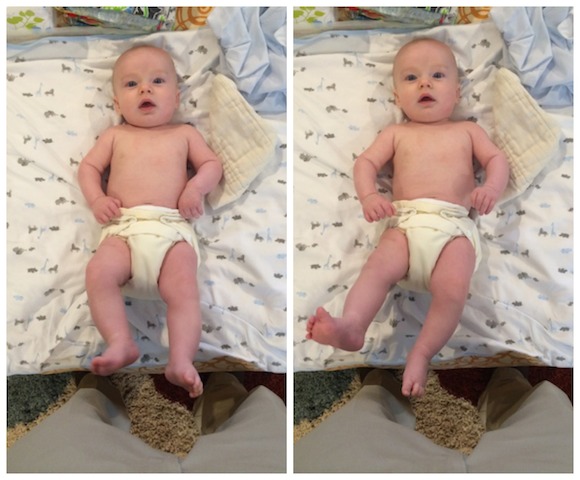 And that wraps up month #5!  I can't wait to see what exciting things will happen this next month.