Time, seriously.  Slow down!  There is NO WAY that it's been half a year since Hudson was born.  No no no!
It just goes so fast.  I want him to still be a teeny tiny baby and I miss things that he used to do, and yet this age is so fun too!
Sigh.
I guess I'll just have to have a million babies.
Anyway…moving on.
Hudson started off this month with a bang!  When I wrote last month's post he was still sleeping in his Rock 'N Play while swaddled up.  I knew we needed to start transitioning out of the swaddle (he was busting out of it during each nap) and out of the Rock 'N Play (which he was getting too big for).  I was very, very nervous about this.  I just knew he wouldn't be able to sleep with the swaddle, and going from the snuggly incline of the Rock 'N Play to the flat open space of a crib seemed so daunting.  I was mentally preparing myself for a slow transition over several weeks and figured I'd need to block off several days to do nothing but help him get back to sleep each time he woke himself up.
Well.
The day he turned five months old I rocked him to sleep as normal and on a whim decided to try laying him down unswaddled in his cosleeper (which is basically a crib that attaches to the side of our bed).  He woke up as soon as I laid him down but wasn't crying so I left him there for a few minutes to run upstairs and switch some laundry over.  When I came back down I went in the bedroom to to check on him.
He has turned over on his belly and fallen asleep on his own.  He never falls asleep on his own.  Like, maybe five times in his whole little life.
And he slept for three (THREE!) hours, unswaddled, on his belly, in the cosleeper.
So much for a long, difficult transition!
From that point on he took all his naps like that.  We still swaddled and used the Rock 'N Play for a few nights, but after a few days of seeing how well he did with his naps we switched over completely to the cosleeper for nights too.  He has done great.
The only weird thing is that about half of the time when he wakes up he starts crying immediately.  He never did that in the Rock 'N Play so I don't know if that's related to the cosleeper, or being on his tummy, or what, but since it started at the exact same time we made the switch it seems like it might be.
Oh and that dark mullet left over from his birth hair you see there is gone now.  That was the last little bit of the dark hair he was born with and now he's just blonde.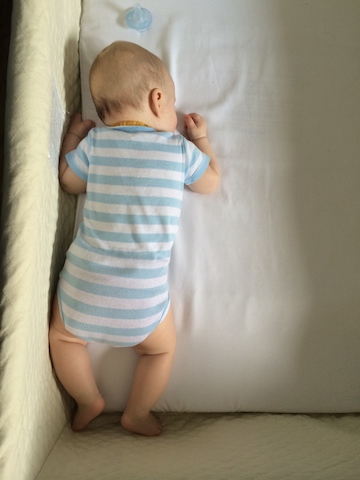 Hudson had his first sick baby visit this month.  There was a little blood in his stool one morning so I called his pediatrician to see if that was something to be worried about.  She had us come in and they ran some tests but everything checked out fine so we're not quite sure what happened.  He's been fine ever since though!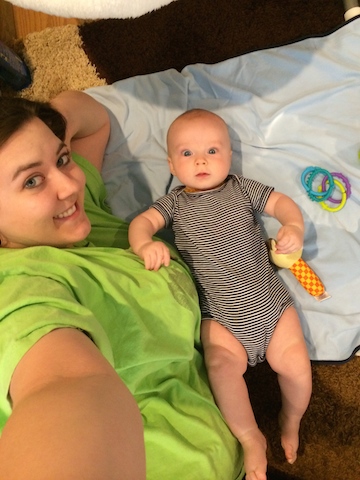 Giving what one little girl at church camp dubbed "the sly-brow"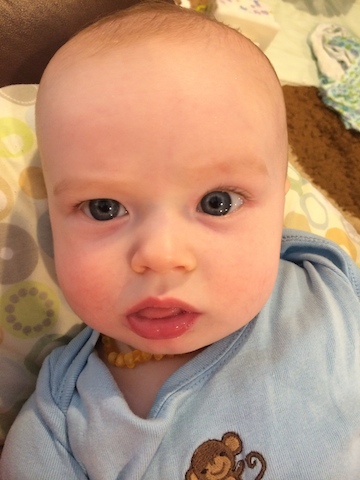 Some friends of ours got married in west Kentucky, so we went to their wedding and spent the weekend with my grandparents who live in that area.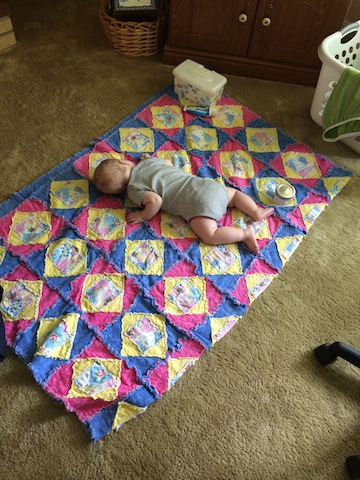 While we were in Mayfield we took Hudson swimming at my aunt and uncle's pool.  He was not super thrilled with the water but he did like it when Michael swam him around on the boogie board.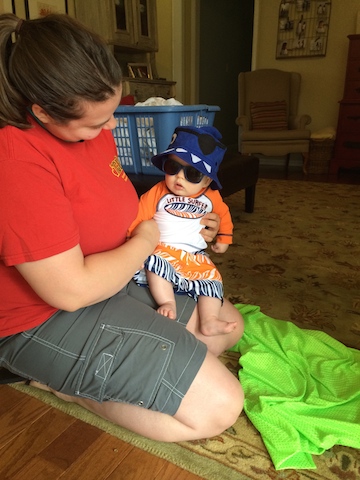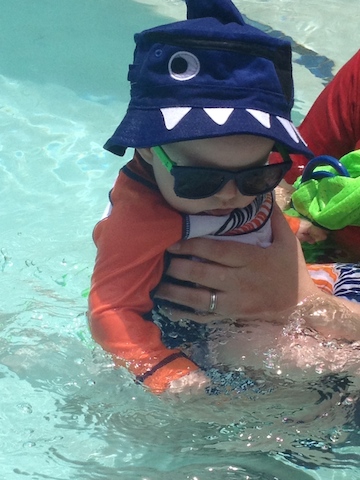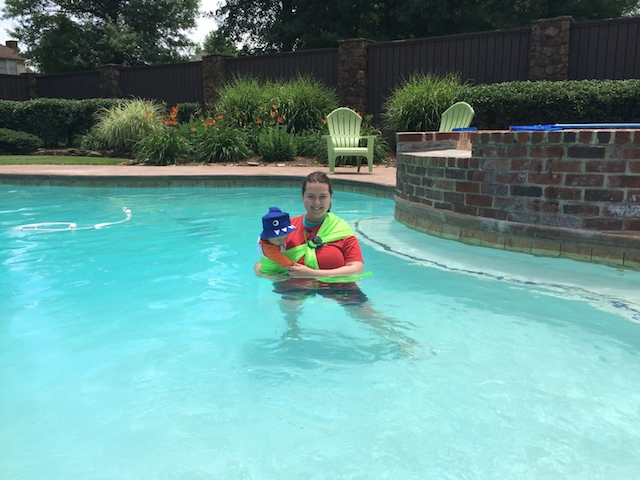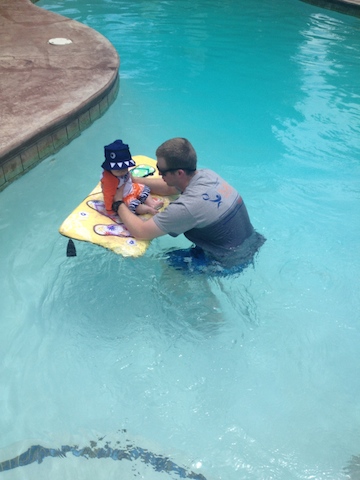 He was so good at the wedding!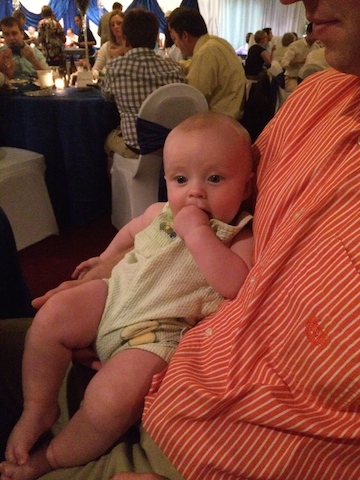 Hudson sleeps in his bed during the night but most mornings when he wakes up for his first feeding I feed him and then he (sometimes) goes back to sleep in bed with us for a little bit longer.
We've had a bit of a sleep regression this month.  Most nights he still sleeps through the night but there were quite a few where he woke up several times during the night.  That has been frustrating since he'd been sleeping so great.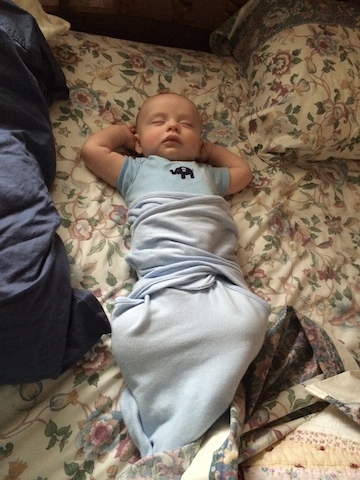 I love getting sweet snuggles in the morning!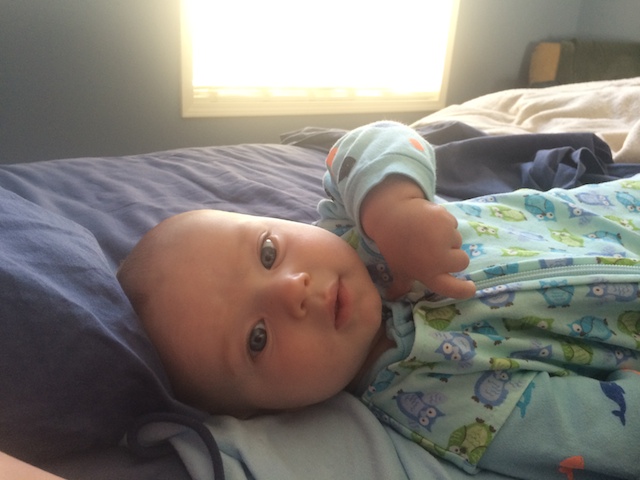 Sleeping in the car – a rare sight (this was on the way home from Mayfield, I think he was totally worn out).  He doesn't scream and cry every time he's in the car, but I'd say he still does about 50% of the time.  Not fun, but at least it's progress.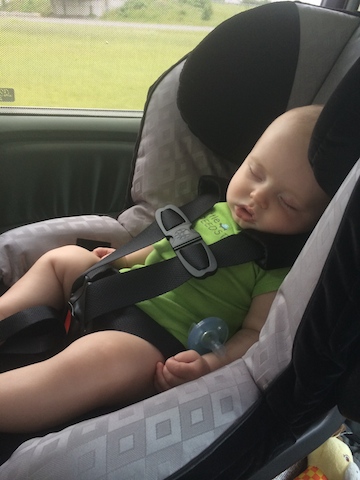 Wearing Hudson on my back has made life SO much easier!  I'm able to cook and clean and get things done around the house without having to constantly entertain him.  He will ride back there so quietly forever, just watching the world around him.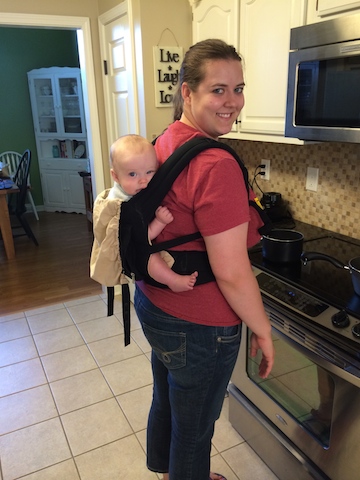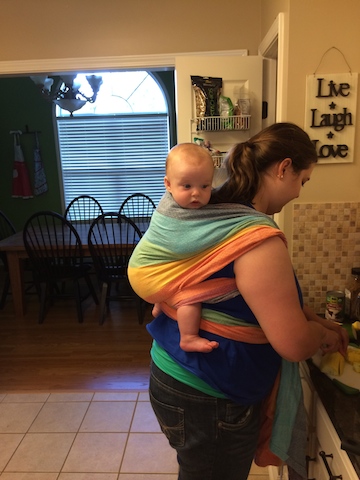 I love wearing my boy.  It's nice to be able to hold him and yet still have my hands free, plus I think he enjoys being able to see things from up high rather than on the ground.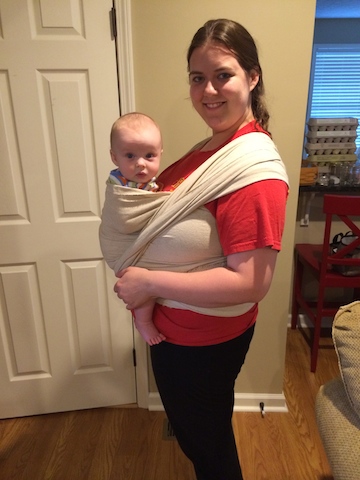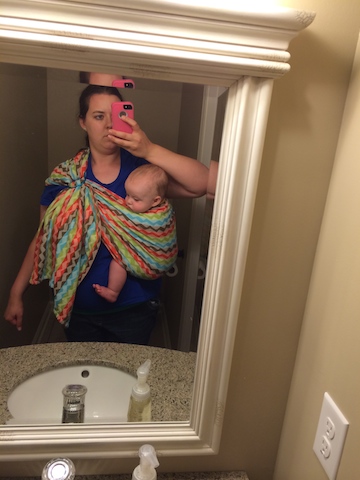 Some of the young moms at church have started a weekly play date.  We have so much fun!  Hudson got to swing for the first time and loved it.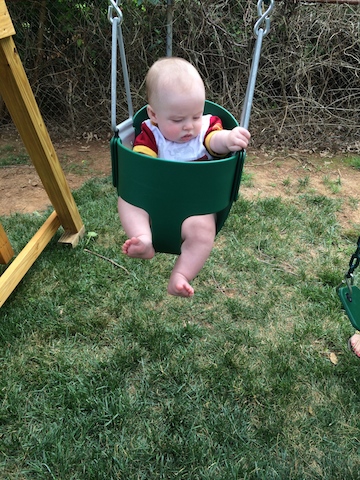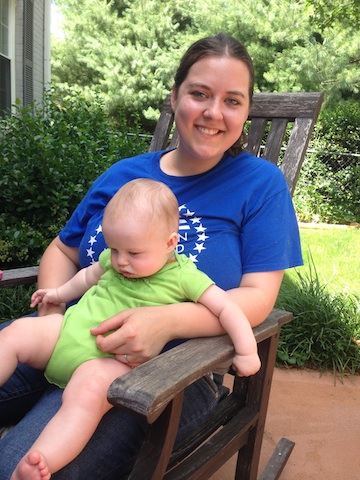 Michael came with me to the dentist to hold Hudson while I got my teeth cleaned.  Hudson did pretty well for a while but started to get fussy and wouldn't calm down unless he was with Mommy, so I held him on my stomach while they finished my cleaning.  He watched so intently!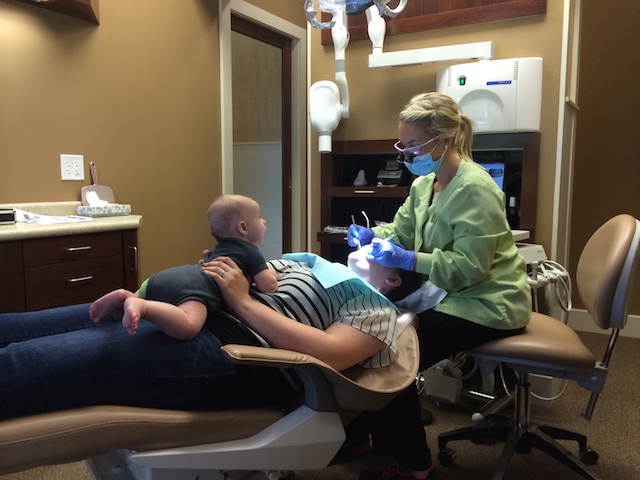 Hudson started wearing an amber teething necklace.  This isn't for him to chew on (common misconception) but supposedly the amber has natural pain-relieving properties.  Many moms swear by them for their teething babies, and while I'm skeptical I figure it can't hurt to try.  He doesn't seem to be teething hardcore yet but he drools and chews on things so I went ahead and put the necklace on preemptively.  I thought it looked a little weird at first but now I'm used to it.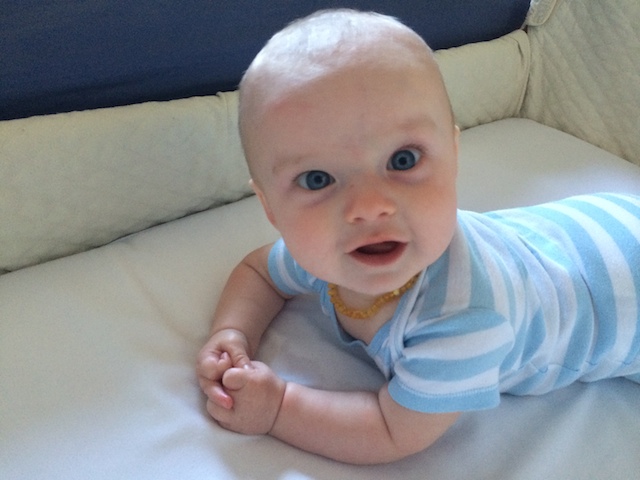 Hudson loves church.  He's usually pretty good during worship (although now that he is babbling he can get pretty loud!) and he really enjoys the nursery class.  I started teaching his class on Wednesday night and it is so fun to watch him as we sing and learn.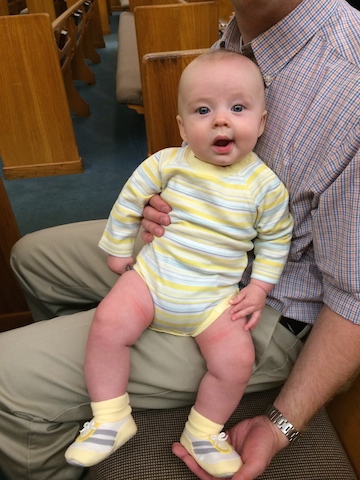 Lilah loves Hudson and even though she's not even a year older than him she wants to "help" take care of him.  This particular day she was holding tight to Hudson's hand!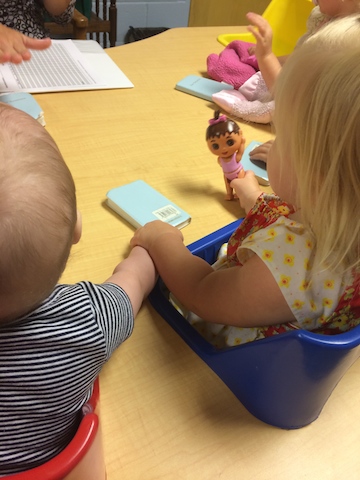 Nolan, John Luke, and Hudson were born within a span of two months (Nolan is the oldest, Hudson is the youngest).  It will be so fun to see them grow up together!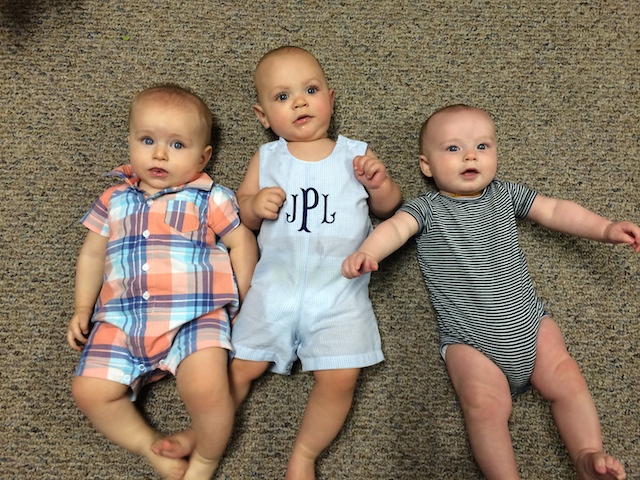 This little man is so incredibly happy.  Sure, he has his cranky moments, but overall he's just a joy to be around!  He learned how to splash his legs in the bathtub and now he thinks baths are so super fun.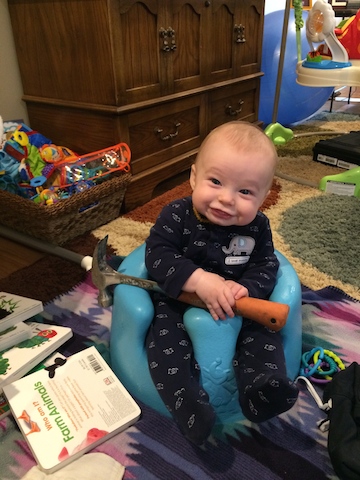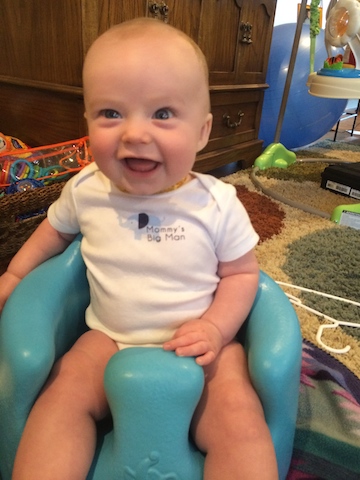 Future bookworm!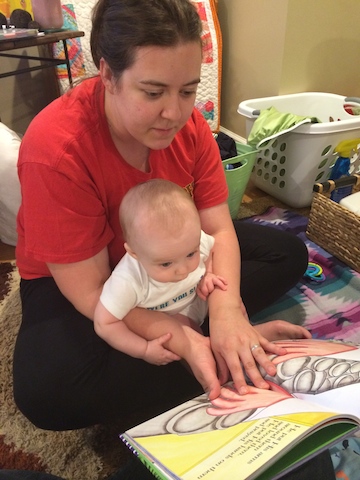 Michael is so good with Hudson!  Hudson laughed for the first time this month and it was in response to his Daddy being silly with him.  So sweet!
Another first we had this month was that I went out by myself for a while (prior to this I had only left Hudson twice, and both times were to run a very quick errand)..  We had several extremely fussy days and one Saturday I just reached a point where I badly needed a break from the crying and refusing to nap.  I'm usually pretty patient but I was in tears because I was so frustrated, so Michael stayed home with Hudson and I got out of the house for a bit.  I got a relaxing pedicure and enjoyed a chocolate chip cookie (or two) from Chick Fil A (they have the best cookies!).  It was so nice to have a few hours to myself and take a break.  When I got home Michael had also cleaned the shower for me – what an awesome husband!
I needed to do some shopping to get ready for church camp and it included trying on clothes – not easy with a baby.  So Michael came with me to help and he wore Hudson in the Ergo around Walmart while I shopped.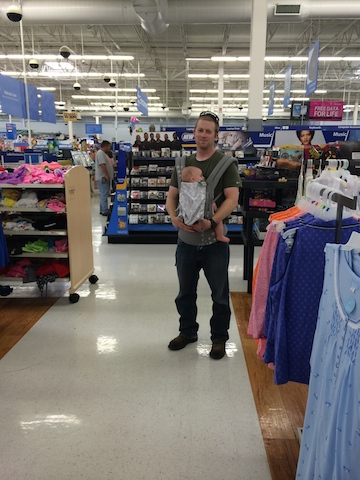 I've mentioned it several times already, but the biggest thing we did this month was go to church camp for a week.  We didn't spend the night; the camp is only 45 minutes from our house and I figured the drive each day was worth it to be able to shower/bathe at home and get to stay on our sleep routine.  But we went every day and Hudson did fantastic!  He watched everything and everyone and seemed to enjoy all the activity (except for when I tried to put him in the cold pool).  Of course he had lots of people to play with and hold him so that was nice.
We were very fortunate to have great weather so I didn't have to worry at all about him getting too hot.  Plus, I set up Hudson's pack n play and a bed for me in an air conditioned cabin so we had a place to rest in the afternoons.  I wore him most of the day and he just rode around in the carrier either napping or watching the things around him.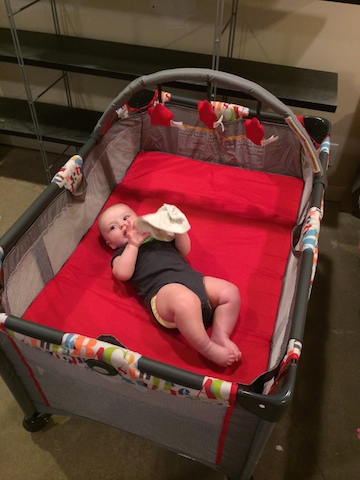 I snagged one of the extra camp shirts for Hudson but the smallest they had was an adult small…quite a bit too big for him!  It will be so fun to watch him grow into the shirt through the years.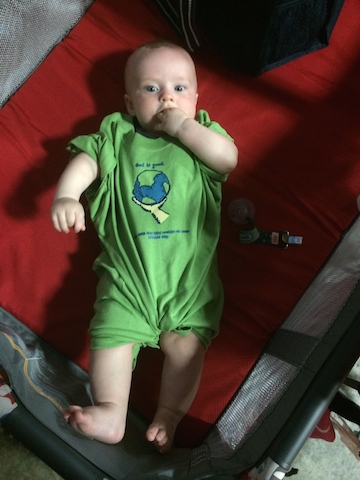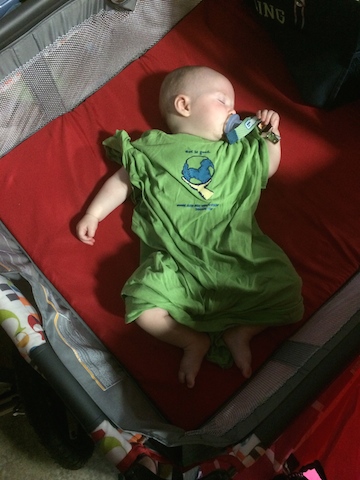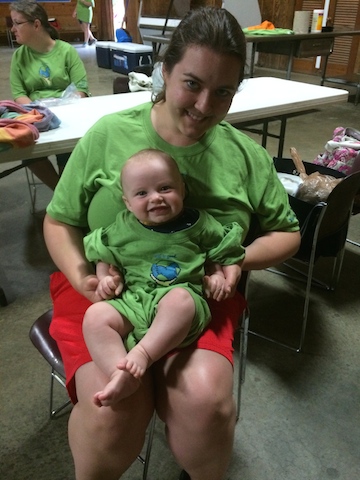 We got to visit these precious boys, Grady and Thatcher.  I thought Hudson seemed so small until we put him up next to the boys (who are two months old); compared to them he seems like a giant!  It's crazy to me that when I first started blogging their big sister Nora hadn't even been born yet – her baby shower was one of my early blog posts!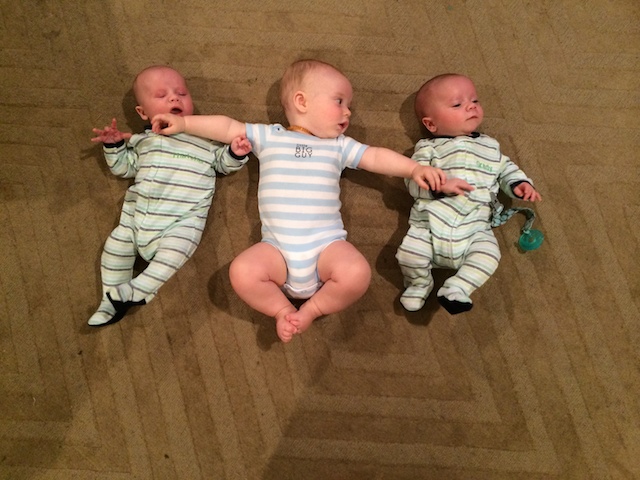 Hudson isn't crawling but he is absolutely mobile!  He rolls and scoots himself all over the place.  I laid him down on his playmat while I was doing some sewing; I kept hearing a dull thud and looked up to realize that he had somehow gotten off his mat and was hitting the plastic bins.  We're having to keep a much more careful eye on him now!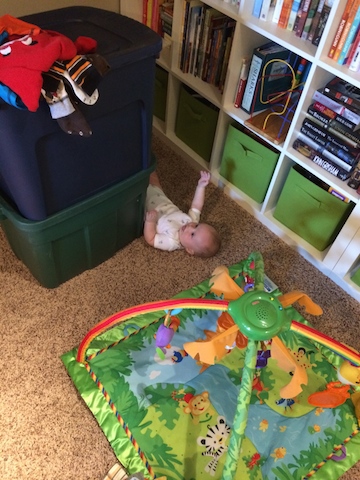 He just melts my heart.  I am so blessed to be Hudson's mommy.  It is absolutely the best job in the world and I love it!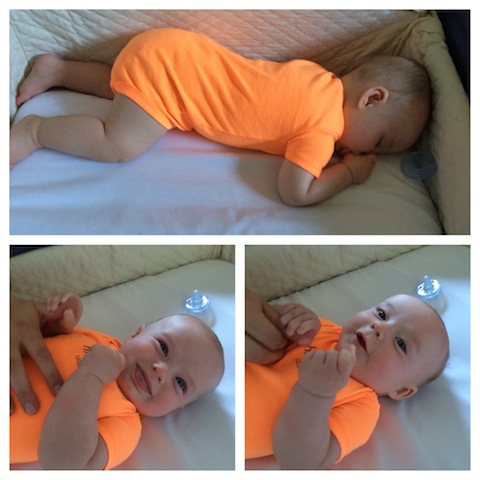 6 month stats: Hudson weighs 18 pounds, 6 ounces and is 27 inches long.