Oh hi there.  Remember when we moved into our house?  That was…um…October of 2012.  And how many completed rooms have I shown you since then?  That would be two: the master bathroom and Hudson's nursery.
Let's just say I have a lot of unfinished rooms.  But guess what?  Here's another completed room…sort of.
Let's check out the dining room.  When we moved in our whole entire house was painted this drab builder beige.  We threw the furniture in there and called it good for a while.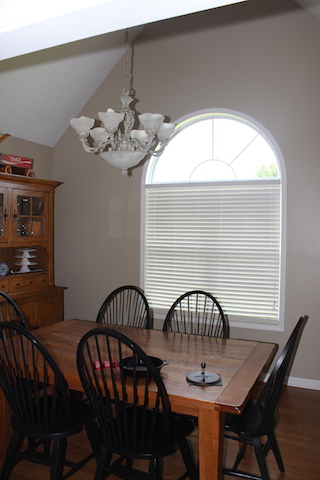 Then Michael and his dad painted it a beautiful, happy apple green color and we did a little decorating.
Here's the dining room looking in from the kitchen (I really wish I had a wide angle lens when I try to take pictures of room decor!)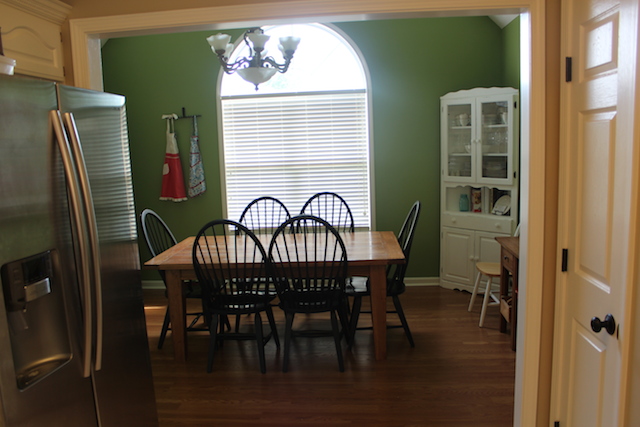 There's my trusty white china cabinet that has travelled with us from house to house.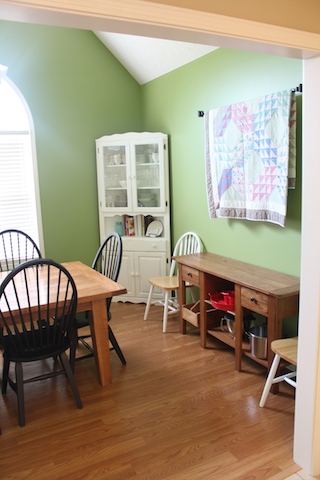 The quilt is an old one that belonged to one of my relatives (grandmother? great grandmother?) that my mom now has and she's letting us borrow it for now since it matches so nicely.  We just used a large curtain rod to hang it on.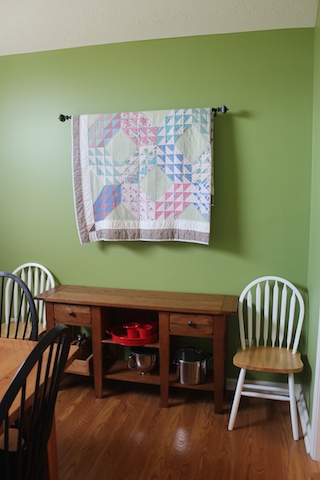 Some of my pretty aprons on an old rake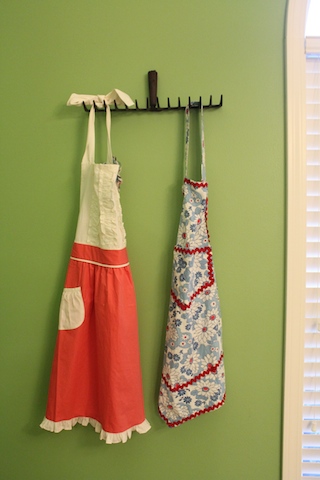 I love this hutch.  It's so pretty and rustic and it serves as the perfect place for us to store (and display) the food we canned and some of our serving pieces that we can't fit in the kitchen.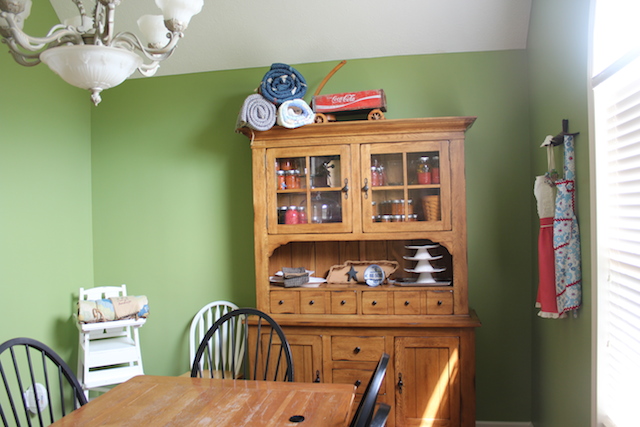 The rolled up quilts are also some of my mom's and the white high chair I found at Goodwill.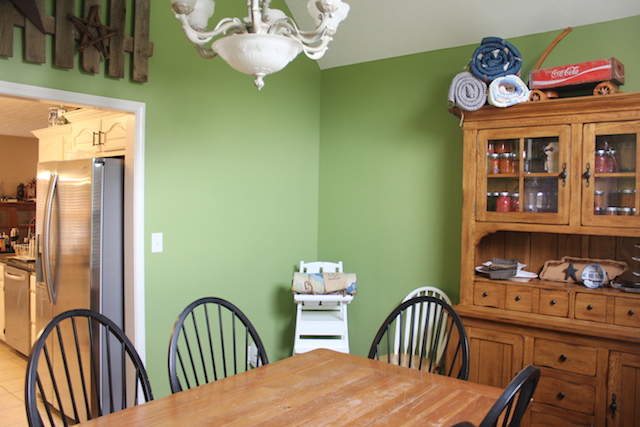 One of my favorite pieces of decor – the fence.  (you can read its story here)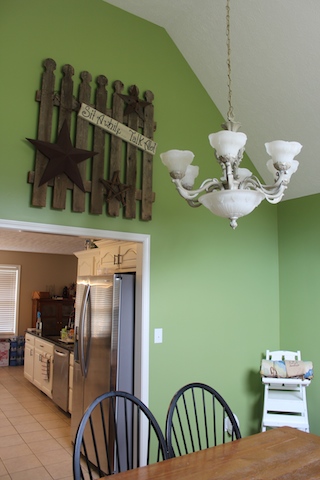 So, about that furniture set.  Don't you love it?  Me too!  It's actually my mom's.  Prior to moving into this house we'd never had a dining room so we didn't have any furniture to put in here.  My mom needed a place to store hers so rather than paying to put it in storage she "stored" it at our house – we got dining room furniture, she got storage, everyone wins.
Well she no longer needs us to store the furniture set, so sadly we had to give it back a few weeks ago.
And that's why this is actually a before picture.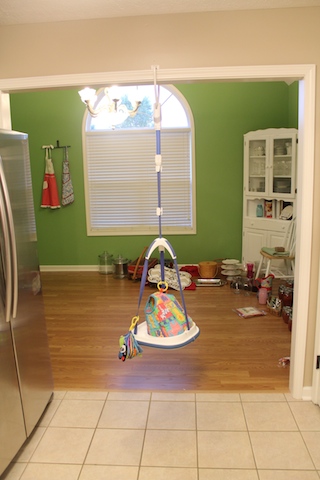 Rather than purchase a new dining room set to take up the whole room and get used maybe once a month, we're converting this into A PLAYROOM!  The location is perfect – it's right off the kitchen so I'll be able to keep and eye on Hudson while I cook and (hopefully) it will give him a place to play so he can be near me but not right underfoot in the kitchen.
Right now we don't really have a plan.  I'm thinking we'll put a rug down, some storage for toys, a small table or desk for me to do work in there while he plays (make it a hybrid playroom/office), and maybe a cabinet of some sort to store kitchen items (we had quite a few that were stored in the dining room that we need to find a home for).  If we homeschool it will be the perfect space for that, too.
I'm so excited about this!  At first I was apprehensive about getting rid of the dining room, but when I thought about how little we used it and how much better it would be to have a place for Hudson to play, the idea grew on me.  Plus we have a large folding table and chairs that we can put up when people come over if we need extra seating.
So stay tuned (someday) for a playroom reveal!