Whew, I'm way late on posting Hudson's seven month update!  The hard drive on my computer was completely full and I couldn't download all the pictures I took last month.  Michael installed a new, much bigger hard drive this weekend so now I'm good to go.
So, seven months.  Here's what's up with Mr. Hudson:
growth
We're a month off on Hudson's well baby check ups so we had one this month (rather than at 6 months).  Either they forgot to give us the little card with his stats on it or we left it laying in the exam room; either way, we don't have his official height/weight, but I know that he weighed 20 pounds (and some ounces, but don't remember how many) and was 27 inches long.  According to the snazzy charts they give you (which did somehow make it home with us), he is in the 32% for height, 81% for weight, and 72% for head circumference.  His pediatrician seemed pleased with everything and he had a good check up.

food
Hudson had his first bites of food this month.  We are doing Baby Led Weaning, which is just a fancy term for skipping baby food and giving baby a variety of table food to choose from.  We really aren't pushing food much since "food before one is just for fun", but we have given him a few things to try.  The first thing he tried was steamed squash and he was not a fan – I think mostly the texture was weird to him.  He has also tried avocado, bananas, broccoli, carrots, and refried beans.  I gave him the refried beans when we were eating out at a Mexican restaurant and he loved them!  However they gave him bad gas so we're holding off on more for now.  He doesn't really eat much and basically just plays with his food, but that's ok for now.  He likes playing with his spoons and forks so I give him those a lot since it keeps him occupied and I figure it'll help him learn how to feed himself later.
Starting solids has definitely shocked his little digestive system.  He seems to have a bit of constipation after each time he eats solids, so we've been spacing it out and only trying something every few days.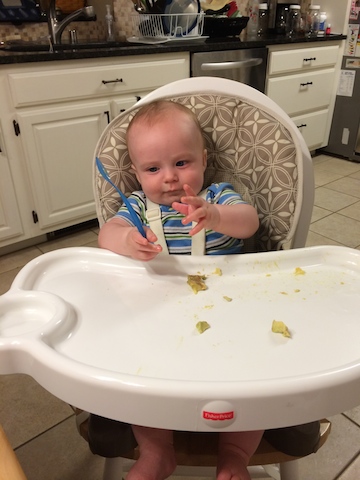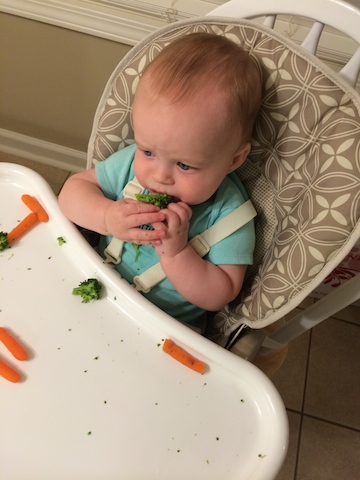 We also started giving him a sippy cup with a little water.  He loves to reach for anything we are drinking so we thought he might be ready for his own cup.  So far I don't think he has gotten a single drop out of the cups (we've tried two different kinds: the Grow Up cup you see in the picture and also a Nuby cup with a straw) but he enjoys chewing on them and banging them on his high chair tray.  All in good time.
So pretty much he is still exclusively breastfed with a few bites of table food every now and then.
sleep
This month has still been challenging sleep-wise.  We still try to put him to bed around 8pm and get up between 10 and 11 for a late night feeding before Michael and I go to bed.  Some nights he will then sleep through the night (although he is waking up really early) and others he will wake up around 3 or 4 to eat again.
He has gotten in a bad routine of waking up for good between 5 and 6am, which is no fun.  I am so fortunate because Michael almost always gets up with Hudson if he wakes up that early and lets me sleep until he has to leave for work at 7:00.  I know he enjoys getting to spend a little time with Hudson before he leaves for work, but I also know it's no fun to get up early so we'll be happy when Hudson starts sleeping later again!
Some mornings he'll put Hudson in the co-sleeper while he gets ready for work and it's so funny because Hudson just sits there and stares at me, waiting for me to wake up.  Other mornings he puts Hudson in bed with me and he'll lay there and smack me and pull on my hair.  What can I say, the boy loves his mama :).
Hudson is still sleeping in his co-sleeper at night.  Or rather, he starts out the night in his co-sleeper.  If he sleeps all night then he stays in there; if he wakes up to eat in the middle of the night then I put him in bed with us to feed him and he usually sleeps the rest of the night with us.
Nap time is definitely a challenge.  Most of the time he wakes up in about 10 minutes after I lay him down for a nap.  Some days I'll keep rocking him and putting him down, other days I just say "forget it" and let him get up.  Lots of times I wear him during the day for at least one "wrap nap" because if he is snuggled up next to me he'll actually sleep for an hour or more.  Wearing him allows my hands to be free to I can read, type, etc.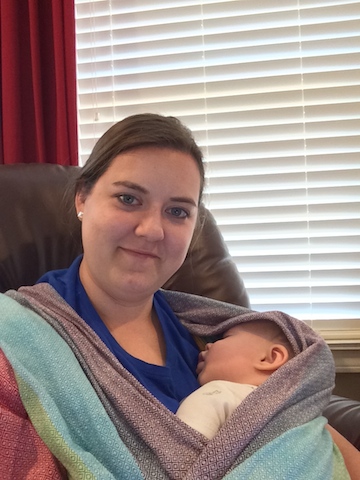 Most nights he goes to bed very easily at his normal 8ish bedtime, but this one night he was WIDE awake and laid there playing in his bed for forever.  Michael was in the bedroom trying to pat his back and get him to sleep and he texted me this picture of Hudson trying to look under the mattress instead of sleep.  What a silly goose.  Also, do you see that tag in the background on his bed?  He would sit and pick and pull at the tag when he woke up from a nap or if he was trying not to go to sleep.  Michael finally got fed up and tore it off so he couldn't mess with it anymore.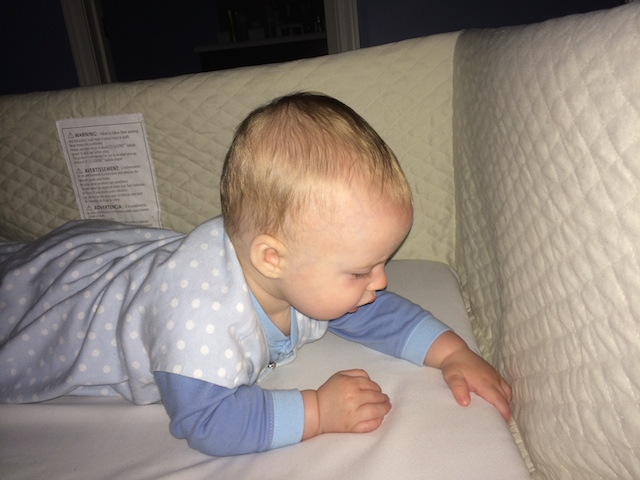 napping with his cute little booty in the air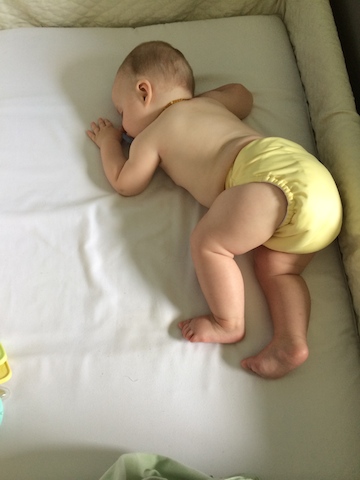 mobility
Hudson still isn't crawling or scooting, but he is a champion roller.  He can move himself all over the place and I have to keep a close eye on him!  He loves to try to get my phone, computer, phone charger, shoes, and paper…he'll bypass all his toys to get to the things he shouldn't have.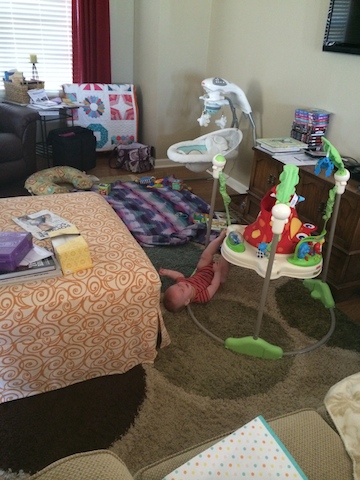 other firsts
Hudson got his first sunburn(s) this month *Mommy hangs head in shame*.  The first one he got at Jackson's Orchard during our weekly playdate.  We were in the shade most of the day and I just didn't think about it.  I had used our homeade bug spray/sunscreen on his arms and legs to protect him from bugs so the added sunscreen kept his limbs from burning, but since I didn't think to put any on his face and he got scorched.  I felt terrible!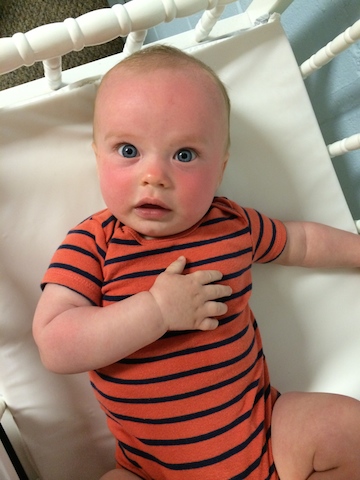 Then a week or so later he got another sunburn!  It wasn't as bad but still, I felt terrible.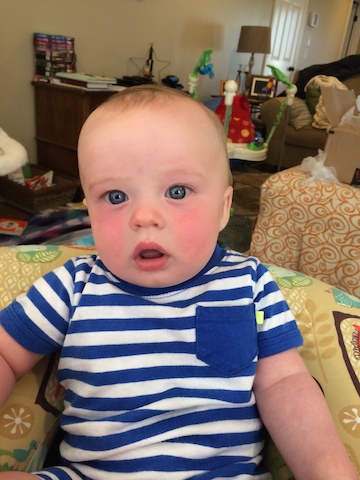 Hudson got his first black eye this month.  He was playing on his activity gym play mat thingy and he whacked himself in the eye with one of the toys that's attached to the mat.  I know this is probably the first of many, but I still felt awful.  It didn't really phase him though!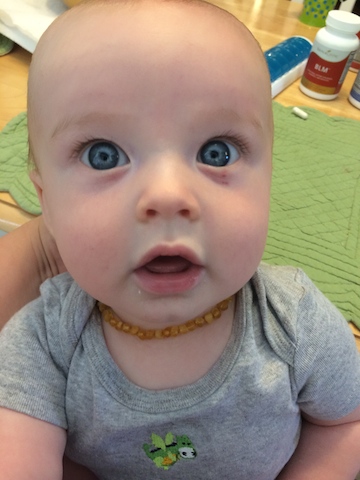 Hudson wore his first suit this month.  It was so, so adorable!  Check out that tie and pocket square.  A baby in a suit is just precious.  We did't have any black shoes or socks so he just went barefoot :).
We hung his jumper in the door way of the dining room/play room.  It's kind of iffy…sometimes he'll play in there for 20 minutes or so while I'm cooking, but most of the time he will only tolerate it for a minute or two before he wants out.  I think once he figures out the actual jumping part he will like it better.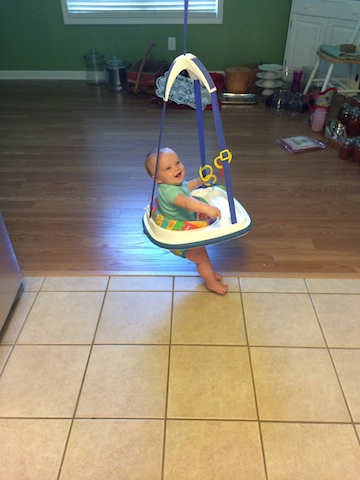 We started putting him in a high chair when we eat out.  This was his very first time in a restaurant high chair and he was still not very good at sitting up so I used my wrap to tie him in and help keep him upright.  Now he's much better at that and can sit in the high chair unsupported.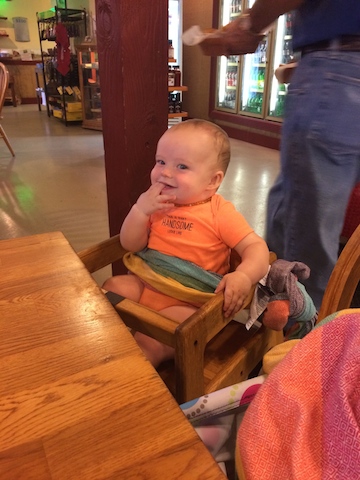 new skills
Sitting up!  Hudson started sitting up just in time for his 6 month pictures.  The improvement in his sitting over the course of this month has been so cool to watch.  He started out at the beginning of the month needing to be positioned just so and I had to stay right next to him to catch him when he (inevitably) toppled over.  By the end of the month he was sitting up on his own for long periods of time.  He still falls over some, but often he'll catch his balance and fix himself if he starts to fall.
(side note: look at those adorably chubby knees!!  squee!)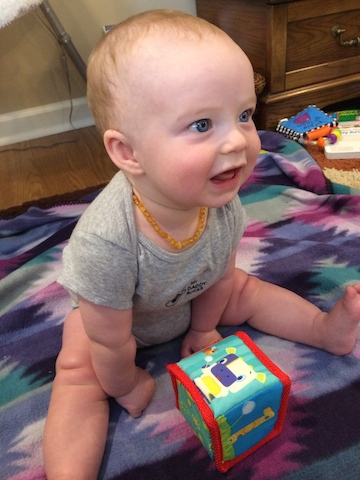 adventures
I started back to running (or rather, slow shuffling) consistently (2-3 times a week).  Hudson goes along with me of course and he's a great running buddy.  He usually just sits and looks around, occasionally he'll fall asleep.  Sometimes he will start to get fussy the last few minutes of the run but overall he does great.
The rough part is when we get back.  I am dripping with sweat and need to take a shower before I do anything else but by that point he is pretty tapped out and wants to be held.  If he's in a semi-calm state then I'll roll him in the bathroom and leave him in his stroller with some toys while I shower.  If he's already pretty upset then I'll make a pallet with some toys on the floor in the bathroom and set him there.  Either way he usually ends up crying through my whole shower.  It's less than relaxing but it's worth it to get some exercise and a shower.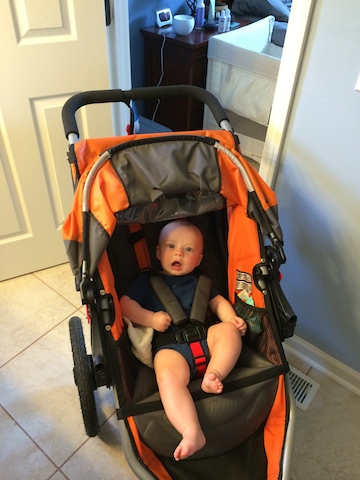 I also tried to do baby wearing yoga several times this month, but each time resulted in one very upset baby (I'm usually walking or bouncing when I wear him and I don't think he liked being so still while I held the yoga poses).  So that was kind of a bust for now and I was disappointed because I was very excited about yoga!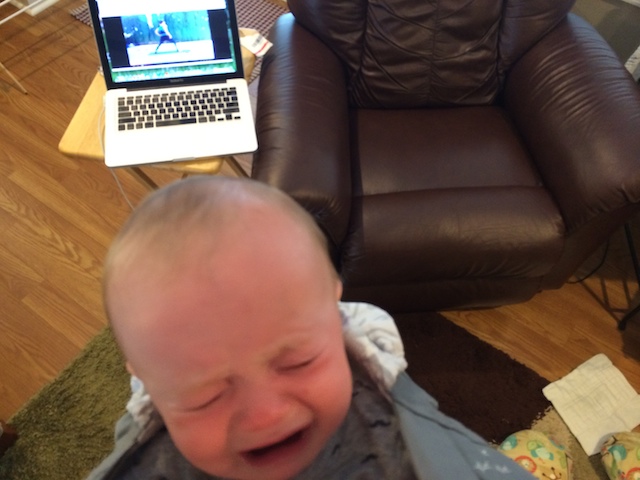 We've been going to story time on weeks that our playdate doesn't conflict.  They have lots of toys at the library that the kids play with after story time and it's a good way to see what things he likes.  He enjoyed playing with this piano so when I went to a big local consignment sale I bought him one to play with at home.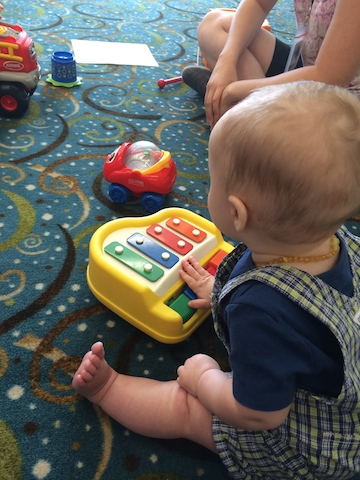 Napping with Daddy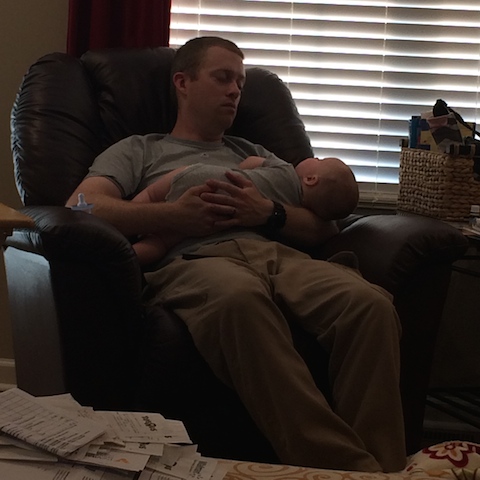 Michael preached one Sunday at this tiny congregation in our area that some of the men in our church help with occasionally.  Hudson and I went with him; it was challenging (no place to take Hudson if he was fussy or hungry because the church just has one room) but Hudson did better than I expected and I'm glad we got to go.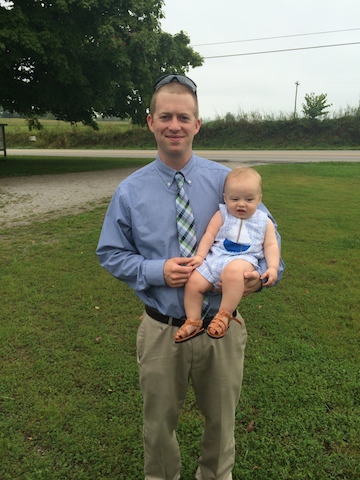 My brother brought these little sandals back from Central America last year when we went there on a mission trip right after we announced we were pregnant.  I was so excited that Hudson was finally big enough to wear them!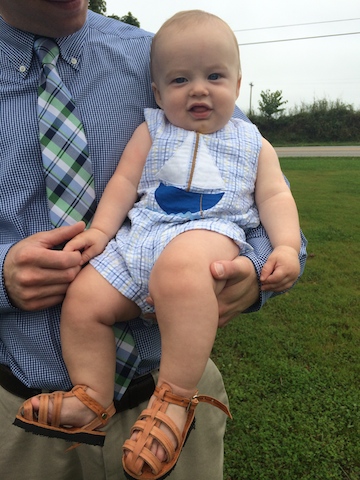 We tried to take some pictures of him after church but he was not having it.  Check out that huge pouty lip!  He does that a lot and it's so sad but also cute and hilarious!
other stuff
Keeping Michael awake while he tried to nap one Sunday afternoon.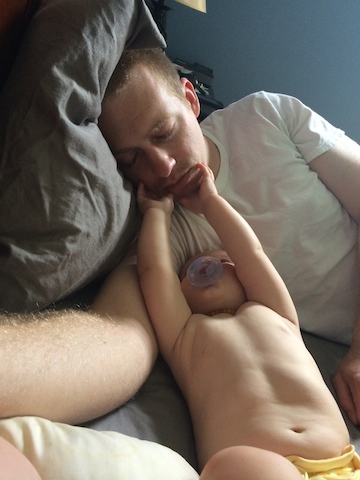 His friend Lilah still just loves him!  She was "holding him" in her lap at church one night (never mind that he's nearly as big as she is!).  If he leaned forward she would put her arms around his waist and yank him back because she didn't want him to crawl away.  It cracks me up how she's only 10 months older but thinks he's a baby and she's so big.  I'm so thankful we have lots of kids Hudson's age at church and that he will grow up with lots of friends.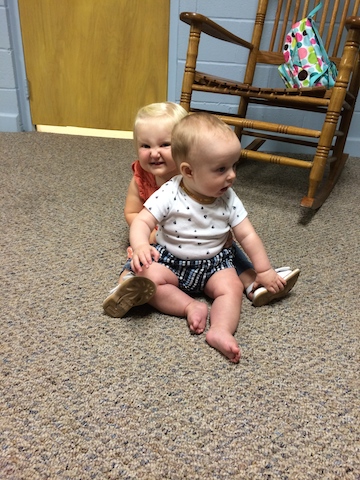 I love rocking Hudson to sleep.   I know they say you shouldn't nurse or rock to sleep…but y'all know how I feel about most of the things that "they" say to do.  I love it and I think it's a special time that we have together and it won't last long so I'm enjoying it while I can.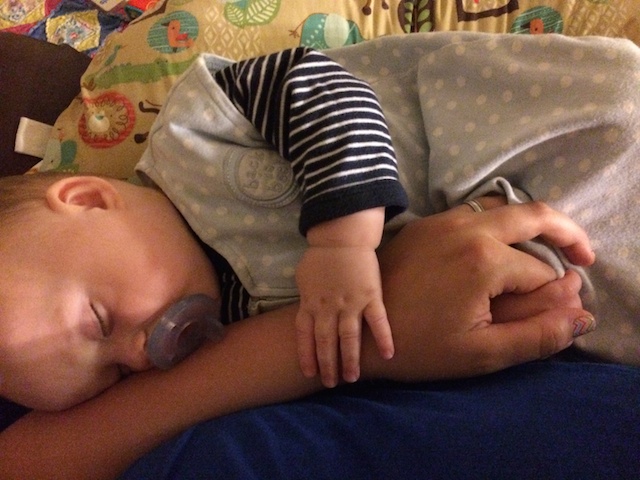 Hudson is so full of personality!  He's happy (usually) and funny and expressive and dramatic (don't know who he got that from *ahem*).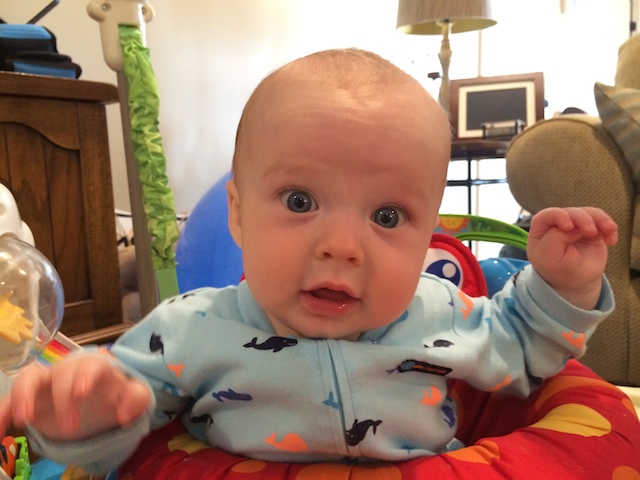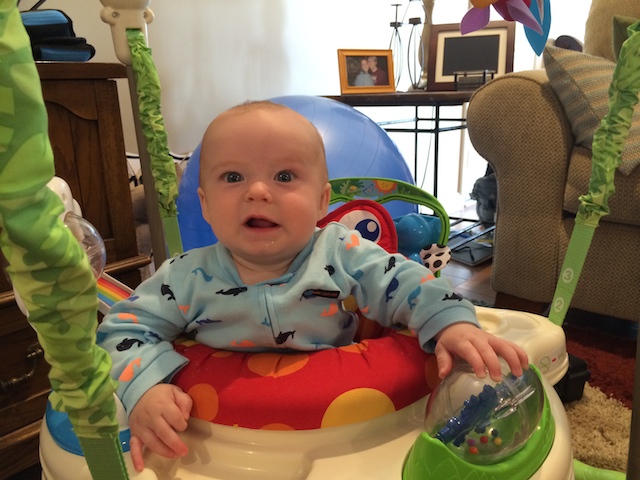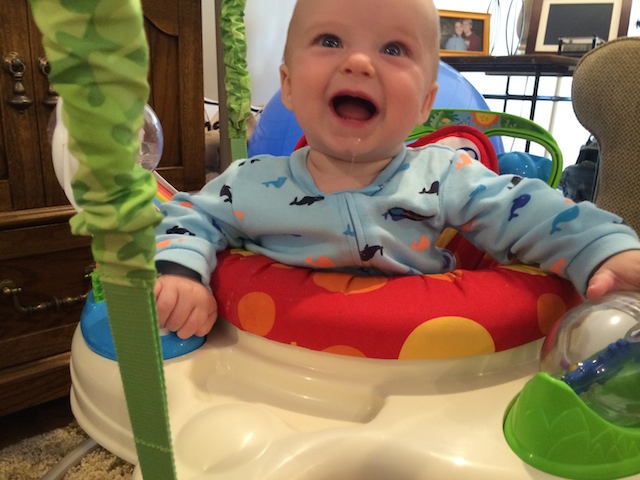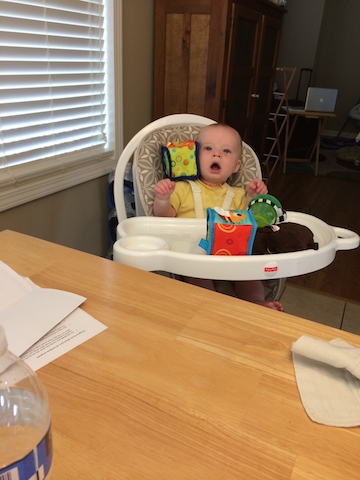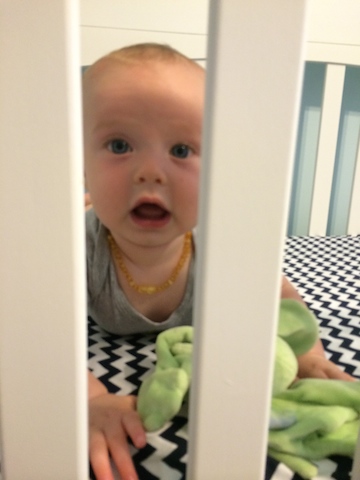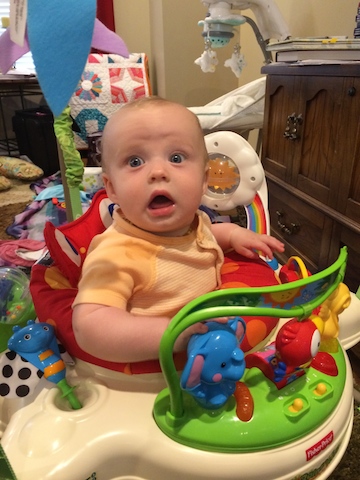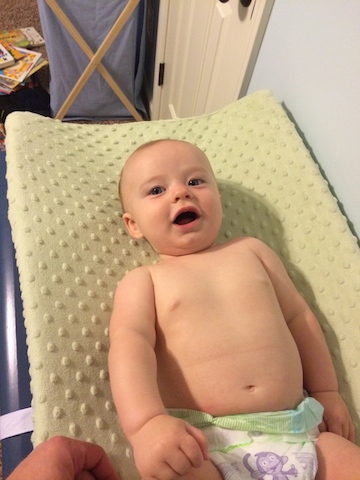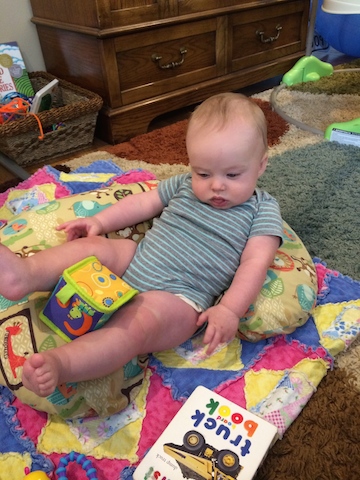 Sometimes he does this and it's quite sad.  Poor pitiful pearl…you can tell that no one ever holds him or plays with him (huge sarcasm sign there people).  Woe unto the one who decides to set him down so they can get dressed…or clean…or cook…or anything else.  Yep, much of my day consists of tending to him and I get very little else done, but that's ok.  I wouldn't trade if for the world.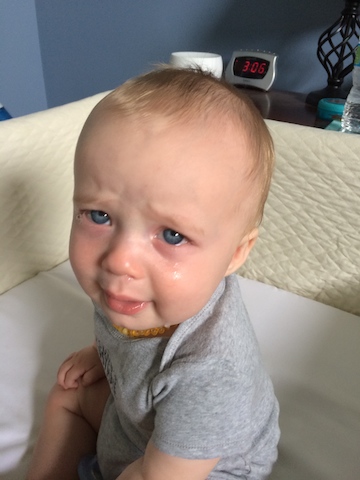 Here's our 7 month comparison collage.  It's crazy to see how much he has changed!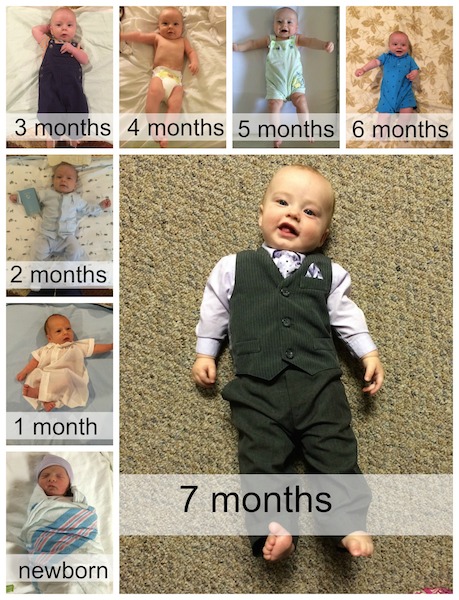 I love you my sweet, precious, big, growing boy!