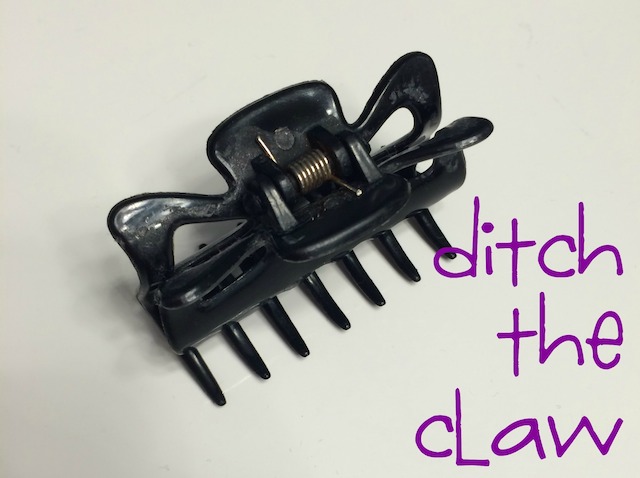 Hudson is a big time hair puller.  In fact, since he was four days old he's been grabbing on to and yanking anything he could get his hands on (I learned the hard way and haven't worn dangling earrings since he was four days old…).  Needless to say, my hairstyle of choice most of the time is up and out of his reach.
That gets pretty boring and usually means a lot of ponytails.  Lots and lots of ponytails.  They're fast and easy…but not very exciting.  At home I was using a beat up old claw clip to flip my hair up in a twist (hello middle school!) but couldn't bring myself to wear it out in public so when I went out I mostly stuck to ponytails.
Enter Lilla Rose.
I don't remember when I first heard about the Lilla Rose Flexi Clip but it's been quite a while, maybe even a few years ago.  I remember being intrigued but never pursued them any further; then a few months ago I stumbled across them again on Pinterest and really wanted to give them a try.  The Flexi Clip looked like a perfect, updated substitute for my beloved claw clip up do.  I got hooked up with Independent Consultant Linda Sears and she helped me determine what size would be best for me.  I ended up ordering one clip and then she sent me a second one to try so I could write this review and she is also sponsoring this giveaway for one of you lucky readers!  Yay!
I really wanted to be able to wear my hair all the way up and back, so based on the sizing video and Linda's recommendations I ordered a medium.  There are so many beautiful designs and colors, but I wanted to start out with one that was simple and would match everything so I choose the Celtic knot pattern.
It was perfect!  I wear my hair in a french twist of sorts probably every other day now.  It's almost as quick as flipping my hair up in a claw but looks much more polished!
And, bonus, it holds so well and is super comfortable.  There have been many days that I have put it up in the morning and basically forgotten about it.  I can go all day being pretty active and not have to re do my hair; in fact, I've even taken a Sunday afternoon nap and then gotten up to go to church again that night and not had to fix my hair since it still looked good!  Wow!  My head doesn't get sore, either.  The Flexi Clip isn't tight or put pressure on my head like bobby pins or barrettes do so I can leave it in all day and it doesn't hurt.
Linda then sent me an extra small to try out so I could so some other hair styles.  The extra small is perfect for a loose half up, a tails up, or a pony tail.  When I first tried putting it on my pony tail I was nervous about how tight it was, but then I realized it needed to be that tight in order to keep the ponytail in place.  It ended up being exactly what I needed!
I just can't say enough good stuff about Lilla Rose.  I feel much more put together now that I have an alternative for my hair.  I'm able to get it away from Hudson's grabby hands but not have to wear a boring old ponytail anymore.
Lilla Rose has other products besides just the Flexi Clip.  They have these You-Pins that I really want to try.  My other previous go-to hairstyle (besides the pony tail) was a bun.  My Flexi Clips aren't big enough to hold my hair in a bun (and I think it would look kind of silly anyway), but the You-Pins look like they would be perfect for my buns so they're on my wish list to purchase next.   I'm especially crushing on the Sparkling Star and the Open Flower!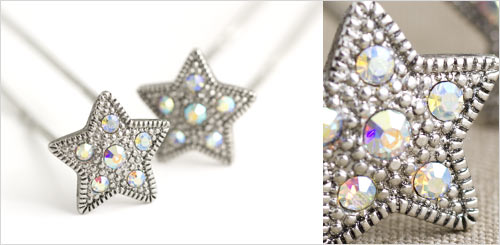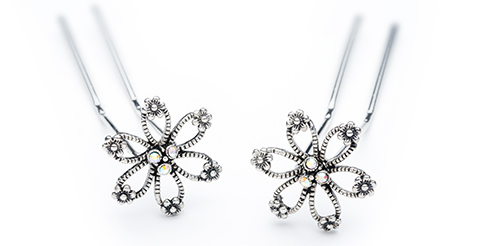 They also have some beautiful headbands, hair sticks, and bobby pins.
So….do you want one??  The good news is one of you will win a Flexi Clip of your very own!  Check out the Rafflecopter giveaway below to enter to win.
Didn't win?  Don't want to wait?  Ready to Christmas shop?  Think you'll need more than one?  Then go ahead and purchase one (or more!).  Linda has a special for new customers – buy 3 get 1 free.  Grab a variety of sizes to try or buy several to use as stocking stuffers for the girls in your life.
Before you purchase, make sure you watch the sizing video so you know what size you need for your hair type and length.  It is super helpful!  If by chance you order the wrong size, Lilla Rose will gladly exchange your flexi for free within 90 days. There is also a one-year guarantee on defective items.
(Fine Print: Giveaway is open to US residents only.  This giveaway is sponsored by Independent Consultant Linda Sears.  I was sent a Flexi Clip in exchange for my review but all comments and opinions are mine.)