Eight months!  My little man is growing up!  Here's what's up.
growth
Hudson weighs 21 pounds and is 28 inches long (based on our very non-scientific measurements with our bathroom scale and tape measure)
He's is in mostly 12 month clothes now.  Some of them are a little big, but most of his 9 month clothes were like spandex so we had to go up in size.  I never imagined my little baby, who didn't even fit into his newborn clothes when he was born, would be in 12 month clothes by the time he was 8 months old!  What a chunk!
We moved to the largest rise setting on his cloth diapers and in disposables he's a size 4.
These are 12 month pajamas and they are already pretty snug.  Slow down, little man!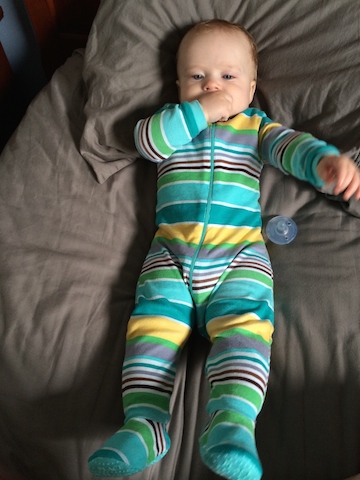 This onesie was obviously a bit too big still because I came in to get him after a nap and he had somehow gotten partially out of it.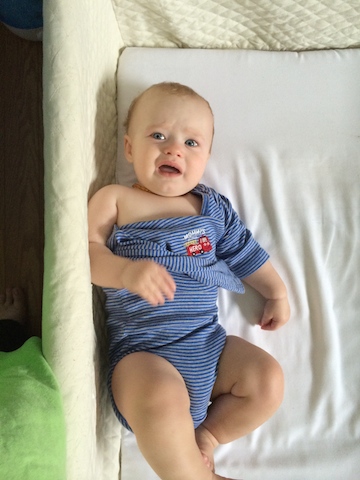 food
Hudson is still getting most of his food through breast milk.  We give him table food occasionally but not every day.  He likes playing with it but doesn't seem too concerned with actually eating it.  New foods he had this month include green beans, peaches, cucumber, butternut squash, watermelon, sweet potato, green peas, and bread.
He hasn't mastered his sippy cups but I think he did get some water out once while he was chewing/sucking on one of them.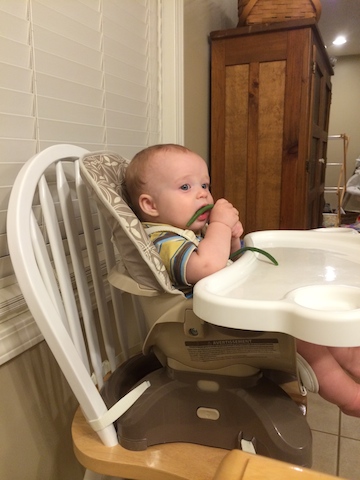 sleep
The sleeping situation still pretty much stinks.  It has gotten to the point where I have to hold/wear him during almost all of his naps or else he'll wake up in less than 30 minutes.  Or as soon as I lay him down.  Occasionally he'll surprise me and take a long one on his own after I lay him down, but that's rare.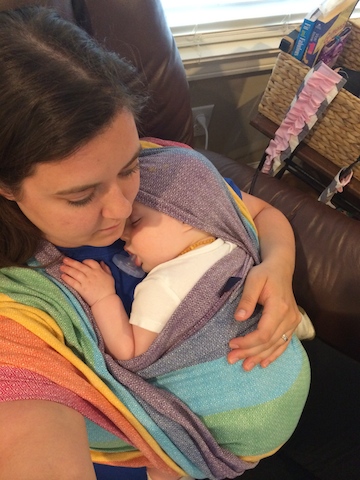 Nights aren't much better.  This month I quit waking him up for a feeding before I go to bed.  I had been feeding him around 8ish, then waking him up around 10 or 11 to feed him one more time before bed.  I noticed that many of those times he would suck for just a second then fall back asleep.  So I dropped that feeding unless he wakes up on his own; some nights he does and some nights he doesn't.  He often wakes up at least once during the night around 3 or 4.  I put him in bed, feed him, and he sleeps the rest of the night with us.
He usually wakes up for good for the day around 6 so Michael takes him and plays with him for a bit while he gets ready for work, then brings Hudson back to me when it's time for him to leave.  I SO appreciate him doing that so I can have that little bit of extra sleep!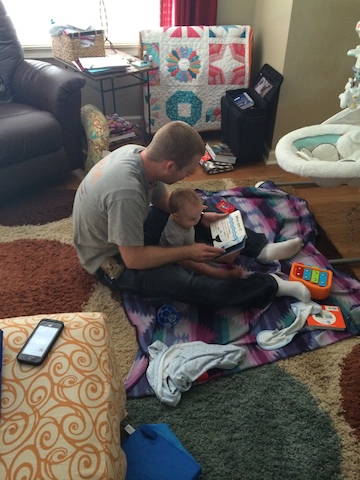 Making duck lips at Daddy one morning during breakfast.  Such a ham!
I'm keeping my fingers crossed that once we get through this first round of teething and learning to crawl (developing new skills can mess with sleep), he'll go back to sleeping through the night.  In his own bed.  Past 6am.
One can dream, right?
Waking up to this face is pretty sweet though.  At least, for the whole 30 seconds before he starts pulling my hair and trying to climb all over me.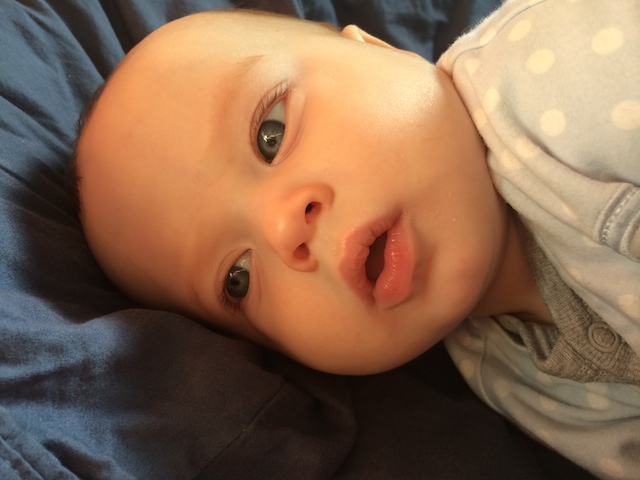 He has some very obvious sleepy signs now.  He does a little sleepy babble when he gets tired, but the most tell-tale sign is that he rubs/pulls his ear, rubs his eyes, or rubs his face into my chest/shoulder.  However, even when we know he is exhausted he will still fight sleep so hard.
He fell asleep with his thumb hanging out while we were shopping one day.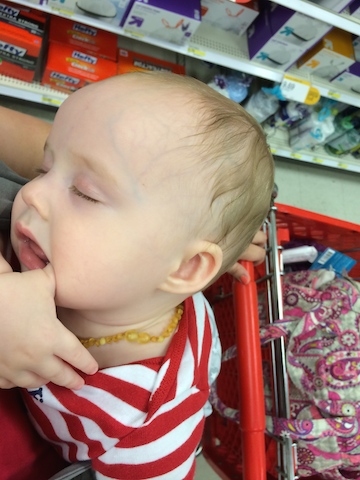 mobility
Hudson wants to crawl SO BAD!  He can go from a sitting position to an almost crawling position – one leg is tucked under him and he gets kind of stuck.  Sometimes he'll get all the way over into crawling position but then his arms just slide out from under him and he lays down on his belly.
That being said, he can definitely get around!  He can roll, rock, and scoot his way to whatever he wants.  If he's on slippery floor like the hardwood or tile sometimes he'll lay on his belly and push with his arms…he ends up going backward instead of forward and that makes him mad.  I have to watch him carefully because in a blink of an eye he'll roll to my computer cord, phone, shoes, etc. and put it all in his mouth.
One afternoon he rolled himself clear across the living room and was hanging out under the drying rack playing.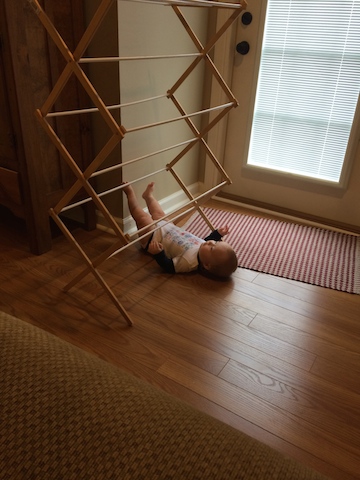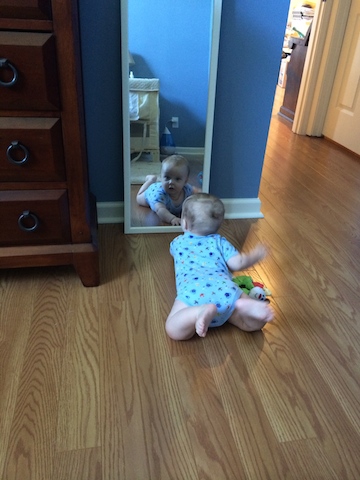 So close, got the position right, but just can't figure out how to move those arms!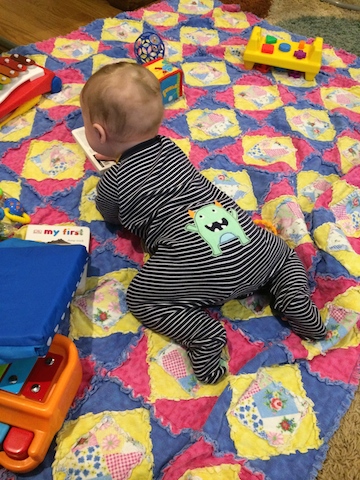 He also started pulling up on his knees.  He started just doing it in his bed or his crib but now pulls up to his knees holding on to us, the chair, the ottoman, basically anything nearby that is semi-sturdy.  I nearly had a heart attack the first time he did it in the co-sleeper, which has very short sides, and I realized he could fall out!  He still sleeps in his co-sleeper but I no longer use it like a pack and play and just set him in to play it while I'm getting ready or cleaning or anything.
The first time I realized he could pull up I found him like this, reaching over the side to try to get to the tag on the outside of his co-sleeper.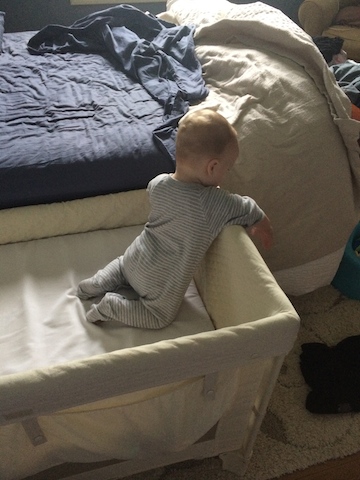 I use his crib as a place for him to play while I do laundry, fold diapers, etc.  Now that he can pull up he loves to chew on the side of of the crib.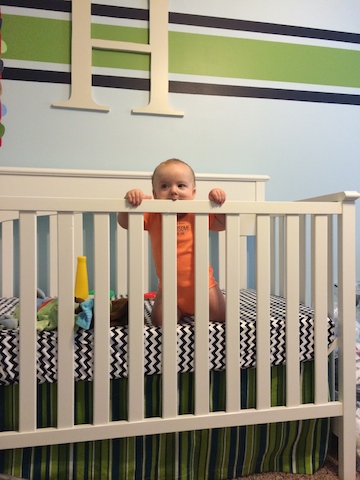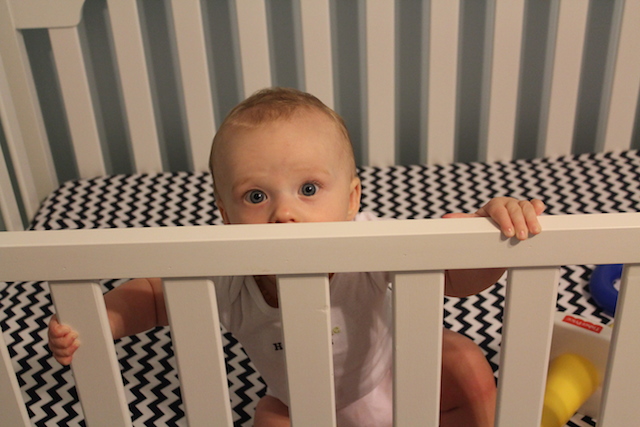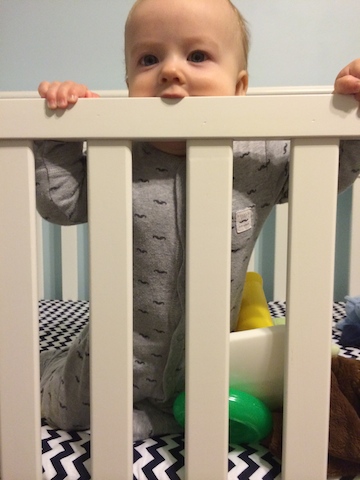 other firsts
Our big first this month was TEETH!  Michael was holding him one Sunday in church and put his finger in Hudson's mouth for him to chew on and he felt the first one poking through.  It was partially through and we could see the one next to it under the skin.  A few days later the second one came through so we now has his two bottom teeth.
I was honestly pretty surprised.  He's had teething symptoms for months (chewing, drooling, fussy, changes in sleep) but never anything excessive and I didn't notice anything different in the days leading up to his teeth.  Everyone asks if his amber teething necklace works – I can't really say for sure since we haven't experienced teething without, but either it did work and that's why he had such an easy time or he's just an easy teether (my mom says that all three of us kids were).  We're going to keep wearing it just in case :).
He's started reaching for me occasionally if someone else was holding him.  He definitely prefers mommy over anyone else but he's pretty content and lets other people (even people he doesn't know) hold him without much fuss.
I left him in the nursery class for the first time this month.  He's been going to the nursery class on Sunday mornings and Wednesday nights since he was three or four months old but I've always stayed in there either as a teacher or a helper.  I wanted to wait until he could sit up on his own pretty well and now that he's doing that it was time for me to let him stay by himself.
I won't lie, it was really hard.  That had to have been the longest class I've ever sat through and I don't think I heard my teacher say a word because I was worrying and missing Hudson.  His teachers were friends of mine who I totally trust so I knew he was in good hands, I was just worried because I never leave him and I'm not used to it.  I'm sure it will get easier with time though!  Oh and he did great, of course, it was just me that had separation anxiety :).
new skills
Waving!  It's so adorable.  If you wave at him he'll copy you and wave back.  Then he grins so big because he's proud!  I thought it was a fluke the first few times he did it, but he does it pretty consistently and you can tell it's intentional.
Hudson stands up now with someone holding his hands.  It makes him look so big, like he's going to just up and walk away!  Ahh!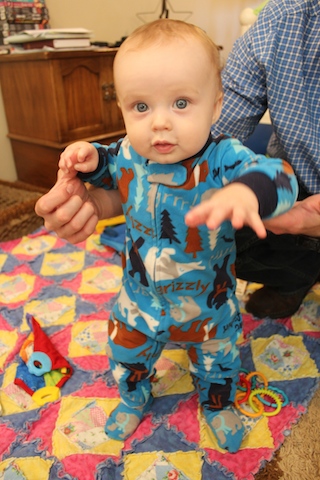 I'm not sure if I'd consider this a skill, per say, but Hudson has learned out how to shriek.  It's this horrible, piercing, loud shriek.  He mostly does it when he's in his high chair or in his car seat but it is so incredibly annoying.  It's much worse than crying in my opinion.  We've been telling him "No" when he does it, but he really has no idea what that means so he just grins at us.  Meal times can be rather stressful now.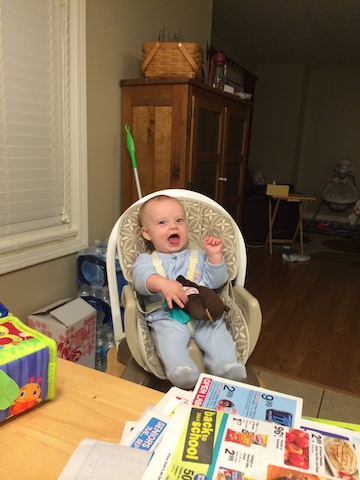 Hudson just gets funnier and funnier.  He makes this hilarious face that we call his "mischievous grin" and he's a big 'ole cheese.
adventures
Hudson and I went on our first overnight trip without Michael when we went to Cookeville, TN to attend Bible Bowl.  My mom and brother went too so I had help, which was nice – I can't imagine a solo trip with a baby!  He slept in the pack 'n play in the hotel room and did really well for being in a strange place with all kinds of activity.
Bible Bowl is held in a huge arena on Tennessee Tech's campus and we did a lot of walking.  I wore Hudson on my front and used a backpack as my diaper bag on my back.  It worked out really well, although I felt like a barge walking around!
He did really great during the event and slept most of the time.  After Bible Bowl was over we went hiking.  Hudson's first hike!  My mom wore him in a carrier that she used with us – old school babywearing!  It was fun.
The only rough part was the drive to Cookeville and back.  It was a pretty long trip and he screamed for quite a bit of the ride there and back.  It stunk.
Speaking of the car, he really has gotten much better.  He only cries that awful, ear piercing, make-you-crazy cry if he's tired or hungry.  Usually for short trips around town he does well and just sits back there and plays, talks to himself, looks at himself (or us) in the mirror.  Or shrieks.  The shrieking is pretty bad too.
We had a family work day at my mom's and Hudson got to play with some of his older cousins.  He loved all the attention!
We went to Barnes and Noble for our playdate one week.  They have storytime on Tuesdays and then some crafts.  Hudson is too young for that and he mostly just wanted to eat the crayons and paper!
other stuff
Hudson had a nasty cold this month.  Several people said they think it's allergies – I didn't even know someone so young could have allergies!  It was mostly a very congested nose with a little bit of a cough.  The first day he was sick he had these horrible purple, bruised looking, bags under his eyes.  It looked awful!  But I oiled him up and in a few days he was better.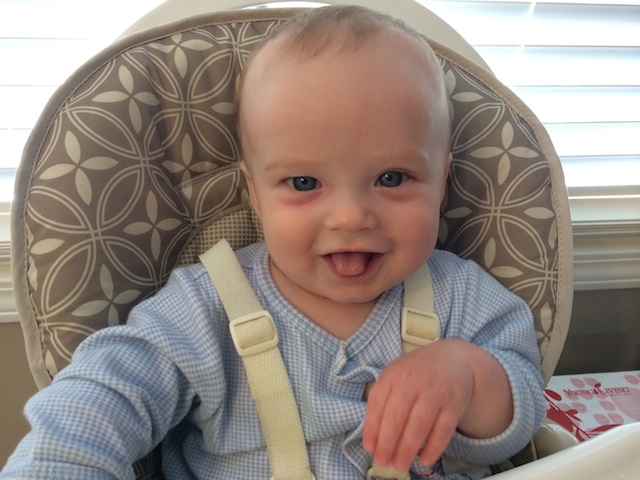 He is so much more active these days, and not necessarily in a good way.  He can be very rough – pulling hair, pinching, slapping, and kicking.  He's very strong and it can really hurt!  I know he doesn't know any better, he doesn't do it to be mean, but OUCH!  I'm ready to be past that stage.
Now that he can roll/scoot/move he will play independently for a little bit longer than he used to.  I think he doesn't get bored as quickly since he's working to get to his toys (or into something he shouldn't…).  If it gets too quiet I know he's in to something – is it just instinct for kids to get way quiet when they're doing something they shouldn't?
I haven't mentioned the spitting up in a while, but it is way better.  He still does is some but not nearly to the extent that he used to.  However, now instead of spitting up and ignoring it like he used to do he plays in it.  Eww.  If he gets really quiet then chances are he has spit up and is rubbing it all over the carpet.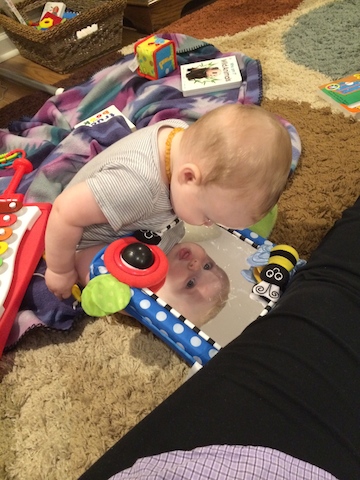 This month has been very challenging since he wants to be held so much.  I hold him for his naps and if I don't then he has a very short nap.  So basically the nice long naps that he used to take that I could use to clean or get other things done are gone right now.  And then when he's awake he wants me to be holding him or playing with him most of the time.  Like I said, he'll play independently for a while, but not long.
The afternoons are the hardest.  For some reason, from about 2pm until Michael gets home (4:30ish), he is so SO fussy!  He's tired but won't nap, he won't let me put him down and if I do he cries and cries.  It is incredibly frustrating.  I feel bad for him but I still feel frustrated.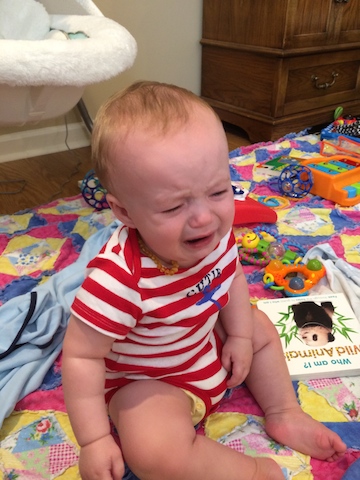 I know this phase will pass eventually, but it is stressful to get very little done every day.  The house is a mess, the laundry is behind, and I never feel caught up.  And all the fussing drives me batty.
But he isn't like that all the time, of course.  Most of the time he's very pleasant and precious and adorable.
And with that I'll leave you with a ton of precious pictures.