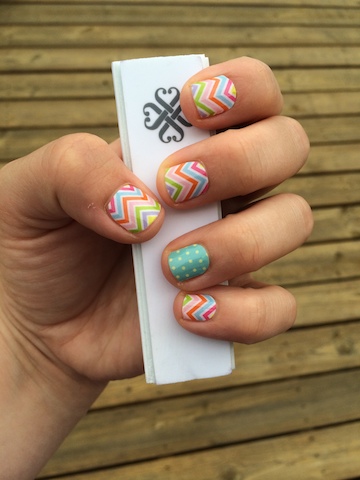 Candy Chevron (discontinued) with a Teal Polka accent nail
Have you heard of Jamberry nails?  They are great!
I am not a nail polish girl.  I think polish makes my nails feel weak after I take it off plus I just can't stand the hassle of painting, making a mess, letting it dry, trying not to mess it up while it's drying, chipping, etc.  I keep my toes painted all the time but very, VERY rarely paint my fingernails.  It's been well over a year since I painted my nails.
I started hearing about Jamberry Nails and I'd seen a little bit about them on Facebook but didn't know what they were exactly.  A few months ago my friend Gina invited me to an online Jamberry party.  I attended, had a lot of fun, played some games, won some free stuff, and purchased some Jamberry nail wraps to try.
Since then, I've been wearing my Jams pretty much all the time and Gina loves them so much that she started selling them
(check out her website here)…so we decided to team up and do a giveaway!  Yay!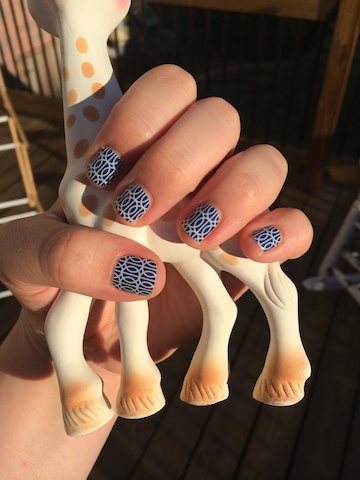 Mad Mod
So what are Jamberry Nails?  Think fake nails but in sticker form.  They are stickers that are shaped like your nails – you cut them to the length of your nail, apply a little heat, stick them on, do a little filing, and voila…pretty nails.  It really is super easy.  It takes me maybe 15 minutes to do my nails and the best part is that I can stop in the middle if I need to.  There isn't any drying time so if Hudson wakes up and needs me and I only have two nails done it's no big deal, I can go back and finish the rest later and I don't have to worry about the fact that they aren't dry and might get messed up when I pick him up.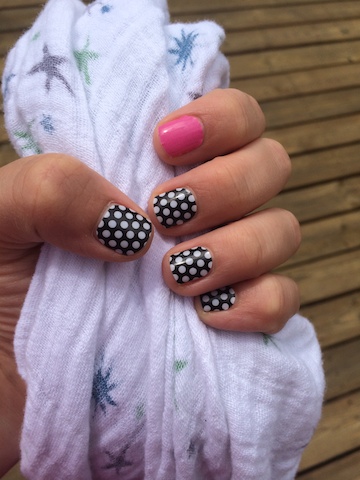 Black & White Polka with a Bubblegum accent nail
How do you use them?  I alluded to that in the previous paragraph, but here's what I do: Buff my nails and wipe with some alcohol to make sure the are clean and smooth.  Cut the Jam to approximately the length of my nail, hold in front of the heater, stick to my nail, smooth down, then file the tips. Jamberry sells an application kit (with scissors, a buffer, nail file, alcohol wipes, etc.) and a heater.  I won the application kit during a party I attended and then Gina was kind enough to send me the heater to use for this review.  I love having the application kit and the heater and I think the heater is definitely easier to use than a hair dryer, however, you totally can still use the nails without having all the Jamberry equipment so don't let that stop you!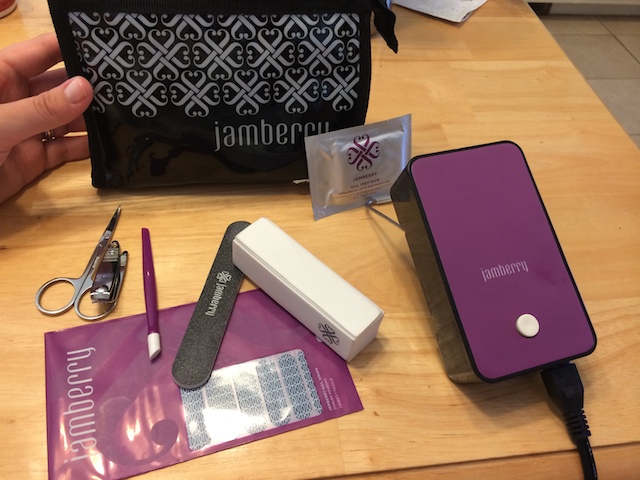 There are bunches of You Tube videos about how to apply your nails and I recommend watching a few of those to see what to do before you start.
How long do they last?  For me, about a week.  I find that after a week my nails have grown so much that there is noticeable (to me, probably not to others) growth at my cuticles and that the ends have started to get a little worn.  But for me a week is plenty and I'm ready to move on to a new pattern anyway, plus that's still way longer than my polish would have lasted.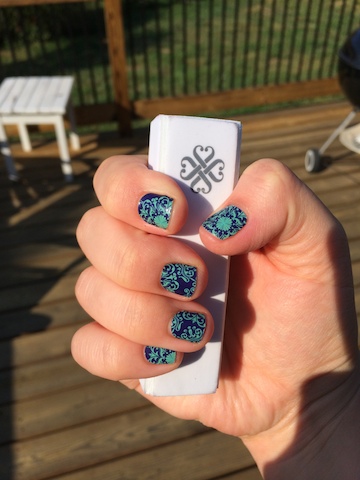 Here's one set the day I put them on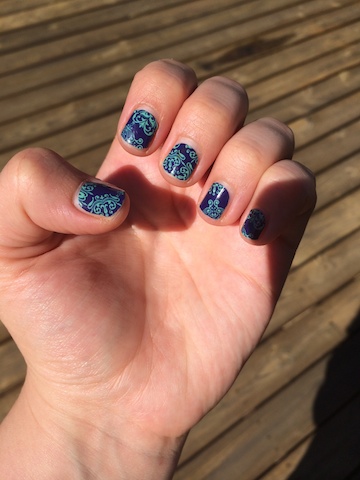 And then a week later (I just realized I took a picture of the other hand, whoops).  You can see some growth but overall they still look pretty good.
My favorite thing about Jamberry Nails is that I get to enjoy having pretty nails without the hassle of painting or the cost of a nail salon.  Having my nails done makes me feel happy and pretty and put together even on the days that I'm covered in spit up.  I also get to branch out past my normal red or pink polish to fun patterns and colors.  I never thought I'd be a nail girl but now I am and I love them!
Now it's your turn to try out the Jamberry goodness by winning the giveaway!  One of you will win a $25 product credit to use towards some Jams!  How exciting!
We're also having an online Jamberry party if you'd like to join us, learn more, play games, and maybe win even more cool stuff!  That's right, there will be even more giveaways in addition to the one we're doing here on the blog!  Plus, joining the party will get you more points into the giveaway so definitely do that!