Hudson is 9 months old!  He's now been outside of me longer than he was inside me.   So weird!  I cannot believe my little man is 9 months.
Here's a recap of the last month:
growth
At his nine month appointment last week Hudson weighed 21 pounds 12 ounces and was 28 inches long.  He was in the 33rd percentile for length and 82nd for weight.  Our pediatrician seemed very pleased with his growth.  Thankfully this month then only shot he got was his flu shot and he did great with it.  He also got some blood drawn and he did fabulous – didn't cry at all when they pricked his thumb and squeezed the blood out!  His tests indicated that he was a little anemic; I'm not surprised as he is still eating mostly breast milk (from our research it seems that breast fed babies get plenty of iron until they are six months old and then if they are not consuming iron-rich foods it can drop).  So we're going to work on that, but otherwise everything was great!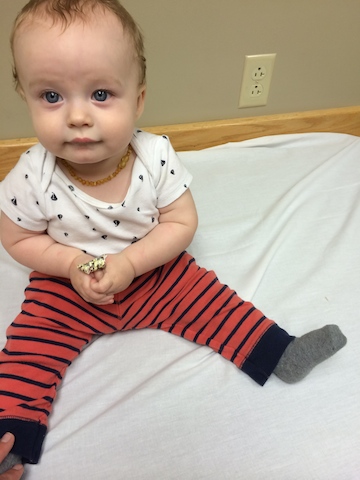 I love this comparison of his well-baby visits.  It is amazing the change from when he was four days old!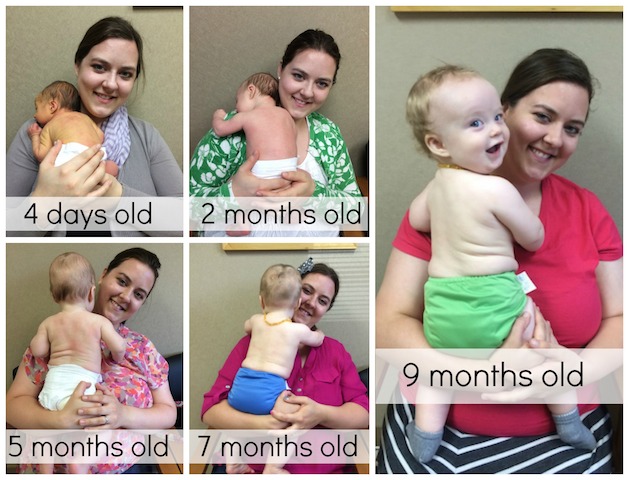 Hudson is in all 12 month clothes, although some of his less-stretchy 12 month pants (blue jeans, khakis, etc.) are too tight because of his cloth diapers.  I'm either going to have to move him up in his pants (which will then be way too long) or buy special pants for cloth diapered babies (which are pretty expensive for baby clothes – maybe for a Christmas present).  He's still in size 4 disposables at night.
food
We're still mostly breastfeeding and offering table food occasionally.  Toward the end of the month Hudson started showing more interest in his food and more ability to pick it up and get it in his mouth (actually eating some of it rather than just playing with it) so I think he'll be eating more now.  New foods this month: Puffs, veggie melts, eggs, oranges, applesauce, apples, and probably more but I didn't do a good job writing it down this month so I'm not sure what else.
He still doesn't really know how to use his sippy cups but we give it to him often and I guess he'll figure it out eventually.
Silly daddy put a bowl on my head!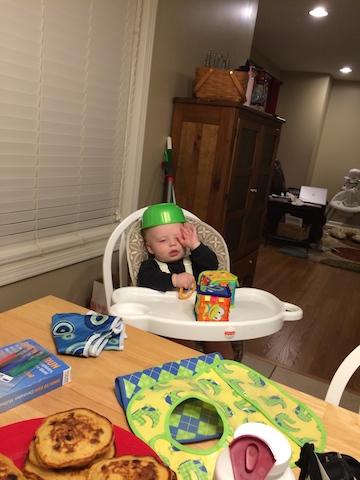 sleep
Terrible. Ugh, it is so awful.  Naps are few and far between.  I'm talking he'll sleep less than an hour total all day.  His naps typically last only 15 – 30 minutes.  An hour is an occasional nice surprise, and anything longer than that is unheard of.  Night time isn't much better either.  It's actually gotten much worse this month than it was last month.  There were many, many days this month that he woke up three or four (or more!) times each night.  He had been only waking up once before Michael and I went to bed and then once in the wee hours of the morning.  Now it's more like every two hours.  And there were a couple of days that not only did he wake up, he also decided after he ate not to go back to sleep so he was wide awake for 1.5 to 2 hours in the middle of the night.
So. Not. Fun.
He's still in his cosleeper next to our bed (although halfway through the month we finally lowered it from the bassinet position down to the pack 'n play position) and then ends up in bed with us after he wakes up to eat during the night.   I was nervous about the transition when we lowered his bed.  I was afraid that he would wake up since I had to bend over so much further to lay him down but he has done great with it.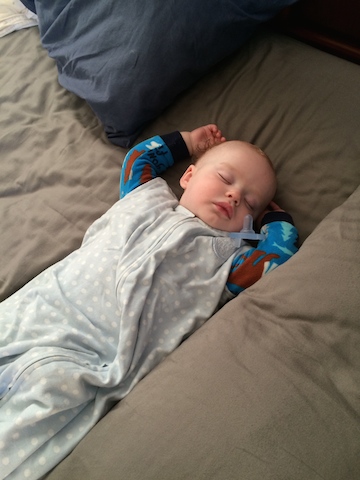 Such a sweet angel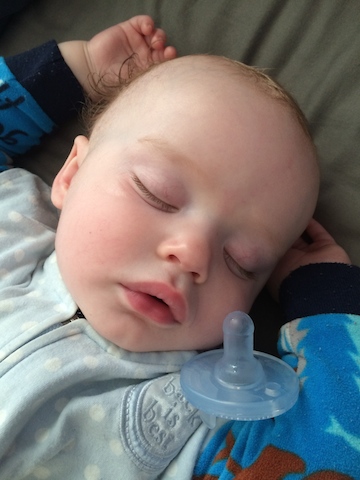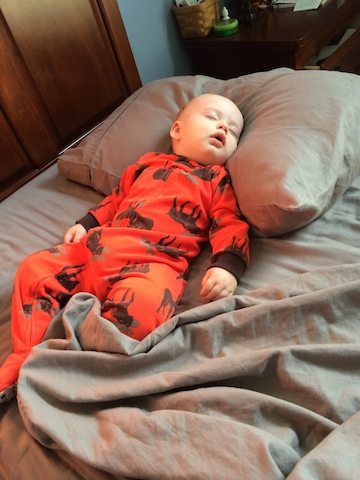 He fell asleep mid-roll one night – it was so funny!  He laid like this for a good while and then finally finished rolling over and settled in for the night.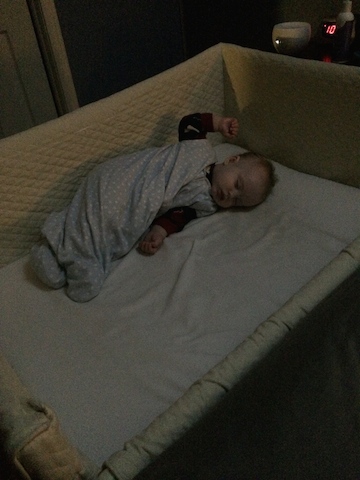 My little snuggle bug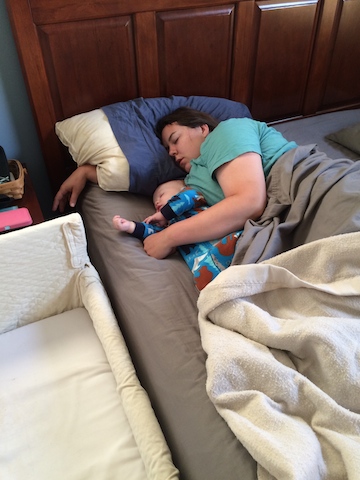 I love gazing at this precious face while he sleeps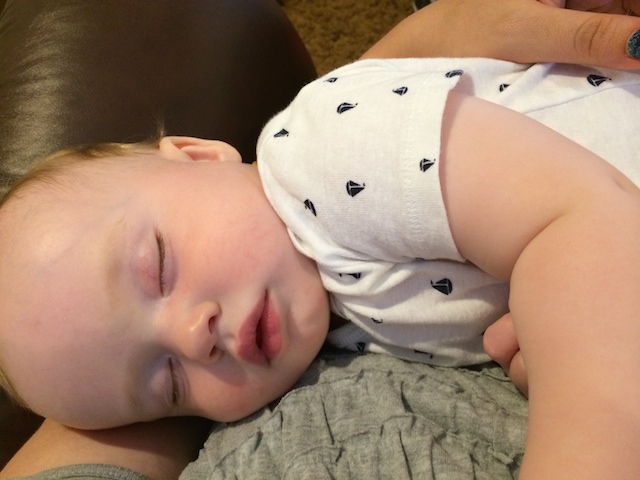 mobility
We're mobile!  Hudson started crawling about halfway through the month and there is no stopping him now.  He went from crawling his first few paces one day to crawling all over the house (and fast!) practically overnight.  We are working overtime to get things baby proofed around here.  He's definitely doing a good job of showing us how un-baby proof our house is – ha!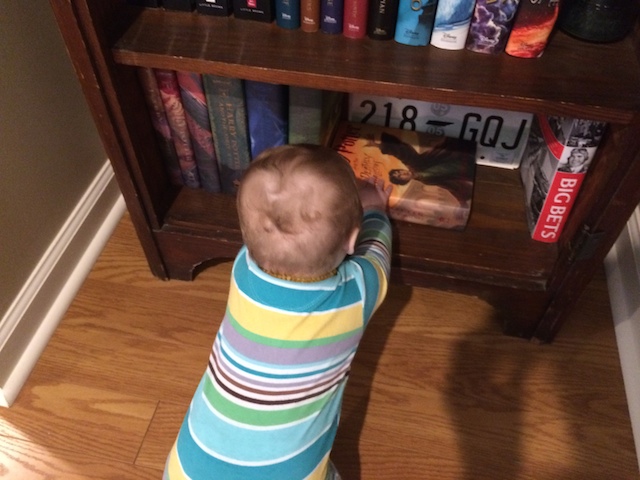 He's always loved trying to grab my computer and phone cords.  I moved them away from the front of the chair but once he started crawling he realized pretty quickly that he could go around behind the chair to grab them.  Those cords have since found a new home!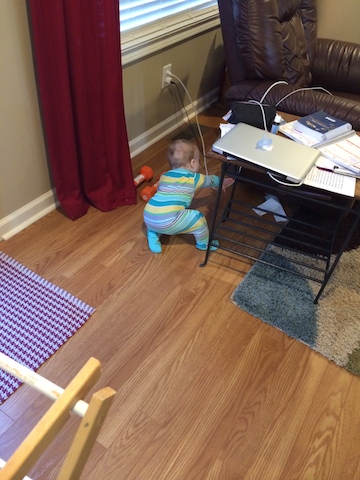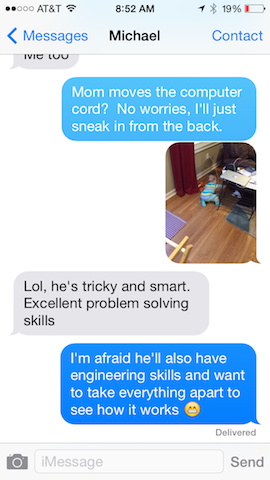 He crawls all over the place, especially in the kitchen while I'm trying to cook.  He likes to push a bowl around…and apparently this day he nearly crawled out of his shirt!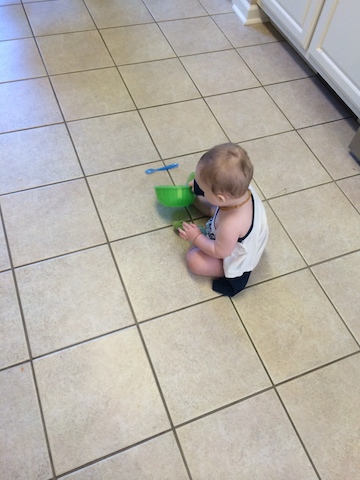 In addition to crawling, he also started pulling up to standing.  One afternoon I was sitting at the kitchen table eating and Hudson was playing in the living room.  I looked up from my snack and noticed he had pulled up on the recliner!!  I was shocked!  He had never done that before!  Now he pulls up on everything.  We got out his activity table that I had purchased a while back and he loves to stand at the table and play.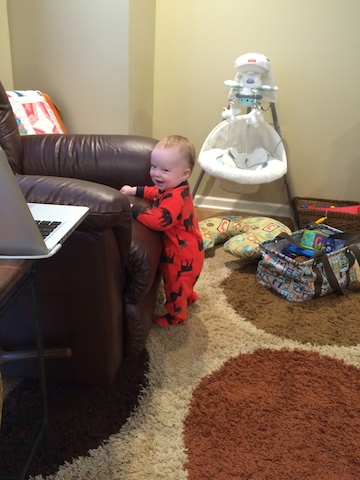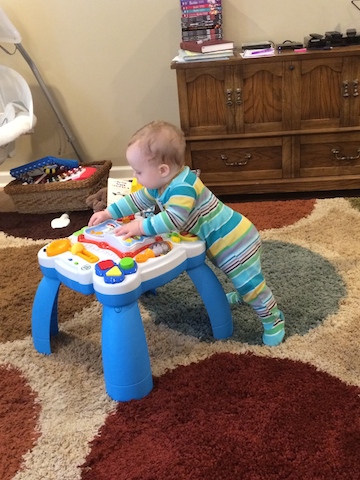 He had been pulling up on his knees and leaning over the side of his cosleeper and we hadn't been leaving him unattended in it anymore, but once he started pulling up to his feet I knew it was time to lower it down immediately.  The day he started pulling up he was napping and I was sitting in the bed working on my computer.  I looked over and in a blink of an eye he had stood up and grabbed some of my lotion.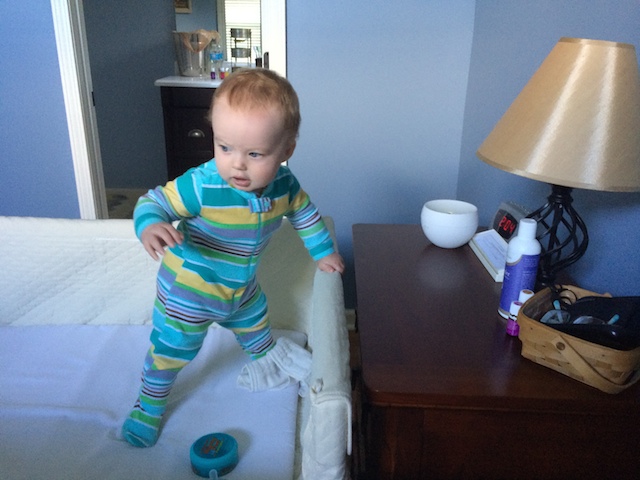 He can still pull up in his lowered bed but at least he can't fall out.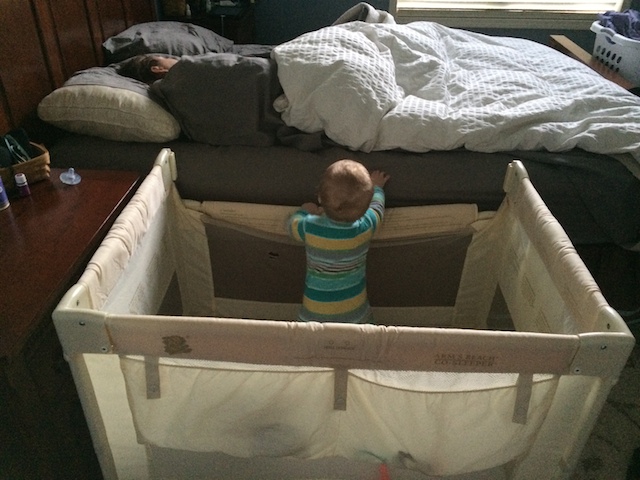 other firsts
We finally got around to buying a pack 'n play.  My mom has one at her house that we've used several times but we knew that we'd need one for church camp and we found a great deal on one locally so we snapped it up.  It's been very handy, although Hudson doesn't like to stay in it for very long since he's not used to being in it.  The first time we used it was at a craft expo where I had a booth and he played in there for a good while.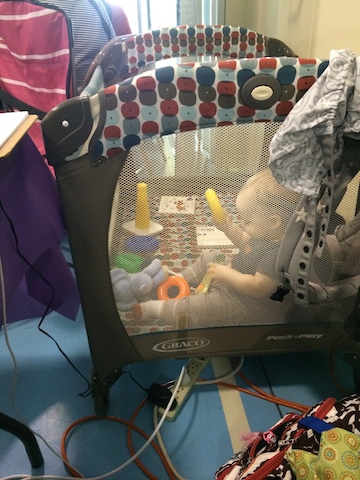 This was not his first bottle, but it was the first bottle we've given him in a long, long time (I think the last time he had one he was only 2 weeks old).  After my horrendous breastfeeding debacle was over I had no desire to pump for a while and I had worked so hard for the ability to breastfeed that I wasn't interested in giving him a bottle yet.  We never really got around to trying it and at some point I figured it was too late.  We do give him sippy cups of water (that he just plays with, rarely drinks) but never a bottle of milk.  However, one night I had a plugged duct so I was pumping after Hudson went to bed.  He woke up wanting to nurse but I had just pumped for a long time so we decided to try a bottle just to see how it went.  At first he sucked a tiny bit but mostly just let the milk pour out of his mouth.  Then he started chewing on it and refused to drink.  Obviously that ship has sailed but it was still fun to try!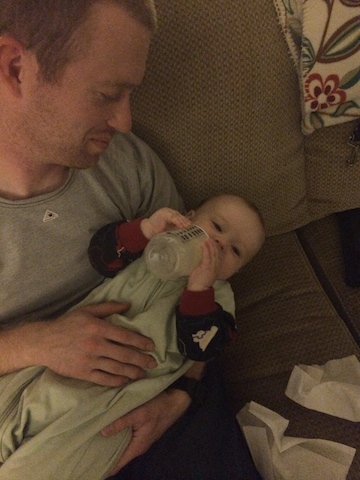 Hudson rode in a shopping cart for the first time.  I always wear him when we go shopping but we decided to try letting him sit in the cart.  He liked it for a few minutes and then got a little unhappy.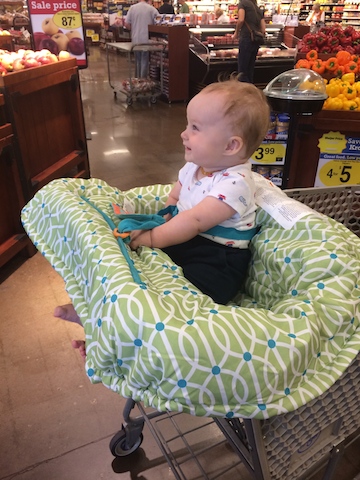 First time to the park for a playdate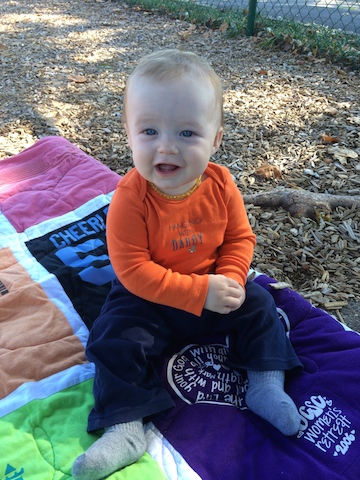 new skills
Well crawling and pulling up to standing are obviously the big ones for this month.  His motor skills have improved quite a bit and he's actually pretty good at operating the little toys on his activity table.
He's started giving kisses and waving.  He first kissed himself in the mirror and then kissed some of the animals in his book.  Then he started giving me kisses and they are the sweetest things ever!  He will very rarely kiss Michael (we think he doesn't like his scratchy face because even when he does give him a kiss it's a super fast one).  He actually was waving last month and giving a "normal" wave.  For whatever reason now he's switched to waving backward at himself.  It's cute!
Not a skill, but his hair has changed and is getting so much more curly!  I switched his baby wash/shampoo and I don't know if that made a difference or if it was just a coincidence that it happened at the same time, but his hair is crazy now.  Michael had very curly blonde hair as a baby too so I'm not surprised.   We used some water to spike it up in a mohawk for church one night.
adventures
Our big adventure this month was church camp!  We went in the summer to one church camp but Hudson and I drove there and back each day and slept at home.  This time we stayed the whole time!
Our congregation has been involved in building a new church camp and it wasn't quite finished in time for a summer camp so instead we did an abbreviated camp over fall break.  Because it was over a weekend Michael was able to come with us (he only had to take 2 days off of work instead of 5).  Camp was wonderful and I am so thankful that we were able to go, but it was definitely difficult with a baby!  I stayed in the lodge with the other women and Michael was in a cabin so I was on my own at night.  The other women were great about helping me out but it was still stressful!
The first night was the worst.  He woke up all night long and I think I slept less than three hours total.  He would not sleep in his pack 'n play and ended up sleeping with me all night every night so I didn't rest well.  I felt like I missed a lot of camp between having to go feed him, get him to nap, and put him to bed at 8pm.  It was a different camp experience for sure but that's the phase of life we're in and that's ok.  I'm just glad we were able to go!
He had a blast of course since there were tons of people there to play with him and give him attention.  It really helped me with my anxiety about leaving him, too.  In my last update I shared how nervous I was about leaving him in his Sunday school class.  While we were at camp I taught a Bible class twice a day.  Michael was also teaching a class at the same time so some of the other women who were not teaching watched Hudson for me.  I wasn't far away and I was so focused on my class that I didn't worry about him.  He had fun and did great for them and it helped me get over that anxiety.  Since then I've been able to leave him in his class on Wednesday nights some (I teach his class on Sundays and sometimes I sub on Wednesdays) and I have had a much easier time with it.
The packing was a bit more challenging too…this is my van, packed full.  Michael had to drive separately since we couldn't fit it all in one vehicle!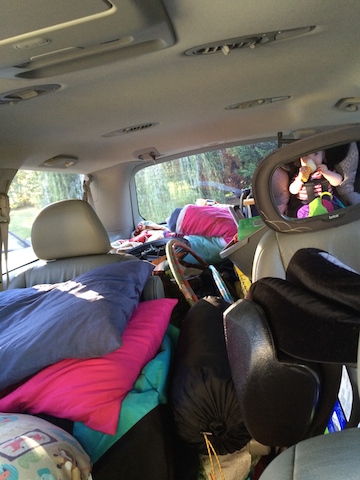 We also went to Nashville one Saturday to eat lunch at Cracker Barrel with some of my college friends.  It was fun to catch up with everyone!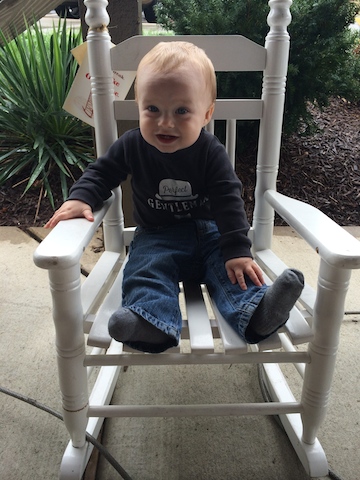 Michael had a Monday off work so we went on a little family hike to Lost River Cave.  It was an easy hike, about a mile, and very pretty.  Hudson slept on my back for most of the hike!  They have a great play area that he will enjoy when he gets older.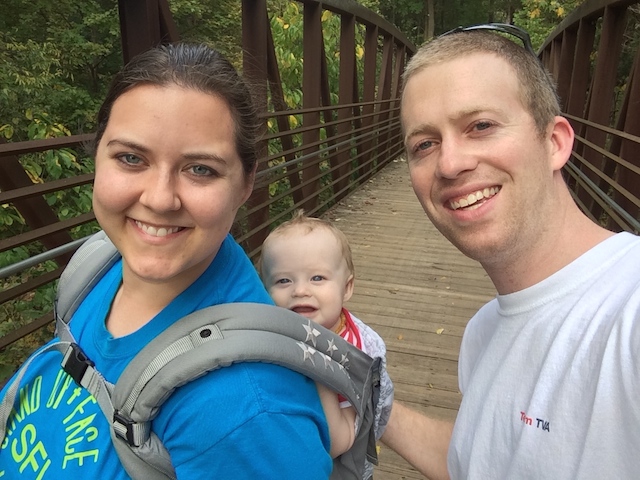 other stuff
"How is he doing in the car?" is a question we are commonly asked, as most people know how horrible that has been since he was born.  He is better.  Short trips are fine unless it is bed time and he's tired.  Long trips are still difficult.  Occasionally he will fall asleep, but usually after quite a bit of screaming.  We still don't know why and I guess we never will, I just hope that at some point it will get better.
I will be quite honest that we're dreading the traveling part of the holidays just a little.  I'm super excited about our first holiday season with a baby and I think it will be so much fun, but the thought of having to drive with him in the car to all the different family functions makes my skin crawl.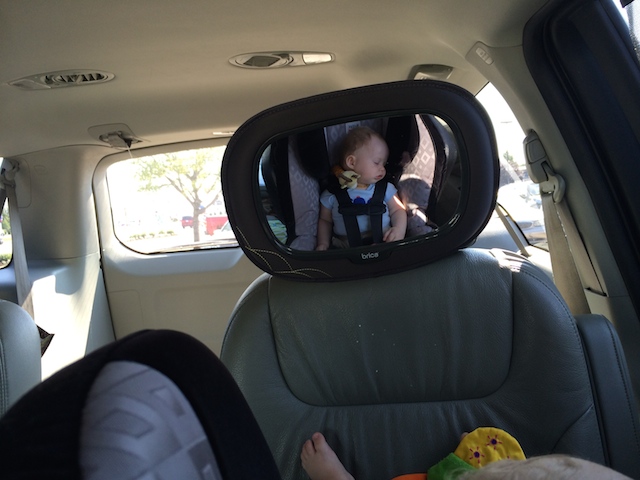 Just look at those sad eyes and poochy cheeks – who can resist??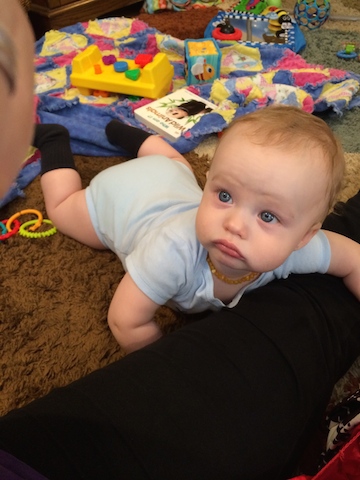 Kissing the bathroom floor?  Eww.  Time to be more diligent in cleaning the floors!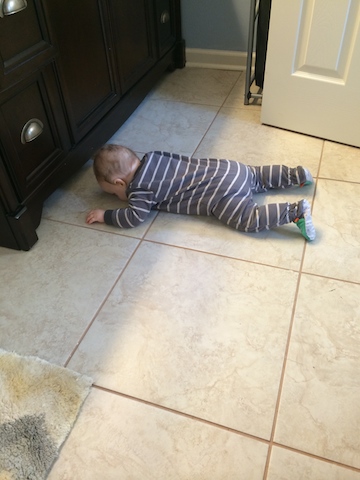 Sad, cranky baby.  Why is he crying?  Who knows.  Probably because he isn't being held.  Or because he's exhausted from not taking naps.  Sigh.  This is unfortunately a too-common (in my opinion) occurrence around here.
He really is a pretty happy baby though.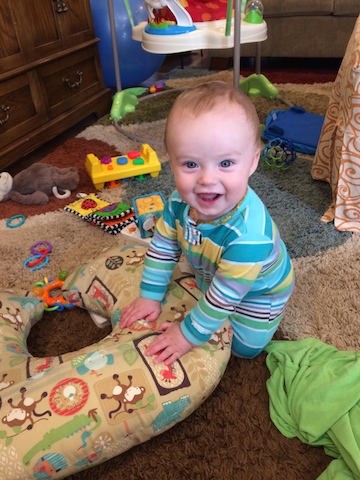 Chilling with his legs crossed and chewing on a spoon.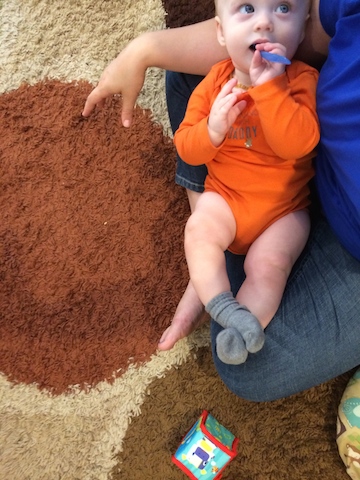 This is his concentrating poop face.  He's very obvious – he gets very still and you can tell in his face that he's pooping.  And then usually you can hear it when it happens!  Eww.  It's pretty funny to watch.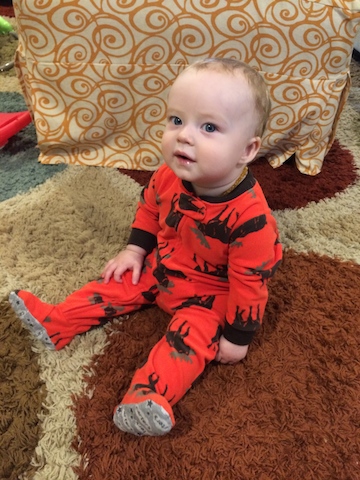 "Helping" Daddy read a book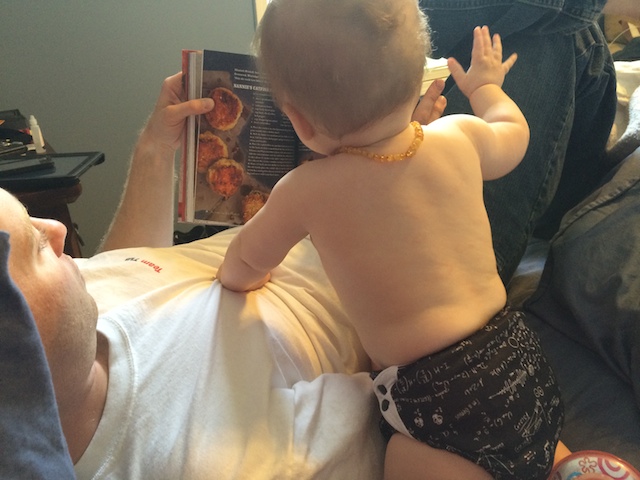 This was not his first bug bite, but it was definitely his most prominent one!  Poor kid looked like he had a big 'ole zit right on his forehead!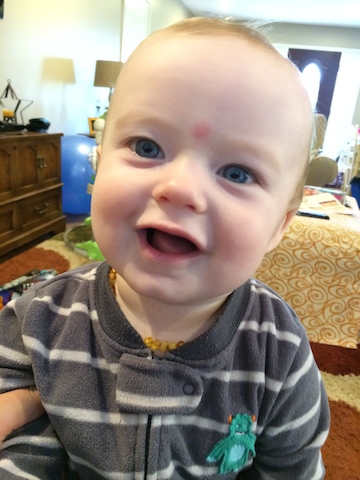 We went and visited Michael at work one day and their secretary had this clown nose in her desk.  Hudson didn't care for it but he sure looked funny for the few seconds he left it on!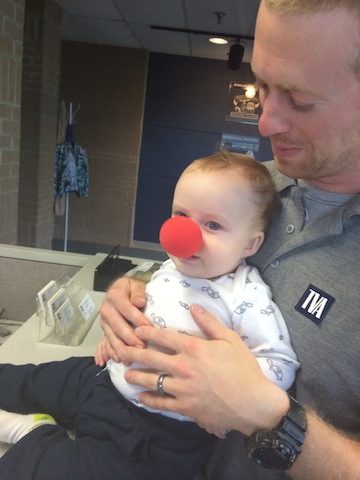 I love this comparison of me at 39 weeks pregnant and Hudson at 39 weeks old.  I tried to hold him so he was curled up in the shape of a pregnant belly to compare but he wasn't having it – still a cute shot though!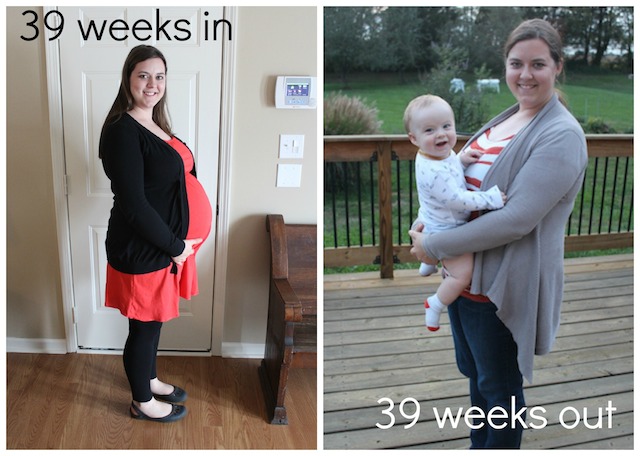 And here's our monthly comparison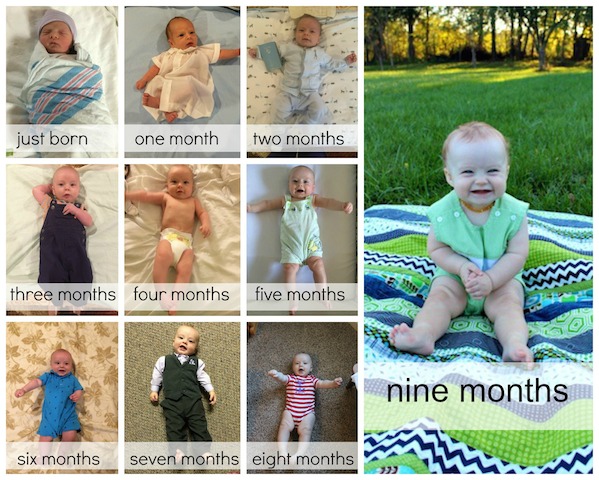 I'm constantly amazed at how he grows and changes.  I love my little man so very much and can't imagine going back to life without him!