Ten months old – double digits!  Unbelievable.
growth
Our little guy is just growing and growing!  He weighs 23 lbs 2 oz and is 28 inches long.
Last month at this check up his blood work indicated that he was anemic.  Our pediatrician wanted us to give him a baby vitamin and come back to be rechecked.  We tried the vitamin but it made him throw up so we just focused on feeding him iron-rich foods (beans, eggs, meat).  We also purchased some iron fortified baby cereal to see if that would help.  After two weeks we went back for a check and he was still anemic so our doctor prescribed some iron drops.  They smell very metallic but must taste a lot better than the baby vitamins because Hudson takes them with no complaint.  We give them to him three times a day and his iron has now gone back up to normal.
food
This month Hudson finally started really eating food.  Up until now he mostly just played with whatever food we gave him but toward the end of 9 months and the beginning of 10 months he all of the sudden started loving to eat and devouring what we gave him.  He ate so many new things this month that I'm not sure I can list them all but some of his favorites include fried rice, Mexican rice, chili, baked ziti, potato soup, and wild rice soup.  Other things he eats a lot are bananas, yogurt, beans, sweet potatoes, steamed veggies, fajitas, apples, and applesauce.
He mostly feeds himself unless we're out at a restaurant or it's something very messy (yogurt, applesauce, soup) and then I feed him.  If we put a lot of food on his tray he would cram it all in his mouth and then gag and spit it all back out.  He has gotten better about just eating a little at a time, but I also don't put as many bites on his tray at once and instead just give him a little at a time.
If he really loves something and you aren't giving it to him fast enough he will shout at you!  We ate out at a Mexican restaurant one night and I was feeding him some of my rice and he kept screaming because he wanted to eat it faster than I could put it in his mouth.  I could barely get a bite in myself before he was hollering for more.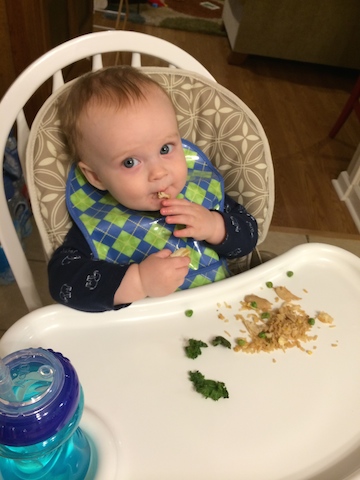 (fried rice and kale chips)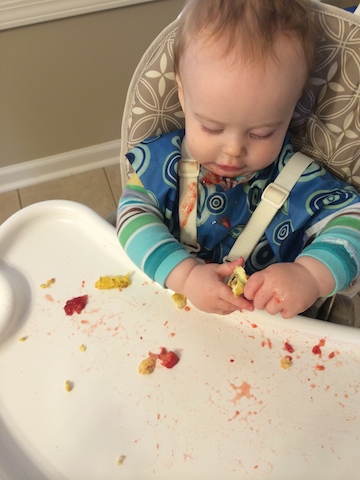 (scrambled eggs and strawberries)
Since we did baby led weaning we had totally skipped the baby cereal and baby food but because he was anemic we thought we'd try giving him some baby cereal since it's iron fortified and see if that helped any.  I made the mistake of letting him feed himself the cereal though and learned quickly that was a huge mess!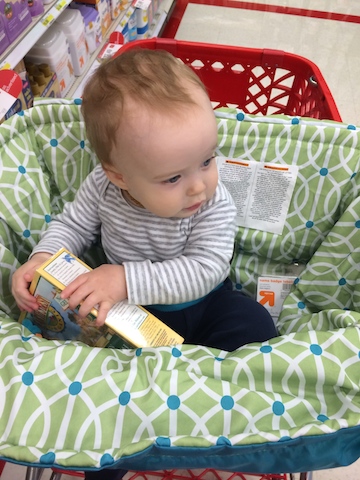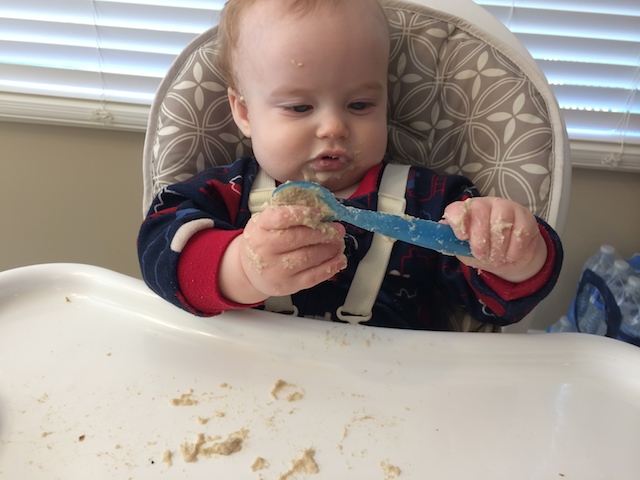 He finally mastered the sippy cup.  He has a straw sippy and he alternates between sucking the water out and blowing into the straw, but he can get the water out (now whether he swallows it or just lets if run out of his mouth is another story…baby steps).
He still nurses at least four times during the day and several times during the night.
sleep
I wish I could say better but….it's not.  He still wakes up multiple times during the night.  We had one stretch of at least a week where he had to be held to sleep so instead of being able to lay him down at his bedtime and then us get some things done one of us had to hold him.  We watched a lot of tv while we sat and held him those evenings!  There were a few particularly bad nights right around the time his top teeth came through and he was up for a lot of the night.  Miserable for everyone.
He still sleeps in our room.  We start out the night in his cosleeper next to our bed and then put him in the bed with us when he wakes up to eat.  Some nights if he's really restless he sleeps the whole night in our bed.
This month I put us on a nap time boot camp.  Hudson had been such a terrible napper, literally napping for less than an hour all day and it was seriously wearing on me.  So for a week or two we turned down outside activities, stayed camped out at home, and worked on napping.  When I say we worked on napping I mean I set a certain nap time for each day and then after I laid him down I sat right next to him while he slept and as soon as he woke up (if it hadn't been very long) I rocked him back to sleep, laid him down, rinse, and repeat.
We had some success!  We (finally) have a schedule, which is a huge relief for me.  It was very stressful trying to make plans and not really knowing when Hudson was going to nap and how that would coincide with our plans.  It's not a super strict schedule and we adjust based on how late/early he gets up or if we have something we need to do during that time.  We're flexible.  But for the most part he takes a morning nap around 10:00 and an afternoon nap around 2:00 or 3:00.
The sleeping on his own part still isn't going so great.  He naps much better while I'm holding him.  Now that we have a schedule I'm going to work more on him sleeping on his own but for now I'm just wanting him to get good naps in so I hold him.  It was very frustrating for me at first – I had to watch him constantly when he was awake and then hold him when he slept and I felt like I never got anything done.   I still am unable to get lots of things done because of that, but I've tried to start using his nap times to blog or do essential oil stuff or other things that I do on the computer because I can hold him and work at the same time.  That way I don't feel like I'm sitting for hours and wasting time.  Now if I could just figure out when to clean my house…
He started sleeping with him bottom in the air this month instead of laying flat on his belly with his legs out behind him.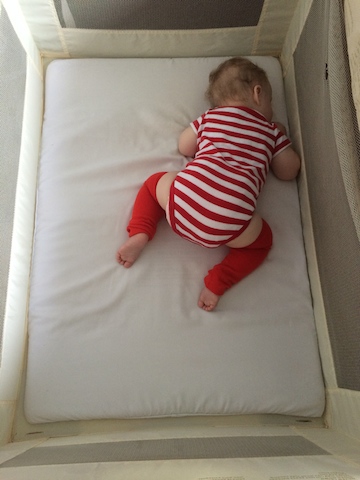 This one day he took a huge long nap but was very restless and moving all over the bed.  Good thing I was sitting right there with him (he doesn't sleep in our bed unattended, just in case you worried) and had a hold on his ankle because he tried to fall right off!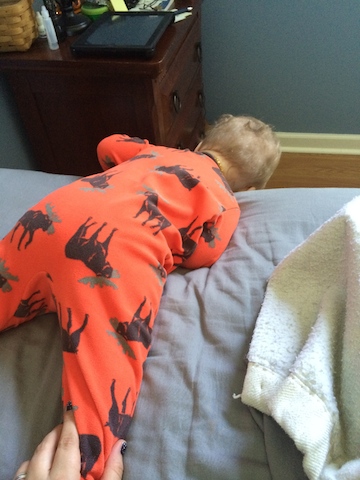 I love this sweet, crazy bed head!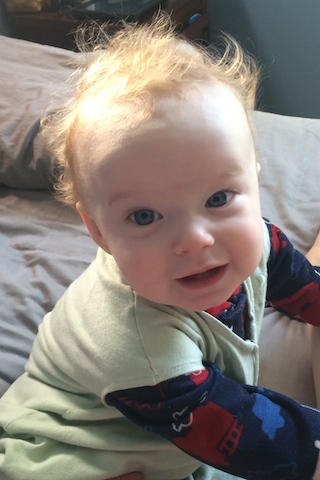 mobility
Hudson is everywhere.  He's a crawling machine and is surprisingly fast.  He pulls up on everything and can reach more and more stuff.  We've had to take everything off the ottoman and end table in the living room because he can reach anything on there, even if it's in the middle.  We can't leave anything on the edge of the kitchen table either because he can reach up and grab some of that too.
We cleared out the dining room to make his play room so that he could crawl around and play with his toys and (hopefully) stay out from under my feet in the kitchen.  It works maybe 50% of the time and then the rest of the time he's right there with me.  The first day I put him in the playroom I thought he'd be so excited and distracted.  Nope.  He crawled right out of the playroom and to this bag of sweet potatoes we had in the kitchen.  All those toys and that's what he goes for.  Sigh.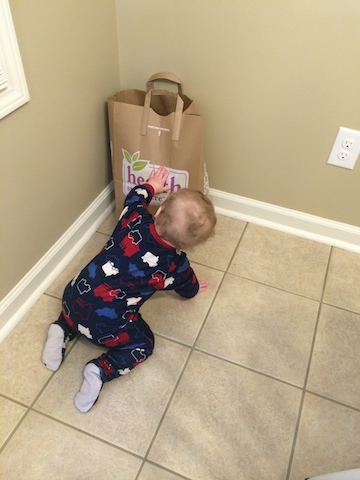 We borrowed some costumes from my brother for Halloween and I had them sitting in this pink tub.  Hudson loved pulling up on the tub and playing with the costumes.  He got a hold of the Harry Potter wand one day and had a good time waving it around…wizard in training.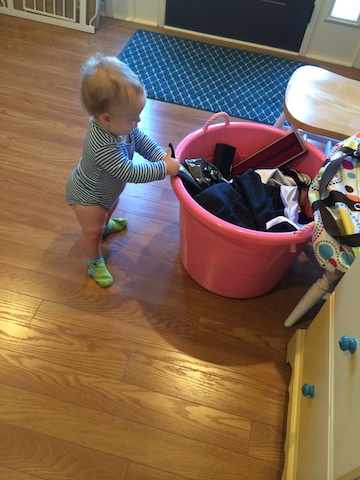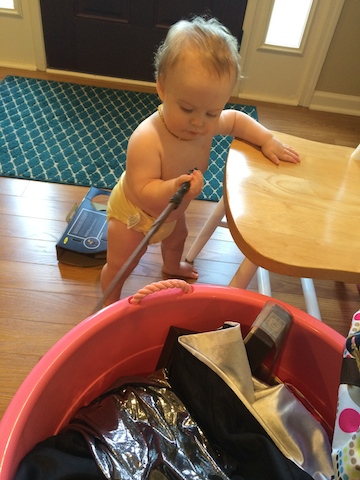 We've moved most things out of his reach but we have a box of empty honey bottles and some hooks that we left out.  Hudson loves to play with them and since it's not something that he can ruin and it won't hurt him I just let him.  Funny how he's much more interested in the non-toy stuff than he is his own toys!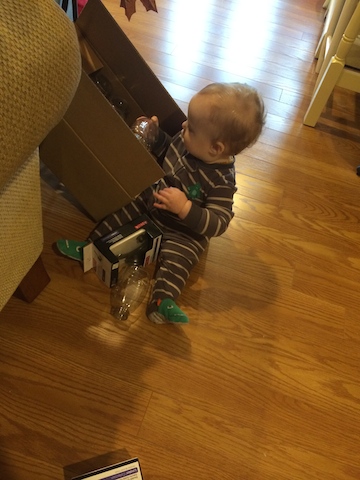 He pulled my workout journal off the counter and ripped it up.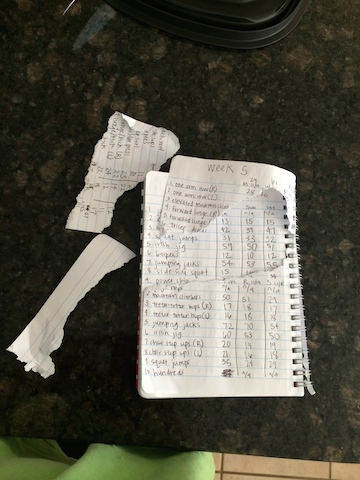 He can also walk sideways while holding on to the furniture.  He has let go a few times but does it on accident and falls down immediately.
other firsts
Hudson's top two teeth came in this month.  He had more difficulty with these than he did with his bottom two.  He was fussy for a few days (and nights!) and you could see the teeth bulging under his gums trying to come out.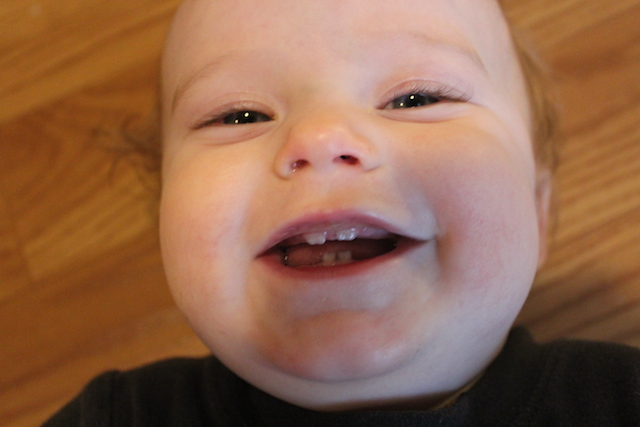 We also had our first semi-serious injury.  He loves to pull up on the oven and look at himself in the glass but apparently the drawer under the oven, where he always puts his hands to help him pull up, had some sharp edges.  I was fixing dinner one evening and he was playing in the floor; he started crying and when I looked down his hand was covered in blood.  He had sliced two of his fingers opened on the metal and it was a big bloody mess.  Fortunately it wasn't bad enough for stitches or anything and it looked up worse than it really was but it was still scary for this mommy!
Also, bandaging a wiggly baby who doesn't want to uncurl his fingers is no small task!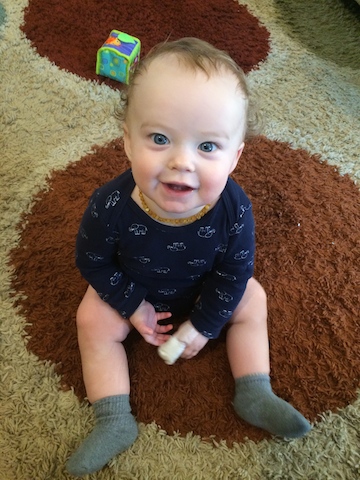 new skills
Not a skill, but a new personality quirk that he has developed is that he is afraid of everything.  He went through maybe a two week spell where everything terrified him and he'd cry hysterically.  If we went to someone's house and there were loud kids or a barking dog he would lose it.  If kids came over to our house for a play date he would cry and cling to me instead of playing with them and his toys.  We have this bear that talks and plays peek-a-boo and the first time we played it for Hudson he absolutely freaked out.  Fortunately that seems to have passed because he has been much better around other people, he likes his peek-a-boo bear now, and he even got close to my friend's dog without crying!
He gives tons of kisses (big, open mouthed, wet ones!), claps, waves, and does "yay arms" (throws his arms up in the air when we say "Yay!").
(I was trying to take his monthly picture and he kept doing Yay arms and then crawling toward the camera.  It was very hard to get a good picture!  I thought these were hilarious so I had to share.)
adventures
Michael went with our church to a men's retreat overnight one weekend so Hudson and I went and spent the night with my mom.  He had fun playing and getting lots of attention and I enjoyed getting to sleep!  Hudson slept in his pack 'n play in my mom's room and I slept in a separate room.  He woke up a few times but went right back to sleep for her so I was able to sleep the whole night (other that having to get up and go to the bathroom, bummer) and not get up with him a million times.  It was lovely.
While we were there we went to their Goodwill (Goodwills in TN are SO much better than the ones in KY!) and found some cute Halloween costume ideas.  We ended up going with the pumpkin but both were adorable.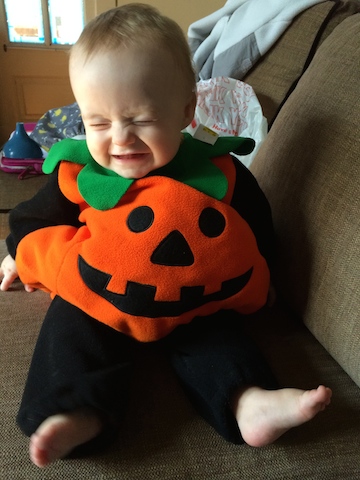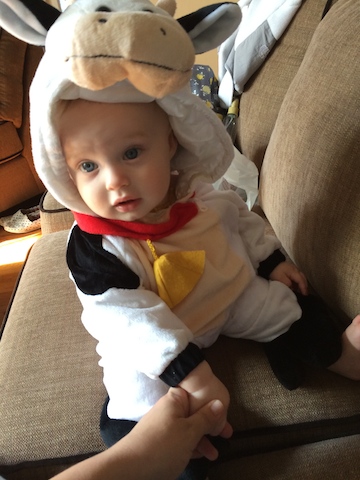 Mom got some of my and my brothers' old clothes out to see if there was anything that would fit Hudson.  We put an old bonnet of mine on Hudson.  He was less than thrilled.  I thought it was hilarious :).
Hudson celebrated his first Halloween this month.  We had this cute pumpkin onesie that he wore to church the Wednesday before Halloween.  The outfit fit fine but the hat was way too small (and he kept pulling it off anyway).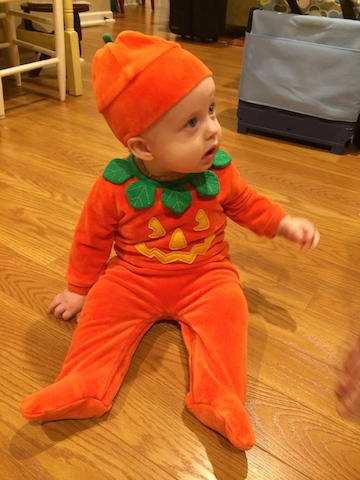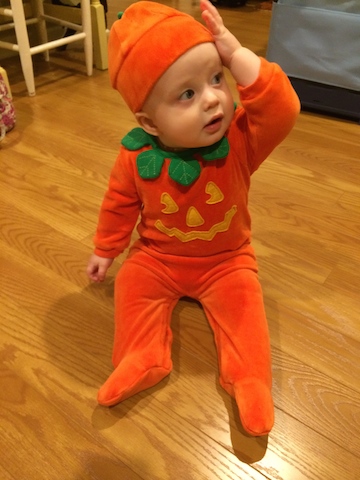 On Halloween he wore the pumpkin costume we found at Goodwill.  We took him trick or treating to two of our neighbors' houses so they could see his costume.  Then we went to Trunk or Treat at our church.  It was super cold so we only stayed out at our trunk for a few minutes to hand out candy. Hudson was not a fan of all the costumes or when everyone clapped for all the contest winners.  He loved eating chili though!
other stuff
A few weeks ago I was at the end of my rope with the car seat situation.  He STILL cries most of the times we're in the car and while it had improved some for a few months, this month we went drastically backward to where he would start screaming and clinging to us as we walked to the car, before we even got him in his seat.  It was awful and Michael and I were seriously dreading the holidays because of all the traveling we'll have to do.
So I went to my biggest source of parenting advice, Facebook, and asked my friends for help.  I got tons of helpful suggestions and lots of people commiserated and said their kids were the same way…unfortunately most of them said they just had to wait for their kids to grow out of it but at least it was nice to know we weren't the only ones.  We tried several of the suggestions with no luck.  The two most popular ones were to use a dvd player or to turn him forward facing (tons of people said their kids traveled much better once they were able to turn then around).  We really didn't want Hudson to watch any tv at such a young age but we also don't want to turn him forward facing anytime soon because of safety reasons.  We talked about it and decided that tv was the better of the two options and to give it a try.
I tried riding in the back with him and playing YouTube videos on my phone.  Guess what, it worked!  Not 100% of the time, he still cries some, but it has helped a TON!
Some other random cute pictures:
I love a baby in a suit!  Those shoes stayed on about 10 minutes but were cute while it lasted.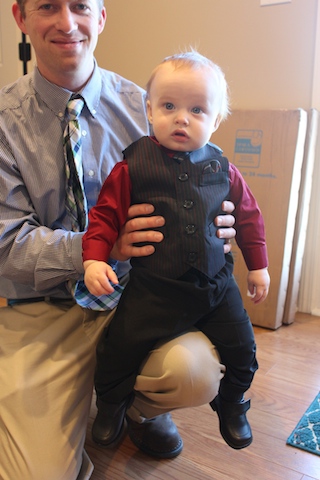 Riding on mommy's shoulders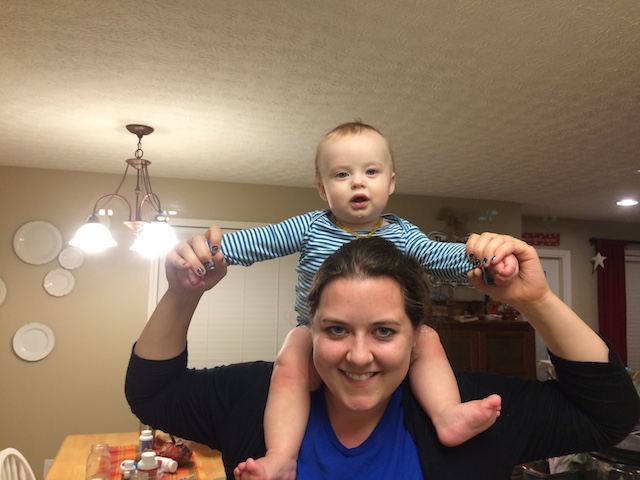 Hanging out in a tote bag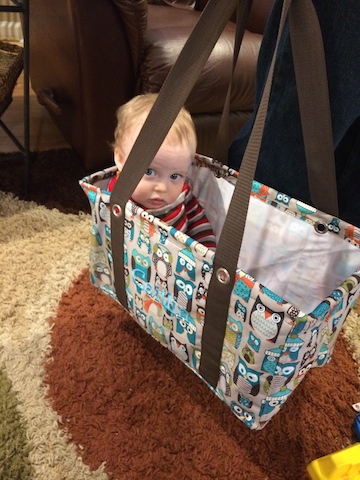 One night after his bath we parted and combed his hair down like a little old man.  It's crazy to me how different he looks with his hair like this!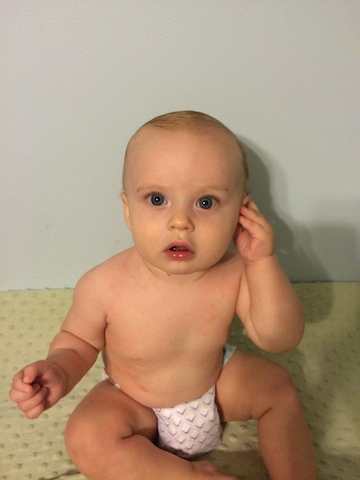 And here's our monthly comparison