Eleven months.  Sniff.  Sniff.  That means the next time I do one of these posts he will be a year old!  It's gone so fast.
growth
According to our very unofficial measuring Hudson is 23 pounds and 29.5 inches.
His 12 month pants (like jeans and khakis) are way too small now and stretchier 12 month clothes are getting tight too.  He's right on the verge of 18 month clothes; he has a few 18 month items that I've been going ahead and putting on him – they are a bit too long still but at least they aren't like spandex!  In disposable diapers he wears a size 5.
food
He LOVES to eat and he eats a variety of food.  The holidays have really given him some new yummy things to try.  Some favorites have been turkey and dressing, macaroni and cheese, broccoli casserole, vegetable soup, spaghetti, ham, steamed broccoli and cauliflower, oranges, beans, and so much more.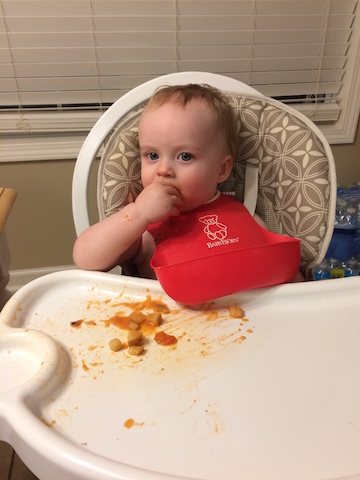 vegetable soup
first time eating spaghetti…and loving it!
He still nurses four times a day and once or twice during the night.  We don't hold a strict schedule around here but it usually works out to be about 8am, 12pm, 4pm, 8pm (so basically: before breakfast, before lunch, in the afternoon, and then right before bed) then he'll wake up once or twice between 8pm and 8pm (let me be clear…many nights he wakes up multiple times between the time we lay him down for bed and the next morning, but I usually only breastfeed him once or twice during those wakes ups).
Something new that he's doing is burping after he nurses.  Once he was able to sit up on his own I quit patting his back to burp him but recently I've noticed that after he nurses and I sit him back up he does this funny little hum sound and kind of pushes some burps out.  I don't even know how on earth to describe it but it's pretty funny!
sleep
Well, it's a little better.  He takes two naps – one around 10am and one around 2pm.  I hold him the whole time while he naps or otherwise he won't sleep.  His New Year's resolution is to start sleeping on his own ;).  We're going to work on that this coming month.
He starts out the night in the cosleeper next to us then ends up in our bed at some point.  Usually he wakes up several times during the course of the night but not because he's hungry so we just rock him and put him back down.  Thanksgiving night we stayed with my grandparents and he slept an uninterrupted stretch from midnight to 6:30!  That hasn't happened in over five months!  I don't know if he was just totally pooped from all the activity or what.
On a good night he will go to sleep easily, wake once to eat before we go to bed, stay asleep until 6am or so before he wakes up to eat again, and then sleep a little longer until finally getting up for the day around 8am.  That is rare.  Most nights there are significantly more wake-ups than that.  But hopefully he'll keep improving and this will become more of the norm.
We can only hope.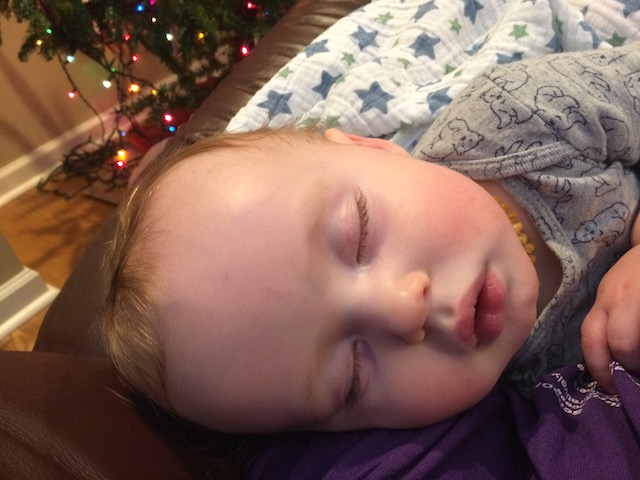 Even though I get frustrated having to hold him to sleep so much, I wouldn't trade this view for the world.  I'm trying to enjoy the snuggles while I can.
mobility
Super fast crawling, lots of cruising (holding on to furniture and walking around it), but not standing independently or walking yet.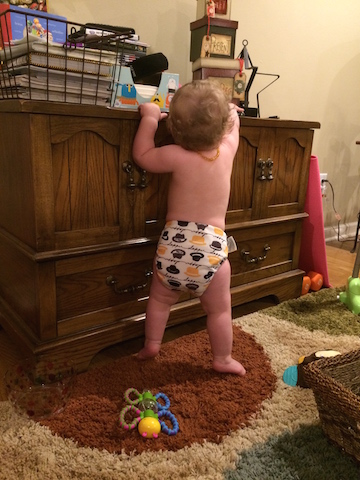 We keep having to move stuff further and further back as he is able to reach more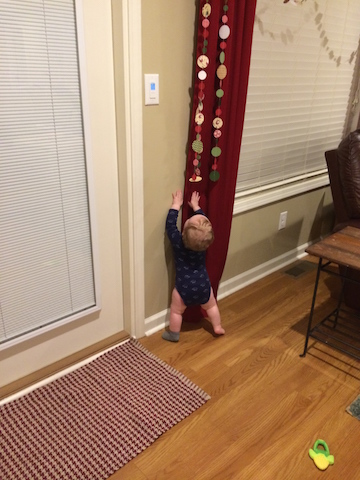 I was nervous about putting the Christmas decorations out and for good reason!  As soon as I hung this garland up he tried so hard to reach it.  He wasn't quite tall enough but he sure tried hard.  He left it alone after the first night.  The Christmas tree was another matter…I had to move him away from it many times a day because he wanted to pull the ornaments off and yank on the strands of lights.  That was exhausting.
other firsts
Hudson said his first word!  He's been babbling forever and making sounds like "dadada", "bababa", "mamama", etc. but right around Thanksgiving he started mimicking us saying "bye bye" and he's been saying it ever since!  Any time he hears us say bye or tell him "Hudson, say bye bye" he'll say it.
Since he has teeth now we got his first toothbrush.  I'm not as consistent about using it as I should be (as all my dentist and hygienist friends cringe and fuss at me) but we try to brush his teeth before bed (when we remember).
He discovered the stairs this month but he doesn't really try to climb them yet, just stands there and will reach for things that I've set on the steps.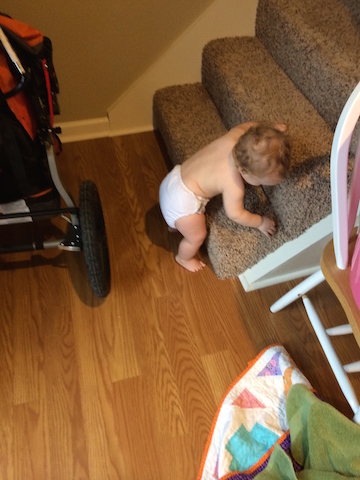 adventures
We went to see Santa at our local library and he did much better than I expected!  I thought he would freak out and cry but he just looked at him very solemn for a while.  We couldn't get him to smile for the picture but at least he didn't scream.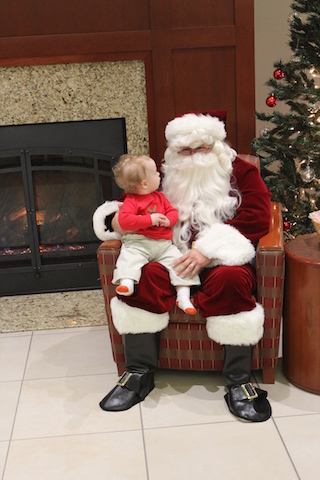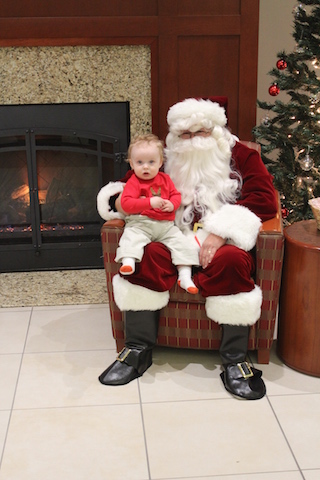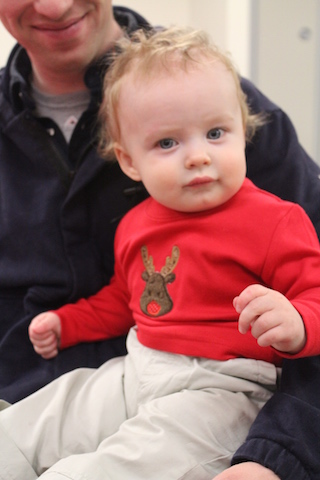 showing off those pretty teeth!
We went to the mall one day to do some Christmas shopping and the area of the mall that has Santa also periodically "snows".  It started snowing while we were walking past so I drove Hudson through it.  He was not a fan and started crying.  I wasn't a fan either once I realized it was soap or some other weird substance that I had to clean off of everything!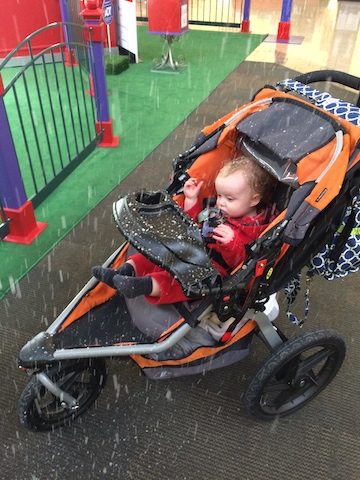 Michael had to go out of town for work for a week; Hudson and I stayed home for this trip and my mom came and stayed with us for a few days.  One evening during that week I had a booth at a Christmas bazaar and I left Hudson at home with my mom instead of bringing him like I usually do.  I was gone for about four hours and that was definitely the longest I'd ever left him.  He did great, it was just a pretty big step for us!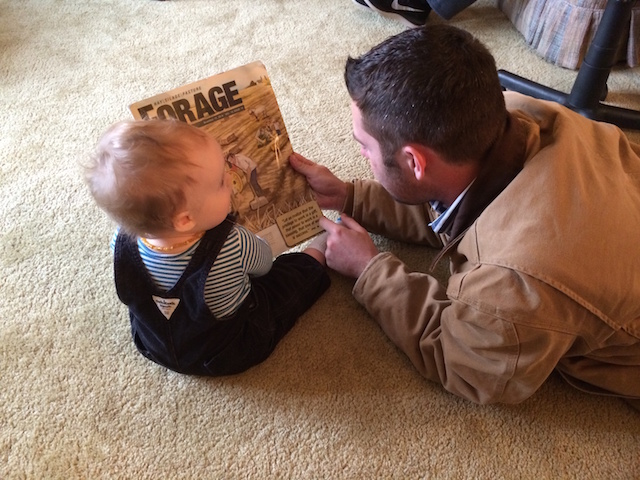 playing with Uncle Brendan at Thanksgiving
We travelled quite a bit this month for Thanksgiving and Christmas.  Hudson did much better with all the people around at the holidays than I expected!  His cousins and aunts and uncles just loved seeing him.  He travelled better than I thought he would, too.  We borrowed a dvd player from a friend and found that it kept his attention pretty well so we downloaded some Daniel Tiger episodes and rigged up my old iphone for him to have something to watch in the car.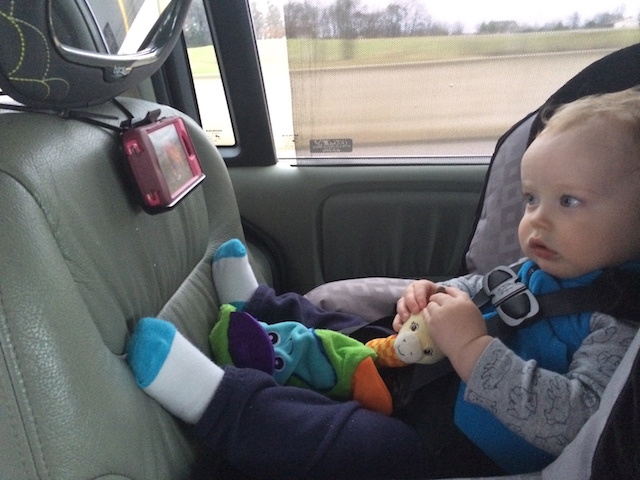 He does better (not great, but better) in the car when he's watching his shows, although long trips I still have to sit in the back with him, hand him toys, talk to him, hold his paci in, pat him, etc.  It's exhausting and a workout but the screaming has decreased dramatically so it's worth it.
other stuff
His hair just gets curlier and curlier, crazier and crazier.  I've given up brushing it after a bath because that actually makes it look worse, so I just let the curls do their thing.  We get asked all the time where he gets his curls from…the answer is Michael!  His hair was curly when he was little and would be wavy now if he let it grow out.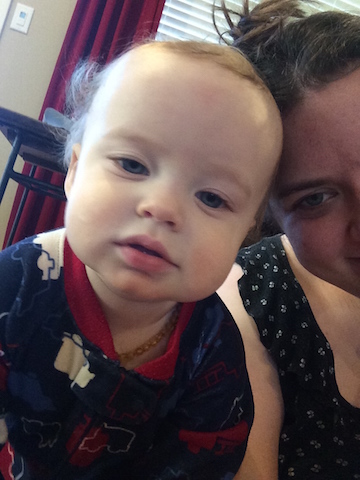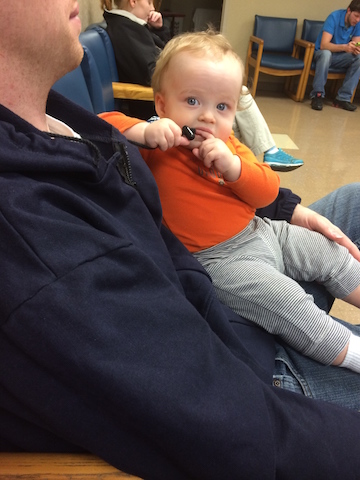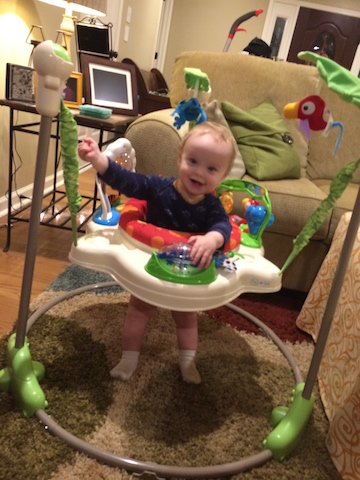 So cute – I was stretching during my workout and he started copying me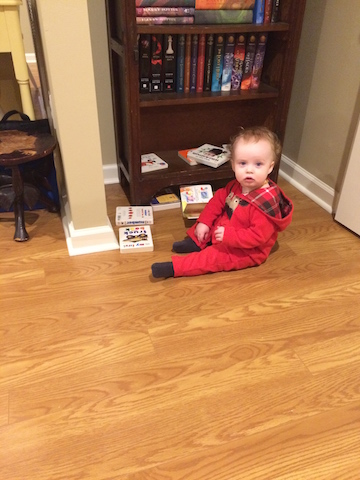 I put several of his books on that bottom shelf (because he was always trying to pull our books off the shelf) – he'll go get them and sit and flip through them for a good long time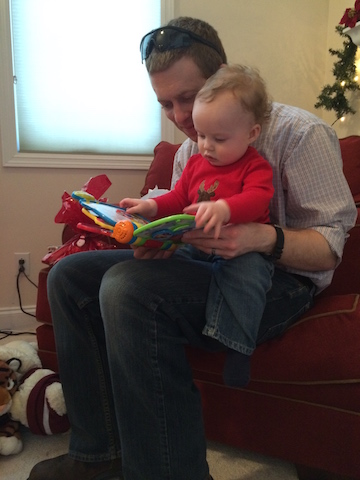 reading a new book he got for Christmas
For some strange reason he started hating baths this month.  He used to love baths and would splash and play but right now he screams his head off in the tub and will fight you to try to keep you from setting him in the water.  I *think* it's because we recently started sitting him up to wash him (instead of laying him on his back on his foam pad thing) and a couple of times I got water in his face when I rinsed his hair.  My best guess is that kind of traumatized him and now he doesn't want to take a bath at all.  We're working on trying to get him comfortable in the bath again but it's not very fun right now!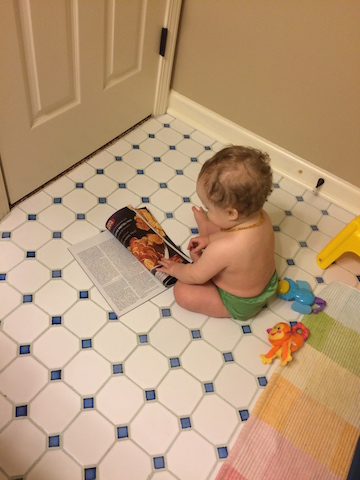 oh you know, just hanging out in the bathroom flipping through a magazine…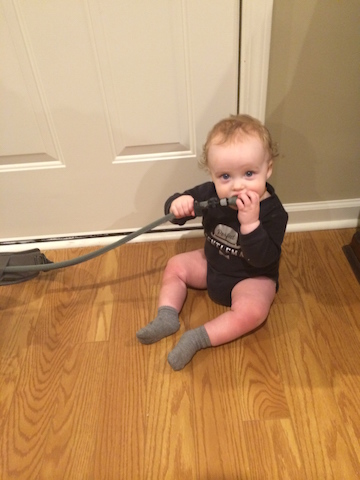 chewing on Daddy's camelbak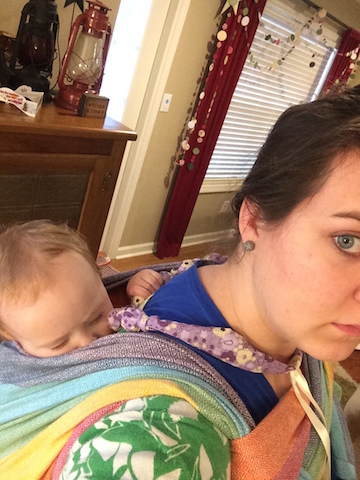 passed out in a back wrap nap
I know this is a bad picture because it was so dark but I have to show how he uses his paci sometimes – he sticks the whole entire thing in his mouth!  He's nearly gagging on it when he does that, but he keeps doing it over and over so I guess it doesn't bother him too much.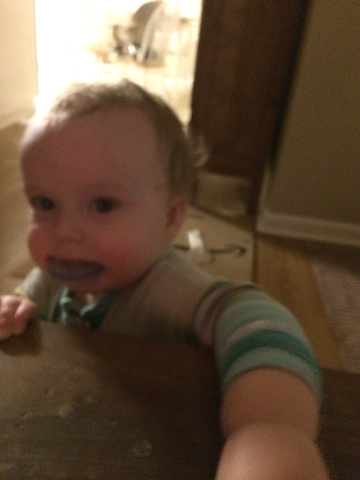 And that wraps up Hudson's 11th month!  I'll see you back here in a month to do his ONE YEAR update.  Wahhhhhh!