The Date: New Year's Day 2015
The Time: 9:15 pm
The Setting: Our house
The Background: After a whole day spent taking down Christmas decorations, giving the house a good clean, Hudson refusing to nap and being a general fuss bucket, I was wiped.  Usually Michael and I stay up 'til midnight or later but I was so exhausted that I took a shower and was already in bed reading, planning to go to sleep early.  Hudson was asleep in his bed next to ours.
The Story:   I'm laying there reading and I hear a "drip, drip, drip".  I think to myself "Hmmm, I must have not turned the shower off completely.  I'll ask Michael to turn it off when he comes into the room".  Because I'm tired.  And I'm pooped.  And I don't want to haul myself out of bed to check on the shower.
Michael is in our half bathroom off of the living room and he also hears a "drip, drip, drip".  He thinks to himself "What is Caitlin doing out there to make that sound?".
And then.  Chaos.
Michael shouts "hey!!"…pause…"HEY!!!"
This is big cause for alarm, my friends.  Michael is not a shouter.  Like, ever.  I'm the loud one, not him.  Plus, Hudson was asleep.  Once he's asleep we whisper. WHISPER, y'all.  Michael would never, EVER shout and risk waking Hudson up.
So obviously something terrible has happened and I just know an intruder is in our house or some similarly awful event.
I bolt out of the bed and run out the room, slamming my thigh into the corner of the bed as I run, and yell "What?!? What?!?".  Thankfully Hudson stays asleep.
Michael is already running up the stairs and yells down at me to grab some towels.
No need to ask why because now I can clearly see the water pouring steadily out of the light fixture in our living room.
Oh no.
Michael gets upstairs and sees that the washing machine is full to the top but water is still spraying into the barrel.  Water has come out of the washing machine, flooded the laundry room and hallway (and part of the attic, we later found), and leaked through the ceiling, and come out through one of the light fixtures.
I grab towels and wipe up the puddle in the living room then put a large mixing bowl under the light to catch the water.  We start mopping up the water upstairs.  We used every.last.towel in our house.
Michael calls his dad to bring the shopvac over.  They pull up the carpet, run the shopvac, and set up fans everywhere.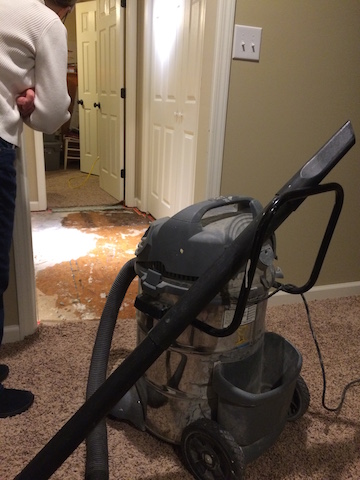 Around midnight we've done all we can do so we finally head to bed.
So much for an early night, huh?
(Hudson slept through all the commotion too.  Amazing since he's a terrible sleeper even on a good day!)
Turns out, one little hose from our fancy-dancy, less than two year old washing machine had come loose and was spraying water everywhere.
The good news:  
– Nothing was seriously damaged.  There is only one tiny water spot on the living room ceiling and a larger (but not awful) one in the garage.  The pad under the carpet had to be replaced but the floors and the carpet were fine.
– Usually I have a tub of my Young Living stuff that I take to classes and vendor events that sits right directly under that light fixture.  It would have all been completely soaked but we had moved it when we mopped the floors during our huge cleaning spree and had not put it back yet
– For some reason, instead of putting all the Christmas stuff back in the attic that day like I normally would do I had just stacked it all in the guest room and planned to put it in the attic later.  Good thing because water leaked into the attic in the exact spot where the Christmas decorations would have been.  As it were, only a few empty cardboard boxes in the attic got wet.
– We have incredibly kind neighbors who let us use their washing machine the next day to wash all those towels and the clothes that had been in the washer when it broke.
– This happened while we were home and awake; I can't tell you how many times we've started the washer right before we go to sleep or leave the house.  It would have been horrible if we hadn't caught it as early as we did!
The bad news:
– We had to buy a new washing machine.  But it's easier to use than our old one.  And it plays a pretty song when it's done washing.  And we got our old one fixed so we should be able to sell it and get some of our money back.  So I guess it's not all bad.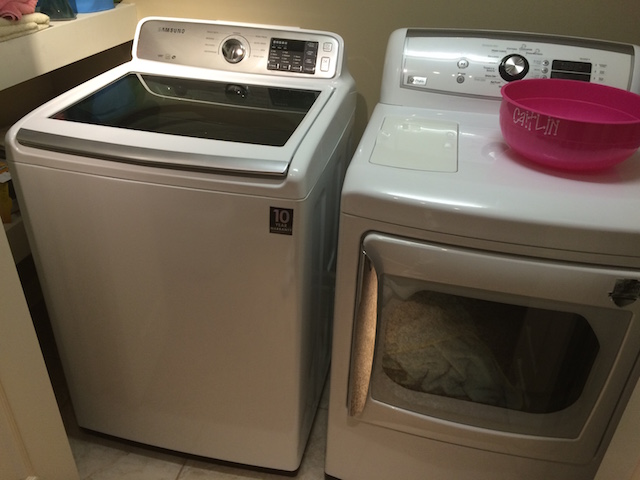 What a way to start the New Year.  Let's hope the rest of 2015 is much less eventful!