Last night I *finally* got the curtains done for our kitchen and I'm in LOVE!  So, so cute!   The fabric I chose looks ever better than I expected and the addition of the curtains gives this space some needed color and coziness.
---
This post may contain affiliate links.  If you purchase a product through an affiliate link I make a small commission at no cost to you.  This helps keep my blog running so thanks for your support!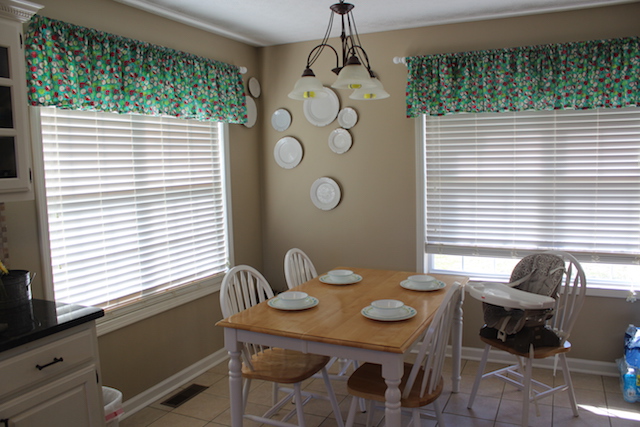 The fabric I used is called Tutti Frutti Apples.  After two years of living here and never finding the perfect curtain fabric (not that I had looked that hard, mind you) I stumbled upon this last fall at a fabric shop in my hometown.  The fabric was $7 a yard and that was more than I wanted to pay so I left it even though I really loved the fabric.  Luckily, a few months later I was at my favorite local fabric store and discovered that they had this fabric in their $2.50 clearance bin!  Hooray!
I bought all that they had and it ended up being exactly what I needed.   I think I had maybe a half a yard leftover.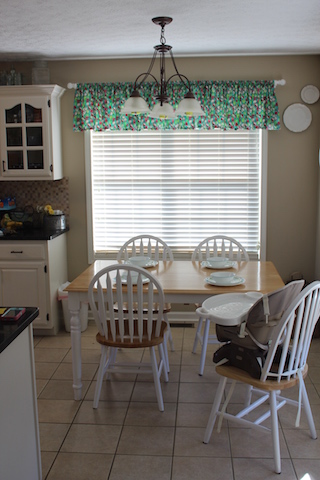 I thought about doing a picture tutorial but honestly there are a million curtain tutorials on Pinterest and mine is nothing special.  But for what it's worth, here is the quick Caitlin version:
For a nice, full, ruffly curtain I used 3 times the width of my window.  I didn't even measure in feet or inches, just held the fabric up to the window three times to determine how much I needed.
I cut split the yardage in half by finding the middle, cutting in about an inch, and ripping.  It thrills me every time how fabric rips in a straight line.  It's quite satisfying and makes me feel like I'm on Project Runway.  Each half became one valance.
Then I just hemmed around each rectangle, leaving room at the top to slide the curtain rod through.  Fold over twice, press it down, sew a straight line.  Easy peasy.  Really the ironing is the most tedious part.  I don't even pin and then the sewing goes very quickly (as long as my junky machine doesn't jam up a million times.  grr).
The sides I folded over 1/2 inch and then 1/2 inch again.  The bottom I think I did 1/2 inch and then 1 inch.  For the top I folded over 1/2 inch and then about 2.5 inches to allow for the curtain rod.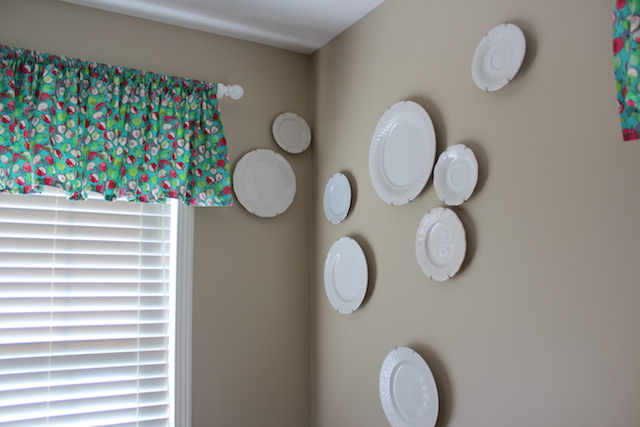 I like to follow The Nester's motto of "it doesn't have to be perfect to be beautiful".  My edges are probably not perfectly straight and I know I didn't sew in a straight line but I also know that if I don't just get it done then I'll never finish anything.  I used white thread to sew the short sides and then switched to a green that matched better for the top and bottom.  That's one great thing about the fullness of these curtains (in addition to the fact that I prefer that look) because it hides the imperfections.  I'm just happy to have it done, mistakes and all!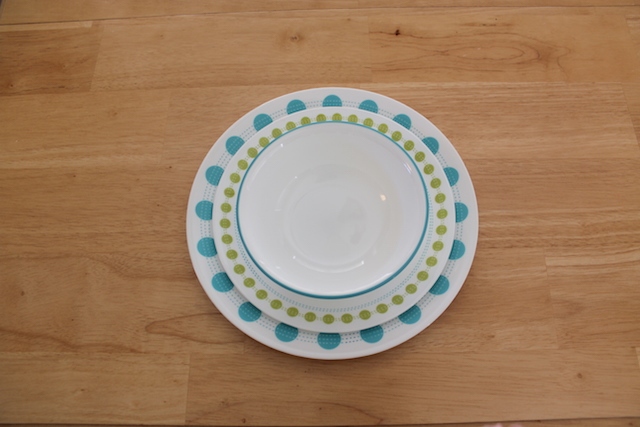 By coincidence (or probably because my subconscious is drawn to these colors) my new dishes match the curtains perfectly.  When we got married we registered for some dishes from Bed, Bath, and Beyond and I hate them!  They are so heavy and all of them have gotten chipped over the years.  I grew up using Corelle dishes and I love how durable and light they are.  I fell in love with this new (at least, I think it's new because I don't remember seeing it when I've looked in the past) Corelle print called South Beach and knew I these were perfect to replace our old dishes.  I put them on my Christmas list this year and got enough to replace our old dishes – yay!  It was a fun bonus that they matched the curtains!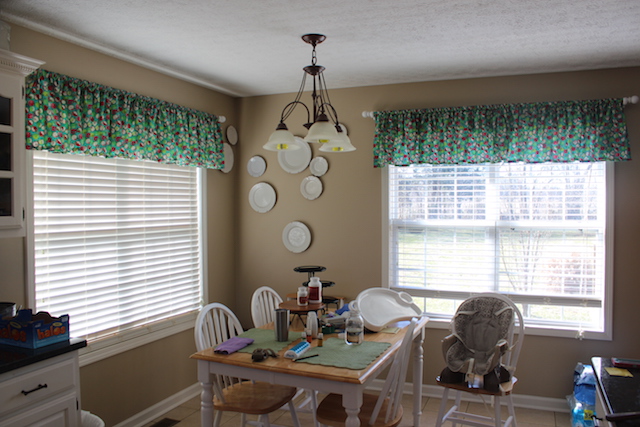 And lest you start to get jealous of my perfectly tidy kitchen with matching place settings displayed, let me assure you that is NOT real life.  This is what the kitchen table looked like about five minutes before I took those pictures.  All that mess on the table got relegated to the kitchen counters for a few minutes while I staged and took the pictures and then back to the table it went.
Just keeping it real for you.
What project, small or large, have you gotten done recently that make you feel accomplished?