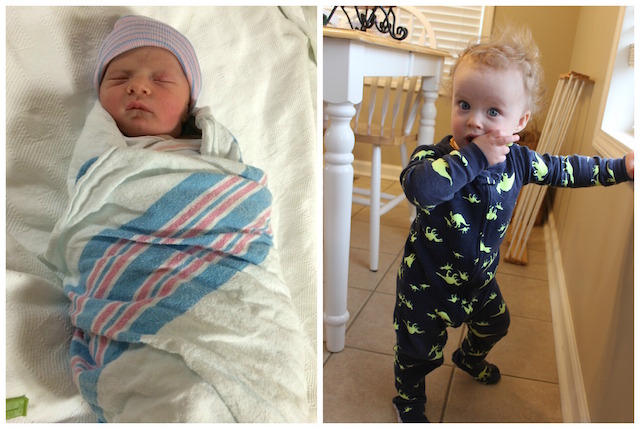 Today my little man turned one.  It sounds so cliche but I don't know how that happened.  It seriously feels like yesterday when I was holding him in my arms for the first time and now he's an active, almost-walking, almost-talking, table-food eating, laughing, cheesy, expressive, kissing, loving little guy.
I can't even begin to convey all the feelings and emotions from this past year.  There really aren't adequate words.  What a wild ride.  I love Hudson with a love more powerful than anything I had ever experienced before 7:55pm on January 23, 2014 when they laid him in my arms for the first time.
How do you even sum up such a year in one little blog post?
Hours we've spent rocking.  Many nights of broken sleep.  Thousands of nursing sessions.  Times when we sit and just watch him after he's fallen asleep.  Afternoon playtime in the floor when Daddy gets home from work.  Hours of screaming in the car.  Learning to roll and sit and crawl and grab and stand and cruise and throw and eat table foods and give kisses and sign "milk".  Snuggles in bed in the morning.  Carrying him on my back while I cook and clean.  Splashing in the bath.  Sweet curls.  New teeth.  Spitting up.  Dirty diapers.  Church camp.  Christmas.  Halloween.  Easter.  0-3 month clothes, then 3-6, then 6-9, 12, 18.  Baby talk.  Nicknames.  Playdates.  Leaving him in the nursery at church for the first time.
So many memories and special moments.
Happy birthday my sweet baby precious.  You've changed my life this last year and I love you so much.  I am beyond blessed to be your mommy.  I hope to celebrate many, many more birthdays with you…but please try to slow down time just a bit.
Here's just a sample (a rather large sample!) of my favorite Hudson pictures to recap the year.