With Hudson's birthday Friday we hit a huge milestone: one year of breastfeeding.   I did a little math and that comes out to roughly 3,000 nursing sessions (with a wide margin in either direction of course).
THREE THOUSAND.  3,000 times my body has nourished and fed Hudson.  Isn't that amazing?
If you've read my breastfeeding story then you know that I was very unsure if I would be able to breastfeed at all but my ultimate goal if I were able to breastfeed was to do so for a year.
WE DID IT!
It was NOT easy.  I shared about our many issues here and how incredibly difficult of a time we had at the beginning.  When I posted that we were eight weeks in and had gotten over the very worst.  My last paragraph of that post said:
"Breastfeeding was my Mount Everest.  My marathon.  It was something that I felt so very passionate about and was going to do absolutely everything I could to make it happen.  It turned out being much harder than I anticipated but I persevered on and we did it.  I couldn't be more proud."
Rereading that entire post, and that quote in particular, makes me cry.  Eight weeks compared to the 52 I've now nursed is such a small percentage, but it was so trying and so discouraging, and that paragraph just sums up everything I was feeling.
The worst of the breastfeeding issues had thankfully passed by the time I wrote that post.  I still had pain every time he latched, although not nearly as bad, for the first five months.  Months five to eleven were great – super easy.  As he gained more mobility and head control nursing at night became easier because he could lay next to me in bed and I could doze some.  Latching was basically painless.  Feedings were much quicker.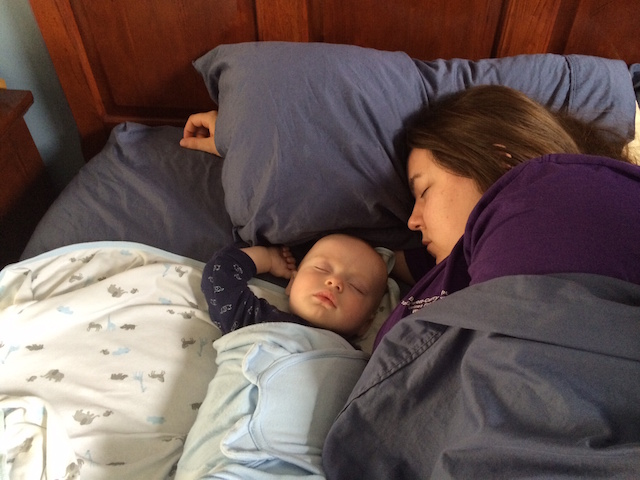 Pain unfortunately came back in month ten or eleven as he got his top teeth.  He has only bitten me once, but many times when he latched it hurt and he would leave teeth marks just from the pressure of his teeth.  Thankfully that has now passed for the most part.
There have been several plugged ducts but have never gotten bad enough to turn into mastitis.  I've had supply dips only twice since the original issues, both times when I tried to diet and apparently didn't eat enough.  Both times were easily resolved with some of my tincture.  Hudson is a very active nurser who likes to kick and pinch while he eats.  That's very frustrating.
For six months he was exclusively breastfed.  At six months we introduced solids but still kept breastmilk as his main food source.  At a year he still nurses several times a day but also eats rather large meals.  He won't drink from a bottle, only from the breast.
It hasn't all been sunshine and roses but compared to the beginning it's been a cake walk.  Feedings are so quick, less than 15 minutes!  The frequency has gone down.  He no longer spits up tons after every feeding.  We both are experienced nursers now and know what we're doing.  Compared to the poor fumbling pair we were a year ago we are total pros now!
Reflecting back on the year it amazes me how far we've come.  Being able to breastfeed my baby was so important to me and it means the world that we were able to do so.  Yes, it can be challenging and yes it can be painful but the bond we have is indescribable.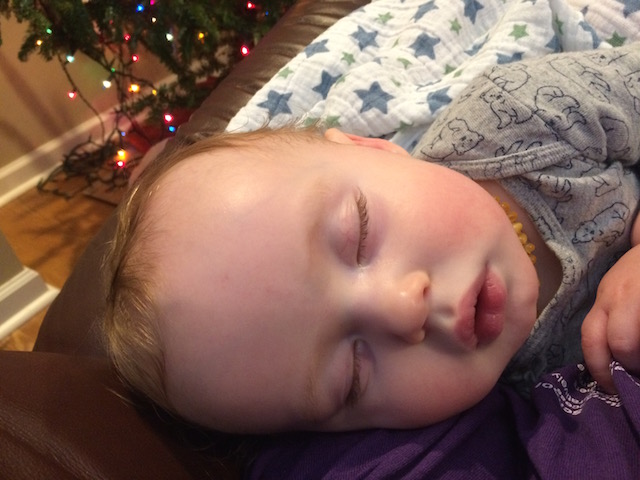 So where do we go from here?
I actually don't have a plan.  Like I said, getting to a year was my goal and I didn't think much past that.  I do not intend to wean him now just because he's one and that's some magic cut off.  I don't have any problems with extended breastfeeding (breastfeeding past a year old) and think it's very natural (contrary to what many people think) so I'm sure we'll keep going but I have no idea how long.  I hope to let him go until he decides to self-wean but I guess we'll have to see because I may get tired of it and be ready to speed up the process before he is.  Hudson is not a comfort nurser so he may easily quit nursing one day.  Who knows?
I'll be honest, there are many times that I want to be DONE.  I'm the only one who can feed him.  I can't leave him for more than a few hours.  I get tired of the kicking and pinching and slapping and rubbing.  Some days I'm just touched out.
I want my body back.  I have lost almost no weight in the year since he was born.  I've tried.  I've exercised and tried to eat healthy and yet, nada.  From what I've read some women don't lose the weight until after they quit breastfeeding (a total opposite from what I've always heard about how breastfeeding helps you lose the weight quickly) especially if they experienced supply issues.  Well that sounds familiar, huh?  Selfishly, I want to be able to exercise and diet and lose the weight and not have to worry about my milk suffering.  I'm 40 pounds over my pre-pregnancy weight and 60 pounds over a good healthy weight.  We aren't ready for baby #2 yet but when we do get ready for that I'd rather not be packing baby #2 pregnancy pounds on top of the ones still hanging around from baby #1.  Plus my chest is huge.  Like, way bigger than it ever was before the reduction.  I have so few clothes that fit it isn't funny…even my maternity shirts are too small in the bust.
But then I think of how convenient it is to be able to feed him.  And how breastmilk is so good for him.  And the bond that we have.  And then it makes me sad to think about quitting.  So I guess only time will tell.
But no matter what happens I am so, SO thankful that I was able to reach my goal of a year of breastfeeding.  Being able to breastfeed my baby was important to me and I'm glad it we made it.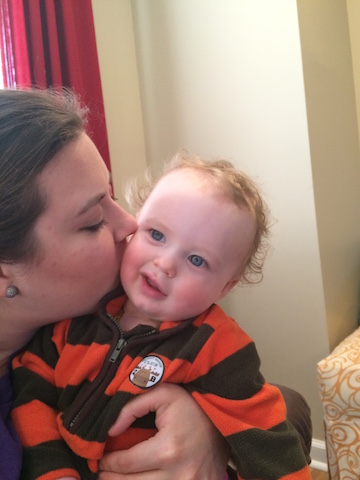 —————————————————————————————————————–
And now a few fun facts because there may be a few of you sitting there thinking "ewww breastfeeding past a year is weird and it's so super creepy to see a toddler breastfeeding and if they do that then that mom clearly has some issues going on".
Yes, in the U.S. it is not the norm to breastfeed past a year.  In fact, only 26.7% of babies are still breastfeeding at all at a year old (source) (<— That's actually the national average, some states are much less.  I think Mississippi is only 10%.  You can see how your state ranks in the CDC's 2014 breastfeeding report card)  However, worldwide the average weaning age is 4.2 years old (source).
The American Academy of Pediatrics recommends mothers should breastfeed "at least until one year of age and then as long as baby and mother mutually want to." (source)  The World Health Organization (WHO) recommends mothers breastfeed until two years of age or beyond (source).
Kellymom.com, the go-to website for all things breastfeeding related, lists a ton of benefits to extended breastfeeding (aka breastfeeding past a year) with studies cited for all listed benefits.  I encourage you to check it out.
Now, please don't get all worked up because "Caitlin is saying that I'm a bad mom if I don't breastfeed and that she is awesome because she breastfeeds and if you don't breastfeed past a year then you're awful!!!".  That is NOT why I included the last few paragraphs.  It's not to condemn anyone.  It's not to make anyone feel guilty.  It's not even to say that I'll necessarily nurse for another year or two or three.  It is strictly to try to shed some light on the cultural misconception that we (most Americans) have that breastfeeding past a year is weird or crazy or gross and has no benefits.
And before I hop on my soap box about our twisted perception of how breasts are fine to be flashed around if they're used sexually but don't even think about discussing breastfeeding because then breasts are just wrong, 'cause we don't want to go chasing that rabbit, let me leave you with a personal thought:
I used to think extended breastfeeding was weird too.  I didn't have a specific cut off age in my mind, but I certainly thought breastfeeding a toddler was strange.  And then I had a baby.  A baby who is on the verge of toddlerhood as he cruises around furniture and walks behind his push toys.  An almost-toddler who is still very much a baby who needs his mommy.  A baby who can sign "milk" and gets so, so excited when he knows it's time for milk because he loves it.  A baby who unlatches and gives me the biggest, milkiest grin ever after he's full.  So now it seems a lot more natural and a lot less weird.
Like I said, I don't know what the next year will look like for us breastfeeding-wise but I'm going to keep on nursing and we'll just take it a little at a time.