And here we are…Hudson's 12 month update!  My tiny baby has grown into a big one year old!  Here's what he has been up to this month.
growth
At his one year check up he was 23 pounds 9 ounces and 29 1/4 inches long.
Fun fact: he was 6 pounds 14 oz and 19 1/4 when he was born so he has gained almost 17 pounds and grown 10 inches in the last year!
He is mostly in 18 months clothes plus a few of his larger 12 month clothes.  Size 5 disposable diaper.  In his cloth diapers he is on the largest rise setting and the third snap in on each side.
Here's our fun doctor visit comparison.  It is amazing to see the difference from when he was four days old to now!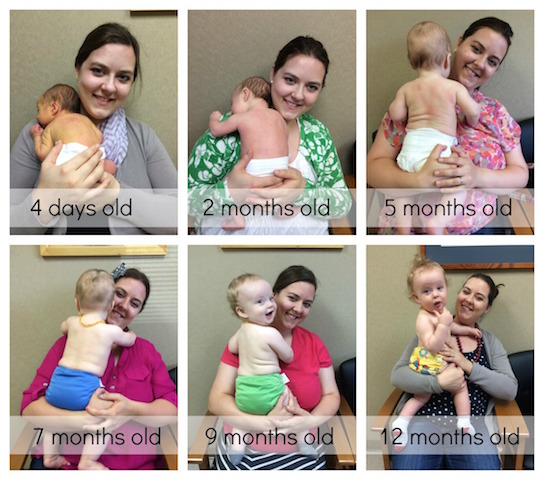 It is much harder to recreate this picture with a wiggly one year old!  This is just a sampling of what Michael captured while trying to get a "good" shot for the comparison.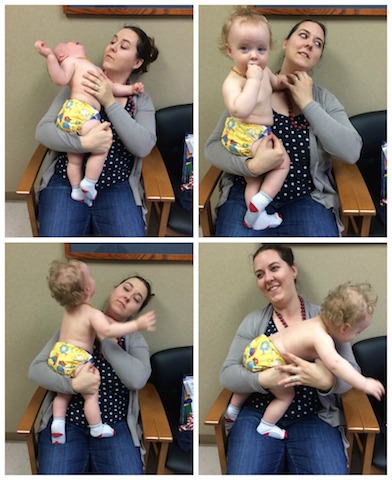 food
Hudson eats it all!  He can be picky – some days he'll like a food and then the next day refuse to eat it, but there isn't one thing consistently that he won't eat.  Some favorite foods are currently egg yolks (he doesn't really like the whites when we fry eggs but he'll gobble up the yolk!), cheese, vegetables from vegetable soup, chicken, sweet potatoes, avocado, Greek yogurt, applesauce, pita bread, toast, and bananas.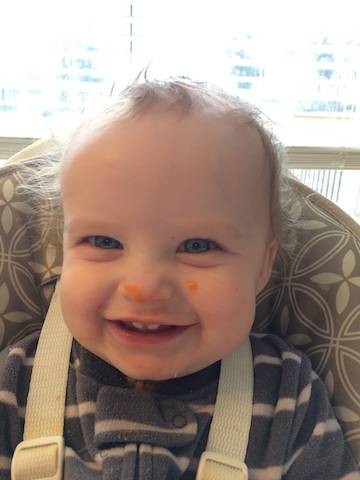 A new exciting food for him this month was his first taste of sugar.  We had smash cake pictures done when we did his one year old pictures and then he also had a smash cake at his birthday party.  I did white cake with white buttercream icing both times.  He liked it and ate some but I think it was just too sugary for him so he didn't eat much and mostly just played with it.  We won't make it a habit to give him junk food but it was a special treat for his birthday.
We also gave him peanut butter, just a tiny bit on some bread.  He liked it but wasn't just super in love with it like I thought he might be.  He had his first bites of bacon (along with biscuits and gravy) on Christmas morning.  Yum yum!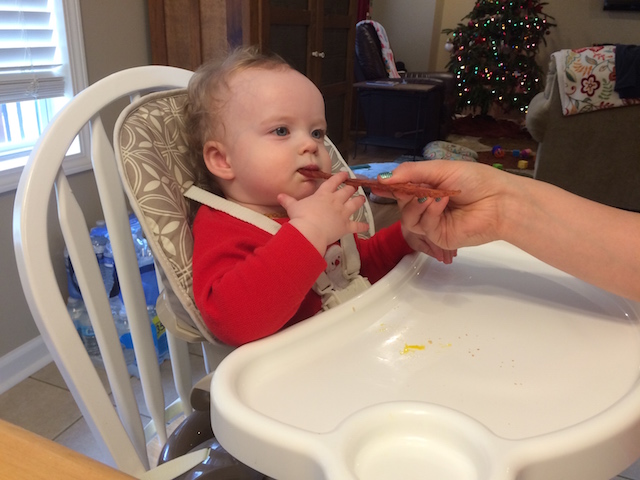 Our nursing pattern is still pretty much the same – four times during the day and once or twice during the night, however he's getting to where he can easily go more than four hours between feedings so it may be time to stretch out his feedings a little more.
sleep
What's that?
Actually, things got better…and then they got worse.  After the craziness of the holidays passed we put more focus on working on Hudson's sleep.  He had gotten to where he would nurse but not fall asleep at night like he used to and then rocking him to sleep was a multi-hour (yes, really) nightmare.  So instead I would feed him and set him in his cosleeper.  I (or Michael) would lay or sit on our bed right there where he could see us and touch us and we could put his paci in if he dropped it, talk to him if he got upset, etc.
He did really well at first.  The first night it took an hour and a half for him to fall asleep but he did eventually go to sleep.  He just talked to himself and played and then laid and rolled around before he finally fell asleep.  The next night it only took an hour and 15 minutes.  Then an hour.  Then 45 minutes.  Things were looking up!  This seemed like the perfect solution.
And then.  It stopped.
If he falls asleep while he's nursing (which he has done a few times recently) and I try to lay him down he screams.  If he's still awake and we put him in his bed he screams.  We've have several nights where it has taken until midnight to get him to fall asleep.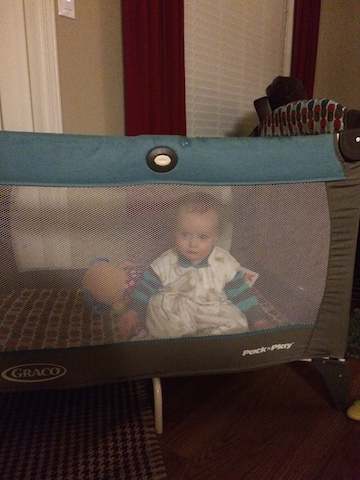 This was one night at about 11pm after we had fought and fought to get him to sleep.  We finally plopped him down in his play pen in the living room so we could have a break.
He wants to be held, all the time and preferably by me.  I can't remember the last time he actually slept in his bed past midnight.  Also when he's sleeping (and being held by me) he now wants to touch, touch, touch.  He likes to put his hand in the collar of my shirt and rub my chest or shoulder.  I feel like a horrible mom to say this but it drives me batty!  I am just so touched out some days!
Naps are still pretty good….as long as I hold him.  Two naps a day, at 10 and 2 (ish).
So this is what life is like right:  Wake up whenever Hudson wakes up.  I'd love to wake up early to do my Bible study and exercise, but as soon as I get up and leave the bed he wakes up.  Diaper, nurse, breakfast, clean up.  Time for morning nap.  Hold him.  Nurse.  Lunch. Try to run one errand or do one thing around the house.  Hold him for afternoon nap. Nurse.  Michael comes home – hooray!  He can watch Hudson for a while so I can get a few things done.  Supper.  Bath.  Nurse.  Bedtime.  Try to get him to sleep for forever.  Get him back to sleep the whole eight million times he wakes up between when we lay him down and when we go to sleep.  Try to get a few things done in between the many wake-ups.  Go to sleep.
Rinse and repeat.
I'm exhausted.  I can't get anything done and I feel so frustrated.  I have almost no time away from Hudson.  I adore my child and love to hold him but not all day every day!
Well.
That got away from me a little bit.  Sorry to go into a long rant about his sleeping, today has just been one of the more frustrating days.
We are trying some other things to help him sleep and I know eventually this too shall pass, I just feel overwhelmed sometimes.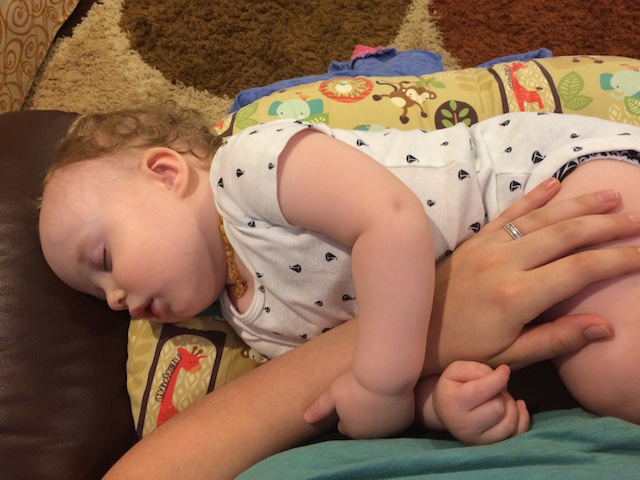 Also, for the record (because anytime I mention our sleep issues I have some well meaning person tell me I need to let him cry) we do not use the cry it out method.  We just personally feel for this particular child and this particular situation it is not the right thing to do.  I won't go into details here and I'm also not saying you're a bad person if you cry it out.  Just so we're on the same page.
Ok moving on.
mobility
Hudson is so, SO close to walking!  He easily cruises around the furniture and walks behind his push toy walker thingy.  He can stand independently for a few seconds but then drops to the floor and crawls.
On his birthday he learned how to climb the stairs.  I ran upstairs for a minute to switch some laundry and when I came back down the stairs I found he had climbed halfway up!  I nearly had a heart attack.  Time for a baby gate at the bottom of the stairs in addition to the one at the top.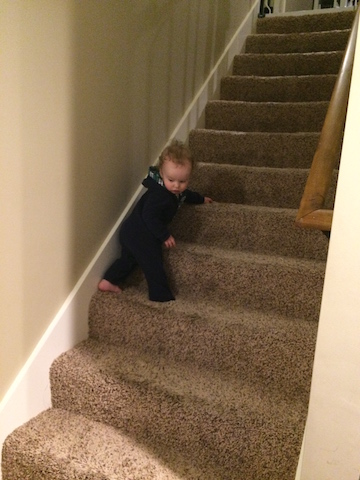 He has also learned how to open cabinets.  Cabinet locks coming soon!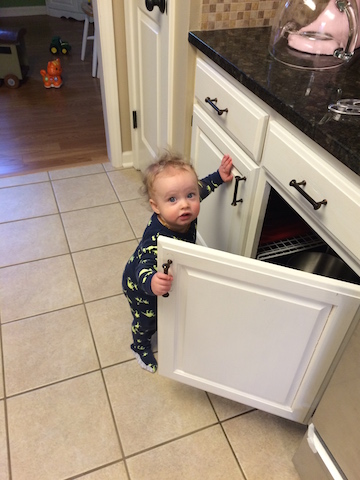 communication
Hudson says one word and one sign.  He says "bye" or "bye bye" when prompted (or when he hears someone else say "bye") and he can sign the word "milk".  However, he uses the sign for milk to mean a lot more than just milk!  He uses it when he's about to nurse, he uses it when he's eating table food and wants more (we're working on the sign for "more" but he doesn't use it yet), and he uses it to indicate that he wants mommy (even if he doesn't actually want to eat milk).
There are tons of other things that he understands but doesn't say or sign yet.  For example, if you say "no" he shakes his head back and forth.
firsts
Previously Hudson would laugh when we tickled him but that was it.  Now he laughs when he thinks something is funny.  It's adorable!
We went and played at the indoor play place at the mall.  He hated it at first and wouldn't leave my side but after we had been there a while he started to crawl around and play.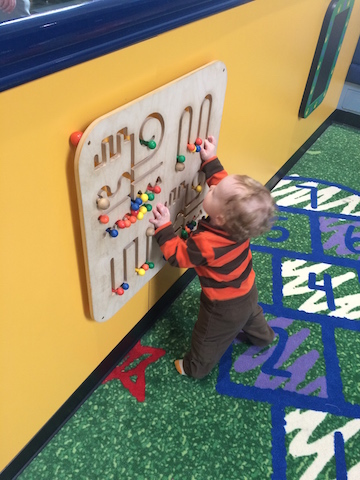 Hudson finally got to meet his African rafikis (Swahili for "friends")!  Our friends, the Gaineses, moved to Africa while I was pregnant with Hudson; they came home for furlough and we were super excited for our kiddos to get to meet!  So special to have all my babies together.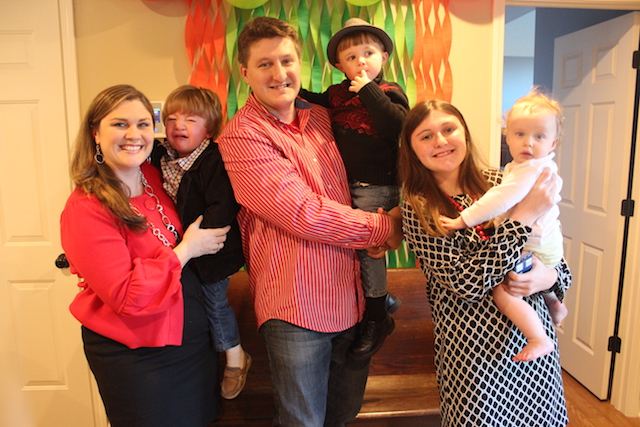 adventures
Christmas!  (It's actually hard to believe that I'm talking about Christmas in this update, it feels like it was so long ago!)  Hudson had a big Christmas!  He went to Knoxville for Christmas with my dad's family, Springfield several times for Christmas with my family, Michael's family, and Michael's dad's family, and then Mayfield for Christmas with my mom's family.  Lots of traveling!  He did pretty well with all the traveling thanks to Daniel Tiger and our discovery that watching tv in the car helped.  He would get a little fussy when we had to drive a long way (especially if it was during nap time) but overall (compared to how he used to be) he did great!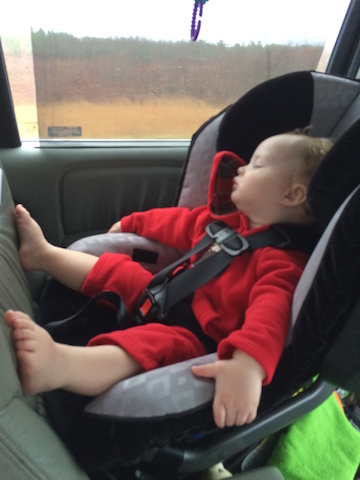 Eating off a silver spoon at Grandmama's Christmas Eve.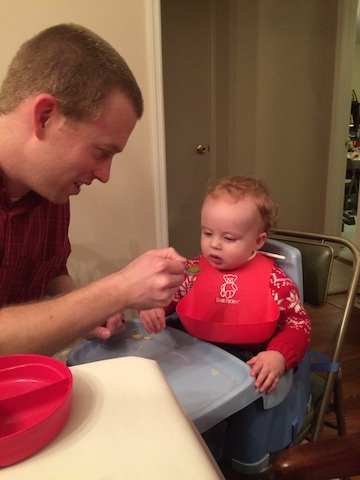 Christmas morning, getting ready to open presents.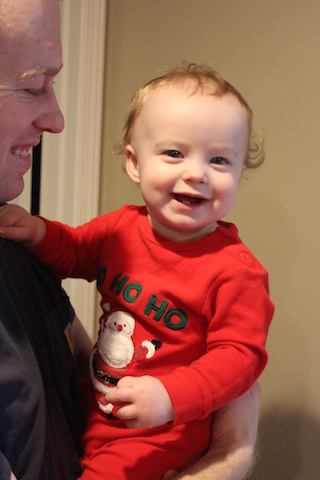 Hudson did such a good job pulling things out of his stocking!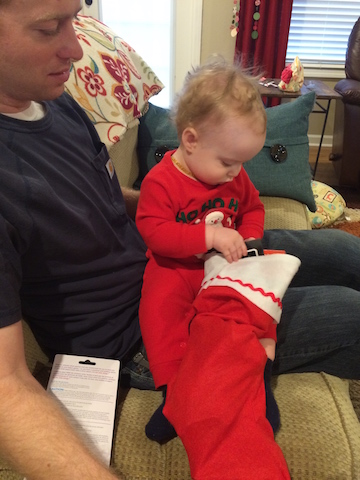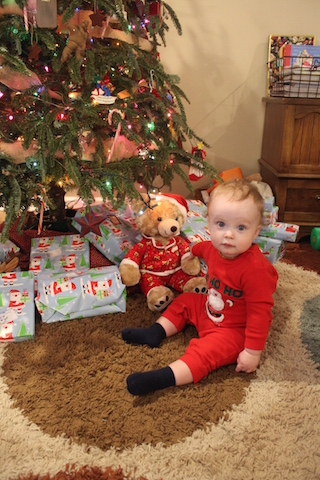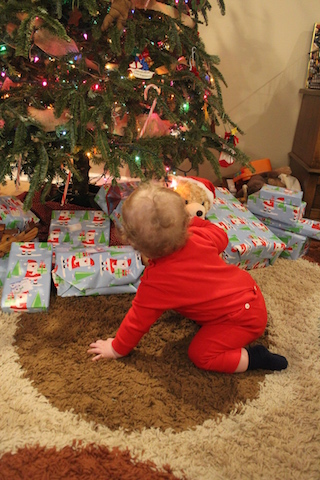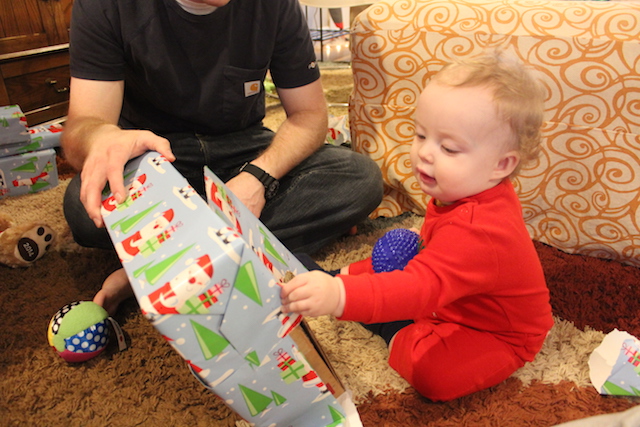 What do you get for Christmas when you're a baby and don't know any different?  A practical gift like diapers of course!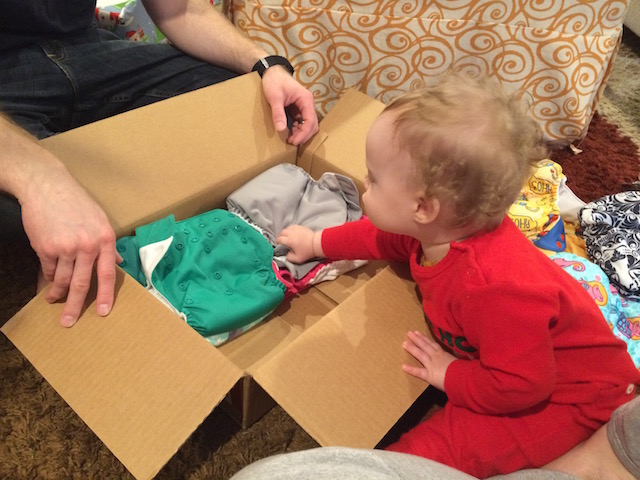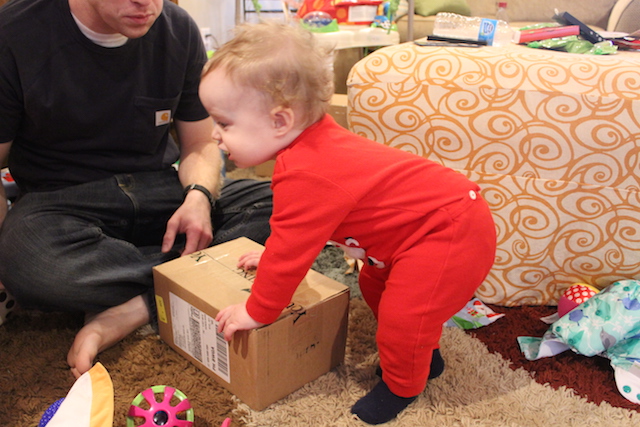 My boys reading their new books.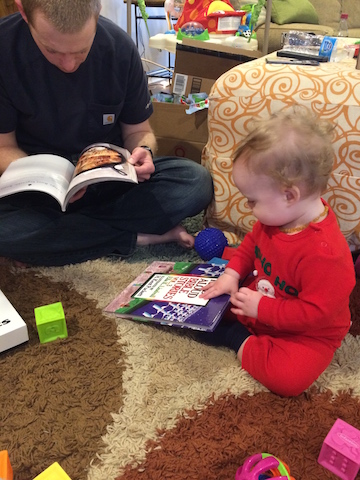 Taking a nap Christmas afternoon at Joe Daddy and Gran's.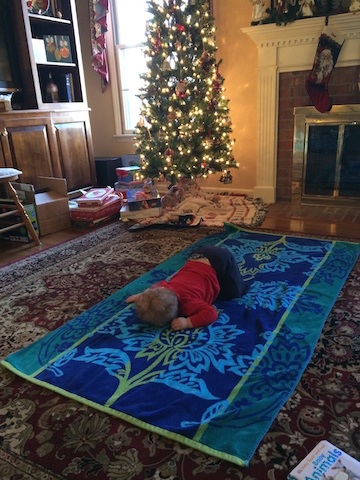 Playing the piano at Uncle Kenneth and Aunt Squatty's Christmas night.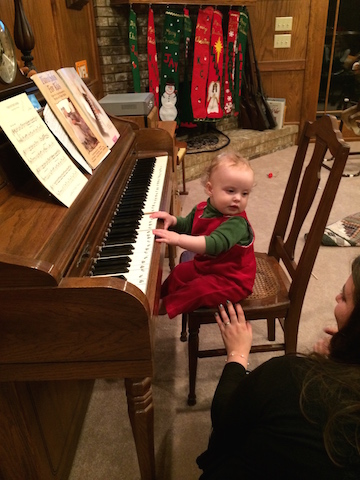 other stuff
Baths are fine again; he got over whatever fear he had of them and now he's back to splashing and playing.  Which is good because between the mess he makes eating and how much he sweats when he sleeps he definitely needs a bath!
Hudson got some hats and gloves for Christmas.  The first time I put them on he was not sure about the gloves – he just kept turning his hands looking at them!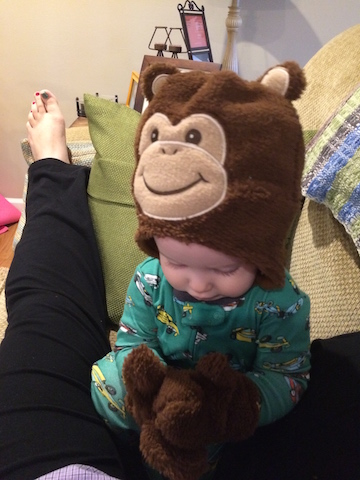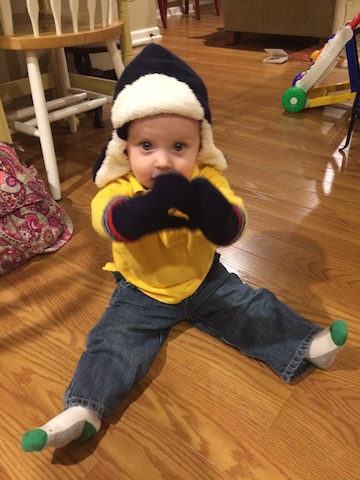 Helping me fold towels the day after our washer broke.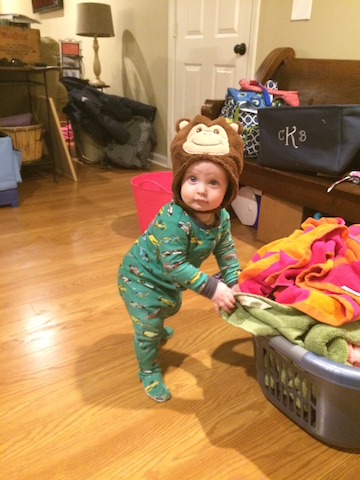 I love how he sits and looks at books.  It's so cute!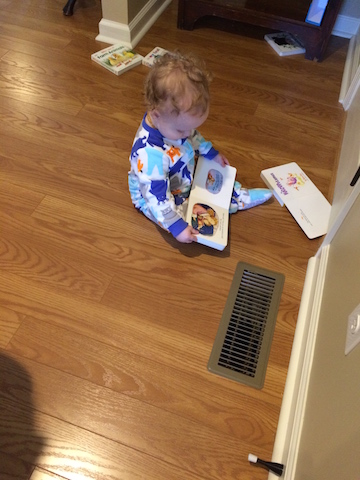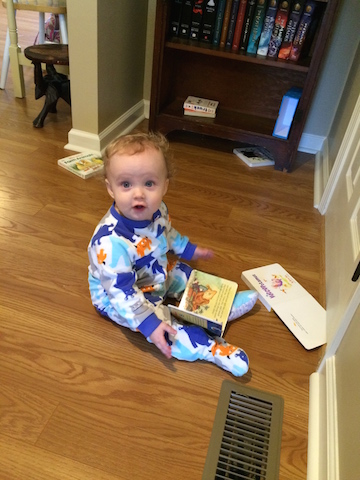 Playing with Mommy's calculator.  Future math genius in the making!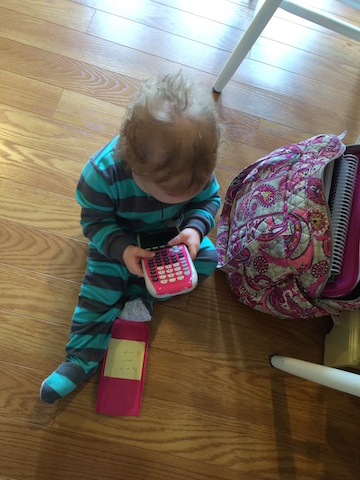 Trying on ties to find one for his smash cake pictures.  He looks like a little professor here.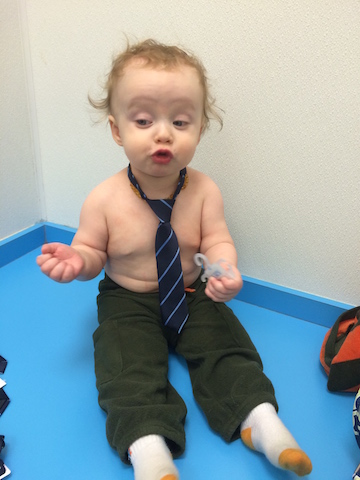 Kisses!  We needed a picture for the K in our ABC book…I wanted to use a picture of kisses but I realized that didn't have any (how sad is that?) so we snapped a few real quick.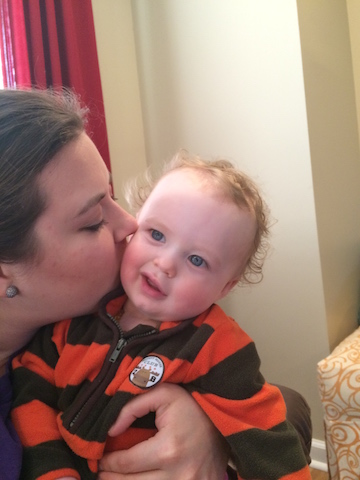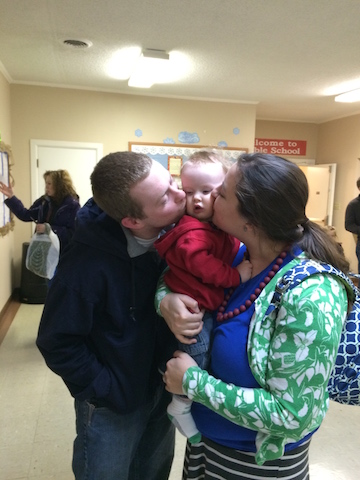 Trying to take some pictures of my big boy.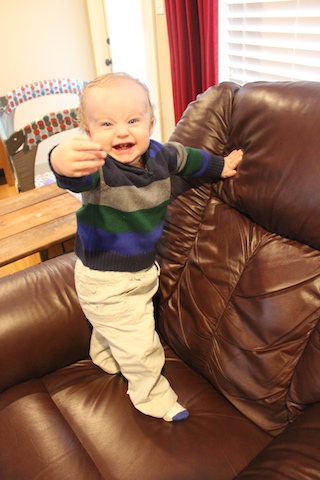 This is what happens 75% of the time that I try to take pictures…he immediately starts crawling toward me and trying to get the camera!  Silly boy.
He likes to pooch up his lips and say Ooooooo.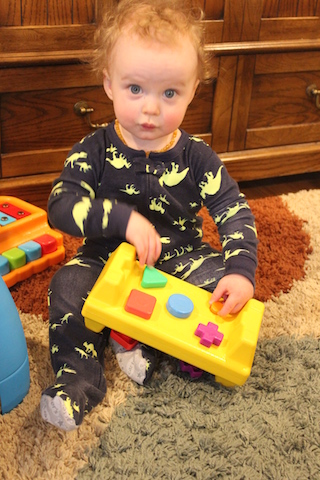 This boy is ONE!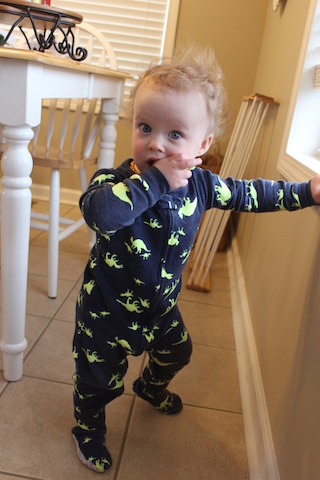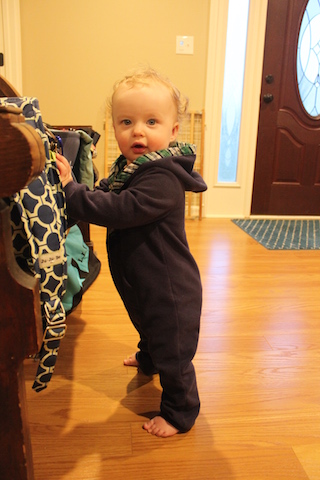 Family picture at 7:55pm on January 23 (his exact birthday)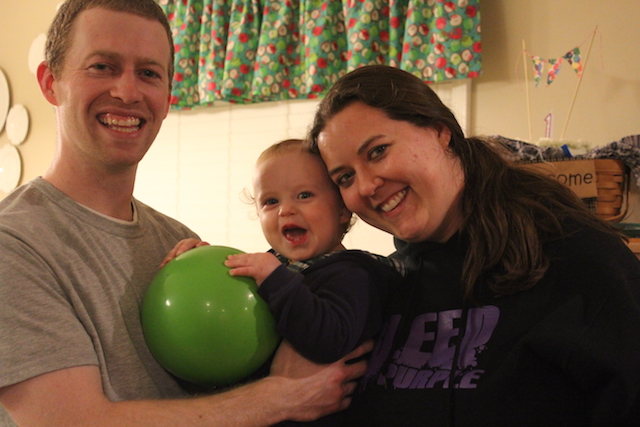 The day after his birthday we woke up to a beautiful snow!  This was the first time Hudson had really seen snow (the last time it snowed he was only two months old)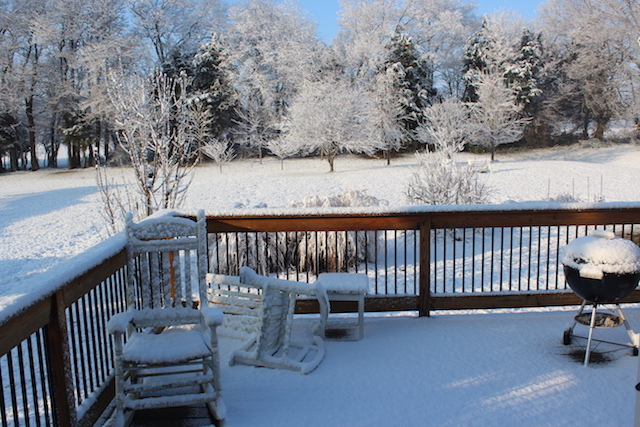 Hudson didn't care too much for it.  He played with it on his glove a little but screamed when we try to set him down in it.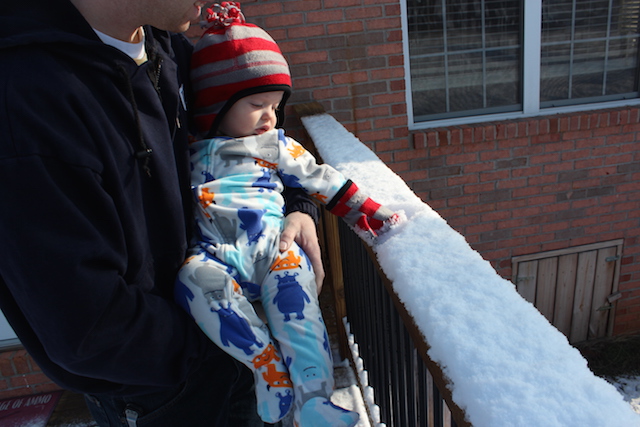 And that wraps up Hudson's first year of life!  It's amazing how much he's changed physically and in his abilities to do things over the course of the year!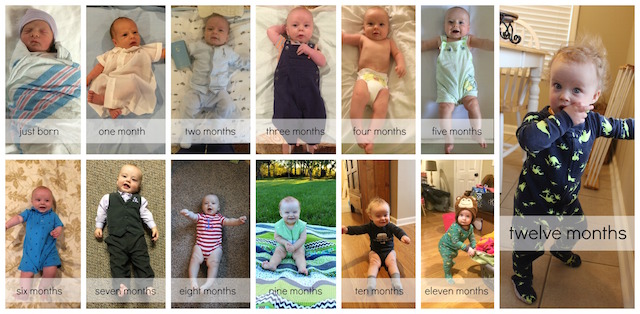 Onward and upward to year two, my sweet boy!