Not that you would ever forget that you had laundry in your washing machine of course, but let's say that maybe you washed a blanket.  And maybe you forgot about the blanket in your washing machine for TWO WHOLE DAYS.  And then when you realized the blanket was in there and you opened the washer you gagged because the smell was so bad.  And your husband could smell it as soon as he walked up the stairs, not even having to come into the laundry room.  And you were sure it was ruined.
Clearly this did NOT happen to me or anything.  It's all just hypothetical.
Okay.  Lies.
All lies.
This totally happened. *hangs head in shame*
The smell was SO BAD y'all and I thought for sure that blanket was a goner.
But no worries!  I got the smell out in just ONE washing.  Hooray!  And it was super easy.
I used my normal laundry detergent and added three drops of Thieves and three drops of Purification essential oil.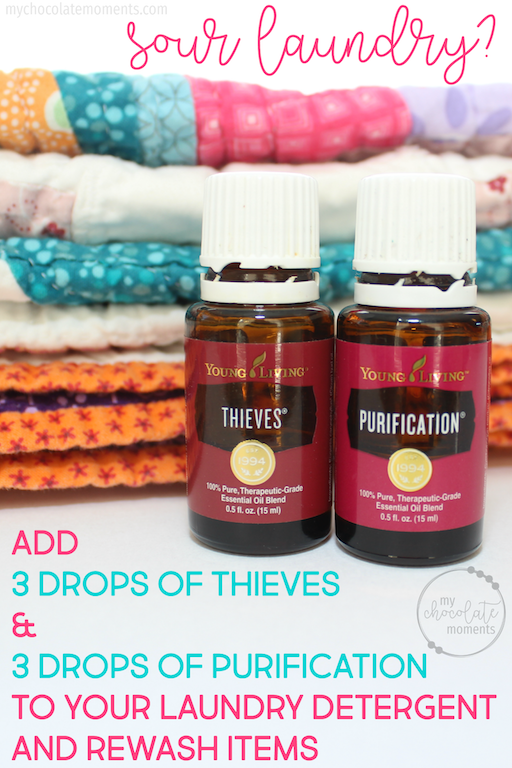 I'll be honest that I was a little (ok, a lot) skeptical because I've dealt with soured laundry in the past and in my experience the smell lingers through many washings.  I love my essential oils but I was sure that it would take more than one "treatment" to get rid of the stink.  But when I pulled the blanket out of the washer the sour smell was completely gone!  I keep picking it up and sniffing it just to make sure and yep, still nothing!
I'm excited to use this next to wash the clothes that were in the washing machine when it broke.  That was four weeks ago and the clothes from that load (which have been washed several times since then) still have a faint sour smell.
Don't have oils of your own yet?  They're amazing for much more than just laundry!  Let's get you going!