Well I was going to just mention Hudson's first tummy bug in this 13 month update post but it kind of took on a life of it's own so I decided it deserved a post all to itself.  So here you go…a post all about puke.  Enjoy.
Saturday:
Michael, Hudson, and I go to a meeting at church about summer church camp.  Michael has to leave early and Hudson starts to get fussy so I throw him up (pun totally intended) on my back in the Ergo to calm him down and finish out the meeting.  As things are winding down I lean over to take some notes on my paper, hear a gag, and when I straighten up Hudson hurls all down my back.
All over the carrier.  All over the back of my shirt.  All over the floor.  All over himself.
It.Was.Awful.
Fortunately there were plenty of people who stepped in to help me out and cleaned up Hudson, changed his clothes, cleaned up the floor, bagged up the soiled clothes, etc.  And thankfully I had on a sweater over my shirt so I was able to take my vomit covered sweater off for the drive home.
We drive home and honestly at that point I thought it was no big deal.  He had eaten a huge lunch and I figured that when I bent over and it squished his stomach against my back it just forced all that food back up.  He's quiet on the way home just watching Daniel Tiger.
I suspect nothing.
Until I open the door to get him out and there is vomit everywhere on him and the carseat.  I call Michael, who is almost home, so Hudson and I just sit there and wait for him to get there and help us.
Commence clean up.
And yet I still didn't think it was that big of a deal.  I thought maybe he had some bad food or something.
I shower.  We bathe Hudson.  Michael heroically cleans up the carseat and disassembles it to put the cover in the wash.  That way it'll be dry before church tomorrow.  Because this is just a fluke and we'll totally be going to church tomorrow. 
Right?
A little bit later the three of us are playing in the living room floor and all of the sudden Hudson makes a face or a sound or a gesture or something and we just know.  I grab Hudson and Michael cups his hands and catches the puke so that only a tiny speck hits the carpet.
That's a good man, I tell you.
Now I'm thinking food poisoning and that obviously things aren't as they should be (uh…duh Caitlin) but he's acting fine other than throwing up.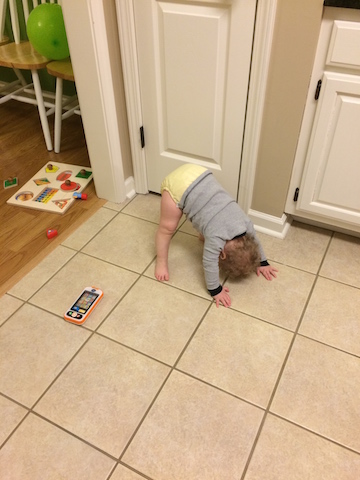 We (mistakenly) feed him supper.  Michael goes to change his diaper and he barfs all over the changing table.  Cleanup number (what number are we even on?) and bath #2 for Hudson.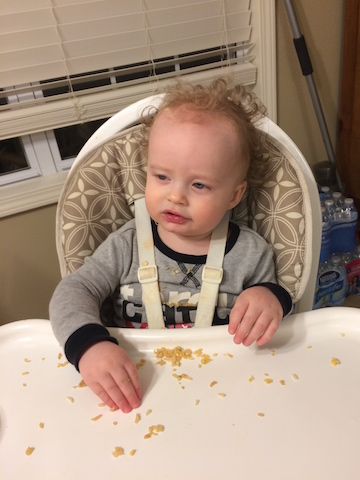 We put him to bed and hope the worst is over.  He wakes up fussing so I go pick him up to rock him back to sleep.  I have finally wised up and get a bath towel to wrap around him and good thing because as I'm holding him he coughs, sits straight, throws up all over us, lays his head back down, and immediately goes back to sleep.  Poor thing.  We had to wake him up to change his pajamas and get him cleaned up again.
(no wonder he didn't want to smile in the family pictures we had taken that morning, huh?)
Sunday:
The vomiting has stopped!  We made it through the night without incident.  All is well!
Then we go to change his diaper before church and all is NOT well.  We've just switched from one end to the other.  Michael goes on to church, Hudson and I stay home.  We contact our friends and cancel the Super Bowl party that we had planned for that night.
But thankfully other than some diarrhea he acts like he feels fine.  We just try to stay hydrated and relax.
Monday: 
Other than some yucky diapers little man seems fine.
Monday evening though I start to feel nauseous.  For some reason though we think it's a good idea to order a pizza for dinner.  Easy, you know?  No cooking.  Never mind the total grease factor.
My nausea gets worse and worse through the evening and by the time we go to bed I just want to throw up so badly because I just know I'll feel better.  But that doesn't happen so we go on to bed.
At 3:30 in the morning I wake up, bolt out of bed, run to the bathroom, and empty the contents of my stomach and probably every other organ I possess into the toilet.  I can count on one hand the number of times I've thrown since I was a child so this is not a common occurrence for me.  And it was bad.  And apparently loud because Hudson wakes up and starts crying.  Michael can't get him calmed back down so after the worst is over I climb back in bed to rock Hudson to sleep.  Once he's back asleep I get up again to clean up the bathroom and figure out how to get the stench of puke out of my nose before going to sleep.
Tuesday:
We wake up and I feel like I've been hit by a truck.  I'm so weak I can hardly carry Hudson upstairs to change his diaper.  Michael has gone out of town for work so he can't come home and take care of us.  I call the only other person who you want when you're sick…mom.
She says she'll be there in about two hours so I turn on Daniel Tiger to distract Hudson and we pitifully share a piece of dry toast.
Mom arrives armed with saltine crackers and soup and other mommy magical sickness goodies and takes care of Hudson for the day so I can rest.  By the end of the day I'm feeling much, much better.
Whew.
The worst was finally over.  I still have no idea what hit us.  Hudson threw up five times that first day then had nearly a week of diarrhea.  I only threw up once and then had a day of feeling weak and nauseous then I was fine.  And Michael just had a very mildly upset stomach (which is so crazy because usually he's the one with the ultra-sensitive stomach).
But we survived our first (and what I wish would be our last, but I'm sure I won't be that lucky) family plague.