2015 has been eventful, y'all!  Between the Great Washing Machine Flood, the stomach bug, and now this, we've had quite a year!
So let's talk about what all happened during this seven (eight?) day period:
Friday, February 13 – Our youth at church hosted a Valentine's dinner for all of the married couples.  Michael and I went and had a blast!  Some of the teen girls watched the little kids in the nursery so we were able to drop Hudson off and enjoy dinner without him.  I had to go get him about halfway through the evening because he was fussy and needed to be fed, but we were able to get our meal eaten before that happened and it was nice to have a break!
The event was wonderful.  The kids were the servers and they did a fantastic job, there were games and fun and laughter and I just really enjoyed it!  I hope they do it again next year.  And thanks to my mad math skillz I won a huge jar of candy because I got the closest guess of how many pieces were in there.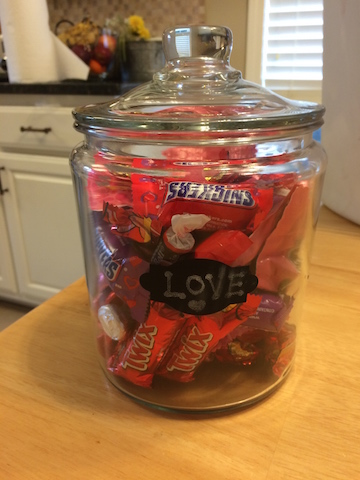 Saturday, February 14 – Valentine's Day!  We slept in, ate a yummy breakfast of bacon, eggs, and strawberry muffins, and just hung out around the house.  I (attempted) a Valentine's photoshoot with Hudson.  I'm not sure how great the pictures ended up (I really need to learn how to use my camera!) but he sure had fun playing in the candy!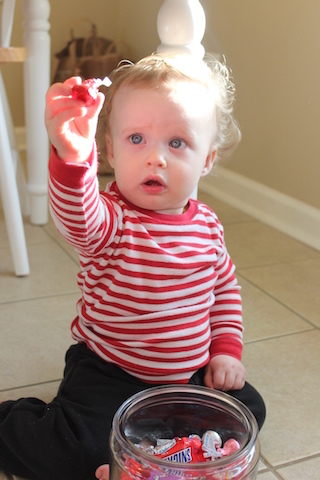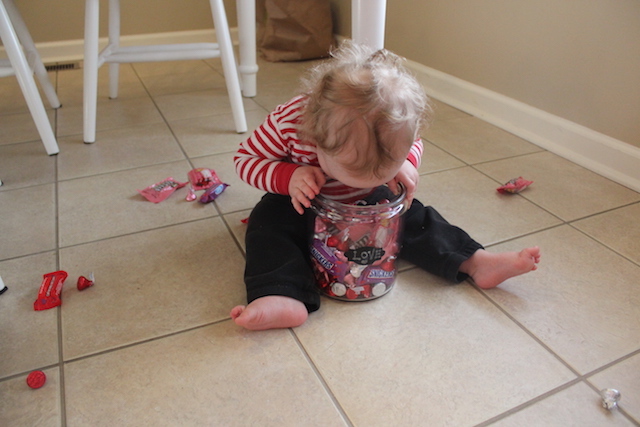 Check out these pictures of Hudson from Valentine's last year.  Crazy how much he has changed!
That night Michael's parents came to watch Hudson so we could go on a date…our first date since before he was born!  Yep…we had not been out alone in over a year.  Pathetic.
Being totally out of the dating scene we had forgotten how crazy it is to go out on Valentine's.  We didn't make reservations or anything so as we're leaving the house we start calling some restaurants to see what the wait was going to be.  First restaurant: an hour and 45 minutes.  Yikes!  The next was two hours and another was two and a half.  We only had about a 4 hour window that we could be away, plus we were hungry!  We ended up going to Chuy's, a Mexican restaurant that we love, and the wait was less than 30 minutes.
Our dinner was great and it was super nice to not have to wrestle Hudson and try to feed him while trying to eat our meal and keep him from screeching or throwing food on the floor.  It's not that he's terrible when we go out, he's actually pretty good, it's just that it's stressful for us.  After we ate we went to Barnes and Noble and wandered around a bit browsing before heading back home to Hudson.  Who had, of course, had an absolute ball with his grandparents.
Sunday, February 15 – We'd been hearing snow forecasted for several days and the amounts just kept growing and growing.  By Sunday they were saying that the snow would start during the night and we would get 13.1 inches (Where on earth did the .1 come from?  Sounds like a half-marathon of snow).
You northerners may be laughing, but here in the south we don't do snow well.
After church Sunday morning we stopped by Kroger because we were out of Hudson's yogurt.  Hudson and I stayed in the car while Michael ran in to the store – he said it was a madhouse!  There was not an empty cart to be found and people were everywhere.
He made it out alive and we decided that while we were there we might as well fill up with gas.  Bad idea.  The gas pumps were even worse!  There were cars lined up at each pump and people were acting so crazy.  It was like a mass panic.  The snow is coming!  The snow is coming!  We were finally able to get gas and get out unscathed.
I have never seen snow more than about 4 inches deep in my life so I was really looking forward to getting a big snow and went to bed Sunday night with anticipation.   However since we never get snow and they so often predict it and nothing comes that I tried not to get my hopes up.
Monday, February 16 – President's Day and Michael is off work.  Hooray!  We wake up to a gorgeous blanket of snow!  Double hooray!  More snow then I've ever seen!  And it just kept coming down all day.  We opened all the blinds and for the most part stayed cuddled up inside watching the snow.  Poor Michael had to shovel the driveway, and then shovel again, and again!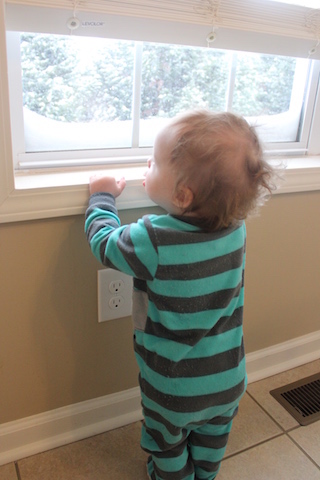 I wanted to take Hudson out in the snow and pull him on my old sled so we bundled him up (he doesn't really have any snow appropriate clothes so I just layered as many things on as I could) and took him outside.  We put him on the sled and Michael pulled him maybe five whole feet before he had a complete meltdown.  He was not a fan!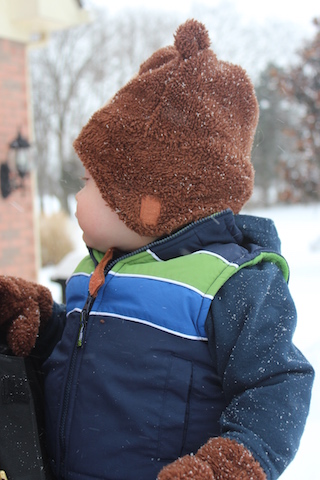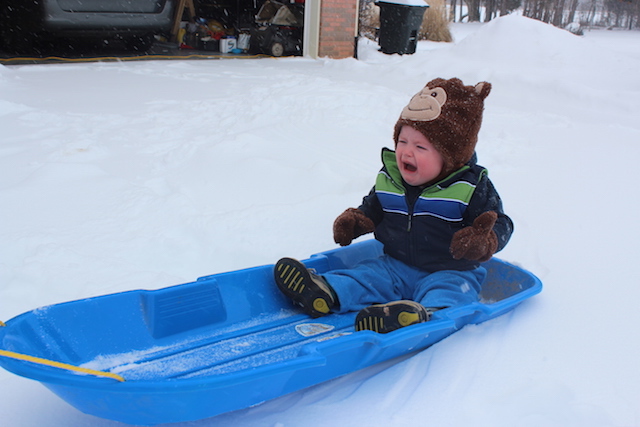 When we took Hudson outside the snow was up to 8 inches.  By the end of the day Monday it was 10 inches deep in our yard!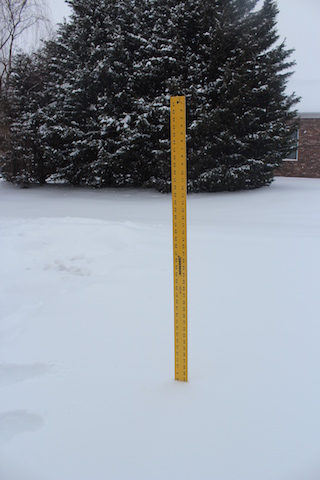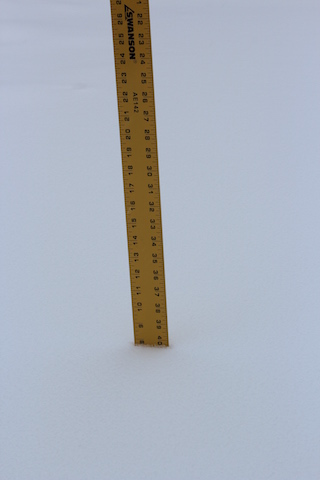 Tuesday, February 17 – Michael goes back to work, Hudson and I stay huddled at home.  Not only did we get a ton of snow but it's also super cold so nothing is melting (usually around here if we get snow it doesn't stick around very long at all).
Wednesday, February 18 – We get two more inches of snow!  Church is cancelled because the roads are still horrible.  Hudson and I are both starting to feel like this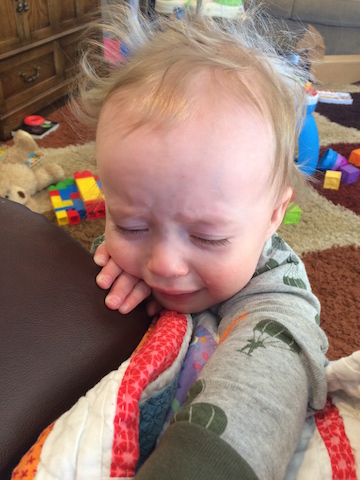 Thursday, February 19 – The roads are a little bit better but now the temperature is in the single digits and negative numbers.  I would have liked to get out but not in these conditions!  Cabin fever is a killer.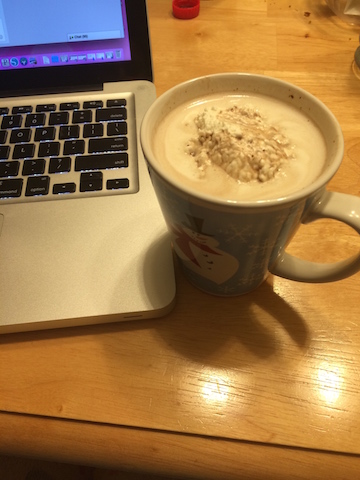 Friday, February 20 – The main roads are starting to clear up.  Michael only works a half day and then we all load up to run some errands and GET OUT OF THIS HOUSE!  Lunch at Chick Fil A, Babies R Us to get a noise machine to try and get Hudson to sleep better, the library, groceries, etc.
Ahhh.  Fresh air!  Freedom!  It felt amazing.
Saturday, February 21 – My 28th birthday!  My tradition growing up that I carried over into our marriage was to get breakfast in bed on your birthday.  However, eating breakfast in bed with a squirmy, active toddler is about as far from relaxing as I can imagine.  Instead Michael went out and got donuts for my birthday breakfast.
I just wanted to stay home and relax so that's what we did.  I actually ended up spending a good majority of the day working on taxes but I guess that's what happens when you're an adult.  At least I felt productive!  I also spent some time reading It Starts with Food to learn more about Whole30 (you know, as I sat there eating another glazed donut…).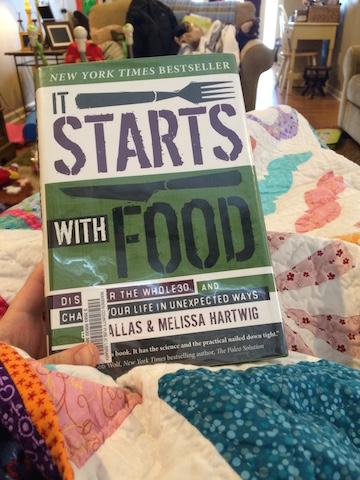 My mom was planning to come watch Hudson so Michael and I could go out for my birthday (dates two weekends in a row?  Could this be?) but they had avoided our tons of snow and gotten a bunch of ice instead so she couldn't come.  So we went out as a family to Red Lobster and had a grand time.  Hudson was great (although he ate half my meal!) and it was the perfect birthday dinner with my boys :).
And that, my friends, is a recap of our crazy, snowed in week!  Our schools here were out of school the whole week.  Many of the schools in Tennessee, just a few miles south of us, were out of school for two weeks!  Unheard of!   But even after our roads cleared up to go back to school it stayed pretty cold so the snow on the yards stayed much longer.  In fact, it's been over two weeks since that first snow and we still have some snow in our yard!
(As I type this we are getting weather reports that another storm system is moving in, this time predicting 3-12 inches across the state of Kentucky.  Last I heard we're in the 6-10 inch area so we'll see what happens but I have to say that I'm not at all interested in any more snow and I'd be very happy for it to just move on to spring, please!)
What has your weather been like this winter?  More snow/ice/cold than usual?  Less?  Are you ready for spring too?