Ugh, I am SO behind!  I hate it when I don't get Hudson's monthly update written right away because he changes so quickly that these things aren't even a reflection of him right now plus it's just so stinkin' hard to remember!
I'm also finding that the older he gets the less pictures I have of him since he's not very still anymore.
So here is what Hudson was up to when he turned 13 months (two weeks ago…)
growth
I have no idea.  I never got around to measuring him and now that we're halfway through to his next update I think I'll just wait.  Visibly he has definitely thinned out recently as he's gotten more mobile.  He's still in 12-18 month clothes, depending on the item, but mostly 18 month.
food
He eats everything.  I mean, there are a things he doesn't like and other things that he prefers, but there are too many new things and favorite foods to really try to list them anymore.  I should probably drop this category in my next update.
I will say that he seems to get burnt out on foods quickly.  Like I can eat eggs for breakfast every day for weeks but he only likes them a few days and then starts just playing with them (or throwing them…no good).  The only exception is bananas and applesauce; he eats those almost every day and never seems to get tired of them.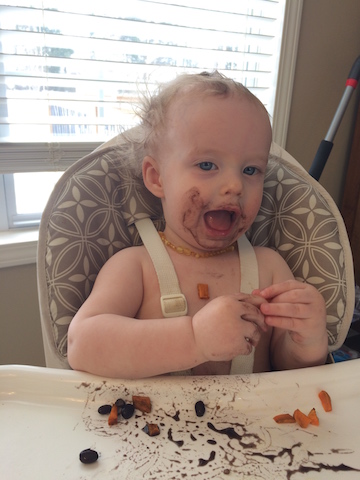 I *think* some watermelon made it into his mouth…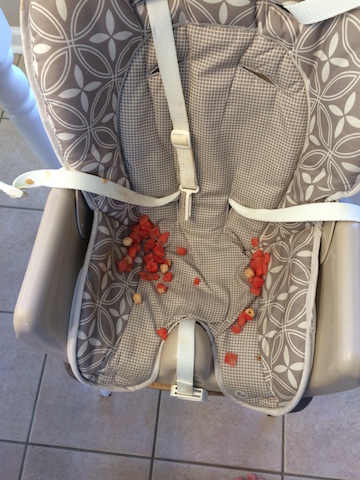 He is down to nursing only four times a day – when he first wakes up (before breakfast), when we wakes up from his first nap (before lunch), when he wakes up from his second nap, and then right before bed.  He he is, for all intents and purposes, night weaned now and goes from bedtime to morning without nursing.
sleep
The month started off horrid but by the end of month…
we were sleeping through the night!  YES!  You read that right!  Hooray!  It is about time for crying out loud (literally…).
Getting him to sleep is still a big issue and is sometimes a multi-hour event.  And for a couple of weeks at the beginning of the month he woke up in the middle of the night with blood curdling shrieks every.single.night.  It was horribly hard to get him to calm down and get back to sleep.  We have no idea what caused it.  That (thankfully) went away and now he is sleeping through the night without having to eat (he'll occasionally wake up but as soon as we put his paci in or pat him he goes right back to sleep).
Next step…to get him out of our cramped bed and into his own space.
Baby steps, baby steps.
Oh and I still have to hold him for his naps.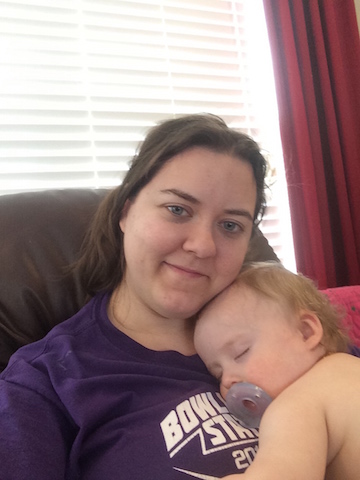 Or lay next to him.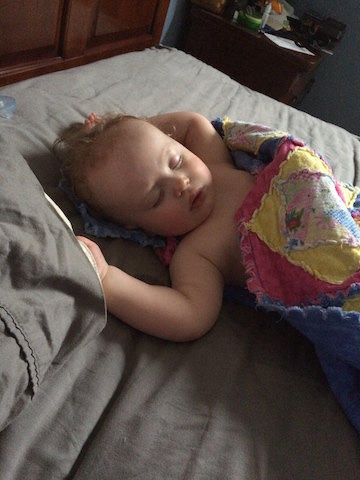 And in case you'd like to get a little visual of what sharing a bed might look like…
This was one morning after Michael had left for work.  I woke up before Hudson and was laying there in the bed with him.  You can see the bed rail there on the left side of our bed.  Usually Hudson sleeps next to the rail, I sleep next to him (in the spot that has no pillow in the picture), and Michael sleeps on the right.
You can see that Hudson has already taken over my spot and pushed me into Michael's (that's my pillow there on the right, Michael's had already been pushed off into the floor).
and finally…yep, now my pillow is hanging off the bed and I am left with the space between his fingertips and the right side of the bed.  This is co-sleeping reality, folks.
(can you see why I'm ready for him to move to his own bed?  or else get a king-sized bed?)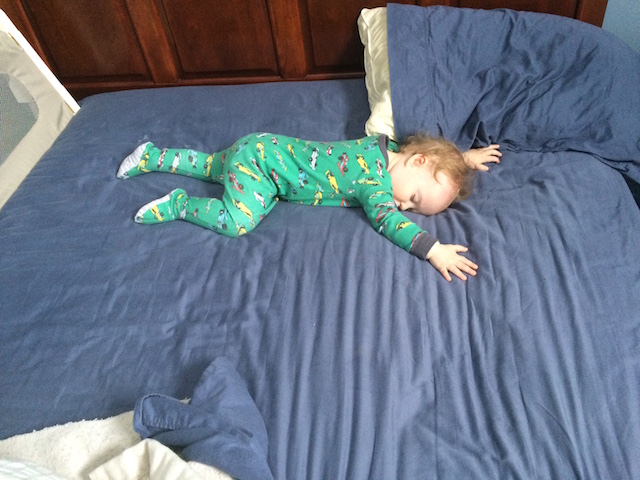 mobility
Big news this month – we have a walker!  He took his first few steps.  He's still very unsteady and only walks a few steps at a time but he's definitely walking!
communication
Still just one word – "bye" (or "bye bye").  He babbles all the time but so far we can't tell what he's saying and he doesn't repeat words or anything.   However, he knows several signs.  He can sign "milk", "more", and "change" (i.e. diaper change).  He sometimes will sign milk to tell me he wants to nurse but most of the time he just signs these things after we say the word.  Like if I saw "Hudson do you want some more?" at a meal then he will sign "more", but he doesn't sign it out of the blue usually to say that he wants more (he just shouts instead…)
firsts
I wrote all about Hudson's first stomach virus here.  And as a result of that we gave him his first juice (some Ningxia Red in water) to help him stay hydrated.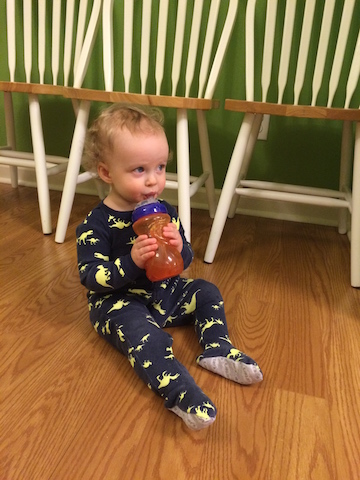 He stayed with his first "babysitter" outside of family.  My friend Amber kept him for an hour or so while I went to an eye doctor appointment.
adventures
Snowmaggedon 2015 was a pretty big adventure.  Unfortunately Hudson wanted to have no part of it so we spent the better part of a week holed up at home.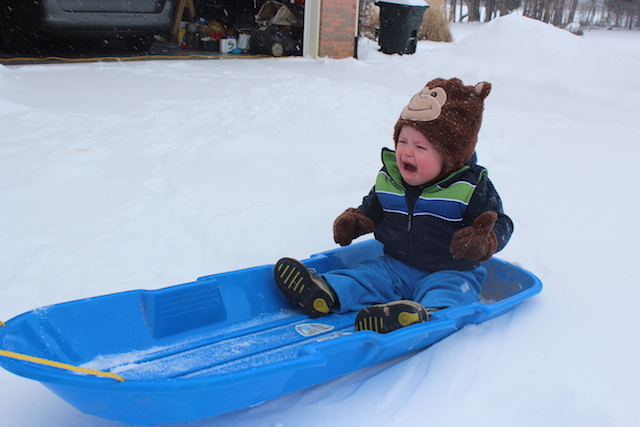 other stuff
You know, just sitting and reading a book and stuff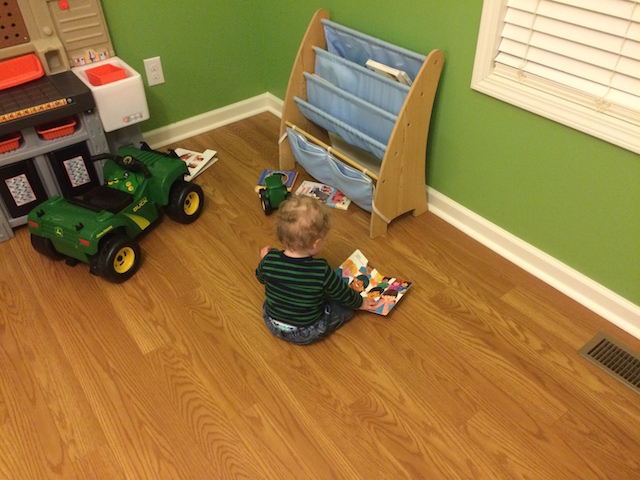 Crazy bedhead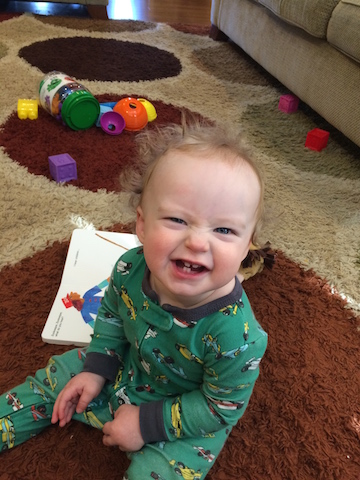 riding around
Now that he's a stair-climber we had to get a baby gate for the bottom of the steps too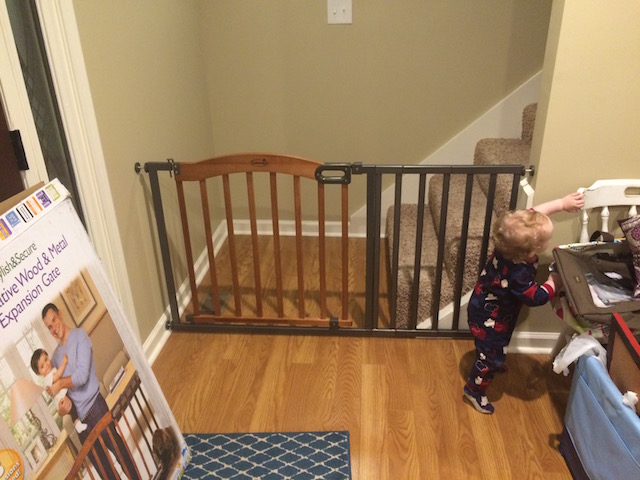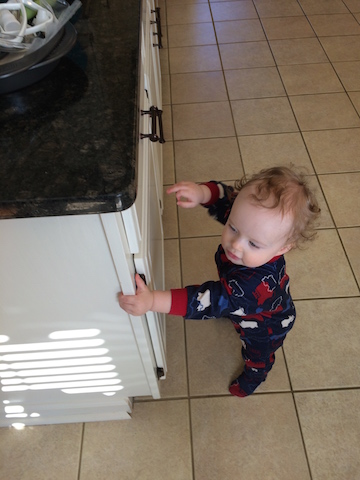 Valentine's Day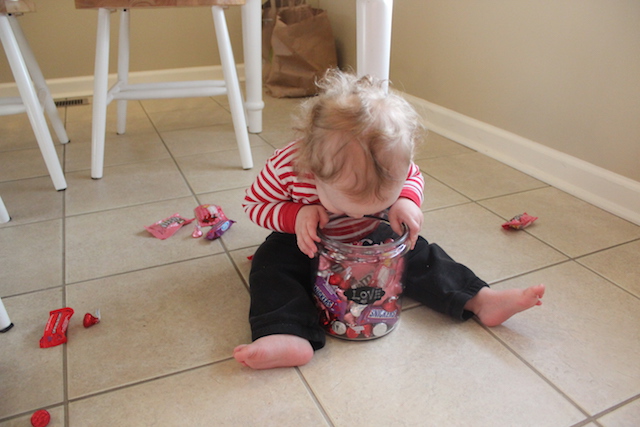 I've been trying to use my "good" camera (my DSLR) more since I almost always take pictures with my phone.  It is certainly challenging to get Hudson to sit still these days, especially when I get out the camera because he wants to grab it so bad.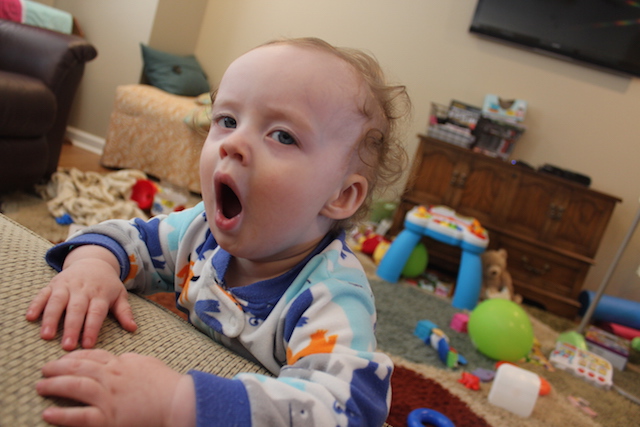 This is what we call "sleepy ear" – he sticks his finger in his ear and scratches when he's tired.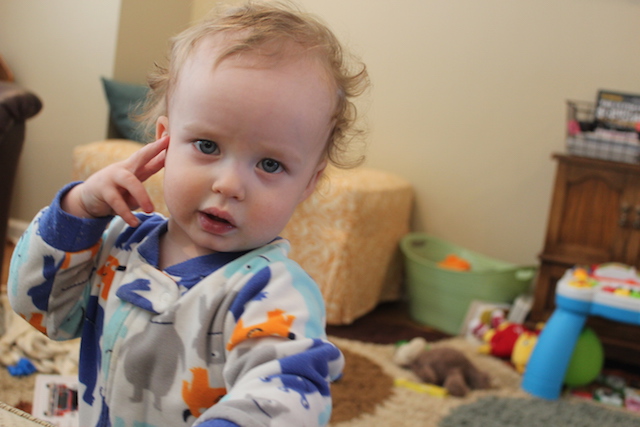 Love those baby blues
I love that crazy hair!  People comment ALL the time on his curls – they draw a lot of attention.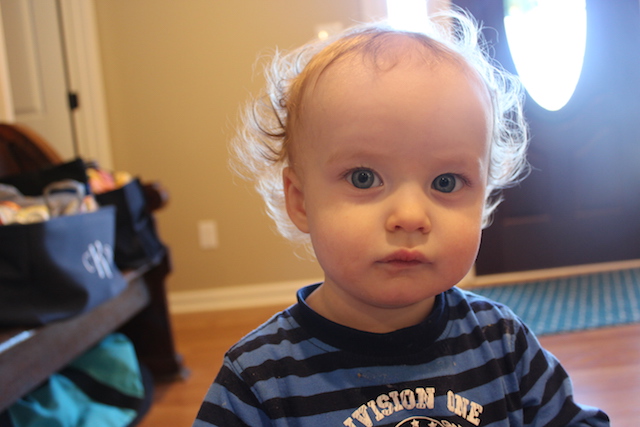 What a ham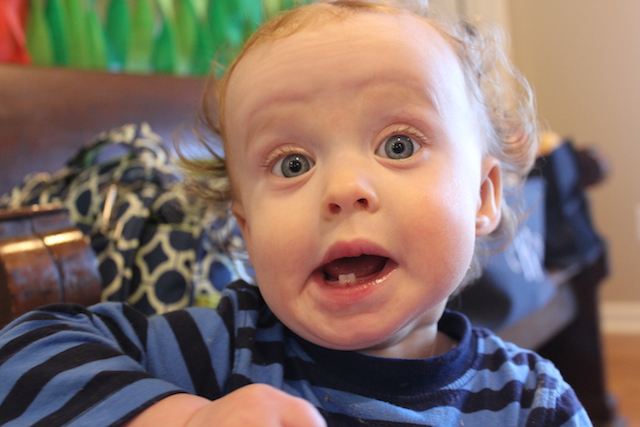 This is what 75% of my pictures look like because he's trying to grab the camera.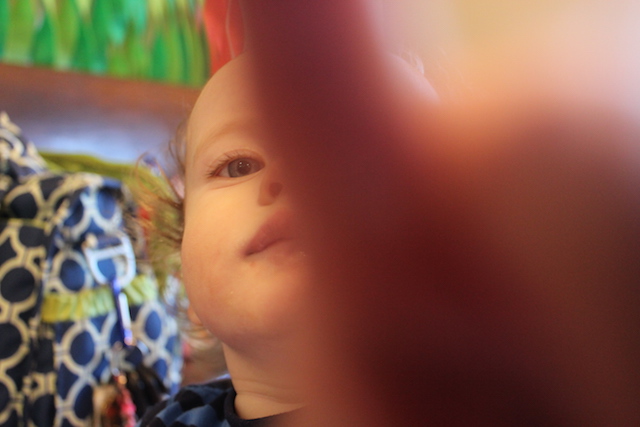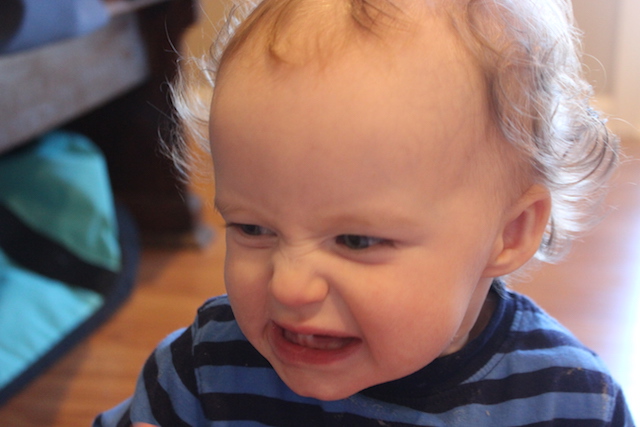 I just love this boy so much.