Whole30 week 2 – check!
I started out Week 2 with a meal plan like I had in Week 1 but we deviated from the plan a lot this week!  We still ate the same basic stuff but just switched up what nights we had them.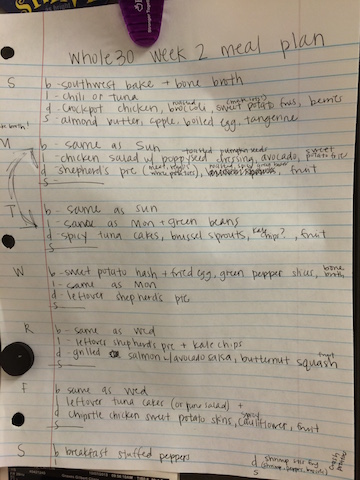 (see my meals and recap of week 1 here)
I'm not listing my snacks each day because frankly I forget from day to day but also because it's the same every day: apple with cashew or almond butter, tangerine, macadamia nuts, hard boiled egg (all or some of that list, depending on how hungry I am during that day).
Day 8 (Sunday)
breakfast – Oh man…today I had the best breakfast ever!  Sweet potato hash with fried eggs.  So, so good!  It was time consuming making the hash (Michael very sweetly cooked breakfast for me while I got ready for church) so not something I'll do every day but maybe for a special weekend treat.  It was very filling too – I wasn't able to eat it all!  I had some broth with my breakfast as well.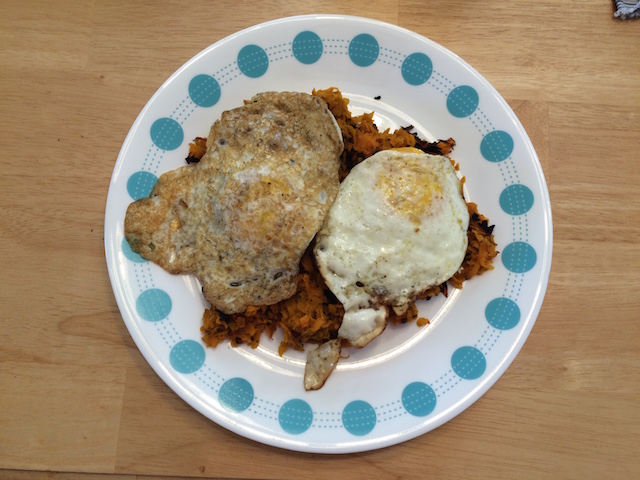 lunch – We finished off the chili from last week with some kale chips and then I also ate my leftover eggs and hash from breakfast.
dinner – We cooked another chicken in the crock pot like last week and served it with sweet potato fries, roasted broccoli (minus the parmesan that recipe calls for), and some berries.
Day 9 (Monday)
breakfast – Sunday we tried another egg bake-casserole-dish-thing.  This time we made a southwest breakfast casserole.  I tried a bite on Sunday and thought it was going to be a winner but Monday when I had it for breakfast it just wasn't love.  Hudson and Michael both loved it but I wasn't a fan.  I'm beginning to think that breakfast casseroles like this are not for me (SUCH a bummer because they are super easy and convenient).  I had a cup of broth with my breakfast as well.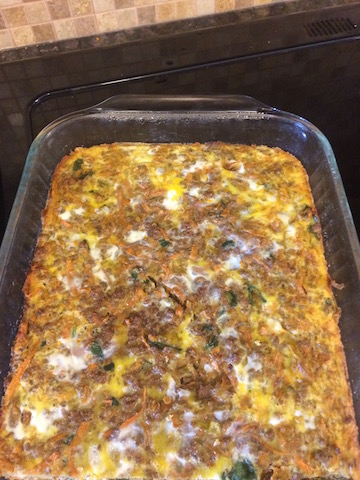 lunch – We had lots of leftover chicken from our meal Sunday night so I made a salad like the one I loved so much from last week (chicken, lettuce, avocado, cherry tomatoes, roasted pumpkin seeds, and orange poppyseed dressing).  I also had some grapes and leftover baked sweet potato.
dinner – We loved the spicy tuna cakes from last week so much that we made them again!  This time though instead of cooking them in a muffin tin we cooked them in a skillet and liked that much better (less clean up than a muffin tin!).  We also had kale chips and brussels sprouts for sides.
Day 10 (Tuesday)
breakfast – More of the southwest breakfast casserole and bone broth.
lunch – Same salad with grapes.
dinner – Michael cooked salmon (instructions here – we used ghee instead of butter) and it was delicious!  That was a winner!  For sides we had roasted green beans, mashed sweet potato, and strawberries.
This time we cooked some of the green beans separately for Hudson without the cayenne since they were too hot for him last time – he loved them and ate the whole plate!
Day 11 (Wednesday)
breakfast – Two fried eggs, some leftover zucchini, and bone broth.
lunch – Same salad with leftover mashed sweet potatoes.
For some reason this did not fill me up like it had the other days and I was hungry very shortly after.
dinner – A random smorgasboard of things.  We didn't have time to cook before church and we had tons of leftovers so we ate those up.  We had leftover spicy tuna cakes as our "main" item and then had whatever leftover veggies were in the fridge.
Day 12 (Thursday)
breakfast – Two fried eggs, roasted potatoes (finally finished all of those up from last week!), and broth
lunch – Same salad with some grapes and leftover roasted green beans.
dinner – Shepherd's pie and strawberries.  This was the first time either of us had ever had any form of shepherd's pie and it did not disappoint!  I thought it was a little bland so I added some hot sauce to mine to spice it up but overall it was very good!  Hudson must have thought so too because he ate an adult sized portion!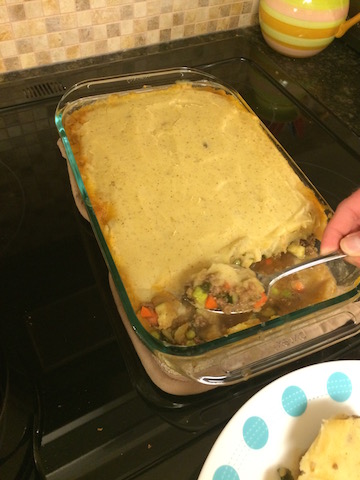 Day 13 (Friday)
breakfast – Two fried eggs, mashed sweet potatoes, broth
lunch – Leftover shepherd's pie
dinner – Shrimp stir fry (shrimp, bell peppers, and broccoli plus some seasonings that Michael put in but I'm not sure what they were), crash potatoes, and fruit.  Definitely a winning meal!   We all loved the stir fry and the potatoes – Michael liked his crash potatoes with rosemary, I put chili powder on mine, and Hudson's just had salt and pepper.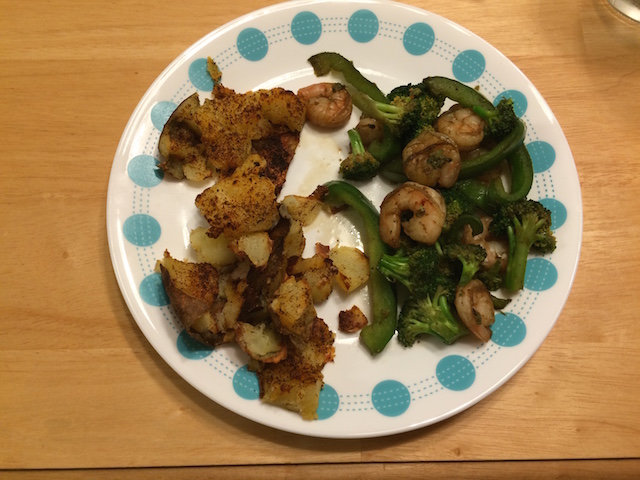 snacks – apple with almond butter, smoothie
thoughts – Today I was done, done, done.  I wanted to throw in the towel and eat a big, gooey brownie.  Part of that was because I was just tired of eating this way and craving sweets and part of it is because my milk has been consistently very low for about a week.  That wouldn't be such a big deal if Hudson were ok with it and using that as an opportunity to wean but instead he just cries and signs for milk all the time and it's quite stressful.
Before I quit Whole30 due to the milk thing I'm trying really hard to get it back up and just eating lots of calories (let's be honest, eating tons of veggies does not result in many calories).  Smoothies are technically a no-no but it was the best way I could think of get a bunch of fat and calories so I made a coconut milk/avocado/blueberry/banana/almond butter smoothie.  It was better than I expected – not great, but edible.  Not perfectly Whole30 but if it comes down to that or a brownie I guess I made the better choice.
Day 14 (Saturday)
breakfast – We had the delicious sweet potato hash with fried eggs again and broth
lunch – I had not finished my breakfast so I ate the rest of that for lunch and then also some leftover shepherd's pie.  We had a bunch of fruit left over from the oils class I taught that morning so we ate some of that too.
dinner – Chipotle chicken sweet potato skins, avocado, and grapes.  This was good but H.O.T.   Oh my stars.  We couldn't find chipotle peppers so we used the chipotle spice we found on the baking aisle and my oh my was it hot!  I love hot food but even this was a bit too much for me!  It was a delicious meal though, so next time we'll just make sure to use less seasoning.
thoughts – I had another hard day today.  I taught an essential oils class at my house and made a coffee cake for it that and did not take a single bite!  I was proud of that but it was also a total bummer to bake a cake and not get to eat any of it!  I couldn't even try it to make sure it tasted ok!  I'm hoping that I'll get over this hump soon because I am for sure getting bored and missing lots of my yummy foods.
Thoughts for the week:  Well Week 2 was definitely harder than Week 1.  The "new" has worn off and the repetition of eggs, avocados, and potatoes is getting old.  I used up most of my "oh man that looks awesome!" meals from Pinterest last week so this week I was struggling to find things that looked appealing.
Next week I am going to work really hard at finding some new dishes to try so that I'm not bored and try to eat more good fats to get my milk back up