My iphone is so full that I can't even record videos so today I spent a long time going through pictures and videos trying to delete a bunch and clear up some space.  It is amazing to me to see how much Hudson has changed, even just as recently as Christmas, not to mention since he was first born!  My baby is certainly not a baby anymore (in many ways) and is a full blown toddler.  Month 14 has brought about a lot of changes and new skills!
growth
Based on our home measurements, Hudson is 29 inches tall (yay, I can feel normal saying tall now instead of long since we measure him standing instead of laying) and weighs 23 pounds.
His hair is so curly in the back that he hasn't needed a haircut but when it's wet you can see he has a bit of a rat tail – ha!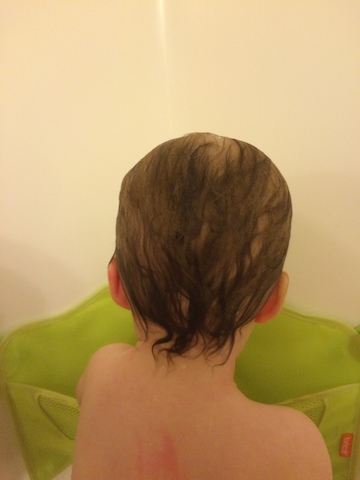 food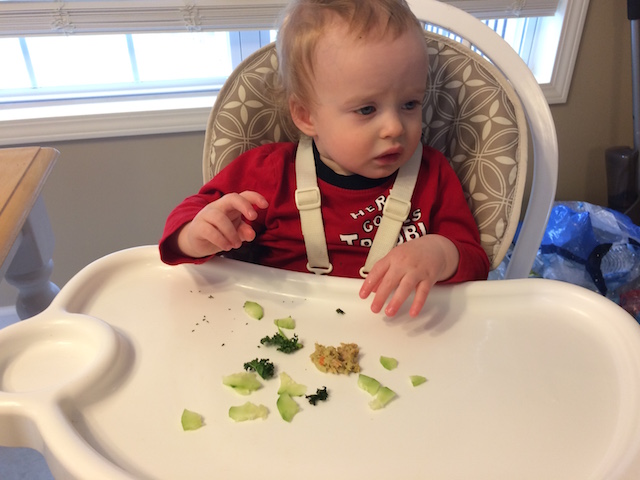 This child eats like a horse!  He can no longer eat off of our plates, he needs his own meal.  Sometimes I'm just amazed at how much food fits in that little body (and then other days he won't eat much at all…baffling).  He ate nearly a whole steak one night – he ate more of his than I did of mine!  The white semi circle there is all the steak he ate (plus green beans).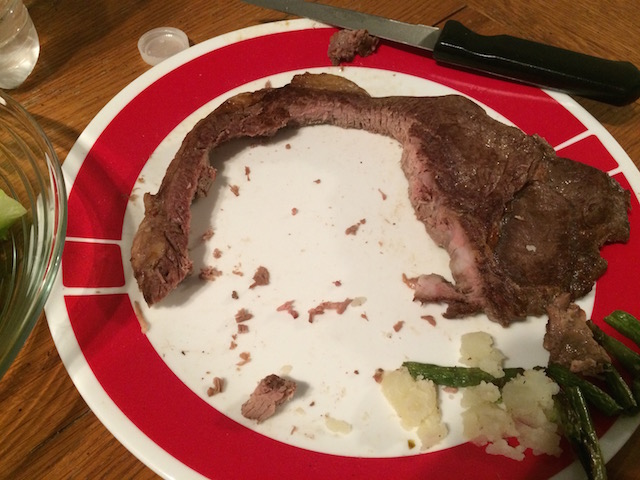 If you're a regular reader here you know that I've been following the Whole30 diet and since Hudson eats what I eat he has too (mostly).  Whole30 is an elimination diet (eliminates several foods that cause problems for many people, you see how you feel without them, then add them back and see how you feel while eating them…helps you determine if there are things you should avoid like dairy or gluten).  I don't think that either of us have food sensitivities but I decided it didn't hurt to check, especially since we've had so many sleep issues since he was born (and better sleep is a common "side effect" of Whole30).
I haven't really noticed a difference compared to what we were eating before, but I am very thrilled that doing Whole30 has caused us to eat healthier in general and I know that's so good for Hudson.  We've tried lots of new veggies and increased our fruits and healthy fats too.
Obviously he has enjoyed it ;)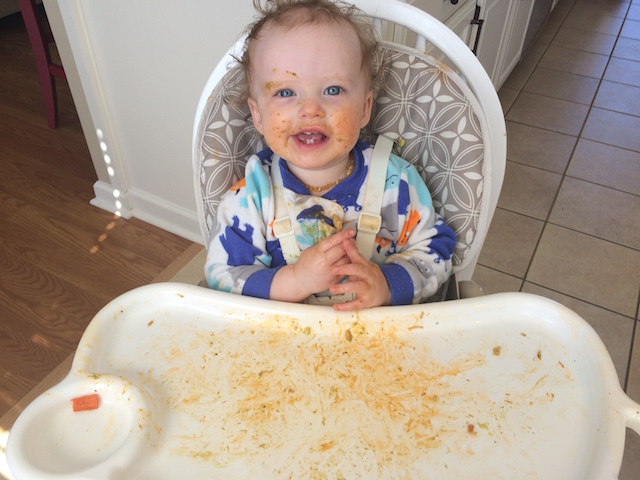 He is now down to nursing only three times a day.  We have dropped his "lunchtime" feeding so now he only nurses when he wakes up, in the afternoon, and before bed.  He is definitely not interested in weaning fully yet.  As I've been doing Whole30 I could tell that my milk had dropped and I thought it might encourage him to wean so I wasn't too concerned.  Instead he just walked around crying and signing "milk" all the time so obviously he did not like that idea!  I've done some stuff to get my milk back up and all is well now but it was definitely pitiful for a few days!
He also is drinking from his sippy cup much more than he used to.  I fill it with water every morning and put it on the floor so he is able to drink from it throughout the day as much as he wants.  However, a lot of the time he just likes to get the water in his mouth and then let it dribble out everywhere so then I have to take it away.
sleep
Finally good news on the sleep front.  It's not perfect, but things are SO much better than they used to be!
He went through a phase for maybe two weeks where he did not fall asleep while nursing at night and then I couldn't get him to sleep by rocking.  We found that if Michael laid with him in our bed Hudson would flop around for a while (sometimes a really long while) and eventually fall asleep.  It only works with Michael though; he tries to crawl all over me and thinks it's a big party if I try to lay with him and get him to sleep.
This was a nice break because I've had to do bedtime duty for, well, basically his whole life.  So I really enjoyed getting some things done around the house (not that washing dishes and folding laundry are that enjoyable…but it's nice to be productive) while Michael put him to bed.
That phase is over and now he (usually) falls asleep while nursing and I'm able to lay him down asleep.  Much easier on everyone and then we can both get some stuff done.
He sleeps through the night, although we fairly frequently (1 – 3 nights a week) have nights where he wakes up crying.  He settles almost immediately when I put his paci back in but he's just restless.  So those nights we have some broken sleep but at least we aren't up for long stretches of time.
He has dropped his afternoon nap and now only takes one nap a day (I think that is what helped with bedtime…now he's plenty tired by bedtime so he doesn't fight it for hours).  So many of my friends have kids who dropped their morning nap and only took an afternoon nap so when Hudson was obviously very tired two or three hours after waking up I felt like he needed a morning nap still but then we'd also do an afternoon one.  Then my mom mentioned that all of us kids dropped our afternoon naps and only took morning ones and I realized that maybe that was the case with Hudson.  I mean, duh.  I should know better to listen to my child, I just caught up in what seemed to be "the norm".  Lesson learned.
So anyway, he takes one nap around 10 or 11, depending on when he wakes up (which is usually anywhere between 7 and 8:30).  I still hold him for his nap but I am (thankfully) no longer resentful of that fact.  I enjoy getting to snuggle and since it's once a day for just an hour or two it doesn't seem so "inconvenient" as it used to.  I know he won't do this forever and it gives me a chance to blog or read or something so I enjoy it.
He hates his crib.  One day I put him in it for a few minutes so I could do some ironing without him underfoot.  It was naptime and he was tired so I turned out the lights, put on some soothing music, and stood in the doorway where he could see me to see if maybe, just maybe, he might fall asleep.  That did not end well and he cried and cried.  I felt terrible and when I got him out of his crib he was shaking from tears.  It was awful.  I know crying it out works for some people but not for us.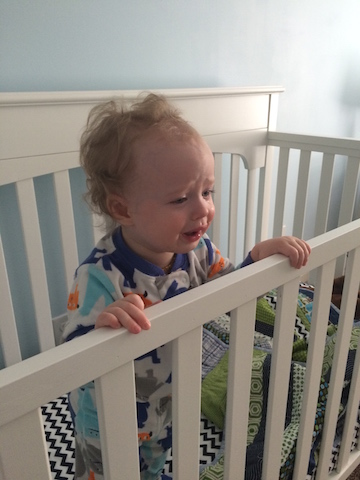 One evening neither of us were having any luck getting him to bed.  I was trying to do my Bible study and nothing was working so I finally put him on my back and bounced on the exercise ball while I read.  It didn't work…I couldn't see what I was reading and he didn't fall asleep.  Interesting method to try though!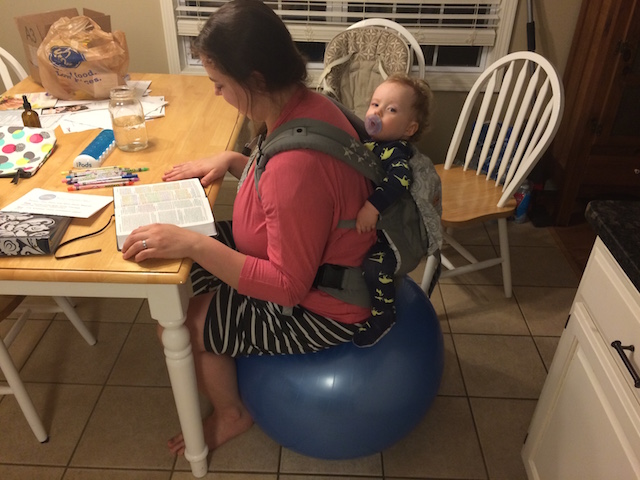 mobility
Hudson is walking great now!  He has really taken off and walks everywhere.  It's unusual to see him crawling anymore.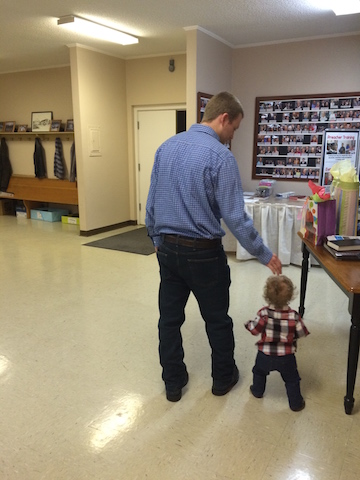 I've caught him climbing a few times but it hasn't become a consistent habit yet.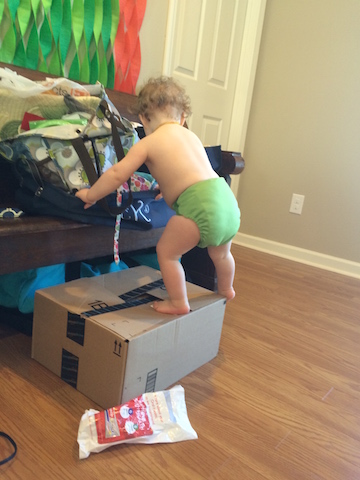 communication
He still really only says one word ("bye"), although he doesn't say that nearly as much as he used to.  He'll also occasionally say "hi" or "yeah" (or at least, that's what it sounds like) and he babbles constantly…you just can't tell what he's saying.
He knows quite a bit of sign language and uses that as his main means of communication.  He can sign "milk", "more", "eat", "change" (diaper), "bath", and "all done".  He uses most of these in context and correctly although occasionally needs some prompting (like if he starts shouting when he finishes the food on his tray and we say "Hudson do you want more?" then he'll sign "more").
There were several times that for whatever reason (he knows the sign for milk, no idea why he didn't use it), he would go grab the Boppy by the tag and try to drag it to me to indicate he wanted to be held/fed.  It was so funny and cute and pitiful.  The only thing I can figure is that he associates the sign for "milk" with nourishment and maybe he just wanted comfort so for some reason he thought bringing me the Boppy indicated that.  I don't know…just making stuff up!  Ha!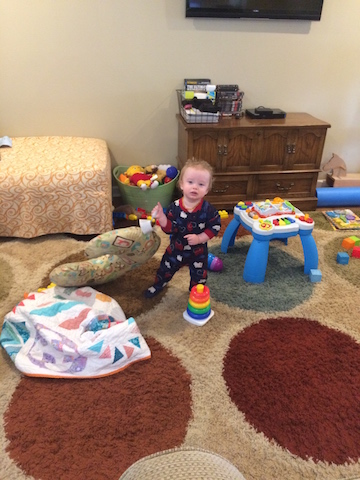 firsts
He has started giving "fives" to people and blowing kisses.  He gives "woolen" (what some people call raspberries or zerberts…where you put your mouth on skin and blow to make a noise) and thinks it's so funny to that on our arms, legs, or stomach.  He also can stack his blocks or the stacking rings instead of just knocking them down after we stack them.
He slipped in his footie pajamas and fell and smacked his head on the floor.  It swelled up instantly and looked horrible but within 24 hours was just a faint yellow bruise.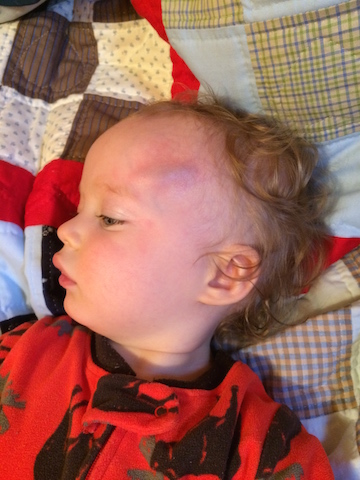 He just recently started reaching for door knobs.  He can barely reach but I'm sure it won't be long before he's trying to open doors!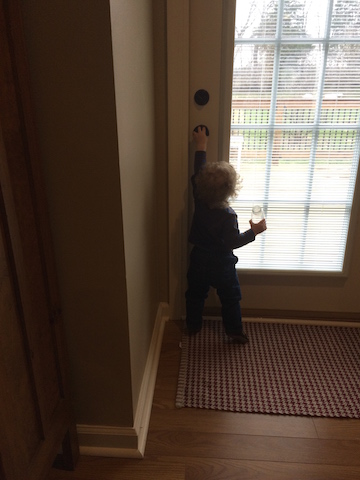 We got some Sesame Street shows for him to watch when we travel longer distances (aka longer than a Daniel Tiger episode) so when we went to ladies retreat I played one on the way there and on the way back and he fell asleep both times.  That is unheard of for him!  Sesame Street must be really soothing or boring to him (I think it's super annoying).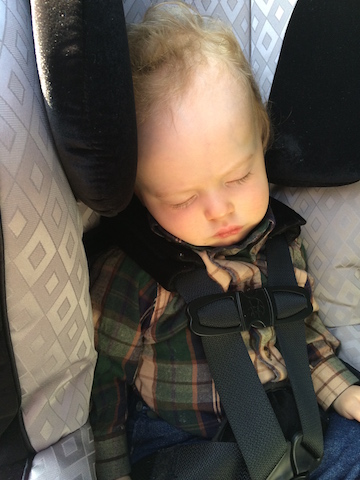 We have discovered toilet paper!  We keep the bathroom doors closed but I was cleaning the bathroom one day and stepped out to grab another rag and Hudson went to town on the toilet paper while I was gone.  And like a good blogger I grabbed my phone and took a few pictures while he pulled off more ;).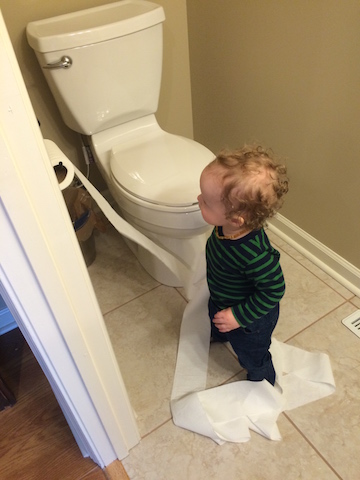 adventures
Michael had to go to Philadelphia for work so Hudson and I went and stayed with my mom while he was gone.  I enjoyed a bit of a "vacation" from laundry and housework and of course Hudson adored being doted on by his Mamie and uncle and playing with all of our old toys.
other stuff
We had a little bath tub photoshoot one day :)
This picture cracks me up!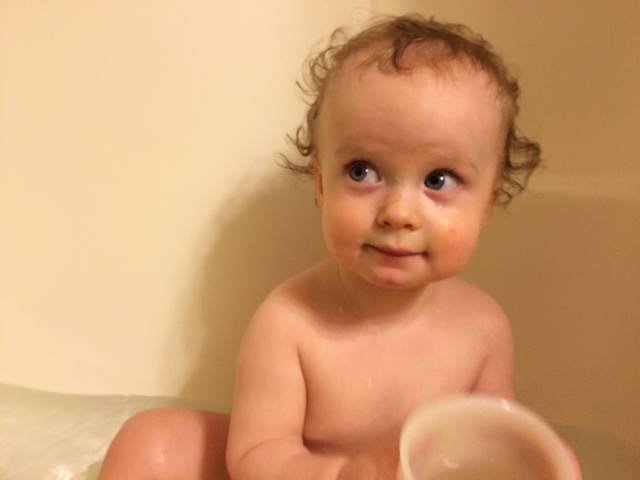 Hudson loves to use our broom and Swiffer at home so my mom got him his own little set of cleaning tools – broom, dustpan, mop, etc.  He loves them and plays with them constantly!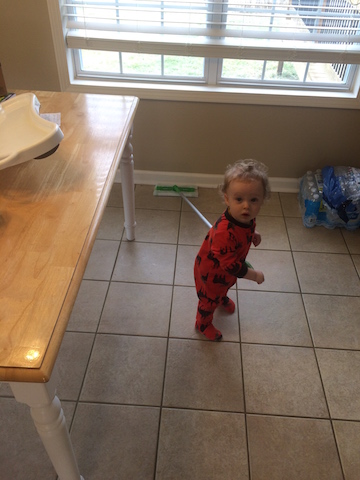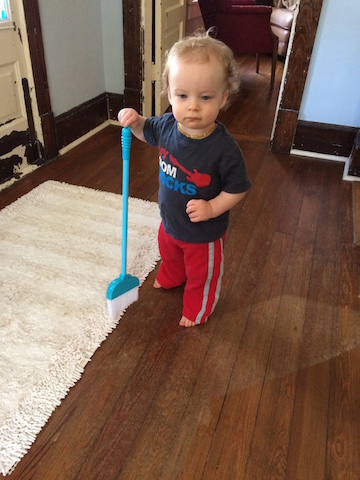 We tried to nap in the bed one afternoon instead of me holding him in the chair and it didn't go as I planned.  He was very restless and kept scooting himself under the covers.  Don't worry, I was right there next to him to make sure he could breathe.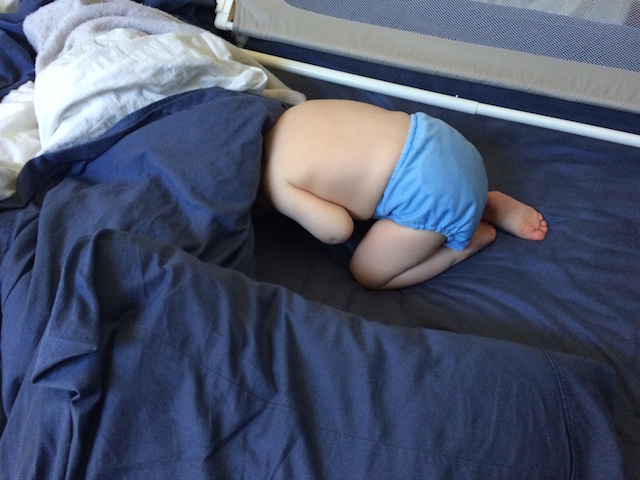 I adore this picture!  We've been going through some separation stuff recently when I leave him in the church nursery – he clings to me and cries when I first put him in his seat.  He loves this little laptop they have in there though so one Sunday I put in front of him when I put him in his seat and it did the trick to calm him down so I could leave.  I had to snap a picture though…he looks so serious and grown up!
Of course we had to rock our Albert Einstein diaper on pi day!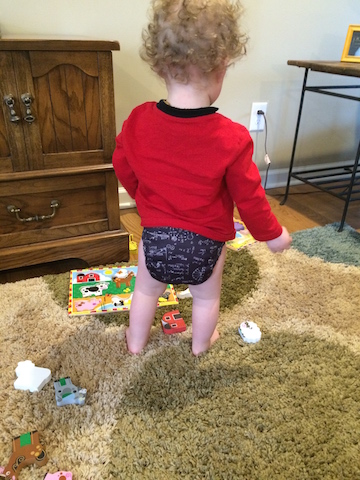 Mr. Hudson definitely has a bit of temper.  He gets quite unhappy if you set him down when he wants to be held, you tell him "no", he doesn't get food the instant he wants it, etc.  I think that's called being a toddler but it can certainly be frustrating.  This particular day he kept taking my books off the shelf over and over and was crying because I told him no.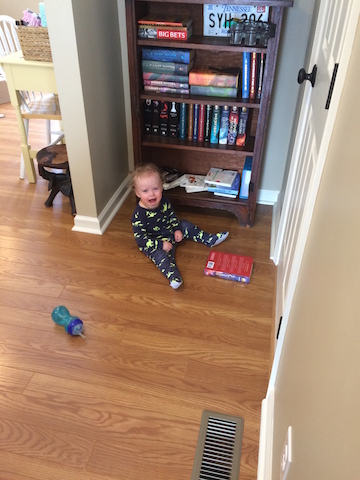 Trying to get things done around the house can be very challenging because Hudson is either a) crying and hanging on to my leg because he wants to be held, b) getting right up into what I'm doing and scattering my swept up piles, unfolding laundry, or trying to play in the toilet while I clean, or c) off getting into something else he shouldn't be doing while I'm distracted.
Soooo I'm thankful for babywearing because for many of my chores I can stick him up on my back and wear him while I do them (the ones that can't be done while I wear him get done in the afternoon when Michael can distract him).  Sometimes he even falls asleep and takes a little nap while I work.  Looks comfy, huh?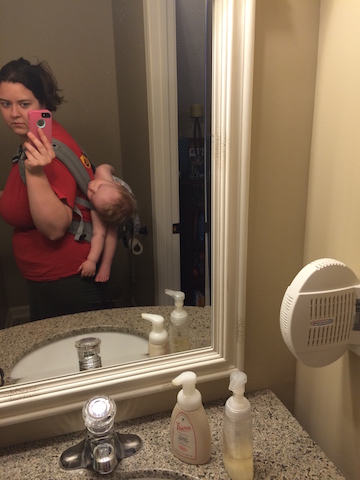 I love this outfit – he looks so grown up though!
We went out to eat one evening and he loved playing with the straws.  We had a fantastic waitress and she gave him several to keep him occupied.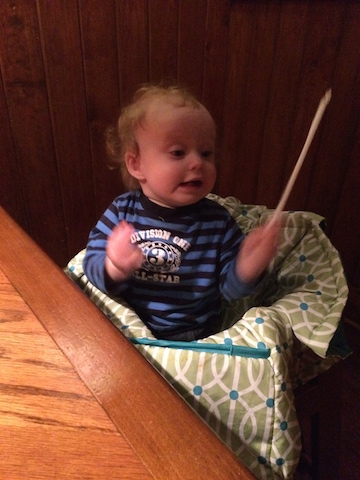 He thinks it is so funny to put his stacking rings on his arms.  And this picture cracks me up – he looks like a sumo wrestler!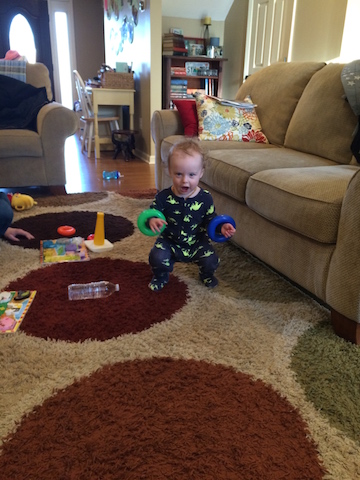 This old silver cup of Michael's is Hudson's favorite thing to play with in his bedroom.  We don't spend much time in his room or upstairs in general since it's not quite as baby proof as downstairs, but when we are in his room he makes a beeline for this one cup and carries it around pretending to drink from it.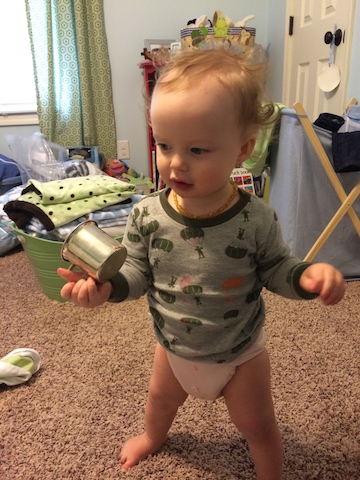 My boy is such a joy!  He is so entertaining and sweet and funny and I love it.  I just look at him and marvel.  Sure, he is challenging and strong willed and often drives me batty, but I can't (and don't want to!) imagine life without him; I love him so incredibly much!  His sweaty curls after a good nap, the way he rubs his ear when he's tired, the big slobbery kisses he loves to give, the funny face he makes when he's pooping – I love it all!
These monthly updates feel so superficial…I can use my words to tell you the facts about Hudson but I can't figure out how to express our love for him.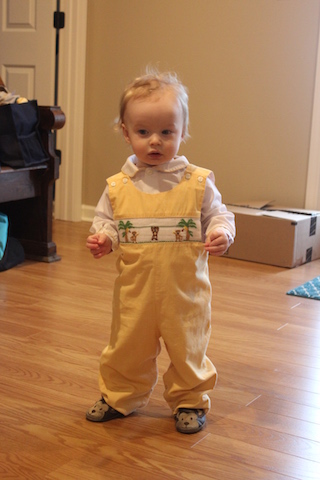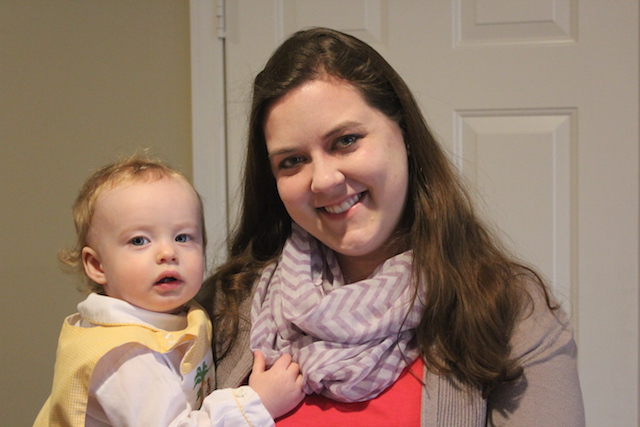 Slow down, sweet boy!  I love to see you grow and change but it's happening so fast!  Weren't you just born yesterday?