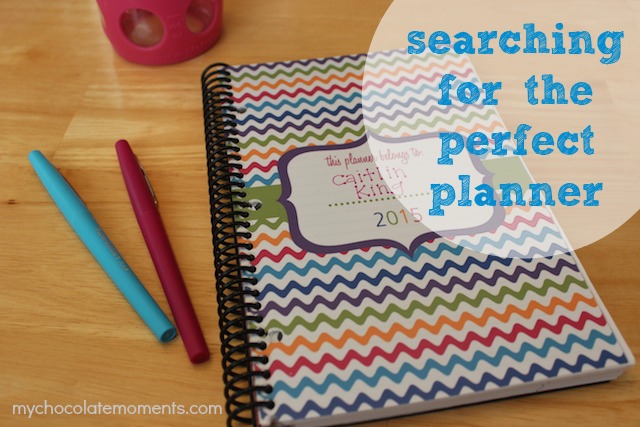 Y'all, it took me almost TWO MONTHS into 2015 to decide on a planner for the year.  How pathetic is that?!  I'm picky but I finally found what I was looking for and of course now I have to share that with you!
If you're a long time reader then you've read my past posts about my Erin Condren planners.  And while I still think those are great planners, it just wasn't working for me this year.  Now that I'm a stay at home mom, obviously our budget has been reduced a bit and spending $50+ on a planner is not a high priority for me.  Plus, the EC planner is just really big and bulky and not at all practical for sticking in a diaper bag to take with me.
So I spent a really, really long time searching for another one.  I have all these different "wants" in mind for my planner and unfortunately a great majority of "generic" planners you can buy at Walmart, Staples, etc. do not have what I want.  I briefly considered designing my own (like I did with my teacher lesson plan book) but I don't have the graphic design skills to make it pretty so it would be very boring and utilitarian.  And then, and I know this sounds so silly, there were others that were fine but the overall vibe of the graphics just weren't me.  I know, I know…beggars can't be choosers, but if I'm going to be looking at this multiple times a day, every day, I kind of want it to be pretty, you know?
Anyway…to make a very long story short, I finally came across ThePolkaDotPosie planners.  The planners have everything I loved from my Erin Condren planner but at a fraction of the price!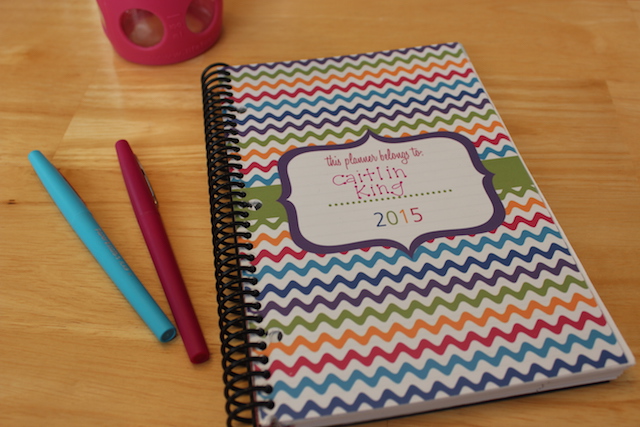 They have an Etsy shop where you purchase the digital downloads for the planner you want and then print it yourself.  I was a bit hesitant about the printing and assembling part but they have great instructions on how to do that (and I recruited Michael for the task of printing it for me ;) )
I chose the small size (5.5″ x 8.5″) with seasonal designs (each month has a different color scheme).  There are also larger ones (8.5″ x 11″) and smaller ones (like the size of a pocket calender), academic year (August – August), teacher planners, homeschool planners, planners for direct sales businesses, event planners, budgets, and more.
Each month of the seasonal planner has a page for goals, to-dos, and projects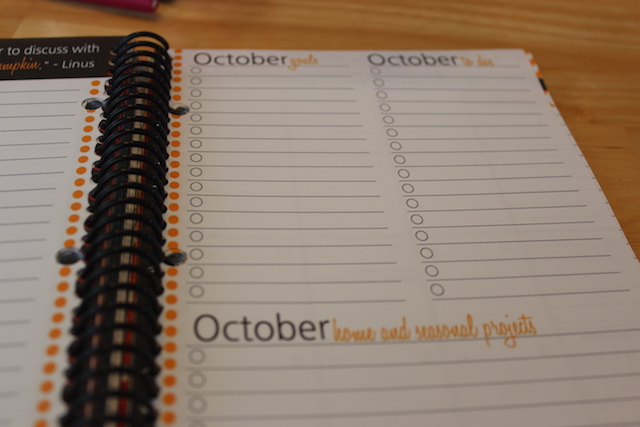 Then there is a monthly calendar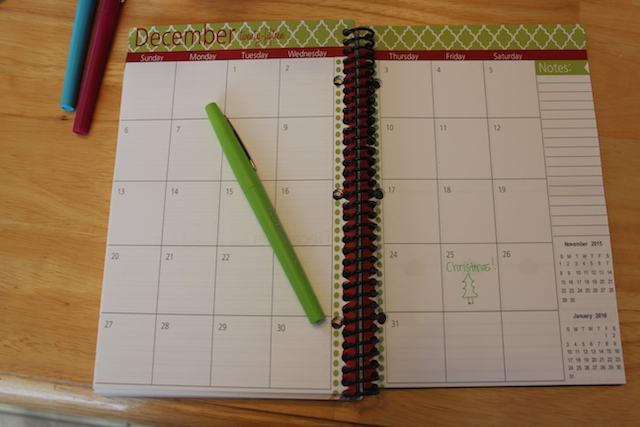 And then a layout for each week of the month.  You can choose to get a weekly spread without the dinner pots (if you'd rather not write your meals down and use that section for something else).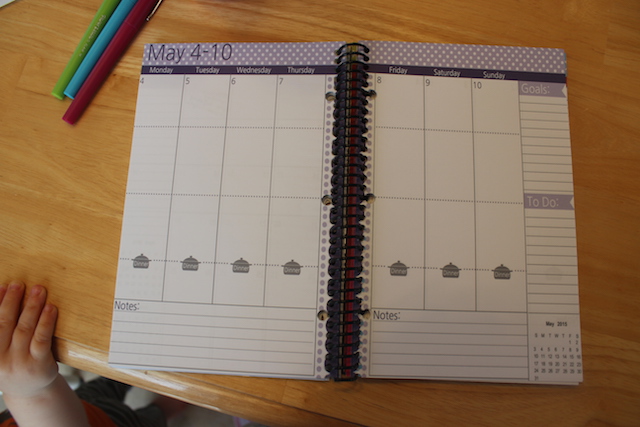 On their blog, they also have lots of free printable downloads (how cute are these Tooth Fairy receipts??).  I printed off the Christmas organizer and put it at the end of my planner to use at Christmastime and the small planner test pages (that have to do lists, goals, contact information, important dates, etc.) to put at the front of my planner.
I used 24 lb weight paper (a little heavier than what we usually print on) and was SO impressed with the quality of the planner pages!  They looked and felt so professional!
I originally thought I was going to put my planner in a small 3-ring binder so I punched holes in them but then realized I didn't like that (it was too hard for me to write on the left side because of the rings, it was bulky, and I couldn't flip it back on itself).  I then took my stack of papers to Staples and had them bind it into a spiral notebook.  I like that much better!
And here's how I use it.  On the monthly calendar pages I put appointments and events.  On the weekly/daily pages I use the 3 boxes for my daily to-dos.  In the first box I put the things that happen every day that need to get done (like my chore of the day, laundry, my Bible study, etc.).  In the second box I put other random to-do things that need to get done that are household-related.  And in the third box I put any Young Living things that need to get done that day.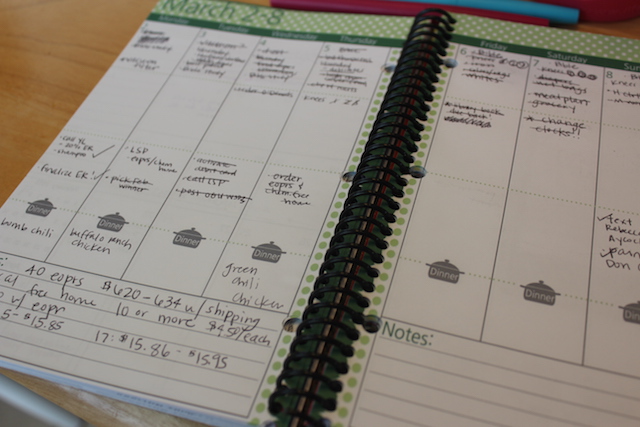 I love the notes sections so I can jot down notes to myself and then on the right (cut out of the picture) I can put my to-do list of things that I want to get done sometime that week.
I am so thrilled with my planner!  Total cost was less than $15 so I was super excited about that!
And I'm also excited that one of YOU will be able to win a planner from ThePolkaDotPosie as well!
(I was not compensated for this review and purchased all planner materials and downloads myself; ThePolkaDotPosie did not ask me to write this review…I was going to write one anyway and then reached out to them to see if they'd like to do a giveaway in conjunction with my review – so these opinions are totally mine and not swayed by free stuff!)