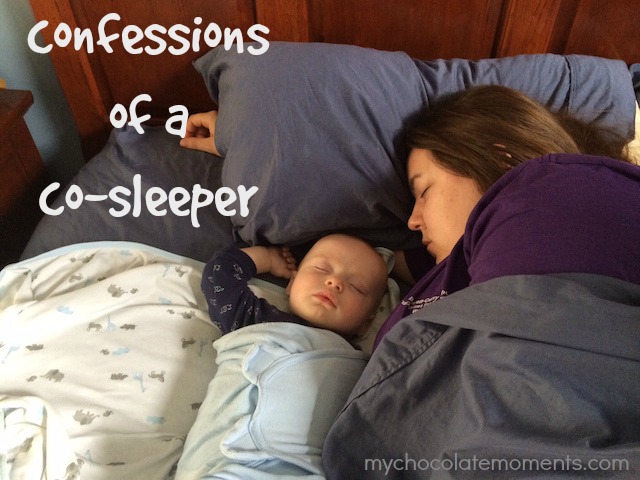 We did not plan to be co-sleepers.
Isn't that how so many of our stories start out though?
In fact, I did not want to co-sleep.  It wasn't that I thought it was bad or dangerous; it was fine for other people to do but it wasn't what *we* wanted. I didn't have the desire to co-sleep from day one like some people.  We bought a bassinet and a crib so that Hudson could sleep in our room for a while and then move to his own room.  I did NOT want a baby in my bed.
Ha.
Then life happened.
At first Hudson was a terrible sleeper and had to be held all the time.  But my mom was staying with us and so she would take early morning shifts and hold him so we could sleep.  Then he got a lot better about sleeping on his own and slept in his little bed in our room basically all night.  If he woke up too early in the morning then I'd put him in bed with me for another hour or two, no big deal.
I hated that.  My body would be so stiff and sore from just that one or two hours of him sleeping next to me.  I remember asking my other co-sleeping friends "How on earth do you do this all.night.long?!"
But then our period of good sleep stopped and we entered several months of sleep torture.  This first time he woke up after we went to sleep I'd put him in our bed.  He started waking earlier and earlier and then started waking up and screaming the second we tried to lay him in his bed for the first time each night.  The ONLY way he would sleep was to be in the bed next to one of us.
So gradually, over time, we became a full time, co-sleeping family.
And guess what? I don't hate it.
Ok, sometimes I do.  Like when he pushes us out of bed or he rakes me with his razor nails in the middle of the night or he spits up all over my spot.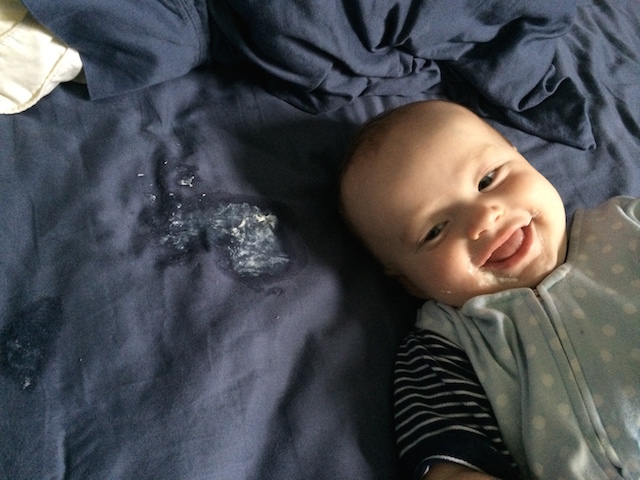 But overall, I actually like it.  *gasp*  I know…
We got a bedrail and that made a world of difference.  One of the main things I hated about co-sleeping was the fact that I slept so awkwardly positioned around Hudson to ensure that he wouldn't fall out of the bed.  Once we finally admitted to ourselves that we were indeed a co-sleeping family, we bought a toddler bedrail and attached it to my side of the bed.  Now Hudson can sleep between the rail and me in his own space (not that we have a lot of that) and I don't have to hold on to him.  It's lovely.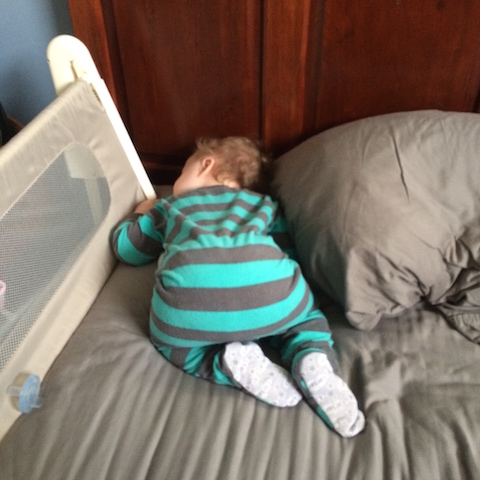 It is cramped.  We have a queen bed and the way the rail is fashioned it takes up several inches of valuable sleeping real estate, but it works for us.  Michael has only gotten pushed out of the bed and had to sleep on the floor once…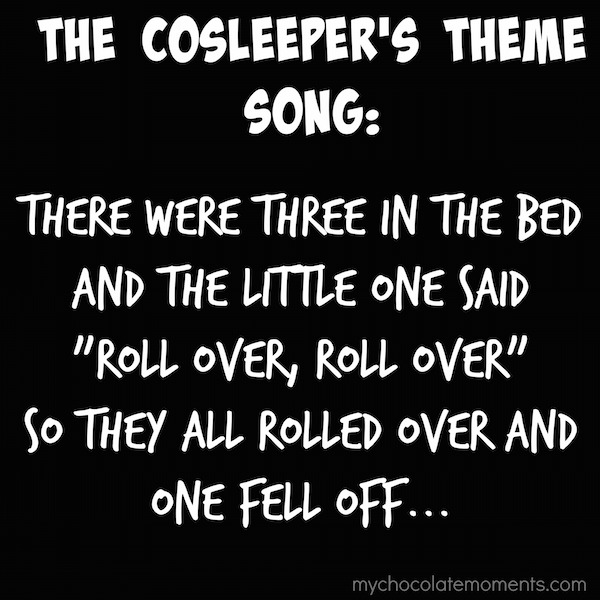 But laying down to sleep between my two favorite people is the best.  Waking up to the sweetest baby face ever is heart melting.  Cuddling in the morning is the best part of the day.  And really, who can blame him?  I mean, would you rather sleep on a cold, hard surface all by yourself, or snuggled up all nice and warm to the person you love the best?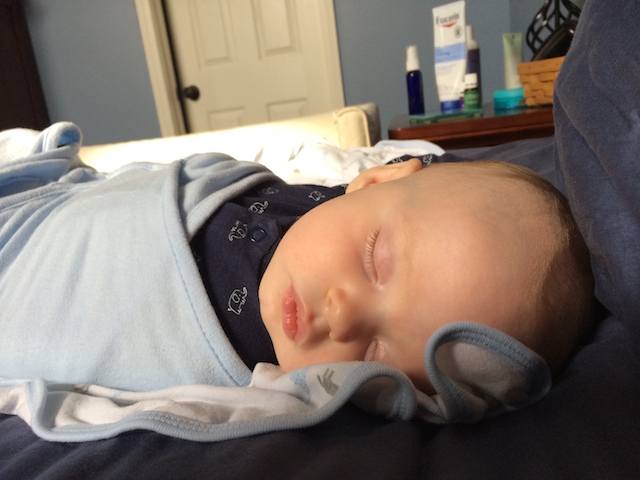 In a more practical sense, Hudson wakes up crying pretty frequently.  If he were in his own bed upstairs then I'd have to wake up, run upstairs, put his paci in, and comfort him.  Instead, I just pop his paci in and we go right back to sleep.  When he was still breastfeeding at night I just latched him on and dozed through the feeding.  When he was done we both fell right back to sleep.
It's kind of taboo, you know?  I mean, some people are hard core co-sleepers who think it's best and are open about that.  Others are very adamantly anti-co-sleeping.  But I'll tell you, there are a lot, a LOT, of my friends who co-sleep who aren't really the natural, crunchy, attachment parenting-type.  It's convenient.  And it's what works.
As my chiropractor put it "You do what's best for your nest".
Fo sho, yo.
Rule of parenting Numero Uno: never say never.
So what's our plan from here?  Well, at this point I have no immediate plans to move him out of our bed.  What we've discussed is that we're just going to put him straight into a "big boy" bed.  He HATES his crib so I don't think we will ever get him in there and he's used to an actual bed now, so once he is able to safely climb down from a big bed we're going to just put him in the full sized bed that we have in our guest room, probably with rails so he won't roll out.
But really, he won't be in our bed forever, so I'm not too concerned about rushing him out of our room into his own.  He won't always want to snuggle so I'm enjoying it while it lasts.  He's happy here.  We all sleep fine.  We all SLEEP, which is the key thing right now, No sense in rocking the boat!
Will we co-sleep with other children?  Maybe.  I don't know.  I can't say that now I think the first night home from the hospital we will automatically put any future children in our bed.  Obviously we'll cross that bridge when it gets here but I *think* we'll probably try the bassinet and crib again.
However, I will be much quicker to put them in bed with us if that seems to work better.  We lost SO much sleep because we were resistant to the idea of co-sleeping and if I'd just put Hudson in there with us I think we all would have rested better.  Also, we slept with him in the recliner because we didn't want to co-sleep, which I later found out is actually more dangerous than having him in our bed.  Now I know better.  We'll have the bed rail from the get go and I am hoping we will be able to purchase a king-sized bed by that point, too.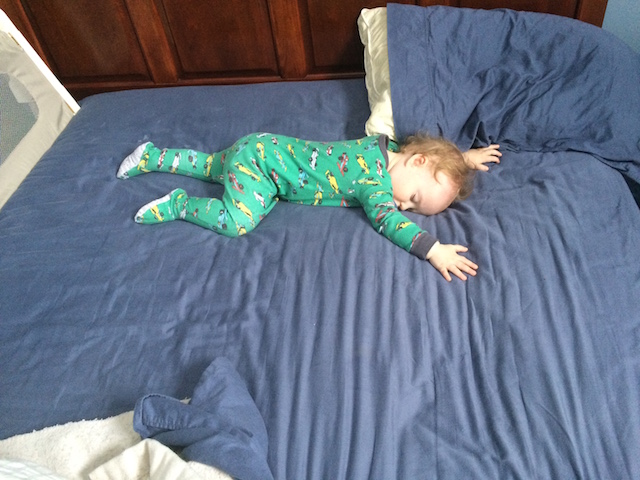 A couple of things (I always feel like I have to make disclaimers)
– Co-sleeping is not for everyone.  I think some babies prefer sleeping with mom more than others, just like how some adults are cuddlers and others really want their own space.  Some people want to co-sleep and then find that they can't sleep at all that way.  I'm not saying my way is best, just that it's what works for our family and this one particular child.
– Co-sleeping is safe if done correctly.  Please make sure you are safely co-sleeping if that is what you choose to do.  I'm not going to go into a long debate about it, but my opinion is that it is biologically normal, it's what people have done for years in many cultures, it can be done safely, and the warnings that you hear about it are usually (not always, there are exceptions) due to people who were co-sleeping in an unsafe manner (on a couch, having used alcohol, etc.).
P.S. Technically, co-sleeping is when your baby sleeps in the same room as you, so you have probably all co-slept.  Bed sharing is when baby actually sleeps in your bed.  However, most people use the term "co-sleeping" to mean baby is in the bed so for this post, that's how I'm using it too.
Are you a bed-sharer?  Why or why not?  If so, did you plan to do that from the start or did it just happen?