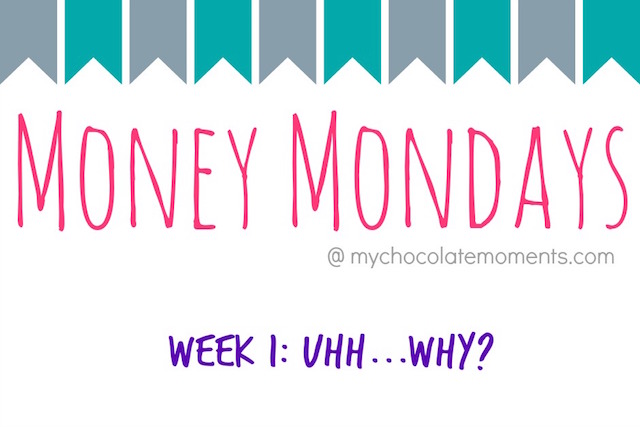 Ready for something new?  For the next few weeks I'm going to be doing a series I'm calling "Money Mondays" where we're going to talk about…well…money.
This is something that has been percolating in my head for several months now as a topic I wanted to tackle but I just hadn't found the right time to get it down on paper…err…the computer.  But after a recent conversation with a friend and then a discussion that happened in one of my mommy Facebook groups I realized it was time.
So why now?  Why this topic?
Well here's my dirty secret…I have never had a budget.
Let that sink in.  This math teacher, who is married to an engineer, who taught budgeting to her high school students DID NOT HAVE A BUDGET.
Ummm…hypocritical much?
When Michael and I first got married we tried budgeting.  In theory, it's easy.  You take how much money you make and write down all the things you need/want to pay for and make sure you make enough money to cover those things.
But in practice it's not so easy.  Because how do you account for the things that are quarterly or yearly?  What about random expenses that pop up?  What about Christmas money that isn't really income?
Michael tried making an Excel spreadsheet for us but it got so complicated that we pretty much gave up.
We both had jobs that paid well and neither of us are big spenders and so we basically just bought what we wanted and didn't really worry about it and fortunately we didn't get into any debt.
Fast forward to 2014.  Hudson was born and I quit my job to stay home with him so we went to one income….except we continued spending like we were earning two incomes.
Just a month or two before Hudson was born we had purchased my minivan.  We paid for it in cash from our savings, which was wonderful, but it drained our savings.  Between that and then spending like we used to, it didn't take long before we (aka Michael) realized that we were living outside our means and if we continued on this path then we'd be getting into some debt.
Am I an expert at this money stuff?  No.  Am I going to give you earth shattering advice?  Probably not.
Basically I'm just going to share our experiences and what we've learned about saving and managing money, and hope that it helps you out too.  The reality is that so many people out there are struggling financially.  Many in my generation have never been taught how to manage their finances and so we're gathering tons and tons of debt (heck, not just my generation…I mean, take a look at our government).
This is not going to be one of those amazing "I'm debt free" stories!  We (fortunately) got this under control before there was any debt.  See, we are in the very small minority of people who graduate college debt-free.  We both got scholarships that paid for most of our schooling and then our parents helped out with the rest.  All of our cars (the ones we got in high school that we still drive and the van we bought last year) were paid for up front.  We had no credit card debt.  Like I said, we weren't extravagant spenders.  The only debt we have ever had is our house.
So thankfully we were not digging ourselves out of a huge debt pit, we just were trying to put the brakes on before that happened.  If you ARE in a huge pile of debt, take heart!  It can be done.  I've heard some amazing stories (one of my favorite bloggers has one).  Just know that what I have to say may not be what you're looking for since our story isn't one that is so extreme.
But if you're like me, not in debt but not really managing your money as you should, then I hope this will be helpful.  And even if you are in way more debt, hopefully some of the things I've learned can help you as well.
Will you join me next Monday to talk about budgeting?  Maybe not the most riveting topic, but certainly important!
For those who are ready and willing, I have an assignment for you:  Before next Monday I want you to take a good, hard look at your finances.  Ask yourself some questions.  
Am I satisfied with my money situation?  Do I have enough in savings to live on if there were an emergency?  Do I have any savings at all?  Am I in debt?  A little or a lot?
Then come back here Monday and we'll get rocking and rolling on the next step!