Did you grow up on Highlights magazine like I did?  Oh how I loved the search and find page…but oh how frustrating it was if someone had already completed it and circled all the objects!  Grrr.
Moving on.
Did you know that Highlights has a "magazine" for babies too?  It's called Hello.  I had no idea until after Hudson was born and a friend told me how much her kids loved their Hello books.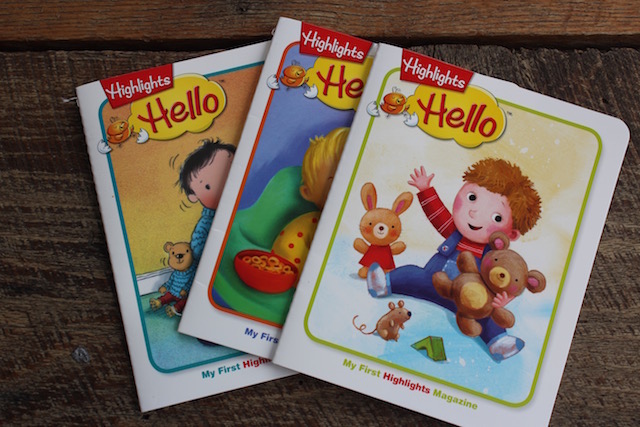 They sounded great so I put that on Hudson's Christmas list and a family member gave him a subscription as a Christmas gift.  We get one book each month in the mail, just like a magazine.
The content of the books are fine – nothing mindblowingly awesome but cute little stories, a simple search and find, maybe a poem.  What I like the best is the durability and size!  They are made from a plastic-y material that doesn't tear or crease like paper but isn't hard and heavy like traditional board books.  It's flexible and bendy and incredibly light.  They fit easily into my diaper bag and add hardly any extra bulk or weight so I can carry several at a time without sacrificing valuable space.  I slide two or three down in one of the external pockets of my diaper bag and it's just perfect.
I LOVE that I can have multiple books on hand for Hudson to flip through while we're out and about without having to haul around a bunch of heavy books.  And my friends tell me that even their older kids love reading these over and over again so they get a lot of use.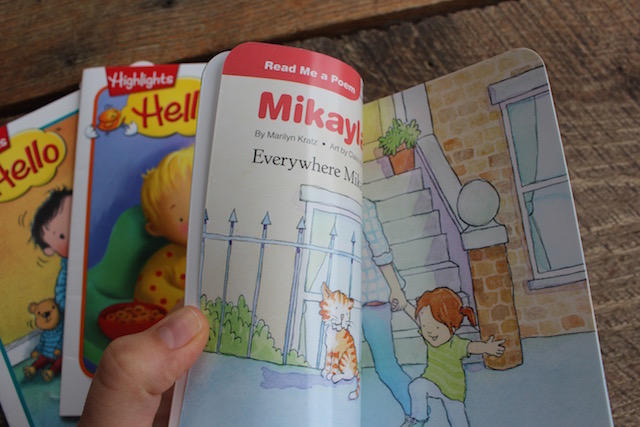 A Hello subscription is a perfect gift to give the special kiddos in your life.  It costs about $35 for a year subscription (you can order here).  These "magazines" get two thumbs up from me!
(p.s.  I did not get anything to write this review.  Highlights/Hello has no idea who I am.  I don't get anything if you click through that link to purchase.  We received these as a gift and I just wanted to share with you how much I like them.)