(psst….read through to the bottom for a GIVEAWAY!)
By now hopefully you've hammered out a budget.  Maybe you even downloaded a free trial of the YNAB software and have really jumped in with both feet into creating a budget.  And maybe, just maybe, you've realized that OH!  Once we've allotted money for all our bills and such there just isn't much left over!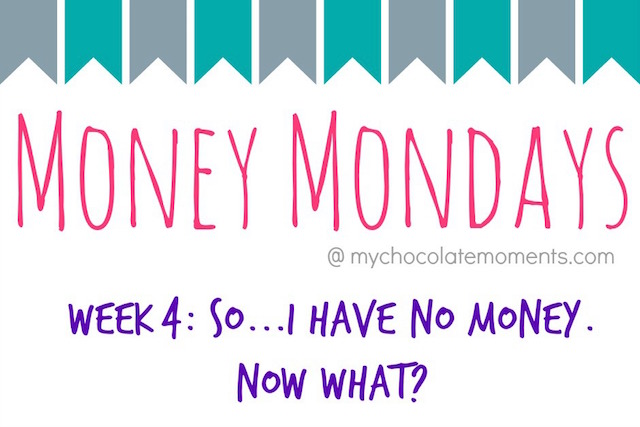 That's where Michael and I were when we started budgeting back in the fall.  We had enough to cover our bills and basic living expenses, but past that there just wasn't much wiggle room left over.  As I mentioned before our savings were pretty much depleted so we needed to build that up plus we had some categories that were looking pretty skimpy (things we could live without but would prefer a bit more money, like clothing and "fun stuff").
If you, like us, find yourself with more "budget" than you have money there are pretty much two things you can do.  Either 1) spend less money or 2) make more money.  Or both.  We did a combination of both.
Here are four things you can do if you find yourself needing some extra money in your budget.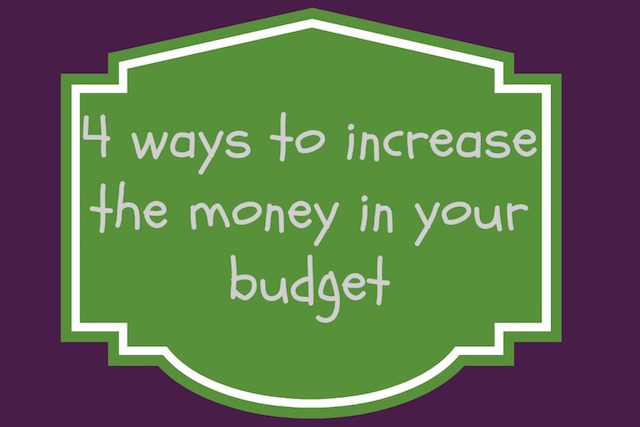 1.  Cut out.
Take a good look at your budget and where your money is going.  Are there areas that you can do without?  Think about priorities.  Are you spending money in the categories that you consider a high priority or is money going toward things that you don't even care that much about?
Some ideas:
– Do you pay a monthly or yearly gym membership?  What about dropping that and riding your bikes, running/walking, and doing at home exercise programs instead? (Bikini Body Mommy is a totally FREE, 30 minute or less a day, video exercise program on YouTube you can follow.  I'm sure there are more online too.)
Michael's job used to pay for a family gym membership but they dropped that program around the time we started our budget, so instead of continuing to pay for the gym (that we weren't really using anyway), it was one of the first things to go and we now use the above suggestions instead.
– What about cable, Netflix, Hulu Plus, etc?  How much do you really watch tv?  Can you live without it?
– Can you cut your husband's hair so you don't have to pay for haircuts?
– What other memberships do you have that might need to go by the wayside for the time being until you get your finances under control?  Zoo, museums, audiobooks, Glam box/Birch box/other monthly surprise boxes?
2.  Cut back.
A lot of your expenses are going to be set monthly expenses.  Of course there are some that aren't and that's where you need to try to cut back so that you spend less of your budget (and have more money to work with).
– The biggest area you can save money is with your groceries.  If you coupon and shop sales you can save a significant amount.  I'm doing to do a whole separate post just about how I save on groceries so be on the look out for that.
– Can you renegotiate your cell phone contract and get a lesser contract so you don't have to pay as much each month?
– What about buying clothes, toys, and household items second hand instead of new?
– Are there ways you can make your home more energy efficient and use less water, heat, air, etc.? (There are some things that require an initial investment but pay for themselves and then save you money after a period of time.  Do your homework to decide if it's worth the investment or not)
– Can you eat out less?  Eat less meat? (meat is usually a big part of the grocery budget)
– Carpool places?  Combine errands so you're not using up as much gas?
(Of course all this is assuming that you are doing pretty ok financially, things are just a bit tight and you could use a little bit more money each month.  If you are really in lots of debt and struggling you may need to do some more extreme things like selling your car and buying a cheaper car, or selling your house and downsizing so you can manage the mortgage, etc.)
3.  Sell, sell, sell
This was (surprisingly) a really good way for us to make some money.  We started walking around the house and gathering up items that we didn't use/need anymore that we thought we could sell.  (Bonus – you'll declutter your house at the same time!)
Depending on what the item was either Michael listed it on ebay or Craigslist or I listed it on our local sales Facebook pages.  Once we got started we found all kinds of things we could sell – books, electronic gadgets, home decor, purses, shoes, clothes, and more.  Within a month we made over $2,000 just selling junk that was laying around our house and were able to make significant headway on our savings goals.
I was amazed at things that we were able to sell.  Apparently lots of people get on ebay looking for parts so we sold some old GPSs, parts from a flashlight, and other gadget-y things.  My coolest sale was from where I had gotten a free bottle of lotion from Ann Taylor. (I believe I had a $10 off anything coupon and everything in Ann Taylor is very expensive so I bought the only thing that was $10…some lotion.  And so I got it for free.)  I had tried to sell it locally with no takers so I checked on ebay.  Turns out that lotion is discontinued now and people were paying big bucks to get some.  I sold that free bottle of lotion for $50!
Obviously this isn't a long term monthly income solution, but it's a great jump start if you're trying to knock out some debt or, like in our case, get your savings built up a bit.
4. Find an additional stream of income
And then our final option if your current monthly income just isn't enough to cover living expenses, debt payments, etc. is to earn more money.  Here are some ideas that would work as supplemental income if you currently work a full time job and want something additional or if you stay at home but still want to earn some money.
– Do you have a particular skill you could "sell"?  Something like making crafty things and selling on etsy, tutoring students after school, doing some freelance graphic design, photography, baking bread, etc.?
– How about babysitting?  You could baby sit for kids after school, keep a child or two in your home, or offer to be a sitter on nights and weekends.
– Here is a list (that from what I can tell is legit and not full of scams) of 27 ways for stay-at-home-moms to make money
– What about direct sales/network marketing?  Y'all know that I'm a distributor for Young Living and love it.  Direct sales is probably not going to be a "get rich quick" way to earn money (and if it's presented to you that way then that company is probably not the best one to join with) but it can definitely become a supplemental income.  I'm going to do a separate blog post about direct sales in a few weeks.
– Waiting tables, delivering pizzas, and working retail are all jobs that are (from what I hear, not personal experience) pretty flexible so you can tailor your schedule around another job, pick up shifts when you need extra money, work just a little bit or a lot.
Do you have anything to add?  Any tips on how to reduce your spending or increase your income?
Your assignment for this week is to try to find ONE thing you can do to reduce/cut spending and ONE thing you can do to increase income (or ONE thing to sell online, locally, etc. to jump start savings/debt reduction).
Also, I reached out to the folks at You Need a Budget after I wrote the review last week and they graciously offered to give one lucky reader the YNAB software for FREE!  Woo hoo!  Check out the Rafflecopter below to enter.